click on photos for larger images
Bread Friday, Covid Rules

Although Social Distancing remains in place to limit the spread of Covid-19, those on the Friday Bread mailing list will continue to receive a Sunday email from Janice with details about the week's bread menu. And to maintain Social Distancing protocols, for the time being she will continue doing the weekly bread deliveries from her car from 4-5 pm at the North exit of the ferry overflow parking lot.
When we stopped by last week, there were people with lawn chairs and wine glasses, looked like some kind of new Covid  Tailgate. So…depending on your Social Distancing parameters, you might want to just drive in, pick up, and drive out, or make camp, set up, and Party. Just sayin'…
Wine Shop Declares Constitutional Right to Remain Open for Wine Emergencies!

As we all continue to adapt to Covid-19 Battle Protocols, our regular Friday and Saturday Evening Wine Tastings have been suspended until further notice. This is a big change from the past fifteen years of our collective building of the Friday and Saturday tastings into an ongoing Community where everyone is welcome and everyone is happy.
Btw, speaking of Good Cheer, since Social Distancing was initiated by Governor Inslee a month ago, we have found ourselves enjoying most evenings an episode or two of the early-80's TV series Cheers, a sitcom set in an old pub in Boston.  The neighborhood atmosphere in the show reminds us a lot of the positive energy that you all bring and share chez nous, and which we have very much been missing!….sigh!
On a more positive note, it has become clear over the last few weeks that many of you are avoiding going to the mainland for the time being, and when you run out of wine have taken the opportunity to Declare (gulp!)  a Wine Emergency (OMD..are those Sirens??!!) to which we are pledged to respond as best we can as needs arise!
Should you find yourself in this precarious position, we are Here for you Right Here on the Island! You can order by phone (see below or use your Island Directory) or explore the BUY WINES link at the top of the page on our  website. (sorry,not sure if all the links appear in the email version of this post) and we will assemble your orders for pickup at your convenience.
The wine shop remains a pretty safe environment, with very few visitors for very short periods of time, and with all contact surfaces disinfected before and after each visitor leaves.
We currently have several orders ready for pickup. Let us know if we can help You with Your Wine Emergency!
Mar a Lago Update: Things Keep Getting Worse Faster than We are Getting Older
In the late evening of Election Day 2016 we got a phone call from a neighbor. She had heard that the Tweetster had won the election. She was crying. She was Very Upset. Don't worry, we said with confidence, that is Impossible and it will all clear up in the morning….but it didn't. And life has been Surreal ever since.
Many times Every Day since then we have been forced to witness ever more bizarre and illogical behavior, with scores of documented Lies every single day. He lies and is caught lying, and nothing changes. Every time he opens his mouth he broadcasts breathtaking ignorance of science, history, economics, government, politics, and his Believers Defend him. He is the consummate Snake Oil salesman; and with the Obeisance of Republicans across the Nation, he is continually putting our country, our Planet, and the future of Life Itself in deeper and deeper Grave Peril.
The current Covid Pandemic is stark and undeniable. The usual ploys of blaming Democrats, or blaming reporters for Fake News, or blaming scientists for the idiotic and ignorant things he says and does every day are finally getting a little less Traction with his Base. But with few exceptions (like Maryland's Republican Governor) Republican Senators and Representatives are still drinking the Kool-aid that keeps them rich and powerful but politically emasculated (Lindsay Graham the best example…) So many of his Cabinet appointees have quit or been fired that to a large extent all that are left are political Weathermen with an instinct for Knowing which way the wind blows.
The only conclusion is that our nation has been in a Trance since 2016, and unable to wake up from it. It feels like the scenes in Alien where many crew members have been captured and cocooned by the Aliens, aware they are dying but completely helpless to fight back. Another metaphor is from the science fiction writer Harlan Ellison named one of his stranger stories, "I Have No Mouth, and I Must Scream," very disturbing.
How to Declare a Wine Emergency!

1. If you are on our website, scroll up to the very top of this page, click on "ORDER WINE" at top of screen, and follow the instructions.
2. If you have received this post as an email subscriber and you do not have that link on your email, click here.
3. If none of those work, phone us a 360 758-2959.
click on photos for larger images
Short post tonight
After over a decade of writing this blog, lately WordPress has just drastically changed the formatting and editing protocols we have been using all these years. We have just discovered this late in the evening, and given current events, are inclined to make this a very short post this week. 🙁
Bread Friday

Those on the bread mailing list will have received details about this week's offerings. To maintain Social Distancing, bread deliveries/pickups will take place at the ferry overflow parking across from the ferry landing from 4-5 pm.
Wine Shop Remains Open for Wine Emergencies!

As we all continue to adapt to Covid Virus Battle Protocols, the wine shop remains Closed for regular business hours.
However, we will continue to be available for Wine Emergencies as they arise. Just give us a call, and we will assemble your orders for pickup at your convenience.
It has been reassuring and emotionally nourishing to meet with individual members (or couples) for order pickups, and taking enough time (and appropriate Distancing) to make for an enjoyable visit. We have been missing all of you, and it is helpful for our sanity and well-being when we can visit for a bit while helping you stock Essential Medicine for Outlook Maintenance.
Be assured there are No Operators standing by but us. The wine shop is a pretty safe environment, with very few visitors for very short periods of time, with all contact surfaces disinfected after each visitor leaves.
We currently have several orders ready for pickup. Let us know if we can help You with Your Wine Emergency!
Mar a Lago Update: (Back next week)

Sorry, weekly wine tastings temporarily cancelled

click on photos for larger images
Wine Shop Remains Open for Wine Emergencies!

In Solidarity with our neighbors across the country and around the World, the wine shop will continue to remain closed while Social Distancing is mandated, especially rational for us Old-Timers. That means no weekend wine tasting and no Friday Bread. 🙁

It is a well-known fact of Economics that alcohol sales usually rise during recessions, and This Shutdown is no different. We are pleased and grateful to have helped several of you cope with imminent Wine Emergencies, and continue to offer this service as necessary to Maintain Civil Order.

Fortunately for Public Health the wine shop has seen only a few visitors in the last few weeks, and provides a neutral environment to visit and, while maintaining appropriate social distance, fill your wine bags and  enjoy a sample or two while we visit.
Twentieth Anniversary

Today as we go to press (Thursday, April 2) we are celebrating our 20th Wedding Anniversary. Yep, it was 20 years ago today, a beautiful day here on Lummi Island. The ceremony was held at  the cottage at Ann Morris's studio grounds (where many of us have been doing yoga for years with Constance), and was led by our old friend Eileen, longtime Buddhist teacher and recent new Island neighbor just a block down the street. About twenty old friends and family attended.
In part of the ceremony I got to sing "Let Me Call You Sweetheart." So probably that's what was going on in this photo at left. We served tea to our guests in raku tea bowls I had made for our guests, and closed with an informal procession through the magical grounds of the surrounding Sculpture Garden. It was a beautiful, sunny, and warm Spring Day.
In the afternoon we filled the Beach Store Cafe with good friends, many toasts, a great dinner, and lots of good cheer, smiles, and warm memories. A very good day!
Mar a Lago Update: Blue Slates, Red Slates

An article in today's New York Times discusses the differences in political leadership strategies regarding Covid19 among States. In particular, many states in the South and Southeast–Republican Territory- have only recently (and half-heartedly) advocated for social distancing strategies in their states and cities. The question on the Floor is how these different strategies will now play out across the nation.
Metaphorically, in order to start a nuclear chain reaction it is necessary to achieve sufficient density of atomic collisions per unit of time to establish a Critical Mass. The strategy of Social Distancing aims to slow the spread of the Covid 19 pandemic to give the world more time to develop effective strategies against it. Social distancing is aimed at Stopping the pandemic from reaching a Critical Mass.
Therefore we would expect states that instituted social distancing mandates early in the pandemic to achieve a stable goal of zero net new cases before states which are only now adopting the strategy, and with a smaller proportion of the population infected. This is because without social distancing the number of new cases keeps increasing exponentially, as with more and more molecules moving faster and faster and closer and closer together– i.e. a critical mass.
Curiously, Governors of Blue States, including our own Jay Inslee, California's Gavin Newsom, and New York's Andrew Cuomo, were the first to grasp the gravity of the coming pandemic and take immediate steps to reduce impacts, including closing schools, restaurants, and businesses where people gather in close proximity. At the moment there are some preliminary indications that the practice is beginning to pay off with slowing of the growth rate of new cases.
Many other nations were much better prepared to mobilize widespread testing to identify who is carrying the virus and who is not. Along with slowing the rate of spread of the virus, identification of active cases is the next piece of essential information to help us improve strategies for controlling and even eliminating the Tweetster's Virus. (That's right we are naming it after him since he has played such an important role in helping it spread so successfully by not believing it was Real. Let's have a Big Hand for Corona's Best Fiend…er….Friend!)
We are glad to be living on our little Island in our Blue-Green State out here in Northern Ecotopia through all of this. We don't know what is going to happen, but a couple of things seem pretty likely: 1) the better we practice social distancing in our ccommunities, the slower the spread of the virus around us; and 2) the longer Red State subpopulations assert denial that the pandemic is real, the more difficult it is going to be for everyone.
Sorry, weekly wine tastings temporarily cancelled

click on photos for larger images
Open by Appointment  for…er…um…Wine Emergencies   🙂

In Solidarity with our neighbors across the country and around the World, the wine shop will remain closed through the end of March, perhaps longer. That means no weekend wine tasting and no Friday Bread. 🙁

However, in keeping with our long-standing policy to remain a Valuable Community Resource, we will do our best to be On Call for the inevitable Wine Emergencies that are sure to arise under these difficult conditions. The wine shop has seen few visitors in the last two weeks, providing a safe environment to catch up while maintaining appropriate social distance, filling your wine bags, and maybe enjoying a sample or two while we visit.
Let's face it, if This isn't a Wine Emergency, Nothing is!
Flattening the Curve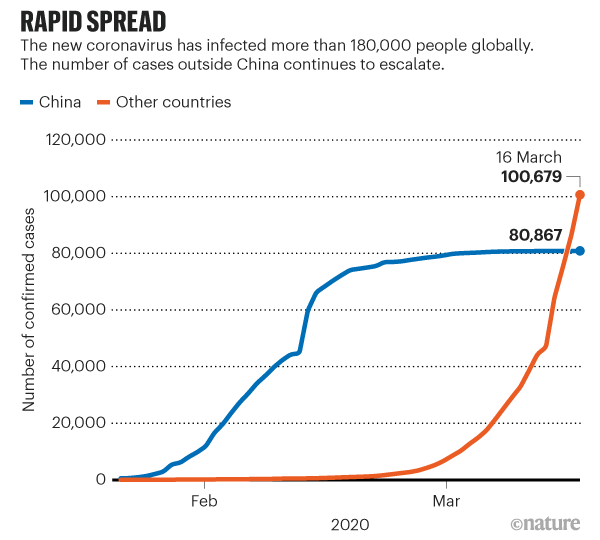 While COVID-19 is exploding around the world, we are all trying to get our heads around its progress against us vs. our progress against it. In theory, there are three data points to watch which will inform us of our collective progress in getting it under control.
In most countries the number of cases at first increases at an increasing rate, becoming steeper as case numbers increase to infect more and more people without precaution. As shown at left, from early January China case numbers accelerated through late February, when strict containment efforts reduced exposures and new cases in mid-February. Since then the number of total cases in China has remained more or less constant. So we know it is possible.
There are two noteworthy points on the blue line for China. First, when the total number of cases reached about 70,000 in mid-February, it was nearly vertical as new cases were increasing exponentially. Then, against all odds, over a few short weeks that nearly vertical rate of increase dropped to nearly horizontal, where the number of new cases equaled the number of completed cases, a point of sustainable dynamic stability. So That is also Our First Goal: to stabilize and start decreasing the number of new cases.
The Second Sign of progress will be to decrease our number of active cases to zero, which requires that such cases are resolving faster than new ones are arising. As is evident in the chart, we are about a month behind China in onset and have a far smaller population, yet have already surpassed their highest level of infection.
Tense times, stay Safe!
Mar a Lago Update: The Unbearable Lightness of the Tweetster

Since so many of our Regulars share a certain Been-Around-the-Block savvy, there is no need to mince words in this Time of Existential Peril for our Nation, our Planet, and the Magic of Life Itself on this Dear Planet.
Nothing is the way it is Supposed to be. (see video clip) The world has gone insane. Our so-called President has brought civilization to the brink of Disaster with his Breathtaking Stupidity, abetted at every turn by his Republican playground bullies. Collectively they have no sense of responsibility, no higher values than Blind Party Loyalty, and as Lt. Worf would certainly agree, No Honor.
In recent weeks we have seen the nation's Mayors and Governors step forward  of necessity to take up the Mantle of responsibility against the existential threat posed by the Virus. They are setting the kind of example we expect from All of our elected officials, and we are grateful for their Leadership and Commitment.
Through it all not a day has passed when the constant coverage of the Tweetster's bottomless ignorance and breathtaking incompetence has not brought us to our knees in fear for our Country, our Planet, and the Future of Life on Earth.
On one positive note, the mutual sacrifices of freedom we are collectively experiencing and practicing speak of the higher goals most of us share as human beings. And the big reduction in driving probably isn't hurting our climate preservation efforts, either!
This week's wine tasting

Cana's Feast Vaso Bianco '18 Washington $16
Pinot Gris-Chard, Gewürzt-Muscat blend; aromatic and light, with pretty floral highlights and buttery texture; palate of apple and pear fruits with a hint of toast.
Three Feathers Pinot Noir Rose '18 Oregon $20
Pale pink, with nose of fresh flowers and palate of strawberry, green apple, and melon with hints of brioche. Crisp and refreshing.
Folie a Deux Dry Creek Zinfandel $15
Fermented 20% whole cluster and aged four months in neutral oak; the aromas are pure, bright and fruit filled, with notes of raspberry, ash, cherry and flower; light, elegant, smoky finish.
Cana's Feast Bricco Red '18 Washington $16
Ripe raspberry, boysenberry and cocoa on the nose. Full flavors of cherry, brown sugar, and coffee serve as a base for more subtle mineral and iron nuances. Generous acidity and tannic structure support a long, round finish.
Baer Arctos Red '13 Washington $39
84% Cab, 8% Cab Franc , 8% Petit Verdot; displays rich aromas of black plum and cherry, with notes of pretty violet, anise, bay
leaf, and savory cigar box. Seamless and silky on the palate, with fine tannins.