Friday Breads (contact us to get on the pre-order list!)

Seeded Country Hearth – a nice rustic bread made with a blend of bread flour and fresh milled whole wheat and then loaded up with toasted hazelnuts, pumpkin and sunflower seeds. A great flavorful artisan bread – $5/loaf.
Buckwheat Walnut & Honey – yes another buckwheat bread. with a great earthiness from the buckwheat flour. This has a little less buckwheat than the last few breads I have done so it isn't as dense, but it is still plenty flavorful. Toasted walnuts for texture and crunch and some honey for sweetness. A great bread for smoked salmon or cheese – $5/loaf.

Hamburger Buns – made with a blend of bread flour and freshly milled white whole wheat (so no one knows its in there), enriched with milk, butter and just a bit of sugar for a soft and flavorful bun, then topped with onions. These are always popular and I can only make a limited number so get your order in early – 4/$5.
Featured Artist

Our neighbor Anne Gibert is again our featured artist for Studio Tour. This show continues her ongoing theme of large canvases and bright light, this time focusing particularly on animals. Last year her showing of "Portraits of Lummi Island Women" drew lots of interest from the community. If the same logic applies, this year we should have visits from Island buffalo, cats, chickens, and foxes.
Also, please note that our usual Friday night Bread Madness will be expanded as an Opening Reception for the new show. Anne will be there to talk with you about the new work, and munchies will be provided in addition to the usual Friday Bread Tasting. Sorry, you still have to pay for your tasting…but since most of you who come on Fridays are Club Members anyway, it will still only cost you, you know…Chicken Feed!
Nana Bear and One Day Old Seriozha

As we mentioned last week, we planned to be in Sonoma for the birth of our one and only grandson. As it turned out, we had quite an uneventful week except for a lot of pretty good food and wine and mostly very nice weather (except the first couple of days when it got into the 90's…!). But it wasn't until early Tuesday morning– the day of my flight home– that we were awakened about dawn with the Birth Alarm.
By 7am we had taken Mama Bear to the well-organized Santa Rosa Hospital for delivery. Not much happened before I had to catch the plane to Seattle in mid-afternoon, leaving Pat to play the Nana. Just about the time I got home to Lummi, Seriozha (aka Donald Sergei- — his father's and maternal grandfather's first names) had left the womb and is now Here In the World. Pretty Magical how suddenly there is another person in the room, beamed in from Nothingness. Hard to comprehend. Smart as we humans are, we still haven't figured out how to make Life happen from Scratch. Nope, have to keep using the same old starter recipe from before our most distant ancestors were born.
We toast you, Seriozha— may you live long in a world of Joy, Beauty, Kindness, and Wisdom!
The Don and Bernie Show


Will it happen? Seems unlikely, doesn't it? But it was a nice touch of the DT (we're all getting a bad case of the DT's about now…) to suggest that it be a fundraiser for a Worthy Cause, and it is really hard to picture what such a debate would look like. Astonishingly, the DT has won the Republican nomination without ever uttering a single Fact or Policy, only Slogans and Put-Downs. He has not demonstrated advocacy "for" anything outside his own Media Image, while at the same time he has shown that he is against  women, minorities, and Diplomacy As We Know It– all in the Vague Interest of "Making America Great Again." Whatever that means.
The real question is what in the world  would a Debate between Trump and an Opponent Champion actually look like? He has become the Republican Nominee over a many-months-long competitive "debate" process with a host of competing candidates, a dozen and a half Angels dancing on the Head of some Virtual Pin, vying to make their so-called Issues Relevant. And somehow from that process Trump has emerged as the Hope of the Right-Wing Sneetches, despite the fact that No One Actually Believes that he has any of the skills actually necessary to, you know, Run the World.
For more on this idea, check out this interesting interview from NPR today, in which a demography scholar points out that only about ten percent of eligible voters participate in primaries, and only about 10% of those actually have factual, rational reasons for voting as they do. Mostly Americans don't pay a lot of attention to elections; the Presidential election of 2008 elicited a voter turnout of 57% of the eligible voter base, the highest turnout since 1968. The argument is that people generally have a laundry list of issues they are at least somewhat interested in, but when they latch onto a candidate they don't look deeply. Rather, they hear something they like about a candidate and then just assume that candidate shares all of their beliefs and goals.
This week's wine tasting

Anne Amie Amrita White '14    Oregon    $14
Palate-tickling blend of pinot blanc, viognier, and riesling; aromas of quince, Rainier cherry, and lemon; palate of strawberry, raspberry, and nectarine; good match for Asian spices.
Villa des Anges Rosé '14   France    $10
Spicy and focused on the nose, showing fresh citrus and red berry and a hint of white pepper. Dry and nervy on the palate, with refreshing bitter cherry and berry skin flavors.
Borsao Garnacha '13    Spain $9
Expressive aromas of blackberry, licorice and and fruitcake aromas; Juicy, spicy and supple, sweet, red and dark berry flavors; finishes fresh, focused and nicely persistent.
Septima Malbec '13     Argentina   $9
Musky, ripe aromas of currants, leather, chocolate and espresso. Supple and generous flavors of  sweet currant and tobacco flavors with a note of pepper, soft tannins and good length.
Vignalta Colli Euganei Rosso Riserva '09   Italy   $21
Merlot and cabernet sauvignon from volcanic hills north of Venice. Rosso Riserva is a true and delicious expression of its terroir, nice balancing of fruit and tannins, softened with two years of oak barrel aging.
Comments Off

on lummi island wine tasting may 20 '16
Friday Breads (contact us to get on the pre-order list!)

Whole Wheat Ciabatta – A mix of bread flour and fresh milled whole wheat and uses two different types of pre-ferments, an Italian biga and a poolish. When the final dough is mixed it is then fermented overnight in the refrigerator, which  jump starts the enzymatic activity, enhances flavor and promotes digestibility of the bread.  A great flavorful artisan bread – $5/piece.
Egg Bread with Dried Apples and Honey – This bread is also made with a pre-ferment before mixing the final dough. Then it is enriched with lots of butter, eggs and honey which makes for soft crumb and flavorful bread. The dough is divided into portions which are then braided. Makes for great toast and even better french toast- $5/loaf.
And, for a bit of pastry:
Palmiers – (aka Elephant Ears) – These are made with a puff pastry dough that is almost equal parts butter and flour. It is rolled out and spread with sugar before folding and slicing. I've heard Di say these are one of her favorites. And boy are they delicious!!  – 4/$5.

Make a note of it: Open Friday, Closed Saturday!

As we mentioned last week, the wine shop will be open for bread pickup and wine sales as usual on Friday this weekend. Though there will not be an official wine tasting, as in the past some of you might chip in to share a bottle and schmooze a bit while you pick up your bread from Janice. It's yet another expression of the ever-unfolding benefits of wine club membership!
Be sure to note, however, that the wine shop will be closed all day on Saturday, May 21! We will re-open as usual next Friday the 27th to kick off the Annual Lummi Island Memorial Day Weekend Artists' Studio Tour. Friday will be Bread Friday as usual PLUS it will be an opening reception for Anne Gibert, our featured artist for Studio Tour. More on that next week!
Still Waiting for Seriozha
We have been in Sonoma for a couple of days now, kind of hanging out, trying to stay out of the way of what is surprisingly normal everyday life as a birth approaches. As is clear in this photo from several weeks ago, where Papa Bear Don is showing Sympathetic Belly for Mama Bear Marina (holding Yellow Cat),  the Forces of Nature unfold inevitably and at their own mysterious pace.
And let's face it, guys– we can have beer bellies, paunches, fat rolls, and even occasional Bloating, but this shape is singularly and archetypally Female. We eat, we sleep, we wander and wait. A vigil of sorts. An oddly quiet time before Everything Changes…!
Rosso Pizzeria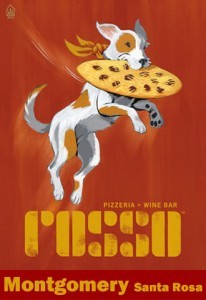 Yesterday we drove over to Santa Rosa to take care of a little car rental business, after which we started looking for a place to have lunch. The first thing you need to know is that Pat and I have often been blessed with strange and wonderful Food Karma. Which is to say, we have a long history of wandering in Unknown Territory, feeling a little hungry, and looking for a Little Something. Often in the Middle of Nowhere. And we Stumble into some Questionable-looking Joint to find that OMD, out of Nothing the Universe has created for us an Unexpected Treat.
So it was yesterday in Santa Rosa when we went looking for a little restaurant we stumbled upon (yes, lots of ristorante stumbling) a couple of years ago that we recalled was part of a hospital complex. The restaurant we were thinking of was Chloe's French Cafe. So we thought, okay, let's look for that, only to find ourselves at a hospital cafeteria..i.e., wrong hospital! 
A bit of wandering across several desolate parking lots led us to an entirely unimpressive-looking "pizza restaurant," the Rosso Pizzeria, where we shared a late afternoon flight of several rose wines and a delightful plate of baked pizza dough (pizzeta) with salt, olive oil, and prosciutto with freshly made burrata, followed by a plate of roasted mussels + white wine + lemon + pancetta + shallot+ garlic + tarragon. 
Good food and good wine: the perfect way to pass our precious time! See you next weekend!
Comments Off

on lummi island wine tasting may 13-14 '16
Read more.(note: some photos may enlarge when clicked)
Friday Breads  (contact us to get on the pre-order list!)

Multi seed & Grain Loaf – Starts with a sourdough culture of both bread and rye flours, then mixed with more bread flour, fresh milled whole wheat and rye and a little honey for balance, and loaded up with flax, sesame, sunflower and pumpkin seeds and polenta cornmeal. A great artisan bread – $5/loaf.
Semolina Levain – The sourdough culture of bread flour and fresh milled whole wheat, with more bread flour and semolina from durum wheat which gives the bread a pretty pale yellow color and a richer flavor. For even more flavor a little butter is added which helps keep the crumb soft. Makes for great toast- $5/loaf.
And, on the sweet side…
Individual Cinnamon Rolls – Made with a rich sweet dough that is full of eggs, butter and sugar, rolled out, spread with pastry cream, and sprinkled with cinnamon sugar. – 2/$5.
Chateau de Donjon
Back in October 2011 we were driving out of Carcasonne, and diverted in search of an old winery called Chateau du Donjon. It has been around for hundreds of years, located in an old castle-and-former-monastery just a few kilometers away. We had already been buying these wines for several years, enjoying their reliable quality and modest prices, the two most important characteristics of wines we prefer to carry.
As it turned out, we arrived around mid-day on a Sunday, and knocked on the door. (remember, this building is essentially a huge medieval castle, with a huge door like an old Cathedral!). As there was no answer, we were heading  back to the car when the door opened and we met Jean Panis, the owner-winemaker. Though the place was officially closed, he gave us a very brief tour and tasting in what must be one of the oldest rooms we have ever been in. Might have been a dungeon, or prayer room, or who-knows-what back in the 15th century.
The whole interaction took less than a half hour, yet felt like a very kind gift. Indeed, after we had left and were driving away, M. Panis came jogging across the street with a bottle of wine for us. Charmant, n'est-ce  All you need to know is that the wine he gave us is one we have carried for many years, and which we are pouring this weekend. This particular vintage has intriguing aromas and flavors of roses. No, I don't mean pink wines from Provence, I mean the actual flowers! VERY rosy wine; come check it out!
Seryozha

Heads Up, amigos! Although THIS weekend we will follow our usual schedule, NEXT weekend (May 20-21) we will be "away"– for the birth of Number One Grandson! Fear not, however, because despite our absence, be assured that the wine shop Will Be Open as Usual next Friday (May 20) for bread pickup, wine purchases, and general socializing. And as we go to press tonight, the shop will probably be closed next Saturday, May 21.
Since the mother of this Magical Grandchild is Russian, he is being named in the Russian tradition (sort of), in this case with reference to both his father's and grandfather's names, a mix of Russian and American customs. His first name will be from his father (Donald) and middle name after his maternal grandfather (Sergei).  Though by Russian tradition that would become "Donald Sergeyovich" (Donald, son/grandson of Sergei), his mom is being a little creative combining American and Russian traditions. All you need to know is that the common Russian diminutive for Sergei is Seryozha. We think it's a pretty cool name…maybe it will stick! Anyway, please send along your collective positive vibes, and stay tuned for breaking news; it's all pretty exciting!
The Unbearable Lightness of Being
From time to time we are drawn to indulge our need to be philosophical. Years ago, when I was a Zen student and body-centred psychotherapist, I had a client who was moved to Despair by the idea that Life is Meaningless. And when this person said "Meaningless," it was, well, Full of Meaning. Sort of. I asked one of my Teachers at the time about this, and I am still meditating on his response:
"Yes. Life is Meaningless. And it is Meaningless that it is Meaningless!"
Well, interesting, but not very satisfying, huh…?  Like the book and movie title borrowed for this section, "the Lightness of Being" refers to the idea that we just get one go-round with each decision we make. We don't appear to have the luxury of trying out even one or two of the infinite number of possible alternative responses, and being able to adjust our decisions accordingly.* Life is "light" precisely because it unfolds linearly and we only get one shot at everything. Therefore, almost without exception, we all spend our lives painting ourselves into one sort of Corner or Another, and hopefully we learn something from that. The big Philosophical Question is whether, through Karma, or an Endless Cycle of Birth and Death, or ongoing Reincarnation, we get to carry Forward our hard-earned Lessons of Experience toward some Goal. Ah, yes, an appealing idea, n'est-ce pas?"
This week's wine tasting
Coopers Creek Albarino '14    New Zealand   $18
Crisp, dry and zesty, showing pure white peach  and lemon flavours; round and creamy with delicate peach and citrus fruit tones, zesty acidity, and touches of minerality.
Bargemone Provence Rose '15   France    $14
Beautiful pale pink. Bright, mineral-dusted aromas of pink grapefruit and dried red berries. Light and racy on the palate, with tangy citrus and redcurrant flavors. Finishes brisk and dry, with good lingering spiciness and length.
Domaine Donjon Minervois Tradition '11    France      $16
60% Grenache, 30% Syrah and 10% Carignan; aged 12 months in stainless steel. Meaty and complex, with sweet, ripe red and black fruits, loads of white and black pepper, bay leaf and wild roses, it stays fresh and lively on the palate, with medium-bodied richness and length.
Tarima Hill Monastrell '13    Spain     $14
Complex, perfumed scents of dark berry liqueur, cola, incense and smoky oak spices. Plush and expansive, with sweet cherry compote and blueberry flavors with notes of floral pastille and bitter chocolate. Rich and lively, finishing with excellent power, smooth tannins and a late jolt of allspice.
Le Rote Chianti Colli Senesi '11 Italy $14
Rich, chewy, dark fruit evolves into a smooth, eminently drinkable palate of black cherry and sweet tobacco. Great food wine!

Comments Off

on lummi island wine tasting may 6 '16
Read more.(note: some photos may enlarge when clicked)
Friday Breads  (contact us to get on the pre-order list!)

Cinnamon Raisin Bread – Here, the cinnamon and raisins are incorporated right into the dough. The bread is sweetened with honey instead of sugar, and has fresh milled whole wheat flour and rolled oats with a little milk which tenderizes the crumb. A great breakfast bread for toast – or french toast – $5/loaf.
Buckwheat Rye – This bread is similar to last weeks' Breton bread but has half buckwheat and fresh milled rye that is soaked all day, with a long cool ferment in the refrigerator overnight.  A little honey helps to balance the whole grains. Another good hearty bread packed with flavor – $5/loaf.
And, for a bit of pastry:
Conchas! – In honor of Cinco de Mayo, these delicious Mexican pastries are made with sweet dough enriched with eggs, butter and milk and then topped with a colorful crunchy sugar crust. Delightful!  2/$5.
Patrimonio

Nielluccio is the dominant red wine grape varietal planted on Corsica. By law it must make up 95% of any blend bearing the name Patrimonio. As it turns out, there is some considerable dispute among wine historians whether Patrimonio is identical to sangiovese, the dominant red varietal of Italy, or perhaps a clone of sangiovese introduced to Corsica back in the 12th century, or perhaps even an indigenous grape varietal native to Corsica. I mean really, can't all this be sorted out with some arcane plant DNA tests?
The tiny Patrimonio denomination can be seen in purple in the accompanying photo. If Corsica can be seen as the back of someone's left hand, with the left index finger raised for emphasis, Patrimonio would be located just about where the fist that could be made with that hand could contact your nose. That is, it is a small area up in the northeast corner of the island. In bygone days, this varietal was known for producing rustic, muscular, and quite tannic red wines. These days the wines are still powerful, but much more refined. This weekend our featured rose is made from this Nielluccio. It is both distinctive and delicious!
Chateauneuf-du-Pape

Okay, okay, so we don't offer these high-falutin' wines very often. Let's face it, having this appellation on your label significantly increases the price of your wine compared to, say, the little Lirac region just across the Rhone river to the south. And generally speaking, our philosophy at AWG is that these days pretty much everyone is making pretty good wine. Therefore, marginal increments in Quality often come at a very High Price, and as a result, few of us on the Island drink a lot of CdP. Or, if you do, you haven't been inviting us to share it with you! As someone famous once said,"when serving wine to a close friend, offer your Best Wine; when serving several, you Second Best will do." Which makes us wonder…is it a sin to covet your Own Goods…?
The name of this little region dates back to 1305, when Bertrand de Got, Archbishop of Bordeaux, was elected Pope, and took the name of Clement V. He transferred the Papacy to Avignon in 1309, where it remained for much of the 14th century. All you need to know is that this little wine region is a tad northwest of Avignon, on the north bank of the Rhone river. The combination of soils and climate makes for pretty good wines in bad years, and incredibly good wines in very good years.
This weekend we have a few bottles of a relatively inexpensive (yes, in this realm $40 is "inexpensive!) wine from this region which we found to have delightful and nuanced flavors and aromas. As with any wine, you might not particularly like it. But you owe yourself this chance to taste it, n'est-ce pas?
Politics as Not Usual


You know, all of these Scientists who have been working on Global Climate Models for the last four decades must have missed some important Variables in the Equation of Everything. I mean, No One saw This coming– here's a guy with a 'Uge Ego who decides on a Whim to run for President against a Bazillion other "Candidates" (Why Not, Everyone Else is Doing It!), never expecting anything more than some Hype, some Publicity, a Few Laughs, and maybe even some Profit (hey, anyone can get Lucky, huh…!).
And then, Astonishingly, against All Odds, OMD, he actually WINS! And the Entire World takes its Finger out of its Nose for a moment and thinks…Huh?…WTF? Have the Planet's atmosphere and magnetic field stopped filtering Cosmic Rays from the Reality TV Planet?
All you need to know is that Stealth Candidate Paul Ryan has refused to endorse The Donald, citing his lack of Conservative Credentials– as defined by Speaker Ryan, who Speaks for Le Haut Politique of the Republican Party. As if, you know, "Conservative Credentials" mattered a Whit to the hapless "Conservative Base" that has for some 35 years actually Believed that the Party stood for Family Values, Might for Right, and Continuity of Benevolent White Christian Supremacy. But it's looking like they're not so sure anymore. They seem to be digging deep inside and finding Resonance with someone who seems to Grok their Fear of Extinction, and the Chickens are Coming Home to Roost.
Given all of that, we stick with our prediction that Somehow, in the midst of all this Insanity, Ryan will somehow nab the Nomination from this Perfidy. Which is too bad, because, unlike Trump, he could actually win. And That would be Really Scary to some of us old 50's liberals.
This week's wine tasting
Cougar Crest Viognier '14    Washington    $14
Heady floral, citrus, and melon aromas aromas; rich texture with pear, peach and tropical fruit flavors and a smooth honey-like finish.
Yves Leccia Patrimonio Rose '14 France $18
Primarily Niellucciu with Grenache, this rosé de saignée shows flesh and substance. Aromas of pomegranate, watermelon, vivid flowers, and herbes du maquis give it a distinguishing charm with salty undertones and cleansing, mouthwatering finish.
Daniel Brunier Le Pigeoulet en Provence '12   France    $16
Grenache blend; fresh raspberry and candied lavender scents and flavors are lifted by a peppery nuance and a hint of allspice. Juicy and seamless.
Garnacha de Fuego '14     Spain     $9
As usual, loads of fruit with strawberry and black cherry notes intermixed with licorice and earth, and great purity and richness for this price point.
Domaine la Roquete Chateauneuf-du-Pape '11 France $39
 Pungent aromas of raspberry, cherry, white pepper and dried violet. Deep cherry and bitter chocolate flavors are enlivened by peppery spice and floral pastille qualities, with tangy acidity giving the wine spine. Quite deep for the year, finishing with very good power and length.