(note: some photos will enlarge when clicked)
Bread Friday this week

Barley, Whole Wheat, & Rye Levain – a levain bread where the sourdough culture is built over several days and allowed to ferment before the final dough is mixed. Then mixed with bread flour and freshly milled whole wheat, barley and rye flours. A hearty whole grain bread that is a great all around bread – $5/loaf
Buttermilk Currant – A really flavorful loaf made with bread flour and almost half fresh milled whole wheat. A little honey for sweetness balances the flavors of the whole grain, buttermilk makes for a soft and tender crumb. Then lots of currants and just a little rosemary round out the flavors. This bread makes great toast and even better french toast- $5/loaf
And pastry this week…
Baker's Choice Surprise! Sometimes inspiration for pastry comes later in the week than the email. All you need to know is it will be delicious, cost $5, and, as always, quantities are limited! C'mon, step up and take a chance!!
Open Friday, Closed Saturday this weekend!

We are away for the weekend, celebrating grandson Seriozha's Second Birthday in Corvallis! Bread Friday will happen as usual this week from 4-6pm with Janice and David and delivering bread and pouring this week's wines (see list below). However please note the wine shop will be closed all day on Saturday, 5/19. 
We will reopen for the Memorial Day Artists' Studio Tour Friday 5/25 from 4-6, and Saturday and Sunday 5/26-27 from 1-6pm, continuing our ongoing show of works by Meredith Moench. More on that next week!
The Current Wine Plan for Studio Tour is for our friend Tristan to come up and pour wines from his Spanish Portfolio on Friday and Saturday. Mark your calendars!
Trailer Update
Plan A was to pick up our new trailer in Portland on May 1. But as we wrote that week, it was the Wrong Trailer, Gromit! "Our" trailer had gotten stranded Somewhere in Indiana when the factory lost track of where it was supposed to go. Instead they sent a trailer with the same exterior but a different interior.
Then we were assured that Everything Possible was being done to get it shipped ASAP, almost certainly within a week, May 7 or 8 at the latest. As that date came and went, it became clear that yes the trailer had "gone to the shipper," and would soon be On the Road to Oregon, and For Sure it would be leaving Indiana by Monday, May 14. Figure three or four days on the road and it could arrive in Portland by Thursday, May 17, opening a theoretical doorway for pickup sometime during our current Birthday Trip.
So, as one does, we maintained Hope. At this writing we are in a motel in Woodland, WA, on our way to Corvallis. Today we get the latest update on the Trailer Shipping News; the current projected delivery date is next Friday, May 25. Which is (see above) Studio Tour Weekend. Curiously, repeated Disappointment doesn't so much leave a Bitter Taste as a Corked taste, Flavorless and somewhat Musty, and you are Ready to Dump it Down the Drain, but you have built up So Much Expectation you can't quite bring yourself to do it, and you sit with your disappointment and frustration with, you know, a kind of Puzzled Irony.
Mar a Lago Update: Rooms Full of Elephants
Day to Day coping with the Tweetster in Charge of The World is an Ongoing Challenge. Everybody Can Feel it is All Wrong, that a Terrible Mistake has been made. It is not unlike the beginning Gambit of Hitchhiker's Guide to the Galaxy, when a Vogon Demolition Ship is sent to destroy the Earth to make room for a new Hyperspace Bypass. Nothing personal, Just Business, sorry for Any Inconvenience, Really, If you hadn't been here, we wouldn't have to Remove You, Our Hands Are Tied.
The News this week has repeatedly reminded us that it is the Anniversary of the appointment of Robert Mueller to Investigate Possible Wrongdoing/Collusion between the Trump Campaign and Russian Intelligence Operatives during the 2016 Election Campaign. Republican Loyalists, having Accepted Him as their Personal Savior,  have Closed Ranks around the Tweetster in a Phalanx of Shields and Spears to protect him from each Daily Onslaught of Fake News. And the Rhetoric continues to Amp Up that there should be a Time Limit for Mueller to Prove that there is a There There.
This all reminds us of the Eight Long Years of the Whitewater Investigation of the Clintons, not to mention the Fox News 25-year Obsession with Hillary Clinton, you know, in case she ever ran for President, and oh by the way, fast forward to today's world where there is Nothing the Tweetster can do to arouse moral outrage among his Disciples.
So it is worth taking a moment from the daily cries of Fake News and looking around the room Slowly Enough to Start Focusing on the Increasing Number and Size of Elephants in the Room that Everyone is Studiously Ignoring, especially the One in the Middle that No One can either Ignore or Acknowledge: that Yes, Indeed, the election of  2016 was manipulated and Stolen through a concerted campaign involving Russian hacking, Facebook manipulation, Cambridge Analytica, and the Tweetster Campaign. But of course no one can actually Say That.
This week's wine tasting
Maryhill Viognier '15        Washington       $14
Vibrant aromas of orange zest, honeysuckle, and pink grapefruit; flavors of lemon, pear, and white peach. The mouthfeel is delicate, yet full-bodied, withnotes of fresh flowers.
JM Cinsault Rose '17   Washington    $23
Bigger, more textured, and more aromatic than one expects from a rosé; in the dark could be mistaken for a full-bodied white blend…delicious!
Antonio Sanguineti Nessun Dorma Toscana '15    Italy    $15
Super-Tuscan blend of sangiovese, cab, and merlot, with notes of black currant and cherry, and spicy chocolate. Rich and spicy on the palate, the red fruit comes on strong in the middle, with chocolate rounding out the finish.
Chat. Cabriac Carignan Old Vines '16 France $12
Ruby color with purplish reflections; scents of ripe red fruits, currants and blackcurrant with some spicy notes; in the mouth elegant, round, and well structured with soft tannins and good persistence.
Torbreck Woodcutter's Shiraz '16   Australia   $19
Rich, opulent fruit with a wonderful freshness and balance. An incredible deep, central core of dark fruit gives way to an intense textural mid palate full of cassis, plum, spice and dark chocolate.
(note: some photos will enlarge when clicked)
Bread this week

Seeded Multi Grain Levain – Made with a sourdough culture and a flavorful mix of bread flour,  fresh milled whole wheat, and rye with flax, sesame,  sunflower, and pumpkin seeds, some polenta for great flavor and crunch, and a bit of honey for some sweetness. – $5/loaf
Buckwheat Walnut & Honey – A flavorful artisan bread made with a poolish, fresh milled buckwheat and bread flour. Buckwheat is not a grain, it is actually a seed and closer in the plant family to rhubarb and sorrel than to wheat, but contains no gluten, and has an earthy flavor,  a little sweetness from honey,and toasted walnuts add a nice texture. – $5/loaf
For pastry this week…
Rum Raisin Brioche: A delicious brioche dough full of eggs, butter and sugar. Filled with golden raisins, soaked in rum, and chunks of almond paste, then topped with a chocolate glaze before baking. Ooh la la, what's not to like?! y. – 2/$5.
Syncline

Syncline Wine Cellars is located along the Columbia River a bit west of Maryhill in the Columbia River Gorge. The winery is located a mile or so north of the river on a south sloping upland at the eastern edge of the new Columbia Gorge AVA, just east of a series of 300-foot cliffs rising up from the Columbia River. Locally known as the "Coyote Wall Syncline" and to geologists as the "Bingen Syncline," this dramatic feature gives the winery its name.
The owners, Poppy and James Mantone, made their first wine in 1999, and since then have set a high standard for Rhone varietals in Washington State. Their wines consistently bring out the best qualities of Washington-grown Rhone red varietals Syrah, Grenache, Mourvedre, Cinsault, Counoise, and Carignan, and white varietals grenache blanc, and picpoul.
Their recently released 2016 mourvedre is a great example of of the Syncline style at its best, with mouth-filling, soft texture and bright, rich, lingering fruit flavors. Supposedly either Thomas Jefferson of Benjamin Franklin is said to have quipped that wine it the best evidence we have that God loves us and wants us to Be Happy, and whoever it was had probably sipped a wine very much like this one. I taste it, I lean back, I roll my eyes, I smile, I feel Grateful. Yum!
Down the Rabbit Hole in Search of Relief
It started a few months ago, waking up in the morning with aching muscles in upper legs. Over some weeks it expanded to include shoulders and upper arms. Worst in early morning, easier after light exercise and stretching, but got worse over time. So after a month I thought, hmm, this must be the Statin Thing people talk about , the muscle aches, the cramping… so I cut my dose in half. But since that didn't help much, I eventually stopped taking statins altogether and informed my Doc, who did an exam and some blood tests which said "statins are not the problem." Huh? Really?
Simultaneously I saw an acupuncturist and a naturopath who both Believed that yes, these are Classic Statin Symptoms, which Are Indeed the Problem, so you need to rebuild your System with supplements. Meanwhile our daughter-in-law, also an MD sent a link about something called polymyalgia rheumatica (PMR), a strange condition that primarily hits people around age 72, of Northern European roots, causing soreness and cramping in the muscles of the shoulders, arms, thighs, and hips, and is worst in the early morning, Oh, yeah, I thought, that sounds Very Familiar, so I told my Doc, who referred me to a rheumatologist, but who couldn't see me for about six weeks! 
By this time getting up in the morning had become agony; putting weight on wrists, elbows, shoulders, or knees was cripplingly painful. I read that the standard treatment involved a corticosteroid called prednisone. It turns out that my Dear Dog Tator has been taking a small maintenance dose of prednisone since her own auto-immune issues last summer. So of course I took a small dose of her med…and WOW, relief was rapid (a few hours) and a relief!
Then followed several days over which I dropped by the rheumatologist's office for an impromptu chat, (Yes I have an appointment but not for several weeks, do you mind if I wait…? informed my own doc that I needed him to expedite my appointment with the rheumatologist, which precipitated a conversation between my doc and the rheumatologist, which led my doc to begin the standard course of prednisone with me. So here as I write the weekly blog, I am out of pain for the first time in many weeks, feeling a little euphoric and hopeful and vastly Relieved. It's been a tough few months, and a Comfort to see Relief in Sight!
Mar a Lago Update: Insanity Fatique 
The recurring metaphor for our Country and our World since the 2016 so-called "Election" is the Mad Hatter's Tea Party, in which all of the Players have been Imprisoned in an Ongoing Hell of Nonsensical Events. Alice, of course, gets to leave the Tea Party after a time, though sadly it does take longer to get back to what Alice would recognize as "Reality."
To some degree our Entire World seems dragged along into our National Nightmare, the entirely of which could only have been developed and written by a writer as creative and disturbed as 50's comic strip author Chester Gould, creator of Dick Tracy.
For you many who are too young to remember, like Alice in Wonderland, the Dick Tracy comic strip was populated by Ultimate Weirdos with names like Flattop, BO Plenty, Flyface, Sparkle Plenty, Oodles, Diet Smith…the list went On and On and On. And no, it never made much sense, but yes as kids we did read it every weekend. Like the Mad Hatter's Tea Party we all thought it would eventually make sense, beginning, you know, with the weird, sharp Jaw of the Dick Tracy character and ending with the inevitable close-up in most weekend strips with the little arrow linking an object in the drawing with a little sign that said "two-way wrist radio,' eventually replaced with the "two-way wrist TV."
Every day lately the Tweetster has been linked with Yet Another Character who would have been Right at Home in the World of Dick Tracy.
As Charlie Brown often said, with his forehead leaning against a tree, " I can't stand it!"
This week's wine tasting
Kerloo Grenache Blanc '17   Washington    $17
An enticing nose that showcases bright citrus, light honey, and a hint of dry straw; bright acidity along with a supple of mouth feel. Bursts of star fruit, lemon peel, minerals, and salinity will definitely hit the spot! You'll want this beauty with anything saying "seafood!"
Vina Equia Rioja '14   Spain   $10
Vivid cherry red color with hints of vanilla, coconut, and  licorice; it is well-balanced with mature red fruit flavors on the palate and full-bodied with an elegant finish.
l'Ecuyer de Couronneau Bordeaux Rouge '15    France    $16
Merlot-dominated it has been made with 'easy-drinking' very much in mind, offering a bit of New World ripeness; full bodied with good depth; palate of berries, red fruit, and hints of tobacco in a long finish.
Zenato 'Alanera' Rosso Veronese      Italy        $15
Dark, inky color; rich and focused nose, with ripe berries, dusty oak and a precise note of waxy vanilla bean. On the palate delivers extracted flavors of cherries, strawberry, clay and even a hint of crushed mint. Soft tannins, rounded finish.
Syncline Mourvedre '16   Washington $32
Unites Red Mountain's intensity, brilliant acidity, and tannin structure with Horse Heaven's lush fruit flavors and texture for a wine that offers juicy plum, blackberry, cassis and savory flavors with hints of wet stone. A rich, layered mouthfeel and bright finish complement the intense aromas.
(note: some photos will enlarge when clicked)
Bread this week

Pain Meunier: aka Miller's bread. Made with pre-fermented dough it contains all portions of the wheat berry: flour, fresh milled whole wheat, cracked wheat and wheat germ. Makes the best toast! – $5/loaf
Semolina w/ Fennel & Raisins – A levain bread made with bread flour, semolina and some fresh milled whole wheat. A little butter for a tender crumb and fennel seeds and golden raisins round out the flavors. -$5/loaf
For pastry this week…
Chocolate Croissants – a traditional laminated french pastry made with a bit of sourdough flavor and another pre-ferment to help strengthen the dough to create the traditional honeycomb interior. Rolled out and shaped with delicious dark chocolate in the center.  – 2/$5
Abacela Tempranillo

Sometimes people just have a Thing for certain grapes and the wines they become. In the case of Abacela winery in southern Oregon and founder physician-turned winemaker Earl Jones, the grape was tempranillo, a Spanish varietal dating back a thousand years. In many wine regions of Spain it is simply known as "Tinto," because if it's red wine from that region of course it is tempranillo. In the mid-nineties, Jones and his family planted 12 acres of tempranillo in the Umpqua valley.
This week we are featuring the latest vintage of tempranillo from Abacela. Being from Oregon and not Spain, it bears an Oregon footprint, in this incarnation smooth and silky compared to its Spanish counterparts. We think you'll like it!
Oops, Wrong Trailer!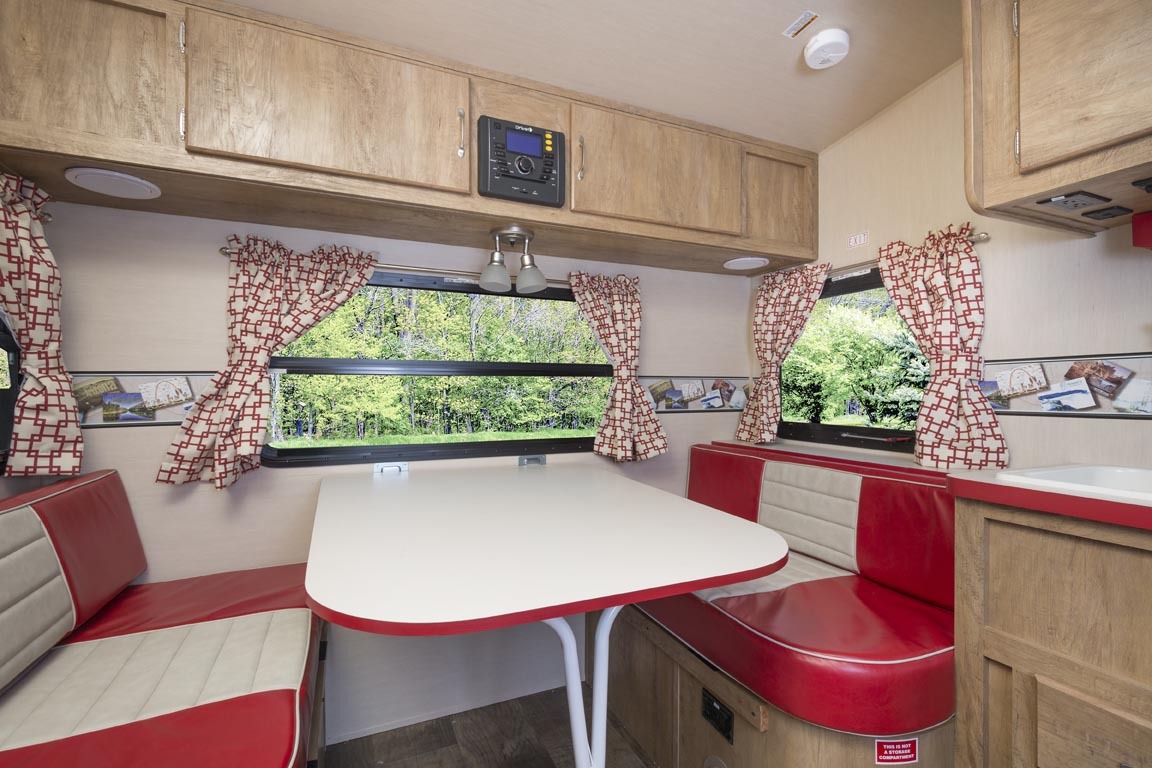 As many of you know, we sold our little T@da travel trailer a few weeks ago, and were awaiting the arrival of a new, slightly roomier one. Supposedly it had arrived at the dealer's lot near Portland and would be ready for pickup this past Tuesday.
So we showed up and began our two-hour Briefing on how things worked. We started outside, and all was going well. Then we moved inside, and were continuing the process, item by item. After a few minutes I began thinking, gee, the wood seemed a different color than I remembered. And then Pat "got it" and blurted, "It's the Wrong Trailer!" And Yes, it Was, and quite a shock for us and for the dealer.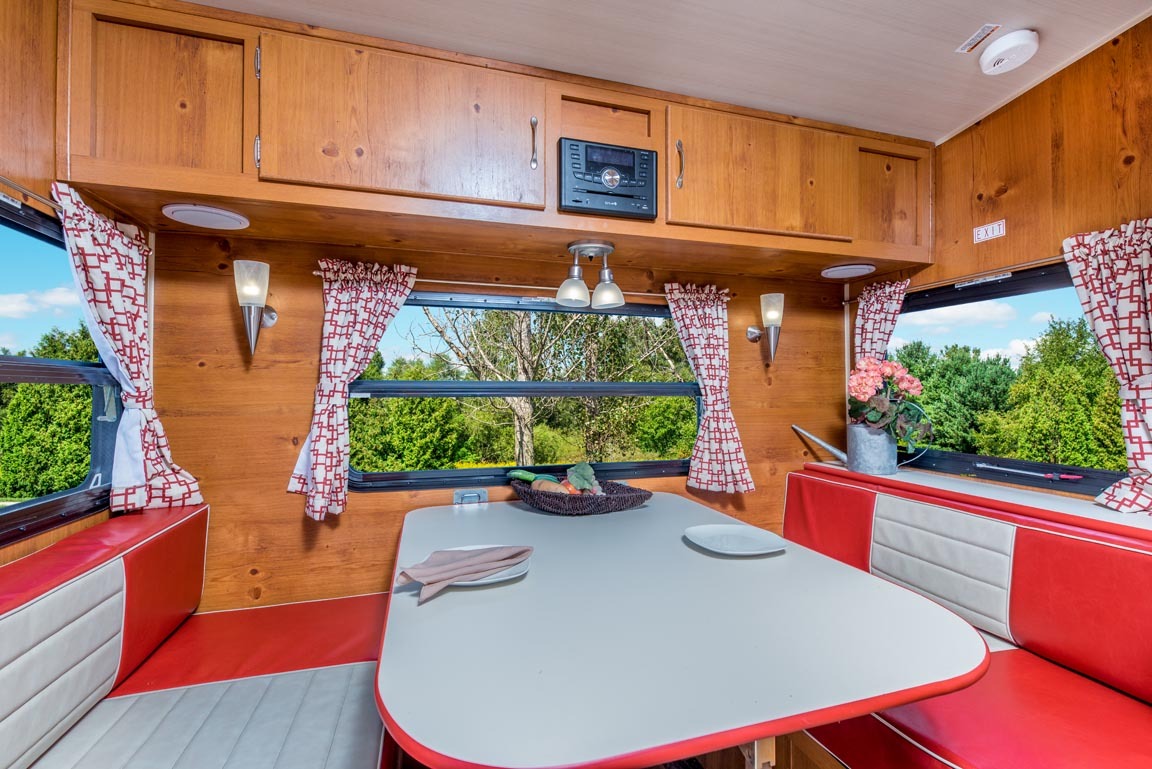 As you can see in the photos, the lower one has wood paneling on the walls, and the upper one does not. It may seem small thing, but the effect on Ambience is fairly Major. Bottom line: a mistake had been made at the Factory (it's in Indiana…apparently All the Trailers Made in America are produced in Indiana, don't know why), where "our" trailer with the wood paneling was still sitting.
Should arrive in a few weeks, and we will try this exercise again…!
Mar a Lago Update: Rudy to the Rescue
Two metaphors come to mind. One is a big Soup Pot on a stove. It's been there simmering for days, or weeks, or months, and every time someone stirs it, different stuff is visible for a moment as it swirls to the surface. These days a casual stir brings up glimpses of Stormy Daniels, Michael Cohen, Sean Hannity, and now Rudy Guiliani at the steamy surface. Not so long ago, the same stir would have brought up, say, Paul Manafort, James Comey, Andrew McCabe,  Jared Kushner, or Michael Flynn. No doubt this is exactly the same kind of pot the witches were tending in Macbeth, dark and foreboding.
The second metaphor is a long-time cartoon favorite, the image of the glass door of an electric dryer (or washer), with first one animal character, then another, or even a group spinning past the window, eyes wide, mouths agape, arms and legs flailing, caught up in Chaos, hoping the Cycle will soon stop.
In both metaphors the images are all glimpsed through a maelstrom, spinning, swirling…Out of Control and Caught Up in something Bigger. So, today's question is whether Rudy is In the pot along with all the other Ingredients, or if he is next the stove, you know, Stirring the Pot.
This week's wine tasting
Chateau L'Ermitage '15 France $11
Roussanne, grenache, and viognier. Light gold in color with aromas of peach, flowers, and honey; the Grenache provides the richness and the Roussanne the balancing acidity.
Sallier de la Tour Nero d'Avola Sicilia '15   Italy   $13
A friendly wine from a soothing grape; aged partly in wood and partly in steel, showing youthful freshness and fruitiness, with enticing notes of spices and liquorice.
Perazzeta Mercurio Rosso Toscana   Italy      $12
Sangiovese, cab sauv, alicante blend from Maremma; Dark notes of prune, cherry, soft leather, and Italian herbs over a bright acidic backbone. Craves meat and fat!
Finca el Tesso Crianza'13     Spain   $17
87% Tempranillo, 8% Graciano, 5% Cab Sauv from 50 year-old vines; Bright and polished with enticing aromas of chocolate, baking spices, licorice, and sweet flowers, with lush notes of black raspberry.
Abacela Fiesta Tempranillo '15   Washington   $21
Opens with aromas of red fruit, cherry, plum and spice notes. This sleek and silky Tempranillo unfolds into flavors of black currant, mocha, French vanilla with a lush and velvety tannin.
(note: some photos will enlarge when clicked)
No Bread this week

Sorry, no bread orders or pickup this week.
Look for an email next Sunday regarding bread selections for next week!
  Kerloo 
We first encountered Kerloo wines a few years ago on a visit to Walla Walla, when they had a little tasting room downtown, and remember being impressed with their pleasing texture rich flavors. We encountered their wines again earlier this week at a distributor tasting of Washington and Oregon wines. We ordered two of them, one of which (Majestic GSM) we will be pouring for your pleasure this weekend, and the other (grenache blanc) very soon.
Kerloo began in 2007 undr the guidance of young winemaker Ryan Crane. His wines have gotten a lot of press in the last few years as he has developed into a wine maker of some distinction,  in 2013 being one of the wine makers featured by Wine Enthusiast Magazine, which described him one of several young wine makers who are altering the landscape of Northwest wine.
This year's GSM is a mostly grenache and mourvedre with just a bit (5%) of syrah. Typical of the Kerloo style, it shows freshness and purity, juicy acidity and
solid ripeness. There is a plush quality to it, showing an alluring nose of (I am not making this up!) fresh lilacs, a soft, silky texture and rich flavors that linger and please the senses. As, you know, wine is meant to do…!
St. Cosme Little James Basket Press

This is a wine we have brought in sometime every year since we opened in 2005. It's made by a well-established, multi-generational French winery in Gigondas. Although this is perhaps their lowest-end wine, mostly grenache, it is made in an unusual and intriguing way, using a variation on what is known at the solera system. The main feature of this method is that it produces a "rolling blend" of wines from many vintages. Each year part of the wine is bottled, while the remainder is mixed with the new vintage to age for another year. That process continues for many years.
Like a sourdough, each solera has a beginning, and each time some is taken away, wine from the latest vintage is added to the blend to age. This particular solera began in 1999, so next year the addition from the 2018 harvest will mark the 20th year of this solera. Fermentation and aging are done in concrete tanks which yield a soft texture and quiet disposition.
Over the years we have seen the wine evolve from a pretty challenging "barnyard" wine with lots of rustic, earthy character to a smoother, somewhat richer style, while maintaining a certain rustic authenticity. A wine to make us all smile.
Mar a Lago Update: The Emperor's New Clothes
Certainly all of us old-timers remember the story, probably read to us from an old hard-bound book at bedtime when we were four or five years old. As we recall, the Emperor had a new tailor, who either by Design or Ignorance took a Big Chance by convincing the Emperor that he was being clad royally in the finest material known, so fine it was hard to see. Thus the Emperor is paraded before his people in his New Clothes, to polite cheers, until one child Names the Facade for what it is: The Emperor is Naked!
My recollection is that the child's outburst broke the bubble and All Hell Broke Loose, but not, I think, in Today's World. If we imagine the News Conference at the end of the Emperor's Parade, we would inevitably have Palace Officials (Huckabee Sanders) waxing Rhapsodic about the Ephemeral Beauty of the Emperor's Outfit, Palace political Operatives (Kellyann Conway) insisting there was never a parade, or New Clothes, or a Child who Saw Anything, and Who Would Care Anyway?
Fox News would run a Special on how the Democrats had hired a 47-year-old Midget from Hackensack to play the little kid and say the Emperor was naked, I mean, How Low will these Democrats go anyway, have they Really No Shame? The Head Grasshopper in charge of the Senate would admit there may have been a Parade somewhere, and the Emperor might have been in it, and call for Hearings, but promise never to waste the taxpayers' money by actually holding them.
Meanwhile the Emperor would praise the Tailor for his fine work and then Fire him in a Five-Part Tweetstorm for his lack of Loyalty. The Opposition would gather videos of the Emperor in the Parade and the precise identity of the child who spoke out but would fail to get them out of committee because they are, after all the Minority Party; and a few from the Majority Party would roll their eyes toward the Throne they Hope will be Empty Soon and plot how to get it for themselves without being Obvious about it.
Like the Emperor's New Clothes, there is No There there, no real Facts, no progress, no responsibility, no aspiration to Higher Causes, no real Debate, no logical Continuity, and the growing Dysphoria of Colossal Incompetence.
`
This week's wine tasting
Quails' Gate Chenin Blanc '16   Canada   
Honeysuckle, grass, citrus, pear, and melon mingle on the nose. The palate is dry and complex with beautifully balanced acidity, lovely weight and mid-palate texture stony mineral note. Great with NW seafood!
JM Cinsault Rose '16    Washington    $23
Bigger, more textured, and more aromatic than one expects from a rosé; in the dark could be mistaken for a full-bodied white blend…delicious!
Crios Malbec '16   Argentina      $14
Bright, dark red. Redcurrant, black cherry, ripe strawberry and spices on the nose; sweet red fruit flavors are complicated by earth, licorice and menthol; creamy fruit is firmed by smooth tannins…a terrific value.
St. Cosme Little James Basket Press Grenache '16      France $11
An old favorite from an ongoing solera* with an aromatic nose of cassis, cherry and lavender; rustic Old World style, with a firm mineral spine giving clarity and lift to the dark berry and bitter cherry flavors.
Kerloo GSM Majestic  '15    Washington     $24
Aroma of leather, black cherries, plums, black pepper, and earth. On the palate smooth and silky with bright,  spicy-salty red cherry notes, dusty roses, tobacco, light baking spices, and wet stones.