click on photos for larger images
Friday Breads This Week


Poolish Ale – the preferment here is a poolish, made with bread flour, a bit of yeast and a nice ale beer for the liquid and fermented overnight. Mixed the next day with bread flour and fresh milled whole wheat. This makes a great all around bread with a nice crisp crust – $5/loaf
Buckwheat Walnut & Honey – a flavorful artisan bread also made with a poolish, fresh milled buckwheat and bread flour. Buckwheat is not a grain it is actually a seed and closer in the plant family to rhubarb and sorrel than to wheat and contains no gluten. Though this bread is not gluten-free (it is includes bread flour made from wheat) it has an earthy buckwheat flavor balanced with a little honey. Some toasted walnuts add a nice crunch…goes well with meats and cheeses – $5/loaf
Brioche Tarts au Sucre – aka brioche sugar tarts. A rich brioche dough full of eggs and butter is rolled into a round tart and topped with more eggs, cream, butter and sugar. – 2/$5
(breads must be pre-ordered by Wednesday for pickup here at the wine shop at our Friday wine tasting, 4-6pm. Planning a visit to the Island? Email us to get on the mailing list!)
Climate Notes: Anti-Greta

Over the last decade in general and roughly coinciding, we notice, with Darth McConnell's Death Grip on control of the US Senate (Abandon All Hope All Bills Which Enter Here…), our country has been taken down an evolving (devolving?) road of Epic Environmental Ignorance and Catastrophe which threatens the existence of All Life on our Dear Planet Earth. One of the bright lights that has recently buoyed both our spirits and our hopes for continuing Life on Planet Earth has been the emergence this year of the young voice of unlikely environmental heroine Greta Thunberg. In the past year, young Greta has reflected our complacency back upon us, basically pointing her finger at us and crying a deeply touching lament: we are killing the Planet that sustains what may be the only Life in the entire Universe. Heavy stuff, bringing a Profound sense of Grief to those of us who have studied and warned about these things for the last fifty years, to no avail. And we keep asking, WTF is wrong with our species?
The latest entrant in this ongoing-for-a-few-more-years Existential Moral Combat is a young woman named Naomi Seibt, who has been recently recruited/created by the Heartland Institute, a right-wing think tank committed to Denying that the global climate is getting dangerously hostile to Life because of human destruction of the thermodynamic balance that brought forth and has maintained Life in this tiny, fragile, unique, and fleeting Oasis for hundreds of millions of years.
Nineteen-year-old Naomi has been designed and weaponized to counter the visceral emotional appeal that Thunberg evokes when she speaks of the Global Destruction Sequence that has already been initiated by two hundred years of exponentially increasing combustion of fossil fuels by our species.
Naomi Klein introducing Greta Thunberg
Mar a Lago Update: At Stake This Weekend
As one would expect, fivethirtyeight.com has some very interesting takes on the importance of the coming week in determining who will be the Democratic Presidential candidate in this year's election. We have the South Carolina primary this weekend followed by "Super Tuesday,"  when another dozen states including delegate-rich California and Texas hold their primaries on March 3.
At the moment the race is leaning toward Bernie Sanders, but Joe Biden is expected to do well with black voters who make up the majority of the electorate in South Carolina. The link above analyzes three different scenarios for the SC primary outcomes, all looking closely at the likely Sanders-Biden relative outcomes. Although Biden did not show well in the Iowa, NH, or Nevada caucuses/primaries (all of which Sanders won), his long relationships with SC politics make him the favorite in this particular primary.
When the primaries are one at a time, winning can give a candidate something of "Bandwagon Effect" that adds Momentum to a campaign in States to follow. All that adds up to a lot of pressure on Biden to achieve a strong showing in SC this weekend, and he is widely expected to do quite well. The big Takeaways from the 538 article are that: 1) the better he does in SC, the better he will do on Super Tuesday (the Momentum factor), and 2) the better he does on Super Tuesday, the better shot he has at the nomination.
All of that adds up to a lot at stake for them and for the country in the coming week. This article does not even look at other candidates than Biden or Bernie in this piece. We are still trying to decide our votes for our own WA primary on March 10, though of course we all have our leanings. But one thing is for sure: Anyone but the Tweetster! So say we All!
Washington Post Tweetster Lie Count to date : 16,241 as of 01/24/20
This week's tasting

Terra d'Oro Moscato '18 California $14
Intoxicating aromas of perfumed peach blossom and fresh honeysuckle with sweet, creamy lemon cheesecake flavors and bright, fresh apricot and white peach on the palate. Crisp, rich, and balanced with lingering notes of rose petal.
Chat Auzias Cabardes Red  '17    France    $11
Dark berries with a hint of eucalyptus; medium body with good acidity and notes of raspberry and sweet oak on the lingering finish.
Townshend Cellars T3 red blend      Washington       $17
Bordeaux style blend of  cab, merlot and cab franc; fruit forward with hints of black currant and vanilla, with layers of complexity and depth through extensive oak aging in French and American barrels.
Edi Simcic Duet '16     Slovenia       $30
Merlot, Cab Sauv, Cab Franc; bold and compelling, with notes of chocolate, cherries, cheesecake, and coffee on silky tannins and a lush, ripe, fruit-full body that goes on and on.
Lady Hill Cabernet Franc '16     Oregon    $32
Aromas of raisined berry fruit, sugared dates, chocolate, caramel and orange peel lead to a rich, lush, palate with flavors of raisin, cocoa, coffee and toffee. Great on its own or with any kind of chocolate, Stilton cheese. or toasted walnuts.
click on photos for larger images
Friday Breads This Week


Pain au Levain – Made with a nice mix of bread flour and freshly milled whole wheat and rye flours. After building the sourdough and mixing the final dough it gets a long cool overnight ferment in the refrigerator. This really allows the flavor to develop in this bread. A great all around bread – $5/loaf
Semolina Levain – Semolina is made from durum wheat, which is a hard wheat and often used in pasta. The flour has a lovely golden color that comes through in the bread. This bread is made Using a sourdough starter to mix a levain that ferments overnight before mixing the final dough with bread flour, semolina and some fresh milled whole wheat. A little butter is added for a soft crumb. Makes great toast – $5/loaf
and pastry this week…
Individual Cinnamon Rolls – Made with a rich sweet roll dough that is full of eggs, butter and sugar. The dough is rolled out, spread with pastry cream and sprinkled with cinnamon sugar. Then rolled up and sliced into individual baking forms for baking. And boy are they delicious!! – 2/$5.
(breads must be pre-ordered by Wednesday for pickup here at the wine shop at our Friday wine tasting, 4-6pm. Planning a visit to the Island? Email us to get on the mailing list!)
Climageddon Outlook: Thwaites Glacier

Last night PBS included a very alarming report on the  Thwaites glacier in Antarctica melting and sliding into the sea much more rapidly than global warming models have been predicting. Thwaites is about the size of Florida and is partly floating and partly on land. In the last few years large chunks of the floating ice have broken off as icebergs that eventually melt into the ocean. (see video, left)
When floating ice melts, sea level does not rise. However, as the report points out, the structure and location of the Thwaites glacier is partly floating and partly on land. This recent study confirms the fear that the temperature of the seawater under the glacier is now several degrees above freezing and will continue to erode the glacier from underneath, causing giant icebergs to break off into the sea to melt, as shown in the video at left.
The melting of the shelf ice would raise sea level by about two feet worldwide, and, like a broken dam, would open a pathway for the entire West Antarctic ice sheet to start sliding into the ocean. We have known for some time that increasing global temperatures would accelerate the melting of ice in polar regions (and they have). The melting of floating sea ice will not increase sea level, but it does reduce the reflectivity of the polar regions and further acceleratea global warming. But the melting of the land-borne glaciers, particularly in Greenland and Antarctica, will cause sea level to rise as well.
The melting of Thwaites will raise global sea level by about two feet. The melting of all of it would raise sea level by about ten feet. Scientists are uncertain how fast these things will happen. But the recent confirmation of above-freezing seawater below Thwaites strongly implies they are happening faster than we imagined.
Mar a Lago Update: Holy Smoke-Filled Room, Batman!

Well. Last night we once again battled the complexity of watching the Debate online, always a challenge for those of us without TV Cable subscriptions. It takes a while to find the right page, and even then it required constant rebooting.
It looked a lot less like a serious Candidates' Debate than an adolescent and unruly game show. The candidates were often all talking at once while the moderators looked more and more like first grade teachers who had completely lost control of the class. All it lacked was actual hair-pulling and snappy back and forth banter like: "Oh, yeah?..Yeah!"   "Oh, yeah?..Yeah!"
And you keep reminding yourself OMG these people all want to be President! No, no, not of their High School Class…of the Country!
In that sense it was not particularly different from the Republican debates in 2016, with 17 candidates that dwindled to three by mid-March: Tweetster, Kasich, and Cruz. By May 3 the Tweetster had won a plurality of delegates and became the Republican candidate. We couldn't believe it then. We still don't believe it. And then of course, it got Much Worse in November. (though of course Cruz would have presented his own kind of existential disaster…but we digress…)
Which takes us back to the Dilemma of the Democratic voter here in 2020: we don't feel free to vote for the candidate we personally prefer! No, we feel an Existential Fear that the "wrong candidate" will get the nomination, the Tweetster will get another term, and Life on Earth will be Doomed. So there is, you know, reason to feel some pressure to get this right.
Meanwhile, we remind you that after the 2016 primary campaign, the progressive wing of the Democratic Party was able to get convention rules changed for 2020 so that so-called super-delegates, generally centrist Party People, would not get to vote on the first ballot in the next convention. However, party rules still say that a candidate must win a majority of delegates (1991) to win the nomination on the first ballot. This is important because if no candidate wins a majority of delegates on the first ballot, two things happen: 1) 771 super-delegates (members of the DNC, Congressional Democrats and Governors, and former Presidents and VPs.) get to vote, and 2) All delegates are free to vote their own preferences in subsequent ballots. And that opens the door for some old-fashioned smoke-filled room horse trading for votes.
Since this kind of brokered convention is starting to look like a real possibility, it is safe to assume that all the candidates' organizations are already working the crowd, as Bloomberg seems to be doing. 

Washington Post Tweetster Lie Count to date : 16,241 as of 01/24/20
This week's tasting

Terra d'Oro Pinot Grigio '18    California     $14
Nose of ripe, bright pear and clover blossom. Rich and dense, and oozing with juicy pear and stone fruit flavors, finishing with an elegant touch of toasted French oak. Try pairing this delightful wine with a mild cheese and fruit plate.
Terra d'Oro Petite Syrah '16     California    $14
An exotic earthy character dominates this dark-colored, full-bodied and firmly tannic wine, giving it a rustic feral appeal that gets progressively more enjoyable on the palate and finish. Blackberry and blueberry flavors underneath add to its appeal.
Indaba Merlot  '17     South Africa      $10
Carefully crafted in a bright, clean style, this velvety Merlot offers appealing aromas and bright, succulent flavors of cherry, dark berry and plum backed by subtle mocha and herbal nuances and a delicate minerality.
Folie a Deux Alexander Valley Merlot '17     California    $16
Spicy aromas of dark fruits, cassis, cherry, plum, vanilla, oak and a hint of chocolate in the glass. This wine has broad mouth-feel with flavors of cherry, blackberry, cassis, plum and chocolate.
Toso Reserve Malbec '17      Argentina       $20
Red ripe berries and plum notes. Smooth and delicious; focused, clean notes of violets, plum, and red cherry notes with very good freshness and a plush, elegant mouthfeel with  smooth oak and easy tannins.

click on photos for larger images
Friday Breads This Week


Levain w/ Dried Cherries and Pecans – Made with a levain that is made the night before using a sourdough starter. This allows the fermentation process to start and adds a lot of flavor to the bread. The final dough is mixed the next day with the levain, bread flour and fresh milled whole wheat and then loaded up with dried cherries and toasted pecans. A nice rustic loaf that goes well with meats and cheese – $5/loaf
Pan de Cioccolate – A delicious chocolate artisan bread that isn't an enriched sweet pastry dough with lots of eggs, butter and sugar. Rather this bread is a rich chocolate bread made with a levain, bread flour and fresh milled rye flour, honey for sweetness, vanilla and plenty of dark chocolate. Makes fabulous toast, even better french toast – $5/loaf.
…and pastry this week is something really special and I don't make it often as it is a really loooong process.
Panettone – an Italian brioche-like sweet bread, generally made during the Christmas holidays. It has become quite popular and one company (Panetonne from Roy) sells a large size Panetonne for $50! These panettone are a smaller version but are every bit as good. Requires building a sweet Italian levain over several days before the final dough is mixed with lots of sugar, butter, eggs and honey and flavored with candied ginger, lemon peel, and chocolate before being topped with a chocolate glaze. Great as a pastry, sliced for toast or french toast, or for bread pudding – 2/$5
(breads must be pre-ordered by Wednesday for pickup here at the wine shop at our Friday wine tasting, 4-6pm. Planning a visit to the Island? Email us to get on the mailing list!)
Climageddon Outlook

Like most of you, we have been wondering more and more about how we as individuals can make a difference in the climate crisis we humans have created. Since the beginning of the "Industrial Revolution," we have mined and burned coal, oil, and natural gas at exponentially increasing rates to heat our buildings, fuel our transportation systems, and power our electric grids and Global Twitter accounts. These hydrocarbon deposits are the organic remains of hundreds of millions of years of life on our planet. Those of us fortunate enough to have been born in the developed world have enjoyed luxuries and lifestyles Royalty of the past could not even have imagined. We found the Golden Goose, brought it home, and have had a good run cashing in those golden eggs.
Everyone has known at some level that these resources wouldn't last forever, and someday we would have to come up with another way to power our exploding population and energy-intensive technologies. But we find ourselves in a collective Shock and Denial that this threat that was vaguely Out There Somewhere is now in 3D, standing on our doorstep like a Depression hobo for a handout or maybe The Devil with a Major Accounting. There's a collective Uneasiness, so we all muse about how we might help. One thing we have mused about lately is whether there is any way we could store more carbon in our undeveloped five-acre woodland. If different species grow faster, last longer, or store more carbon for longer, there might be some net benefit to such efforts.
A recent article in the NY Times explores recent proposals to plant a Trillion Trees to combat global warming. And a series of tweets starting with Greta Thunberg discusses the merits. The upshot is that planting and maintaining millions of new trees would help a little, so the more the better! At the same time, the Sheer Scale of the Problem– so many people burning fossil fuels so often in so many places– is such  that there is No Substitute for Not Burning the hydrocarbons in the first place. So yes, by all means plant more trees, cut fewer down, and build things with them that last for a long time.
As shown in the chart, since 1950 world population has tripled from 2 to over 7 billion people, and continues to increase by about 3 people per second, mostly in the less developed countries of Asia and Africa. At the same time the availability of food and water fluctuate dangerously in those same places. Thirst, hunger, and poverty are on the rise, driving both climate and politically induced migrations and resistance to them across the globe.  (cont'd next week)
Mar a Lago Update: Taking Bearings
One of the classic characteristics of the Psychopathic character strategy is the Tough/Generous duality. It boils down to an exaggerated punishment/reward system: please me and  you get Big Rewards; let me down and you will get Totally F#*ked. We have seen this so often with the Tweetster that it is now a cliché when he throws yet another government professional under the Bus for crossing his interests; the list grows almost daily. Today's headlines feature the T's bashing of the career DOJ attorneys who tried the case against the T's friend and co-conspirator Roger Stone, causing them all to resign from the case.
That has led to a public outcry about yet another Twoverreach conspiracy with AG Barr to get Stone's likely sentence reduced or eliminated. So there is a New Big Kerfuffle and political Over-reach just when Susan Collins had assured us that he "had learned his lesson" during the impeachment process. Well, it seems, not so much!
Meanwhile, Democratic challengers to contend this Fall are regrouping after their first public skirmishes in Iowa and NH, with a few big Surprises, with Sanders and Buttieg emerging as leaders, Klobuchar surging ahead of Warren, and Biden dropping to the rear…surprising results.
The really Bizarre thing about all of this is the sort of hysteria that is settling in around this year's election. Somehow we have all been convinced that a majority of our countrymen have lost their minds and will lurch to the polls like a great Zombie Army and make the Tweetster a permanent Evil Dictator like Ming the Magnificent. Even as we write this in the wee hours of the night, and logically see it for the madness it is, we can feel the icy reality of our Fear. We see the continuing blind allegiance of so many of our countrymen to this coarse, ignorant, and self-aggrandizing imposter and find it so completely incomprehensible that it's hard to find solid ground to stand on.
So here's the key: he's making us all Crazy with the endless tweets, the constant assault on Truth, and the incomprehensible ability to get away daily for years with words and actions that would have had any of his predecessors run out of town in Tar and Feathers. Like any Cult Leader, he has the entire Audience in a Trance with his little Magic Show.
Well, it's time for everyone to wake up, grab an oar, and pull together. Fight for your favorite candidate without putting down any of the others. And be willing to support our collective candidate 100% without reservation. So say we all.
Washington Post Tweetster Lie Count to date : 16,241 as of 01/24/20
This week's tastingit

Folie a Deux Russian River Chardonnay '18    California  $16
Exuberant white with vibrant acidity; clean, rich, and bright on the nose and palate of sweet melon, golden apple and bright perfumed pear. Flavors of ripe vanilla, mandarin, toasted marshmallow, butterscotch, banana and citrus blossom are accompanied by a creamy mid-palate.

La Quercia Montepulciano '17       Italy    $13
100% organic montepulciano d'abruzzo from low-yield vinification by winemaker Antonio Lamona for one of the best, most expressive, and balanced Montepulcianos around. Opens with aromas of sour cherry with a hint of new leather; ripe fruity palate exhibits juicy blackberry, raspberry and a hint of anise;  easy drinking with soft tannins.
Sharecroppers Red Blend '17    Washington     $14
Merlot-syrah blend; bright garnet hues lead to aromas and flavors of fresh herbs, vanilla, sweet tobacco and candied berries with underlying nuances of wet stone, cedar and earth on the lasting finish.
Folie a Deux Dry Creek Zinfandel  $15
Fermented 20% whole cluster and aged four months in neutral oak; the aromas are pure, bright and fruit filled, with notes of raspberry, ash, cherry and flower; light, elegant, smoky finish.
click on photos for larger images
Friday Breads This Week


Pear Buckwheat – Made with a a poolish pre-ferment of bread flour, water and a bit of yeast and fermented overnight. Mixed the next day with bread flour and fresh milled buckwheat. Since buckwheat has no gluten using the preferment allows the dough to begin to develop before the final mix. The addition of toasted walnuts and dried pears soaked in white wine makes for a really flavorful bread – $5/loaf
French Country Bread – A levain bread made with mostly bread flour, fresh milled whole wheat and and a bit of toasted wheat germ. After building the levain with a sourdough culture and mixing the final dough it gets a long cool overnight ferment in the refrigerator. This really allows the flavor to develop in this bread. Not a refined city baguette, but a rustic loaf that you would find in the countryside. A great all around bread – $5/loaf
and pastry this week…
Brioche Almond Buns – Made with a delicious brioche dough full of eggs, butter and sugar. Rolled out and spread with almond cream filling of butter, sugar and eggs as well as almond flour. Yum, yum! 2/$5
(breads must be pre-ordered by Wednesday for pickup here at the wine shop at our Friday wine tasting, 4-6pm. Planning a visit to the Island? Email us to get on the mailing list!)
Washington Vineyards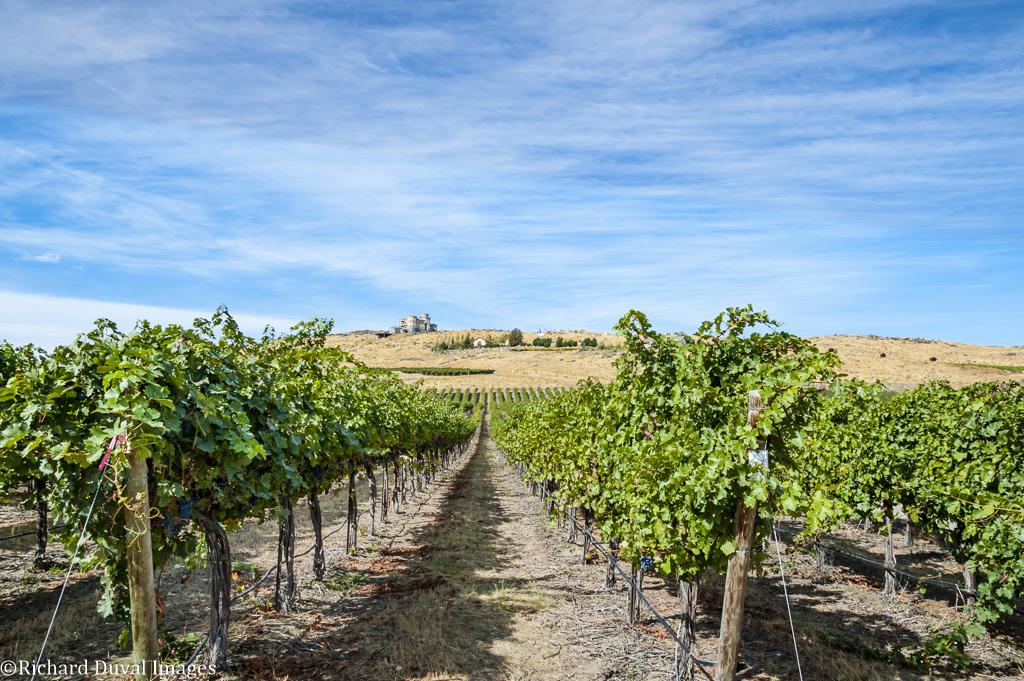 We have been pouring Maryhill wines since we opened fifteen years ago, and they just keep getting better. While Maryhill has its own beautiful vineyards visible below the winery along the northern shore of the Columbia River, it also purchases lots of fruit from other Washington and Oregon vineyards. Today's Maryhill Merlot is a good case in point, made with grapes grown at McKinley Springs, Eagle Ranch, Elephant Mountain, and Les Collines vineyards. So let's take a moment to explore what that means.
McKinley Springs: Located in the Horse Heaven Hills AVA in the Yakima valley, McKinley Springs grows over 20 grape varietals. While it continues to sell fruit to some of the best winemakers in the region, since 2003 the vineyard has also made its own wine. The Horse Heaven Hills AVA borders the Yakima Valley AVA on the north and the Columbia River on the south. Despite its 1000 foot elevation, the vineyard ripens relatively early and produces red wines with intense fruity aromas and great structure.
Eagle Ranch: Located near the Eastern Oregon town of Echo, the vineyard is a short distance south of the Columbia River near Umatilla, Washington, specializing in cabernet sauvignon and merlot.
Elephant Mountain: Located high on the southern slopes of Rattlesnake Ridge at the base of Elephant Mountain, sitting on a series of gentle, southern-facing slopes at about 1400 ft., surrounded by dry shrub. It has ideal conditions for growing both Bordeaux and Rhone varietals in sandy, silt loam over gravelly calcareous layers.

Les Collines: From the French for "foothills," this vineyard in Walla Walla produces 13 different varietals which it sells to dozens of Washington winemakers. The best story about this winery comes from winemaker/founder of Gramercy cellars Greg Harrington: "I first tasted Syrah from Les Collines Vineyard during a visit to Walla Walla in 2004. I immediately returned to New York, quit my Sommelier job, sold everything we owned, moved to Washington, learned to make wine, started a winery and produced our first Les Collines Syrah in 2005. Yeah, it's that good of a vineyard."

Mar a Lago Update: Iowa Waltz  (listen)
The last few days of political life here in America have been emotionally exhausting: final discussions on Trumpeachment in the Senate on the weekend, the quadrennial kickoff of another Presidential election season with the Iowa caucuses on Monday, the  the incredibly Divisive State of the Union address on Tuesday, the final Senate vote against conviction in the impeachment trial (there is no "Acquittal" in an Impeachment trial…) on Wednesday, and the continuing saga of glitches in the vote-reporting apparatus in the Iowa caucuses have all captivated, frustrated, irritated, and depressed our spirits.
One very bright light this week was the decision of Republican Senator (and 2012 Republican Presidential candidate) Mitt Romney to break ranks with his Party and vote in favor impeaching the Tweetster. We all tip our hats, nod our heads, and press our palms together and bow in gratitude for his moral courage. He has certainly earned a noble footnote in history.
It was also impossible for anyone to miss the Open Hostility between Speaker Pelosi and the Tweetster, as he broke protocol by not shaking her hand as he handed her the speech, and as she very deliberately tore up that speech with all cameras rolling. He then threw Flames on the Fire by awarding a Presidential Medal of Freedom to Far Right-Wing talk show host and hate-mongering Slander-Slinger Rush Limbaugh, a drug-addicted, mean-spirited bully who built a lifelong career mocking and insulting anyone who was concerned about Social, Environmental, Economic, or Political Justice. The Proceedings may be over, but it is clear that a State of War exists between Republicans and Democrats in Congress and their supporters across the country which is not likely to Heal on its own anytime soon.
Then, to make matters worse, various media sources are flooding the Web with fabricated stories aimed at increasing divisions at every level. It is barely two days after Iowa, and already the Web is buzzing with bots sowing accusations at every Democratic candidate under the name of another Dem candidate. It's like 2016 on Steroids, and it just kicked off with the Iowa caucuses. Folks, we are not gonna get through this with either grace of desirable outcomes if we do not refuse every attempt to cast any Democratic candidate as a villain in the coming months. There will be ongoing bombardment of False Facts from now on about every Democratic candidate. We have to focus on our own values and convictions and be very skeptical about every attempt to sow Outrage. It is FAR More Important that we find ways to lobby for our favorite candidates without attacking other contenders, and make a commitment to offer full support for whoever the candidate turns out to be.
Let us be Skeptical, Committed, Kind, Wise, and United.
Washington Post Tweetster Lie Count to date : 16,241 as of 01/24/20
This week's tasting
Chateau L'Ermitage '17 France $11
Roussanne, grenache, and viognier. Light gold in color with aromas of peach, flowers, and honey; the Grenache provides the richness and the Roussanne the balancing acidity.
St. Cosme Little James Basket Press Grenache '16      France $11
An old favorite from an ongoing solera* with an aromatic nose of cassis, cherry and lavender; rustic Old World style, with a firm mineral spine giving clarity and lift to the dark berry and bitter cherry flavors.
Maryhill Merlot '14 Washington
Blended from McKinley Springs, Eagle Ranch, Elephant Mountain, and Les Collines vineyards; the resulting wine has ripe red fruit tones with coffee, wood spice, a lifted mint note and subtle tannins.
Savage Grace Cab Franc '17 Washington $22
Fermented 20% whole cluster and aged four months in neutral oak; the aromas are pure, bright and fruit filled, with notes of raspberry, ash, cherry and flower; light, elegant, smoky finish.