Comments Off

on lummi island wine tasting april 28 '17
    (note: some photos will enlarge when clicked)
Bread this week
Cinnamon Raisin – Not the soft type of cinnamon raisin with a swirl of cinnamon sugar. This is a rustic version that is made with bread flour, fresh milled whole wheat and rolled oats. Some milk to tenderize the crumb, honey for sweetness and cinnamon mixed throughout before being loaded up with raisins. Makes delicious toast -$5/loaf
Braided Challah – a delightful soft loaf made with bread flour, lots of eggs, some sugar and vegetable oil. No butter or milk. Also makes great toast and even better french toast- $5/loaf
And for pastry…
Chocolate Babka Rolls – a rich sweet dough made with plenty of eggs, butter and sugar, rolled out and filled with dark chocolate and even more butter and sugar. Sliced into individual rolls before baking. Elizabeth K. has
been waiting for over 2 months for these so get your orders in before she does! – 2/$5
Cloudlift Returns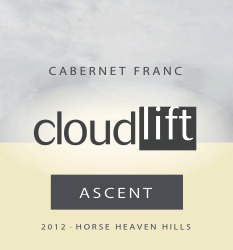 Our regulars know we have a particular fondness for the lovely wines from Cloudlift Cellars in Seattle. I dropped in on our friend and Cloudlift winemaker Tom Stangeland a couple of weeks ago and brought home a number of new releases that we will be pouring one by one over the next several weeks. Last time we did this the Hit of the Show was Tom's "Ascent," mostly cab franc from Horse Heaven Hills.
A 2013 vintage has been released, but since there is still some of the '12, I thought we all deserved another taste of an old favorite, even better after another couple of years in bottle!
Cab Franc is the fourth most-produced red wine grape in Washington, behind Cab, Merlot and Syrah. Most often, as elsewhere in the world, it is primarily used as a blending grape in wines where cab sauv and/or merlot dominate. In our Fair State, cab franc often has softer tannins than cab sauv or merlot, and brings notes of garrigue and black pepper along with hints of chocolate and coffee…yes, indeed, very easy to like!
PUpdate
Ulee is now 4 months old, and weighs in at 21 lbs. The Puppy Growth Chart projects he will therefore level off between 30 and 35 lbs, about the same weight as Tator. However, like other "mini" Aussies (including our dear boy Cooper) Ulee conforms proportionally to the AKC standards for the breed, which are heavier than the ASCA dogs, which are bred longer, lighter, and more maneuverable for the agility that herding dogs require.
After a month of studiously avoiding Ulee, in the last week Tator has been spending a lot of time with him, trying to teach him the Rules Around Here. She is very patient, and seems to have no trouble with issuing the same correction over and over, maybe amping it up a little each time, but always very measured. It's an interesting model to observe; any time he crosses some "line" she issues a corrective bark, growl, nip, or takedown, and then backs off and waits to see what he has learned. She seems infinitely patient with the process, and they seem to be developing quite a Bond. Absolutely fascinating to watch!
Back Porch Robins

A few weeks ago we noticed a bird's nest just outside our back door, on a beam up under the roof that covers the back deck. A few days later through the bathroom window we saw a robin sitting in the nest, as if incubating eggs. We also noticed that if we or one of the dogs went onto the back deck, the robin would quickly, smoothly, and silently drop off the back of the beam and fly away with distracting calls. Then, over the next ten to twenty minutes she would follow a circuitous path around the back yard, pausing to watch at a number of different spots before very indirectly going back to the nest.
Two days ago we looked up and saw Momma Robin dropping food into two gaping beaks, and yesterday I got this photo of Momma and one chick. A Definite Sweet Sign of Spring, now showing at a Nest near you!
Relaxing at Mar a Lago
There is a contemporary Myth that for many decades the Outgoing President leaves Three Envelopes for the Incoming President, with the following Instructions:
"During your time in office you will face Three Crises. When the first crisis happens, open the First Envelope. When the Second Crisis happens, open the Second Envelope, and when the Third Crisis happens, open the Third Envelope. These guidelines represent the cumulative Wisdom of all who have held this office."
Eventually each President feels compelled to turn to the envelopes. The first one says, "Blame Me." The second one says, "Blame Congress." The third one says, "Prepare Three Envelopes."
Judging from recent news blaming Obama and the Democrats for Everything the Republicans can't seem to get done despite their control of every single branch of the Government, it would seem that on Day 100 the First Envelope has been Opened. Make a note of it, and Stay Tuned…
This week's  wine tasting
Aravo albarino '13 Spain  $14
A one-of-a-kind, lush, medium-bodied Albariño that fills the mouth with apples, lime, peaches, flowers and grass, with bracing acidity and cleansing minerality.
Saint Nabor Gris de Gris Rose '12       France         $10
Bouquet of red fruit and honeysuckle with linden-tree nuances; light, crisp and easy drinking, with palate of wild strawberries and blueberries with mineral nuances.
Flaugerges Les Comptes Rouge '12    France   $13
Grenache blend; Garnet red, with slightly spicy aromas and flavors of olives, herbs, blackcurrant, cherries,  and raspberries.
Esplugen Priorat '14   Spain       $17
Garnacha, carinyena, cab sauv; Priorat's famous slate soil and arid climate give this wine great intensity and structure, with deep and complex aromas of rich ripe fruit and toast notes, and a long pleasing finish .
Cloudlift Ascent '12    Washington  $27
80% cab franc, 18% merlot, 2% petit verdot; aromas of black cherry, dark strawberry, sweet herbs and notes of minerality; light and silky mouthfeel with flavors of black cherry, cocoa powder and crushed herbs  with bright acidity and hints of toasted almond on the finish.

Comments Off

on lummi island wine tasting april 21 '17
(note: some photos will enlarge when clicked)
Bread this week
Pain au Levain – made with bread flour and free milled whole wheat and rye also a little wheat germ and some malt for sweetness. A long, overnight cool ferment really brings out the flavor. A great crusty artisan bread -$5/loaf
Semolina with Fennel & Golden Raisins – about 50/50 bread and semolina flours and plenty of fennel seeds and golden raisins. A little butter keeps the crumb tender. It is a beautiful golden color due to the semolina and goes well with meats or cheeses. Judy A. says this is her favorite! So be sure to give it a try- $5/loaf
And for pastry…
Chocolate Croissants – a traditional laminated french pastry made with a bit of sourdough flavor and another pre-ferment to help strengthen the dough to create the traditional honeycomb interior. Rolled out and shaped with delicious dark chocolate in the center. Quantities are limited so get your order in early so you don't miss out – 2/$5
Earth Day, Science Day

"The March for Science champions science as a pillar of human freedom and prosperity that upholds the common good, (calls for)  political leaders and policy makers to enact evidence-based policies in the public interest." — https://www.marchforscience.com/
As we mentioned last week, the first Earth Day in 1971 was a significant turning point in American understanding of the limits of our planet to transform our waste back into some kind of "Renewability." And now here we are in 2017, almost fifty years later, in a Surreal World where something like Half our Population actually cannot tell the difference between Alternative Truth and Fact-based Truth. Of course this was all predicted by Grace Slick back in 1967: When the Truth is Found…To beeee…LIES….
Well, mis amigos, those Days have now Arrived. Nearly half the people in our country are either Unwilling or Unable to Distinguish Fact from Fiction. Indeed, their Main Issue seems to be that Scientific Consensus should not be allowed to Interfere with that same Traditional Common Sense that gave us the Salem Witch Trials, Nazi Death  Camps, and of course "Fair and Balanced" Fox News and its Extravagantly Paid, Gender-Exploitive Pundits.
The March for Science is an important step toward reclaiming some degree of Rationality into political decision-making. Unfortunately, we have a long way to go, so we should all take part in Solidarity with our nearest Earth Day movement.
Small Vineyards

 Four of this week's wines are from importer Small Vineyards, part of their French and Spanish portfolio: These wines were introduced to us over the last several years by our friend Tristan, who has since gone on to form his own import company. For the moment there is no Washington importer for these wines.
However for the moment current stocks are low; prices are limited and there is no new importer stepping up to take over the responsibility of supplying us on a regular basis. For now, just know that we will carry a nice selection of of several old SV favorites from Spain and France.
This week's  wine tasting
Domaine Girard Chardonnay '14   France $13
Medium- bodied with fleshy notes of fresh-picked apples and pears; no oak, but spends time on the lees to give it richness; clay soils at a higher elevation impart a delightful freshness.
Chateau Lancyre Rosé '15  France   $12
Brilliant pink. Nose of ripe red berries and tangerine; Fleshy, seamless and broad palate of plush raspberry and candied orange and a touch of bitter herbs.
Les Pious Cotes de Rhone Grenache '11    France    $14
Smooth and rich, with notes of plum and caraway; grown biodynamically and aged in cement tanks…nice!
Bocelli Sangiovese '14   Italy      $14
Bright,, lush, and appealing; deliciously ripe and smoky, with notes of marasca cherry, granite, and rhubarb compote. Finish is long and dry, with admirable acidity that makes the palate taut and pleasing
Lopez Cristobal Crianza '11    Spain    $21
Tempranillo/merlot blend from high, calcareous vineyards in Ribero del Duero; long, balanced, and full-bodied, with soft, ripe tannins and a luscious, elegant finish.

Comments Off

on lummi island wine tasting april 14 '17
(note: some photos will enlarge when clicked)
Bread this week
Sonnenlumenbrot (aka Sunflower seed bread)– Made with bread flour and freshly milled coarse rye meal and loaded with toasted sunflower seeds, a little barley malt syrup which is a traditional ingredient for german breads for a little sweetness. Makes for a nice crusty bread -$5/loaf
Honey Wheat with Lemon and Poppy seeds – half bread flour and half fresh milled whole wheat, a little honey for sweetness and some poppy seeds and fresh lemon peel for added flavor. A great all around bread that would be a nice accompaniment for Easter dinner- $5/loaf
And a traditional Italian Easter bread for pastry…
Colomba di Pasqua  (Easter Dove): A traditional Italian Easter cake similar to Christmas panettone. Made with plenty of flour, eggs, sugar and butter as well as candied orange peel and topped with a crunchy almond and hazelnut glaze and pearl sugar. The dough is baked in a dove shaped baking form. Limited supply so order early! $5/loaf
Story of Stuff Revisited

It's been almost fifty years since the first "Earth Day." A Singular Event in our history, it was a culmination of a lot of threads from the Sixties, a broadly shared acknowledgment that our Planet was Finite. This new awareness included a constellation of new ideas that all called for a rethinking the Industrial Economic system. A lot of us bought into these ideas and dedicated careers to them, hoping this new view would gain momentum, and indeed there were notable steps forward to protect our Air, our Water, our Endangered Species, and natural habitats. We recognized that environmental destruction is largely caused by the failure of markets to include environmental spillover effects in production and consumption decisions. And over the past forty years, significant progress has been made toward establishing constraints for economic and political decision frameworks that will restore and maintain a healthy, beautiful, productive, and sustainable environment.
But there has always been Resistance from Capital. Just as Capital has always been at War with Labor, Capital has also always been at War with Environment. And the most basic reason for this is that environmental resources are for the most part what economists have labeled "Common Property Resources." Our air and water are primary examples. The essential characteristic of CPR's is that there is no defined ownership right to any particular bundle of them. Do we have the right to smoke wherever we want, or do we have the right to clean air wherever we go? So, while there have long been established markets for resource extraction rights, which are tied to very specific locations, there have rarely been markets for waste dumping rights. Nevertheless, there has been an enormous amount of public debate and legislation since Earth Day about how better to entrain the economic decisions of producers and consumers with the extra-market consequences of their actions.
One Big Message of the Trump (hopefully very short-lived) Era is that Those Days Are Over. So One Big Question on the National Floor at the moment is whether we will allow this unlikely Alliance of Oligarchs, after having handily stolen our recent national "Election," to wipe out forty years of hard-fought environmental, corporate, and  civil rights legislation as if it had never happened.
Grenache
By happy coincidence, this week's tasting happens to include two blends dominated by the grape varietal known in France as Grenache, in Spain as Garnacha, and in Catalan as Garnatxa. (around Barcelona– Catalans do not consider themselves "Spanish"). It is known for its bright notes of raspberry and strawberry; And though it has been widely planted around the world, grenache is essential to many of the world's most famous wines, including snooty Châteauneuf-du-Pape and Lirac, its charming counterpart just to the south across the Rhone River.
While in most Rhone blends syrah is dominant, grenache provides solid warmth and suppleness with its relatively low acidity, and mourvedre can provide colour, structure and antioxidant properties, depending on seasonal variables. All three varietals are found in a broad geographic band from central Spain to eastern France along the Mediterranean, and are blended in every possible proportion. The big takeaway here is that syrah and grenache are broadly complementary in many proportions and seasons. In this weekend's tasting, however, you have a rare opportunity to explore two examples of grenache mostly all by themselves…a rare opportunity!
This week's  wine tasting
Kiona Chenin Blanc '16    Washington    $12
This off-dry Washington Chenin Blanc has refreshing aromas of tart green apples and fresh cut straw, with crisp tropical flavors emphasized when served chilled.

Borsao Rose '15 Spain $9
Spicy aromas and flavors of ripe red berries, orange, and pungent flowers; nicely concentrated and supple,gaining weight with air, picking up bitter cherry and melon notes and a lingering red fruit liqueur quality.
Borsao Garnacha '15 Spain $11
From 100-yr-old vines; heady, perfumed bouquet of ripe red and dark berries, incense and candied flowers; intense raspberry liqueur and cherry-cola flavors blending power, depth and finesse beyond its modest price point.
Idilico Garnacha '13 Washington
Moderately saturated, showing flavors of cherry, strawberry, game and licorice, with flint and rock notes on the inviting nose. Graceful, pliant and sweet with a lingering, firm, ripely tannic finish.
Antinori Villa Antinori '12      Italy      $23
Rich and sumptuous in the glass, with considerable richness, the 2012 shows the darker, more voluptuous side of Chianti Classico. Even with all of its intensity, the 2012 retains considerable freshness.

Comments Off

on lummi island wine tasting april 7 '17
(note: some photos will enlarge when clicked)
Bread this week
Barley, Whole Wheat & Rye Levain – A great multi-grain bread made with bread flour and fresh milled whole wheat and rye as well as barley. Full of whole grain goodness – you'll feel healthier just having some -$5/loaf
Pain de Beaucaire – From the southeastern region of France that was very popular until people started to prefer the lighter and crunchier baguette. Made with bread flour and fresh milled white whole wheat, it also has a strip of wheat bran that runs down the middle. A great all around bread- $5/loaf
And for a bit of pastry:
Rum Raisin Brioche: A delicious brioche dough that is full of eggs, butter and sugar. Filled with golden raisins and chunks of almond paste and topped with a chocolate glaze before baking. Ooh la la! – 2/$5.
Cahors
The French wine region known somewhat vaguely as the "Sud-ouest" (Southwest) includes a number of very old appelations, a number of varietals found elsewhere in France, and a number of varietals found nowhere else, often dating back to Roman times.
To the west of the very old city of Cahors lie most of he vineyards of the Cahors appelation, where the dominant grape is malbec. Yes it is the same varietal found in Bordeaux, and more recently made world-famous and extremely popular in wines from Argentina and Chile. But the same grape takes on different characteristics depending on the soil and climate where it grows. One winery we visited while visiting Cahors in September was Clos de Coutale, and we will be pouring their blend of malbec and merlot for you this weekend. Wines from this area have a certain rustic strength of character that we find very appealing; our goal is to taste more of them with you in the coming months.
Rats 
from Daily Kos 04/05/17

Many a time I have called up the image of rats leaving a ship as a Harbinger of Doom. But in those images I always imagined the rats knew Something Bad was going to happen aboard and they would rather take their chances with Davy Jones. Like maybe the ship were Cursed somehow. You know, like the Unfocused Dread we have all been feeling for the last few months.
Thus this cartoon caught my eye, but the accompanying article sees the rats more as Ship's Personnel being Thrown Overboard than as Voluntary Abandoners. So a few weeks ago we had the resignation of Mikhail Flynn, and more recently Darth Bannon was dismembered from the National Security Council, and Devil Nunes slunk away from the House investigation of Trump ties to Russia. A Lot of Rat Activity.
A long time ago I owned an old wooden sailboat, and asked an experienced boat builder to look it over and tell me what it needed. He was waiting for me in the cockpit when I came aboard. He had not been down below. He said, "You know what's holding this boat together?"
"No," I said. "What?"
"Habit," he said.
From a broad metaphysical standpoint it doesn't matter if these rats were pushed, or jumped, or fell, or even if they find another lair on board. It's really about the state of the Ship, and while it's getting painful to watch as this particular ship continues to Founder, wouldn't we all breathe a Sigh of Relief to see its stern rail drop Quietly and Finally below the surface…?
Fundamentals and Hungry Ghosts

"Any economic system requires a set of rules, an ideology to justify them, and conscience in the individual to carry they out. ."  Joan Robinson, Economic Philosophy
For all the railing they have done about "Entitlements" as a Bad Thing, Republicans in general and Dissembler-in-Chief McConnell in particular today declared their Own Entitlement to Have Everything Their Way, that the Rules and Ideology of our Constitution will no longer apply to them, and that there will be, literally, No Further Discussion.
Because since the Reagan years Republicans have felt Entitled to control Government, they spent the Clinton Years and the Obama Years on a Mission of Obstruction against Every policy, every nomination however inconsequential, and every piece of legislation advanced by their Democratic counterparts. They are like Hungry Ghosts, with Insatiable Appetites but Pea-sized Throats. They can never have Enough Power or Enough Wealth. Their only satisfaction seems to be in denying satisfaction to others, however modest their needs. They have Much of Hubris, and Little of Kindness. Aye, lads, these be Dark Times, abound with Orcs, Goblins, and Wraiths without a Shred of Conscience. Arrrr, a good time to gather by the Hearth with yer mates and a bit of wine…!
This week's  wine tasting
Legoe Bay Pinot Gris '12    Washington    $11
Slightly off-dry; fruity and full-bodied with aromas of pear, apple, and melon. Nice balance of fruit and acidity with hints of spice and sweetness.

Mas des Bressades Rosé '15   France  $12
Spicy aromas and flavors of ripe red berries, orange, and pungent flowers; Nicely concentrated and supple, gaining weight with air, picking up bitter cherry and melon notes and a lingering red fruit liqueur quality.
Monte Antico Rosso '12    Italy    $10
A blend of sangiovese, merlot and cabernet sauvignon. Medium to full body with dried cherry, milk chocolate and light chili aromas and flavors. Long and delicious. Caressing mouthfeel. Bright acidity.
Clos La Coutale '14      France    $16
From Cahors, 80% Malbec and 20% Merlot, creating an intense wine that juggles elegant rusticity with everyday drinkability.
Tomas Cusine Geol  Italy      $14
Elegant notes of cedar, eucalyptus, chocolate, and black currants with elegant and sweet wood on the nose. A wide and silky entrance, with rounded tannins; powerful, deep and persistent finish.