click on photos for larger images
Friday Breads This Week


Fig Anise – Made with a sponge that is fermented overnight, then the final dough is mixed with bread flour and fresh milled whole wheat. Honey, dried figs and anise bring in all the flavors of the mediterranean. After the final dough is mixed the dough itself is also fermented overnight which adds a lot of depth to the flavor to the final bread. A great flavorful bread – $5/loaf
Barley & Rye w/ Pumpkin Seeds – Made with a levain that is fermented overnight before the final dough is mixed with a nice mix of bread flour and fresh milled rye, barley and whole wheat flours. Some buttermilk makes for a tender crumb, honey for sweetness and toasted pumpkin seeds add to the flavor and texture. – $5/loaf
Pain aux Raisin – made with the same laminated dough as croissants. The dough is rolled out, spread with pastry cream and sprinkled with golden raisins and dried cranberries soaked in sugar syrup, then rolled up and sliced before baking.  – 2/$5
(breads must be pre-ordered by Wednesday for pickup here at the wine shop at our Friday wine tasting, 4-6pm. Planning a visit to the Island? Email us to get on the mailing list!)
Halloween Sunset

We have been enjoying stunningly clear weather this week, under a cold zone of high pressure. Looked out the window just before dinner tonight to see this amazing sunset unfolding to the west, marked by the slow progress of a tug and tow headed north. I grabbed the camera and headed across the street for a better view, but could not get far enough to capture the tug in the photo. So we have the barge in sight with Orcas Island to the left.
You should be able to click on the photo to see a larger version. Pretty nice, this place we call Home!
Mar a Lago Update: Animosities, Partialities, Influence, and Interest

Both the history and the practice of impeachment, especially of the President, are more about politics than justice. Apparently the Framers were aware of this possibility, and their way of handling it was to make it a political process rather than a strictly legal one. Therefore it is not surprising that the few times it has arisen with regard to the President it has happened when strong polarities existed between the major parties on other issues which both sides felt were important and upon which there was little common ground. As Alexander Hamilton put it, "political considerations would come into play including animosities, partialities, influence, and interest."
Andrew Johnson was Lincoln's VP for his second term, and became President after Lincoln's assassination about six weeks into the second term. Back in those days the Republicans identified themselves as the party morally opposed to slavery, and many had more sympathy with the recently freed slaves than with the defeated Southerners they felt had started the Civil War. Lincoln died with no specific plan for Reconstruction, but Johnson thought Lincoln had intended to extend clemency and reunify the country as soon as possible.
But many felt more specific steps needed to be taken to prevent former slaves from being re-indentured in various ways. The final straw was Johnson's firing of his (formerly Lincoln's) Secretary of War Edwin Stanton in violation of the one-year-old Tenure of Office Act (which Johnson had just unilaterally repealed), which prohibited Presidential firing of Congressionally approved Cabinet Nominees. The resulting impeachment process in the House and trial in the Senate (which did not convict) seem largely about the challenges of coping with the aftermath of the Civil War.
Similarly, the Clinton impeachment process was largely an artifact of Republicans' refusal to accept that a Democrat was Occupying Their Oval Office. The Nerve! Efforts to dig up Dirt on the Clintons (they Hated Hillary from the very beginning) began shortly after Clinton took office, going from Vince Foster's death to "Queen Hillary's Health Plan" to the never-ending Whitewater Investigation, which morphed into the Starr Wars and the bizarre taped phone calls between Monica Lewinsky and Linda Tripp. Somewhere in that process we recall someone asking Bill Clinton "why do they hate you so much,?"  to which he replied something like, "because we beat them." To which he added philosophically, "it's just politics." Some people felt it was okay to grill a President about private affairs. Most did not.
Which brings us to today's decision in the House to proceed with a formal inquiry into the possible impeachment of the Tweetster. The first thing to note is that this inquiry is not a "trial" in the usual sense, and it was never intended to be. It is a tool built into the Constitution as, for lack of a better term, a "ritual" acknowledgement of deep divisions in our society about our values, our goals, and our beliefs, and an inability to accept that a lot of other people believe exactly the opposite. Assuming the impeachment goes forward, it is extraordinarily unlikely that 20 Republican Senators would ever vote to impeach. Remember, it's not about justice, it's about ritual cleansing, like a National Enema: not much changes, but you have Gone Through the Motions. The Impeachers never win, and after a while all of us chimps will put down our clubs and go forage for food. But it probably won't taste good to anyone and may be hard to digest.
Washington Post Tweetster Lie Count to date 13,445 as of 10/10/19
This weekend's wine tasting
Ronan by Clinet Bordeaux Blanc '15     France       $15
80% sauv blanc, 20% semillon; fresh and appealing aromas of yuzu, grapefruit, white flowers, and passion fruit; flavors of citrus, white fruits and warm spices are fleshy yet crisp and clean.
Bodegas Ayuso Estola Reserva '15    Spain   $10
Tempranillo/cab sauv blend; Warm aromas of spices and ripe fruit; wide and round palate, easy drinking, great buy!
Crios Malbec '18   Argentina      $13
Bright, dark red. Red currant, black cherry, ripe strawberry and spices on the nose; sweet red fruit flavors with notes of earth, licorice and menthol; creamy fruit firmed by smooth tannins…a terrific value.
Shatter Grenache Vin de Pays des Côtes Catalanes '17      France       $19
From Old Vines in Roussillon's black schist soil; nose of dark fruit with a hint of espresso; velvety texture with black currant, spice and cured meat flavors with a touch of coffee; firm structure, supple tannins, excellent acidity and overall balance.
Seghesio Angela's Garden Zinfandel '17 California     $19
Aromas of wild blueberry, briary raspberry patch and baking spice give way to a palate of juicy, ripe blackberry and black plum. Soft tannins, a rich mouthfeel and focused acidity lead to a long finish.
click on photos for larger images
Friday Breads


Poolish Ale – Made with bread flour, a bit of yeast and, instead of water, a nice ale for the liquid which is then fermented overnight and mixed the next day with bread flour and fresh milled whole wheat. This makes a great all around bread with a nice crisp crust – $5/loaf
Buckwheat Walnut & Honey – A flavorful artisan bread also made with a poolish, fresh milled buckwheat and bread flour. Buckwheat is actually a seed not a grain, closer to rhubarb and sorrel than to wheat, and contains no gluten. (note: this bread is not gluten free as it is also includes some wheat flour.) Buckwheat has an earthy flavor that in this bread is balanced with a little honey and toasted walnuts.- $5/loaf
and pastry this week…
Chocolate Croissants- A traditional laminated french pastry made with a bit of sourdough and another pre-ferment to help create the traditional honeycomb interior. Rolled out and shaped with delicious dark chocolate in the center. – 2/$5
( breads must be pre-ordered by Wednesday for pickup here at the wine shop at our Friday wine tasting, 4-6pm. Planning a visit to the Island? Email us to get on the mailing list!)
La Quercia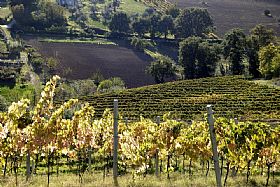 Montepulciano is the 2nd most planted red grape in Italy (after Sangiovese) and has a reputation for making low-priced, juicy, "pizza-friendly" red wine. Winemaker Antonio Lamona of La Quercia winery is a grizzled and likable grape farmer who grew up in a grape-growing family. Years later he became the first in the family to bottle his own wines. Following a Muse in the late sixties, he began organic cultivation of his vines, with all grapes hand-picked and pressed within two hours of harvest. Located on a windy hillside along the Adriatic in Moro d'Oro in Abruzzo, the farm produces salami, bread, vegetables, olive oil, and cheese as well as great wines.
The farm is run by four friends who became colleagues by chance in the late 80s. In 2000, they took over a small winery called La Quercia, which includes about 12 hectares in vineyards and 3 in olive tree groves. They strive to produce wines that reflect the qualities of their vineyards. Quercia means "oak tree" which is a symbol for strength and genuineness. We have been carrying wines from La Quercia through Seattle importer Small Vineyards for well over ten years, and they are always refined and delicious.
Many of you are familiar with their Montepulciano Riserva, which we have carried for many years. This is the first year that we were not offered an opportunity to buy the Riserva but instead will be pouring the younger version. While it does not have the depth of the Riserva, it offers the brightness of younger vines and the freshness of less aging. And it's also $10 less per bottle!
Hat in search of owner

During the most recent Artists Studio Tour on Labor Day weekend we had a lot of visitors much of the day. I do recall at some point noticing a gentleman of a certain age, maybe a bit Zorba-like, part of a family group perhaps. He was casually and comfortably dressed, accented by the hat and sunglasses shown at left.
At the end of the day I noticed that the hat and sunglasses were still in the shop, left atop the shelf over the stairs where we usually display bubbly. As in the photo the glasses were left atop the hat.
The man did not look familiar, so it is unlikely he will ever see this post. However, perhaps someone reading this will recognize them and help us get it back to theri rightful owner.
Mar a Lago Update: Matters of Honor

We find ourselves unconsciously contrasting the apparent character of some of the players in the current News Cycle– the Tweetster, Secretary Pompeo, Senator Graham, and Ambassador Taylor among them. And in particular we are musing on the apparently archaic notion of "honor," most eloquently described in a short paragraph written in 1899 by John Walter Wayland, an historian from Virginia, in his winning response to a contest conducted by the Baltimore Sun looking for the best definition of a True Gentleman. He wrote:
"The True Gentleman is the man whose conduct proceeds from good will and an acute sense of propriety, and whose self-control is equal to all emergencies; who does not make the poor man conscious of his poverty, the obscure man of his obscurity, or any man of his inferiority or deformity; who is himself humbled if necessity compels him to humble another; who does not flatter wealth, cringe before power, or boast of his own possessions or achievements; who speaks with frankness but always with sincerity and sympathy; whose deed follows his word; who thinks of the rights and feelings of others, rather than his own; and who appears well in any company, a man with whom honor is sacred and virtue safe."
These days we rarely speak of "gentlemen" in these terms or any other, or think much about character, honor, loyalty, service, or grace. Yet when we think about the values enshrined in our Constitution, we see the same principled aspirations. And it used to be comforting to imagine our nation would always choose leaders who would embrace these values in their dealings with us, with each other, and with other nations.
Ambassador Taylor stands out to us as personifying these values over some fifty years in the military and in foreign service, demonstrating by his actions a firm stand on principle. In contrast, Secretary Pompeo, like Taylor was a distinguished West Point graduate and military veteran. But unlike Taylor he has chosen to compromise his honor and  principles by witnessing and going along with the Tweetster's extortion attempt on the Ukraine President, and now dissembles about it, when he has been trained to know that an evasive statement is as dishonest as a Lie. He should have heeded Michael Cohen's advice, that the Tweetster would Drag them all Down as he did Mr. Cohen. We confess some disappointment with Pompeo's choices.
Mr. Graham, in contrast to both, is typical of an entire class of contemporary politicians, who can assert one thing today and its exact opposite tomorrow if that is what expediency demands. If Pompeo's honor is in tatters, Graham's (and many others) have none and have no idea what it is or what is means. All exigency orbits around a single idea: remaining in power at all cost.
Finally there is the Tweetster himself, a bizarre melding of bete noir and enfant terrible, a man who is completely incapable of telling the truth about Anything, as if some traumatic childhood experience taught him that his Emotional World Would End (like Daddy disapproving or Mommy disappearing…?) if he admitted Anything about Anything. "Honor" is to him, like a Hurricane at sea, "most devoutly to be eschewed," because it would surely lead to unbearable Pain. Instead, like all psychopaths, he has a gift for telling people what he instinctively knows they want to hear so much they will compromise their values to hear it…as every con man does, and as Michael Cohen warned.
At the moment we have Republicans falling over themselves trying to court the Tweetster's favor, as if they are in some kind of trance. If his astonishing betrayal of the Kurds, strongly suggesting a deliberate and treasonous collusion to help Russia and Turkey, isn't enough to terrify his disciples enough about the implications of Another Term to call them to Action, things could get Really Ugly Really Soon.
Washington Post Tweetster Lie Count to date: 12,000 as of 6/10/19
This weekend's wine tasting
Jane Ventura Cava Rose  '16       Spain    $16
Clean aromas of almond with strawberry, and cherry with aromas  of anise and country herbs; well balanced, dry, light and fresh with a long,
persistent finish.
Bernier Chardonnay '18     France     $12
Lemon, herbs and lees on the nose. Full-on minerality, with a touch of lemon curd. Crisp, elegant, steely, and citrusy personality; classic Old World style.
La Quercia Montepulciano '17       Italy    $13
100% organic montepulciano d'abruzzo from low-yield vinification by winemaker Antonio Lamona for one of the best, most expressive, and balanced Montepulcianos around. Opens with aromas of sour cherry with a hint of new leather; ripe fruity palate exhibits juicy blackberry, raspberry and a hint of anise;  easy drinking with soft tannins.
Can Blau Can Blau '16      Spain     $16
Long an Artisan favorite; consistently showing aromas and flavors of ripe dark fruits and berries, a seamless texture, and long, silky finish that improves with aeration.
Seghesio Angela's Garden Zinfandel '17    California     $19
Aromas of wild blueberry, briary raspberry patch and baking spice give way to a palate of juicy, ripe blackberry and black plum. Soft tannins, a rich mouthfeel and focused acidity lead to a long finish.
click on photos for larger images
Friday Breads
Pain au Levain – Made with a nice mix of bread flour and freshly milled whole wheat and rye. After building the sourdough and mixing the final dough it gets a long cool overnight ferment in the refrigerator. This really allows the flavor to develop in this bread. A great all around bread – $5/loaf
Sweet Corn & Dried Cranberry – Made with polenta and bread flour, then enriched with milk, butter and honey for a soft and tender crumb. Then loaded up with dried cranberries. Has great corn flavor but is not a traditional quick cornbread. A delicious bread that makes great toast – $5/loaf
and pastry this week…
Brioche Almond Buns – Made with a delicious brioche dough full of eggs, butter and sugar. Rolled out and spread with an almond cream filling. The almond cream is not made from pre-made almond paste, but rather is a delicious creamy filling made with lots more butter, sugar and eggs as well as almond flour. Yum, yum – 2/$5
( breads must be pre-ordered by Wednesday for pickup here at the wine shop at our Friday wine tasting, 4-6pm. Planning a visit to the Island? Email us to get on the mailing list!)
Fior D'Arancio
This week we bring back an unusual sparkling dessert wine from Colli Euganei, a series of ancient volcanic hills north of Venice, where 50-million year old mineral deposits add depth and character to local wines.
This week our tasting includes a clone of muscat from this region, which either through its own genetic identity or from some kind of symbiosis from nearby orange orchards, has strong scents and flavors of orange. This wine is unusual, surprising, and pleasing in many ways, with its lovely orange blossom bouquet, fine perlage, and fluffy mousse. It makes a great afternoon treat on the deck, or a fine accompaniment with fruit tarts, pies, puddings, or cakes.
We poured this wine a year or two ago, and it sold out quickly as people tasted it. As the season gets colder, it's a great wine to have on hand for cozying up to a fire!
Wine and Climate Change
People have been growing grapes and making wine over much of the world for thousands of years, despite challenges from famine, flood, drought, social unrest, and war. Through it all, meticulous grape farmers have, like seafarers, "kept an eye to weather," (Arrrrrr!) continually expanding their ability to adapt their vinicultural experience to seasonal weather variations. For the last thirty years, vignerons around the world have have had to work hard to address changing temperatures and rainfall as the Earth warms.
In the short term, some of these changes have actually benefited certain regions, where warmer growing seasons have made it far easier to produce consistently exceptional wines, while overall the pace of climate change has been pressuring wine growers to find the best ways to respond to the shifts. Since the 90's grape growers have been edging north in the Northern Hemisphere and south in the Southern Hemisphere in search of cooler growing conditions. As the climate has warmed, regions that were once considered too cold are now demonstrating that they, too, can produce fine wine, as long as the other elements are in order.
In addition, many growers are planting vines at higher altitudes. Although peak temperatures are not necessarily much cooler, daily heat lasts for shorter periods, and nighttime temperatures are colder than at lower altitudes, helping grapes to ripen more evenly– the same phenomenon as occurs along marine coasts.
In regions which have been more typically hot, the key problem for winemakers has increasingly become over-ripening. This has caused many growers to explore different  regional varietals in their familiar vineyards, and to seek new vineyards further north...(like, you know, Washington State.) At the same time, changes in rainfall and temperature patterns have been increasing forest fires in Washington and Oregon, offering yet another challenge for growers. Bottom line: because wine grapes are extraordinarily sensitive to soil and sunlight, the industry as a whole is a canary in the mine for food crops of all kinds.
Mar a Lago Update: A Bridge Too Far

The dominant news item this week has been (see last week's post) the Tweetster's decision to abandon our Kurdish allies in Syria by giving the Green Light for Turkey to invade the region, which the Kurds won from ISIS with great effort and sacrifice. This Betrayal has been deeply and widely disturbing across America and across NATO. Every rational American feels shamed by this bizarre betrayal of our national honor; thousands of Kurds fought and died in Our cause and now our so-called President  has abandoned them.
Today's New York Times featured an op-ed by retired ADM William McRaven, who oversaw the mission that captured Osama Bin Laden in 2011, and who at the time of his retirement in 2014 was then the longest-serving active member of the Navy Seals…and who still believes and fights for the idea that "We are the Good  Guys."
In his current op-ed, he asks, "If our promises are meaningless, how will our allies ever trust us? If we can't have faith in our nation's principles, why would the men and women of this nation join the military? And if they don't join, who will protect us? If we are not the champions of the good and the right, then who will follow us?"
His words reinforce our feeling that the Sheer Shock of the Tweetster's public betrayal of our values will continue to take an increasing toll. Even Post-Morality Republicans may be growing increasingly uncomfortable with his ongoing Word Salad and be longing for an alternative. Meanwhile, the Impeachment Fires are lit while we search for our collective values as a national community.
A lot going on right now, huh…?
Washington Post Tweetster Lie Count to date: 12,000 as of 6/10/19
This weekend's wine tasting
Weingut  Gruner Veltliner      Austria    $16
Notes of ripe Bosch pears surround the palate on this fruit-driven, slurpingly good Gruner.
Marchetti Rosso Conero '17   Italy    $11
Rich and inviting aromas of flowers, plums, brown spices, and hillside brush. On the palate, round notes of cherries, blackberries, cocoa and spice. Culminates in a satisfying, lengthy finish.
La Quercia Aglianico  '17    Italy   $13
The new vintage of one of our favorite italian reds; full bodied with notes of ripe plum and white pepper on smooth, fine-grained tannins. A lovely match with a wide range of savory dishes.
Edi Simcic Duet     Slovenia       $30
Merlot, Cab Sauv, Cab Franc; bold and compelling, with notes of chocolate, cherries, cheesecake, and coffee on silky tannins and a lush, ripe, fruit-full body that goes on and on.
Lovo Fior d'Arancio Sparkling Moscato '18           Italy          $15
A very rare clone of Moscato with an unmistakable citrus scent from nearby orange groves for a sparkling wine with refined bubbles and beautiful, pearlescent color, a perfect aperitif with or without dessert!
click on photos for larger images
Friday Breads
Rosemary Olive Oil – Bread flour and white whole wheat for a little more flavor and texture. Fresh rosemary from the garden and olive oil to make for a tender crumb and a crisp crust. A great all around bread – $5/loaf
Multi Grain – Made with pre-fermented dough to begin the enzymatic activity and gluten development overnight in a cool environment. The next day it is mixed with bread flour and fresh milled whole wheat and rye, then flax, sunflower and sesame seeds are added for a nice bit of crunch and some extra flavor.   – $5/loaf
Pumpkin Spice Muffins- Delicious muffins made with pumpkin and all the spices that go with pumpkin. Topped with a streusel made with butter, brown sugar and pumpkin seeds and as if that isn't enough filled
with a cream cheese filling. Yum! Warning: somewhat addictive! – 4/$5.
( breads must be pre-ordered by Wednesday for pickup here at the wine shop at our Friday wine tasting, 4-6pm. Planning a visit to the Island? Email us to get on the mailing list!)
October Sunset
Langhe Nebbiolo 
Barolo and Barbaresco, among the most esteemed of Italian wines, are made from the nebbiolo grape found mostly in the Piedmont wine region near the French border, where it thrives in sheltered, south-facing, well-drained calcareous marl soils. Flowering early and ripening late, it produces high levels of sugar, acidity and tannins. The vintner's goal is to harvest the fruit when these three elements  are in optimal balance.
The grape is known for its particularly strong tannic structure which usually takes several years of aging to soften into optimal drinkability. Because of their high prices ($50 and up) and need for cellaring, these two nebbiolo wines are out of reach for most of us for everyday drinking.
Fortunately, many of the appealing virtues of nebbiolo are available in a less expensive wine, Langhe nebbiolo, which is essentially the same grape but from less prestigious or declassified vineyards or younger, less select vines. Also, producers are allowed to blend small amounts of barbera or dolcetto to make it more approachable. Though Langhe nebbiolo does not develop the intensity, depth, or aging potential of the more expensive and collectible nebbiolo wines, they provide an affordable ($18-$30) way for all of us to enjoy them.
Mar a Lago Update: A Letter to Congress

We have been committed to writing this weekly commentary on the Ongoing Disaster of the Tweetster's Occupation of our Formerly Respected White House since April, 2017, and have every intention of maintaining it until he is Gone…our little Indulgence for Mercy from whatever Capricious Fate is responsible unleashing this Menace on our Dear and Vulnerable Planet.
Two months earlier I had written a few letters to Congress about our Fears for the Future. Many of us recall our Inability to Accept that this Gigantic Mistake could possibly be allowed to continue. Here are the first few paragraphs of my letter to Senator McCain, sent in February 2017:
Dear Senator McCain,
I write to thank you for your excellent speech at the recent Munich Security Conference. As a fellow graduate of the Naval Academy (1967), I share your deep concerns about the rise of Authoritarianism both in Europe and here in the United States, and was reassured by your strong position on preserving our common values.
Your recent comments also suggest that you are as disturbed as most Americans that a man as singularly unqualified as Donald Trump should have somehow become President of our country. He consistently demonstrates a severe narcissistic personality disorder, the emotional maturity of a spoiled child, and the critical thinking ability of Lewis Carroll's Mad Hatter, ever nattering in nonsensical riddles.
Perhaps no quality of leadership is more important or less appreciated than maintaining a steady and reassuring hand on the tiller.  Yet each day Mr. Trump remains in office adds more chaos and confusion, upsets long-established expectations at home and abroad, and undermines our ability to achieve and maintain our strategic and economic interests around the world.
Today, almost Three Years later, anyone who has been paying attention in the last few days has to be both outraged and heartbroken that this Dog-Damned Fool in his "Great and Unmatched Wisdom" has single-handedly opened the door for the destruction of the Kurds, a People without a Country and our long-term allies in our never-ending Middle East Crusade…in the name of Jesus, Wall Street, and Dick Cheney, Amen.
Of the whole torrent of Outrageous, Breathtaking, Heart-Breaking Cruelties this Soulless man has inflicted on our country and our world, this betrayal of our core values and our responsibilities to a valued ally should not be tolerated by Anyone. The Tweetster should be Finished, Done, OUTA HERE with all deliberate haste so our country can act to protect a loyal ally, as our sense of honor Requires. Good Grief, when even Lindsay Graham can find enough moral character to condemn this betrayal of American responsibility, then no American of any political persuasion should be able to rest until we have taken action to assure the Kurds' security.
Washington Post Tweetster Lie Count to date: 12,000 as of 6/10/19
This weekend's wine tasting
Mayu Pedro Ximenez '18 Chile $10
In the mouth, this dry Pedro Ximénez from Elqui on the edge of the Atacama desert feels plump and medium in intensity, with notes of kiwi and flowering herb lead to a crisp dry palate with a mouthwatering finish.  read more

Chateau de Caraguilhes  Rosé      '18     France     $14
Fresh pink, clear and bright; intense and appealing aromas of gooseberry and cherry with clean mineral notes; round and well-balanced, rounded and elegant, a great pleasure to drink.
Chateau Sicot Bordeaux Superieur '16     France    $14
Classic right bank Bordeaux, organically farmed, and a blend of Merlot, Cabernet, Cab Franc and Petit Verdot. Aged for a year in used and new barrique.
Castillo de Mendoza Vitaran Crianza '15      Spain       $14
Tempranillo from the classic home of Rioja Alta. Aged for a year in Hungarian and American oak and farmed organically.
Fenocchio Langhe Nebbiolo '17     Italy     $21
10 days on the skins, 6 months in stainless, and 6 months in oak before bottling. Nose of black cherries, dark fruits and gentle dark florals. Palate of ripe black fruit; Attractive and plush, with silky mouthfeel and fine tannins.