Lummi Island Wine Tasting May 18 '13
Thirty-three years today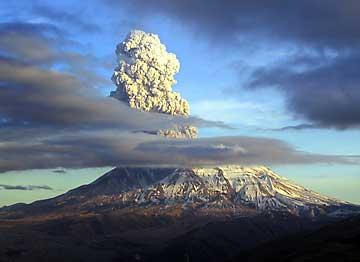 It was a Sunday morning. I was lying in bed, thinking about getting up, when I heard it: a long, low, lingering BOOOOOOOOM, followed soon after by another ka-BOOOOOOOOM. Mt. St. Helens is some 200 miles from Bellingham, so the sound was muffled, but everyone knew what it was. The mountain had been in the news daily for months, causing increasingly frequent tremors in the vicinity, distortions in the shape of the mountain, and numerous releases of gas and dust. It was a Really Big Deal, worth some reflection. This short video puts it in perspective…and reminds me that somewhere in my way-too-long-idle pottery studio I still have a bunch of ash from the eruption, which some potters quickly determined to be an interesting high temperature glaze or glaze ingredient.
Wine Club Update
We are happy to report that the Win
e Club seems so far to be very successful, and we thank all of you who are participating. One of our next tasks is to provide our members with a summary of the wines they have bought, along with a current tally of their expenditures and related benefits. We are hoping we can find a way to incorporate that into the blog or the online store, but for the moment I have posted it on Google Docs, where you can  see your purchases.
If you click on the link above, you will be taken to a spreadsheet with columns for wine name and varietal, date purchased, price, total purchases, and a strange-looking "code." Your personal code is the one you received by email when you signed up for the wine club online by clicking the WINE CLUB! link at the top of the page. HOWEVER, it turns out that many of you signed up for the wine club in person at the shop, and don't know anything about the online signup. So don't worry, I signed up for you, and as a result some of you will have received an email tonight (Thursday) telling you you are a member of Artisan Wine Club! Anne just called me and said her email warned her the message might be some kind of phishing scam…yikes, what's that about? Not to worry, I really did send it to you via our wine club software.
The important thing here is that IF you are interested, you can view and verify your purchase history online— but to do so you need (1) the link above, and (2) the  five-digit code sent to you when you signed up for the wine club online (or in some cases just now when I signed you up for you!). If for some reason you lost your code send me an email and I will send you your code. Hopefully down the road a way we can figure out how to post this info to your own page on the blog…for now this is the best we can do…
Everyone's gone to France…or is it Italy???
Took this photo last week at the shop when Steve and I were kidding around.  I aimed the camera, zoomed in and clicked, and caught a nice portrait of Steve and Mary Beth, who by my calculation are right about now landing in Florence. Ah, si, si, Firenze, così bella, come ci manchi!
Then this coming week Ryan and some of you are taking off for France for the wine tour in the Languedoc-Minervois region around Carcassonne, which we visited in fall of 2011…sigh…! Fare well, all ye wine and food travelers!
We are looking forward to our next France trip in the fall, as members (and omg, designated driver!) of Ryan's tour of the Loire wine region. Wine, food, friends, and travel…la dolce vita!
This Week's Wines
Crios de Susana Balbo Torrontes '11         Argentina        $14
Pale yellow.  Sexy, slightly exotic aromas of wild herbs, flowers, licorice, mint and spices.  Juicy, saline and dry, with flavors of lemon verbena, lavender and botanical herbs, dusty soil here and sweet citrus.
Il Filare Rosado '08       Italy       $8
A rosé of 80% Bombino Nero and 20% Montepulciano; aromas of strawberries and fresh-cut grass. Dry as bone with brilliant minerality, beautiful fruit and crisp acidity.
Sierra Cantabria Tinto  '09 Spain      90pts       $11
100% tempranillo; aromas of ripe cherry, cassis, blackberry and dark chocolate, with a touch of cola.  Lush, layered and focused, with a creamy texture and hefty dark fruit flavors. Finishes with smooth tannins, a hint of licorice and very good length.
Boomtown Syrah '08        Washington        $17
Second label from Dusted Valley; deep ruby-garnet color and complex aromas of black currants with smoky notes. On the palate rich and nicely concentrated with good structure, balance, and velvety tannins.
Palacios Rioja Crianza la Montesa '08     Spain     WA92pts       $17
65% Garnacha, 30% Tempranillo and 5% Mazuelo picked by hand; well-defined strawberry, Morello and shortcake-scented bouquet infused with fennel and licorice; medium-bodied with supple tannins, and an elegant, caressing finish that speaks of its place.
Lummi Island Wine Tasting May 11 Mothers' Day Weekend '13
Mothers' Day
For a bunch of years now I have thought that on everyone's birthday, instead of celebrating the birthday person, we should celebrate the person's mother. As Constance pointed out in yoga this morning, everyone has a mother (and a father, of course), and the bond between mother and child is something that defines us as mammals in general and as human beings in particular. No other creature takes so long to become independent of its parents, so of course our relationships with our parents–especially our mothers– form the very foundation of who we are and how we view the world.
This photo was taken sometime in 1951, the year I turned six, and my mother turned 36. Our lives were complicated in many ways at that time, but my recollection is that I felt safe and loved, and so life was pretty good. That's what mothers do for us, I think, maybe some better than others, and maybe all imperfectly, but it's a long, long haul to bring a child from infancy to adulthood, and not a lot of vacations.
So thanks, Mum, and thanks to all of you other Mums out there for nurturing us to adulthood. We all know it ain't easy!
(note: click on images for larger view!)
Last weekend
Both Friday and Saturday were busy here at the wine shop. As usual, Friday night was mostly "regulars," including of course Janice (and designated driver David) delivering the weekly Loaf of Fresh Bread from the wood-fired oven behind their place on West Shore. The weekly Loaf is now a Friday night institution, arriving shortly after opening at 4pm, when it is sliced into chunks and distributed for all to sample. Fresh bread and good wine…yet another version of the ancient neighborhood communion ceremony! Like Motherhood, it is another manifestation of our human inclination to gather together in a warm place to share food, drink, and the company of our kin– the constellation of Good Things I have come to call "Hearth," the most fundamental and ancient ingredient of human culture. 
Saturday was also a good turnout, with lots of new faces along with familiar ones. Also, of course, it was another in a series of unexpected, unseasonably warm and sunny days, a great day to be outside and a great day to celebrate our collective good fortune!

Padilla Bay
Earlier this week we took our little trailer the short drive south to Bayview State Park on Padilla Bay. It was sometimes sunny and sometimes overcast, almost foggy, allowing us to gather some very interesting images from a unique landscape and lightscape of tidal mudflats, water, and sky.
See photo collection here. 
(then click on "slideshow" link at upper left and lengthen viewing time for best viewing experience!)
This Week's Wines
Bernier Chardonnay '11           France                $10
Light, bright yellow. Lemon, herbs and lees on the nose. Juicy but dry, focused, and refreshingly brisk.
Chateau du Rouet Rose '11       France       88pts     $14
Pale orange.  Pear, melon and strawberry on the fragrant nose and in the mouth.  Juicy and open-knit, with silky texture, good finishing breadth and a late touch of warmth.
Borsao Berola  '09    Spain     90pts       $13
(70% garnacha, 20% syrah, 10% cabernet sauvignon; Pungent, smoky aromas of dark berry preserves, cherry pit and spicy licorice; broad and fleshy, offering a palate of velvety cherry, blackcurrant, and a touch of succulent herbs.
St. Francis Red Splash '08 California $12
Lush with succulent ripe, red fruit flavors and spicy aromas. Full-bodied and versatile, RED pairs with a variety of foods for any occasion.
Sheridan "Mystique" '07 Washington WS92pts $21
50% Merlot, 40% Cabernet Sauvignon, and 10% Cabernet Franc; aged 2 yrs in oak; nose of balsam wood, mineral, lavender, spice box, intense black cherry, and black currant fruit; on the palate, it has loads of fruit and spice, outstanding concentration, impeccable balance, and a lengthy, fruit-filled finish.
Lummi Island Wine Tasting May 4 '13
May 4th Movement


Back in the fifties when I was in school, China was rarely mentioned, and when it was, it was mentioned in a vague historical context which carefully excluded any references to Communism. Now I think about it, it was a little like how so-called adults talked about women who were pregnant, because for some reason the word "pregnant" could not be said out loud. Rather, they (women talking about women) would be speaking in a perfectly normal tone of voice which would suddenly drop to a whisper: "Haven't you heard? She's…pee-gee…!"
What does that have to do with China? The May 4th Movement originated around the end of WWI, when China fought on the side of the Allies against the Germans, for one thing because they hoped to win back lands colonized by Germany. However, in the Treaty of Versailles ending the war the political intrigues of the day allocated the German claims in China to Japan instead. The May 4th Movement was a social and cultural response to the global politics of the time, which led eventually to the Communist Revolution and the present balance of global political and economic power. So maybe we should have given their land back to the Chinese instead of the Japanese; maybe the last hundred years would have unfolded very differently…! read more
Last Week
I confess we were imagining a somewhat festive return to Lummi and the wine shop after having been gone for several weeks. No, we certainly weren't expecting a crowd like, you know, Lindy landing in Paris, but, hey, we were open to a little touch of Festivity. As it turns out, however, it was a very quiet day, in which a small number of people spent a good portion of the afternoon together, which was entirely pleasant and low-key. We had run into Sean and Elizabeth and friends on our noontime dog walk, and they all came by the shop shortly after opening at 2pm. Conversation lingered on till well into the afternoon when Randi showed up, and that conversation went on way past closing when we just up and went to the Beach Store for dinner. Even after all these years, there is no predicting what any given Saturday will bring…it's always a surprise.
Trailering in on people

One of the great things about our recent road trip was getting to visit with lots of friends and family for a couple of days. Sleeping and keeping our gear in the trailer seemed to give both us and our many hosts more breaks from one another than when being complete house guests (though no, I don't know how any of our many hosts felt about it), yet at the same time allowed a deeper connection than just passing through for dinner, more of a sense of how they actually live. So we really had a nice sense of contact with old friends in new ways, very enjoyable for us, and hopefully minimally burdensome to our many gracious hosts. (Although, admittedly, I'm not sure anyone would welcome this kind of Attitude right in their own driveway…!)
This Week's Wines
Arindo Verdejo '11 Spain 88pts $10
Fresh pear and melon aromas sparked by lemon zest and minerals. A floral quality enhances the palate, which finishes juicy and clean, with good lift and stony persistence.
La Font du Vent Rosé "Les Promesses" '11 France 88pts $10
Very pure and focused, with a range of plum, cherry and strawberry fruit. A lingering cherry pit edge provides contrast on the finish.
Real de Aragon Garnacha '07 Spain 88pts $11
expressive nose of cherry and cassis. On the palate it has a touch of silky tannin, good grip, savory fruit, and a medium-long finish
Navarro Correas Malbec Gran Reserva '10 Argentina $11
Enticing aromas and flavors of cassis, blackberry, licorice and mint. Densely packed, supple and concentrated, Finishes with substantial ripe, building tannins.
David Coffaro Barbera '09 California $25
81% Barbera, 19% sangiovese; Big, jammy, New World aromas of cherries, roses, and plums lead seamlessly into intense, lingering flavors and mouthwatering acidity.
Lummi Island Wine Tasting April 27 '13
Closed Friday!
Just a reminder: although we are back, for a number of reasons the wine shop will be closed on Friday, April 26. We will be open for our usual hours on Saturday, April 27 (2-6pm)…looking forward to seeing you all!
(remember: click on images for larger versions!)
May Day
As it turns out, May Day, or Beltane, is the halfway point ( i.e. cross-quarter day) between the spring equinox and the summer solstice. Like the other solar events people have celebrated since time out of mind, May Day was the perfect time to celebrate the fecundity of Spring. Traditionally it was a time for dance and song to hail the budding of new life across the countryside. Young couples paired off as a sort of engagement; if all went well, they would marry at the summer solstice in late June, and that is likely the origin of the June wedding tradition. Once again, rituals we take for granted turn out to have evolved long ago in concert with the solar calendar and the cycle of planting and harvest. Now, of course, these traditions have been reduced to their most basic commercial elements. Like the mythical Farengi, we are a pragmatic species!
When I was first in school (age 4 and 5), I remember making May baskets in class. And while the idea is Dangerous out of all proportion nowadays, the tradition we were taught was to put little goodies (jelly beans and such may have been provided at school–my teacher for both subprimary and first grade was a charming and attractive young nun named Sister Cecilia), and then to hang the May Basket on someone's doorknob. I remember thinking about handing that basket on that cute red-haired girl's door (oh, wait a minute, I was confusing myself with Charlie Brown…!), but so soon after Easter (at least in some years) the idea of goodie baskets seemed a bit redundant. Which of course makes you wonder whether the idea of Easter Baskets evolved from some overlap between the fecundity of Rabbits and the broader fecundity of Spring. What do YOU think??
We're Back!
We arrived home from nearly a month on the road this afternoon. Last night we stayed in a Washington State Park south of Olympia. Quite dramatically, after  the parade of brownish-gray, arid landscapes that have dominated our landscapes during our trip, the familiar setting of tall firs and dense undergrowth (and yes, a bit of Mud here and there) was a welcoming beacon. (Although, really, if we are honest with ourselves, does anybody really like Mud…?
Cigar Box Guitars
Last night we camped at a Washington State Park south of Olympia. Our site was a short distance from a very distinctive old school bus, you know, the really big ones with the rounded sterns…? We noticed a smoke-belching chimney from a fire in the indoor stove, a fire in the outdoor fireplace, and the sound of old-time music as we walked by. This morning we had a chance to meet and converse with our neighbor and bus-owner, Terry Strasheim. from nearby Centralia.

It turns out he made the instrument he had played the night before: a "cigar-box guitar."…! Apparently this is an old tradition undergoing a bit of a revival. Now maybe one needs to be from an earlier generation to understand what a "cigar box" is, and even earlier to know what a "cigar-box guitar:" is. The basic idea is that it is a stringed instrument with a fretted neck is attached to an old-fashioned cigar box as the resonating body. It has three strings, and is tuned like a dulcimer.
Unfortunately, we didn't get a sound recording of Terry playing his prototype instrument. All you need to know is that they are very funky, very compelling, and most often have only three strings. Terry can play a wide range of tunes on it. He does not yet have a website, but would love to tell you more about his work and his instruments. You can email him at muzeckman@gmail.com for more information. They are awesome instruments; every music buff should have one!
Wines
Unfortunately we have arrived home too late to pick wines for this weekend. Trust us when we say that whatever we pour will taste great! Looking forward to seeing you all!