Search Results
(note: some photos will enlarge when clicked)
Friday Breads
Something a bit different this week to help everyone get ready for Thanksgiving:
Dinner Rolls! 6 rolls per order, 2 each of three different recipes. Pick them up this Friday, throw in the freezer, straight into the oven frozen just before dinner and have delicious fresh rolls for Thanksgiving!
Septieme Rolls – Mostly bread flour and a bit of fresh milled whole wheat, mixed and fermented overnight in the refrigerator for a crusty outside with a soft, fragrant crumb on the inside.
Petite Polenta Boules – Made with bread flour, polenta, milk and a bit of brown sugar for sweetness, then loaded up with pumpkin seeds for a bit of crunch.
Cranberry Walnut Rolls – Similar flavors to the cranberry walnut bread from last week, but not quite as rich. Made with bread flour, milk, brown sugar and eggs. Then loaded up with toasted walnuts and dried cranberries.

Note no pastry this week.
"Silent One"
I first met Leonard in September 1980. I had just spent the summer on a research fellowship at Battelle Labs in Richland, WA, assessing the possible economic impacts of human-caused Global Warming on world fisheries. Then I had ridden a motorcycle to Jemez Springs, NM for a week-long Zen retreat. I had been there several times before…something of a Spiritual Home.
I remember meeting other arrivals in the dining area, including a quiet man named Leonard. We shook hands and said hello. "So what do you do?", I asked. "I write songs," he said. "How wonderful," I said, "Have you written anything I have heard of?" "I don't know," he said. "What have you heard of?" Jennifer, a Center resident who knew us both, overheard all of this and said, "Richard, why don't you ask Leonard his last name?" Doh!
Any of us who practiced Zen with Joshu Sasaki Roshi, whether at Jemez, or Mt. Baldy ZC in the mountains above Clairmont, or at Cimarron ZC in LA, from the seventies until just a few years ago, sat beside, walked beside, ate beside, and worked beside Leonard Cohen. He once told me, with a hint of irony and wonder, that he was "the most popular male singer in Europe." At the time he and I were building a rock retaining wall as Daily Work Practice, and had many good conversations. And, at the end of the day I think it was a Pretty Good Wall. Maybe it's still there. I hope so.
In the mid-nineties Leonard took vows as a monk, and Roshi gave him the name Jikai, which means "Silent One." He then spent five years at Mt. Baldy Zen Center, when Sasaki Roshi was around 100 years old, and confined to the LA center. Therefore for years Leonard and other students would drive down well before dawn from Mt. Baldy to Cimarron for morning zazen and sanzen with Roshi, before driving back. Hard practice, for sure.
So. I have great admiration for Jikai. I am grateful to have spent time with him. And I am continually inspired by his Practice, about which he once said, "It is a great luxury not to have to think about what you are doing next." Please join me in placing our palms together and bowing in gassho to this dear man who has enriched all our lives.

Thanksgiving Alert

Please note that the wine shop will NOT be open Thanksgiving weekend. Pat and I are off to Sonoma with pups and trailer for a Grandparently Holiday, while Most of You will also either be Away or Otherwise Engaged with family obligations of your own. We wish you all Good Cheer, Warm Hearths, and Warm Hearts, and look forward to seeing you Friday,. December 2!
Politics and Climate Change

Caught an interesting interview on the radio this morning with Barry Parkin, Chief Sustainability Officer for Mars, Inc., one one of the world's largest manufacturers, in which he said ( I am so happy to say I Am Not Making This Up!), "We've reached that tipping point where in many places renewable energy is more cost-effective than fossil fuels."
This statement is then unpacked into the Astonishing Reality that this multinational company has built a solar power grid in Texas large enough that its entire US production is now totally Carbon-Free! As our GPS is fond of saying, and we are fond of hearing…: "You Have Arrived!" Btw, Mars is one of the 300-odd companies petitioning Pres Elect Jabba to Uphold the Paris Climate Agreement. The Very Welcome Illuminating Reality of this announcement is that Renewable Energy Resources are already Competitive with Fossil Fuels in many places. Therefore, sad to report, Jabba's Dream of bringing back Coal and Oil is already Economically Infeasible. Coal is too Dirty; Oil is Too Expensive; and Gas is, well, Too Fracking Complicated!
If you think about it, None of this is Surprising. Resource economists (like yours truly!) have been cautioning for a Long Time (40+ years) that per-unit extraction costs for coal, oil, and gas will continually increase, particularly when you include "external" costs like air, water, and ground pollution.
This week's Wine Tasting
Lumos Pinot Gris  Rudolfo Vineyard '15      Oregon   $18
Clear light golden straw color. Lively and complex aromas of lemon, green apple, nectarine. A vibrant, dry yet-fruity body and a tingling, breezy, nicely balanced nut-skin finish.

Virginia Dare Pinot Noir '14     California     $17
Uncomplicated but entirely engaging with notes of blackberry, ground black pepper, and black olives along with typical Russian River notes of strawberry and pit fruits. 
Castel de Remei "Gotim Bru"
Blend of Tempranillo, Garnacha, Cab, Merlot, and Syrah; perfumed and pleasant, with ripe aromas of plums, raisins and prunes, some floral overtones and notes of spicy oak.
Joel Gott Cab-Merlot'14       California     $14
Beautiful notes of crème de cassis, vanilla and spice with a medium to full body, beautiful purity and texture. Satisfying and very easy to like.

 Robert Ramsay Le Mien '12    Washington  $29 
Grenache, Mourvedre, Counoise and Cinsault; rock-solid aromas and flavors of lavender, leafy herbs, flowers and assorted black fruits. Rounded and supple, with a fleshy mouthfeel, solid ripeness, and sweet tannins.
note: some photos may link to larger formats when clicked…
Friday Breads This Week

Sonnenblumenbrot – aka Sunflower Seed Bread Made with an overnight pre-ferment before mixing the final dough with freshly milled rye, then loaded up with toasted sunflower seeds and some barley malt syrup for a typical German seed bread- $5/loaf
Pain Meunier – Made with pre-fermented dough it contains all portions of the wheat berry: flour, fresh milled whole wheat, cracked wheat and wheat germ. Always a favorite and a great all around bread. It makes the best toast! – $5/loaf
And pastry this week…
Traditional Croissants – No filling, nothing fancy, just delicious french pastry made with a levain as well as pre-fermented dough – The final dough is made with more flour, butter, milk and sugar, and laminated with more butter before being cut and shaped into traditional french croissants. 2/$5
Saturday Concert April 20!
Make your plans now! Our Annual Spring Concert with singer-songwriter-minstrel Robert Sarazin Blake! This year's concert will be from 2-4pm on Saturday, April 20 in the wine shop!
As Robert's many local followers know, he is a modern-day troubadour who travels widely (mostly here in the Pacific Northwest , Germany, and Ireland) to share his craft, very often in pub atmospheres like our dear wine shop. And to all venues he brings his sonorous voice, open heart, wry humor, and engaging songs to weave a web of well-being around you. For those of you who have not attended any of our concerts, know that our little shop is a great venue for Robert's style, which is is always engaging and energizing. Learn more about Robert's music here.
Suggested performance donation is a modest $20 per person, and a selection of wines will be available by the glass. And since space is very limited, please confirm reservations soon!
Please note our regular Saturday wine tasting will follow the concert, from 4-6pm. 
This Year's Robin, cont'd
We mentioned last week that a robin was brooding three eggs in a new nest above our entryway porch. The robin is still there, and as yet we have seen no signs of hatchlings. In theory the eggs should hatch within a couple of weeks, and it is now two weeks since we got home from our trip and found the new nest.
She is getting somewhat used to us, seeming less compelled to drop silently out of the nest, fly to a nearby tree, and sing to distract us from the nest. So everything seems to be unfolding as it should. Still, we find ourselves glancing up at the nest frequently, hoping to see or hear signs of a successful hatch.
So we fuss over Another little Local Drama…Spring comes, the grass grows by itself…!
Mar a Lago Update: The Jig is Up

Intensive Ongoing Research continues to confirm that at the End of the Day, which might occur much sooner than we have generally imagined, the impacts of Our Species on Global Climate might well cause Mass Extinction of most living species– including ours– currently inhabiting our Dear Planet Earth.
We have known about the Existential Threats posed by our unrestrained burning of vast amounts of fossil fuels for at least forty years, but our Leaders have chosen to ignore them. We are, after all, a "social species," which apparently means we are at least as persuaded by the effects of our actions on our Standing in the Social Hierarchy Right Now as we are by what Reason has to say about the Distant Future, like, you know, a week from Tuesday.
We are reminded of the fable of the Tortoise and the Hare—(skip the ad for a surprisingly timely rendition) except that in the current case– in contrast to the Moral of the Fable– the Short-sighted Hares have taken almost complete Political Control of much of the world. Given that there are indeed lots of ego-driven Hares out there, our compelling Question– both Political and Existential– is How can We possibly Survive?
It is one thing to be skeptical about Opinions. It is an entirely different thing to be in Denial about, as Al Gore called them, "Inconvenient Truths." Seriously, how can a person have lived through the last thirty years and not Get It that: Storms are getting Worse; Habitats are getting too dry, wet, hot, or cold to support the species which  have lived there for Millennia; cycles of wet-dry-hot-cold are making the production of food more difficult in many places where it had been Easy; and long-established patterns of human development and habitation along coastlines and rivers have been increasingly devastated by flooding from increased rainfall, higher tides, and more powerful winds, all of which will continue to worsen for a long time even if we act now to slow the rate of change.
The takeaway here is this: anyone who doesn't Get It that Global Warming is an Immediate Existential Threat to Life as Our Species has always known it is Part of the Problem in a time when we Most Desperately need Solutions. It is futile to argue with them, and time to move on without them.
Washington Post Tweetster Lie Count to date: 9,451 as of 4/1/19\
This week's wine tasting
Lasso Bianco '16     Portugal       $12
Apples, green plums and peaches round out lemon zest acidity in this soft, fruity white wine. It is ready for drinking, finishing with an attractive warm finish.
Bieler Bandol Rosé '17   France $17
Grenache-Syrah blend; soft and bright, with plenty of red-berry and currant flavors. Its fruitiness and balanced acidity make for an immediately attractive, easy wine.
Indaba Merlot  '15     South Africa      $10
Crafted in a fresh, pure style, this velvety Merlot seduces with aromas and bright, juicy flavors of cherry, dark berry and plum backed by subtle mocha and herbal nuances and a delicate minerality.
Carmen Carmenere '16     Chile     $16
Aromas of fresh berries, baking spices and chocolate get this wine going; full bodied yet balanced, with toasty black fruit flavors with grip and intensity.
Seghesio Zinfandel Angela's Garden  '17     $19
Nose has ripe bing cherries with a bit of leather that expand on the palate to ripe maraschino and Rainiers. Youthful and bright with a surprising depth of flavor and a youthful finish.
email subscribers: click here to comment on this post
note: some photos may link to larger formats when clicked
Bread This Week
Whole Wheat Levain – Made with a sourdough starter fermented overnight in the refrigerator, which  allows the fermentation process to start and the gluten to start developing. The bread is made with levain, bread flour, and about 25% fresh milled whole wheat. I like to say it has a 'toothy' crumb, it has great texture and flavor and a nice crisp crust.  – $5/loaf
Buckwheat Rye – Fresh milled buckwheat and rye flours are soaked for 8 hours in a method known as an autolyse. As buckwheat and rye don't have much gluten this allows what little gluten there is to start developing and really gets the enzymes going before the final mix – which is then fermented overnight in the refrigerator. The buckwheat-rye soaker is mixed with bread flour, salt and yeast and a bit of honey. Goes well with all sorts of meats and cheese – $5/loaf
Pastry this week…
Bear Claws! – Made with a danish pastry dough rich in cream, eggs, sugar and butter. The dough is rolled out and spread with a filing made with almond paste, powdered sugar, egg whites and just a bit of cinnamon to round out the flavor. Then, because bears love honey, topped with a honey glaze after baking. – 2/$5
ps: the last two times Janice has made these, real, live, Actual Bears have been sighted on the Island…Stay Alert!
December  Schedule
–Nov 30-Dec 1 and Dec 7-8: open both weekends for Bread Fridays 4-7 and Saturdays 2-6
–Dec 14-15: OPEN FRIDAY, CLOSED SATURDAY
–Dec 21-22 and 28-29: open usual hours
and…mark your calendars…Dec 31: 13th Annual "East Coast New Year's Celebration" 7-9pm..!
Refosco Update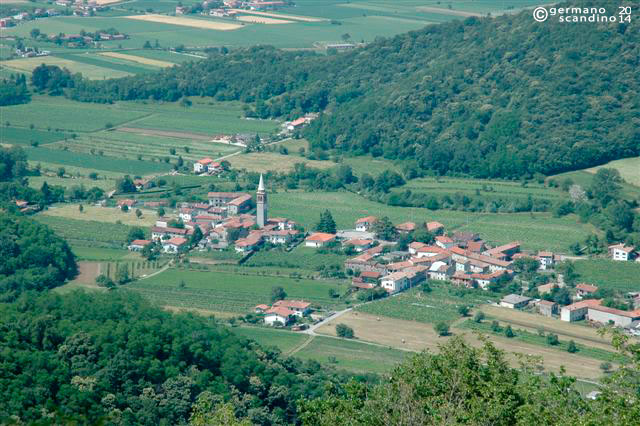 As we have mentioned before, from our earliest days back in 2005 we have kept an eye to Weather for signs of wines made from the elusive Slovenian grape refosco. This year so far we have found and poured for your tasting education and pleasure (is there a difference…?) two examples of these wines, and this weekend, since the previous examples were so interesting and appealing, we offer a third. This week's offering comes not from Slovenia exactly, but from the the Colli Orientali de Friuli "the eastern hills of Friuli") in Italy just a short walk over the northern border with Slovenia and about 60 miles north of Venice.
Officially named Refosco dal Peduncolo Rosso, this wine comes from 25-year old vines in Torreano di Cividale (see photo, left). It shows an intense red color and good consistency, with aromas of  blueberry, blackberry and raspberry, good balance. and characteristic tannins that let it pair nicely with rich beef or game.
Lore has it that the first vines were planted by a Roman Centurion named Taurus for whom Torreano is named. Today's wine reflects that commitment of focusing time and energy to grow rich and generous grapes, hand-harvested with low yields per hectare.
Mar a Lago Update: Two Years Down, a Million to Go*

Everybody knows that the man's a Faker,
Everybody knows that his stuff is Wrong;
Everybody knows that he's a Taker,
Everybody knows that he's weak, Not strong.
Everybody knows that he stole our Power,
And he's not inclined to give it back,
That's how it goes…
And Everybody knows.
Everybody knows that the World is Broken,
Everybody knows that it Can't be Fixed;
Everybody knows Whatever Words are Spoken,
Everybody knows that they're being Tricked;
Everybody knows that the Game is Lost,
We never had a chance though we thought we might,
That's how it goes…
And Everybody knows.
*with heartfelt apology to Jikai for twisting his words…
Washington Post Tweetster Lie Count to date: 6,420 as of 11/2/18
This week's wine tasting
Treana White '16    California     $16
Seductive blend of viognier, marsanne, and roussanne. Aromas and flavors of pineapple, dried apricot, peach and Clementine orange  with floral notes of honeysuckle and elder flower and sweet notes of marzipan, honey, graham cracker and cinnamon.

Bieler La Jassine Cote du Rhone '15   France $15
(63% grenache, 37% syrah) Solid, with plum and blackberry compote flavors forming the core, backed by a good snap of licorice and a dose of dark toast on the finish. Has good drive overall.
Bodegas Ateca Atteca '15     Spain    $14  
Displays aromas of cedar, an earthy minerality, black cherry, and lavender leading to a savory, deep, well-balanced red with succulent fruit and a lengthy, seamless finish.
Tommasi Poggio Al Tufo Rompicollo '14      Italy    $17
Opulent, with an Amarone-like raisiny nuance to the ripe, soft red cherry, sweet spice, and herb aromas and flavors. Velvety, opulent, well balanced and smooth, with long, lush, smooth tannins. Terrific buy!
Guerra Albano Refosco '15 Italy $20
Smooth and complex, with hints of blueberry, vanilla, coffee, a good balance of tannins, a long finish, and rich, big flavors.
(note: some photos will enlarge when clicked)
Bread Friday this week

Polenta Levain – Made with a levain preferment, then mixed with bread flour and
polenta in the final dough mix for a nice rustic loaf with great corn flavor. – $5/loaf
Pan de Cioccolate – A delicious chocolate artisan bread. Made with
a levain preferment for a rich chocolate bread made with bread flour and fresh milled rye
flour, honey, vanilla and dark chocolate.  – $5/loaf.
And our pastry this week…
Brioche au Chocolate – A rich brioche dough made with lots of butter, eggs and
sugar and rolled out with pastry cream and dark chocolate. The dough is folded over all that delicious filling and cut into
individual pieces. 2/$5
Barred Owl
Owls being what they are– nocturnal, silent hunters who keep to themselves– encountering one is always a little Magical. So it was last week when we were on a usual neighborhood dog walk. As we rounded a curve on our own road we spotted a strange silhouette on a low branch quite close to the road. We slowed our pace to find a backside view of some kind of Owl (!), and then slowed even more, already awed by the rare daylight sighting.
As we came alongside it was clear the bird was sleeping, with its head turned to the side and eyes closed. However, as we stared it moved its head to the front and opened its eyes directly at us…OMD! But it didn't fly away, it just held its pose, in a way that we could imagine was saying something Shaming and Wise, subtly accusing us of various levels of Karmic Intrusion. Let's face it, these birds have an Archetypal Mystery, Power, and Dignity, and every rare encounter has a Strange Magic, leaving us with a feeling of How Wonderful That Such Creatures Exist!
Alsace Pinot Gris
A couple of weeks ago Judy dropped by with her Giant Wine Bag and poured us some Samples. The first wine was an Alsation pinot gris at just the right temperature and just the right amount of aeration. We have all learned over the years that Wine Moments Happen at random…for some reason you go somewhere, you have some wine, and for Whatever Reason it Resonates in the Moment.
So it was with this Zind Humbrecht Pinot Gris. We tasted though the other samples but kept sneaking back to this one, marvelling at how great it tasted. So of course we ordered some and are pouring it for you this weekend. Alsace you may recall is a wine region of northeastern France bordering on Germany, which over the centuries has been variously part of France or part of Germany to the point where it should probably become its own country.
The wine is a bit off-day, with great compensating acidity, flavor profile, and texture, a Genuine Treat for the senses. But don't take our word for it…come by this weekend and see for yourself!
Mar a Lago Update: The Crossroad to the Future

In the Great Epic War between Good and Evil there have been many Battles. So far none has been Decisive. But in the past week it's all gone Up for Grabs, and yes, we Are talking about the Supreme Court, the Referees, the Rule-makers.
On the one hand it is Peculiar to find oneself lamenting the loss of Justice Kennedy, who voted with the Conservative (…um, What exactly are they trying to Conserve…?) Side of the Bench on many cases which have Broken Our Hearts, e.g. Bush v. Gore and Citizens United, while also occasionally siding with the liberal side of the Bench particularly on issues regarding marriage rights and gender identity.
On the other hand it is Heartbreaking to consider the Strong Likelihood that for the next thirty years or so the Court might be Stacked to the Corporate Will, eliminating environmental safeguards, consumer protections, gerrymandering excesses, women's rights, immigrants' rights, and the sanctity of "one person, one vote," in favor of "one dollar, one vote." The underlying feelings are of Rome Burning while Nero Fiddled,  the  Titanic sinking while the Band Played On,  and an Illegitimate so-called President who begins every day with "Mirror, Mirror on the Wall…"
Bottom line: it's the Not OK Corral, and Everything is At Stake.
This week's wine tasting
Zind Humbrecht Pinot Gris '16     Alsace     $21
Nose shows archetypal Alsatian limestone influence, with nice nutty, toasty and minerally hints. The palate is powerful and dense as aeration brings out some honey and ripe fruits with a velvety.
Teutonic Pinot Noir Rosé '15    Oregon     $19
An elegant rosé that's low in alcohol, showing  notes of dark plum, pink apples, and cassis. Voluptuous and succulent with fresh strawberry notes, good minerality, and zesty acidity.
Abacela Fiesta Tempranillo '15   Washington   $21
Opens with aromas of red fruit, cherry, plum and spice notes. This sleek and silky Tempranillo unfolds into flavors of black currant, mocha, French vanilla with a lush and velvety tannin.
Lagone Aia Vecchio '15       Italy    $14
"Super-Tuscan"blend of Merlot, Cab Sauv, and Cab Franc. Rich and expressive, with aromas of cherry, vanilla, raw beef, and herbs; structured palate of plum, wild berries, and hints of spice, with a long finish that begs for food.
Latta GSM '13    Washington     $28
58% Grenache, 23% Syrah and 19% Mourvèdre ; mesmerizing aromas of kirsch, white pepper, boysenberry, black plum and raspberry with a hint of barrel spice, depth, and  texture, with lingering coffee notes  on the finish. a stunning wine, especially at this price.