click on photos for larger images
Bread  Crumbs

Friday Bread pickup will continue at the Ferry Parking Lot on Fridays from 4 – 5:30 pm through October. We are exploring how to bring Bread Fridays back to the wine shop. perhaps in the partial shelter of the wine shop garage door opening beginning in November.
We are open on Saturday afternoons from 3-5 pm for purchases and perhaps a wee splash of the "Wine of the Week. (see below). We don't think reservations will be necessary, at least for the time being, but since only one group will be allowed inside at a time, you might encounter a short wait if another party is already inside. Appointments possible if timing is important to you.
The usual social distancing guidelines (see below) will apply. Windows will be open and fans and air filters will be in place as necessary to maintain a rapid air exchange cycle while the shop is open.
Social Distancing Guidelines:
1. Only one group (up to four people) will be allowed in the shop at once for up to 20 minutes.
2. Everyone must wear a mask while inside;
3. Each group must be a "pod" that willingly takes responsibility for managing social distance within their group.
4. Reservations optional (most likely not necessary).
Wine of the Week: La Spinetta IL Nero di Casanova Sangiovese '15      Italy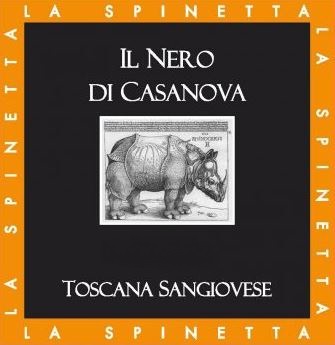 Okay, okay, yes, this is the same Wine of the Week as last week. But since no one came by last Saturday, it will still be new to anyone who happens by this weekend! That could be you!
Ruby red in color with intense cherry and spicy mint characteristics on the nose. Densely rich on the palate, this magnificently structured Sangiovese is rounded with a good grip and fine finish.This is a pure expression of Sangiovese from 20-year-old vines surrounding the Casanova winery. i offers a complex aromatic profile of pressed rose, wet earth, liquorice and wild Mediterranean brush, fully expressing its Tuscan fingerprint. This wine has a distinct structure and power not unlike the more well-known Brunello or Montepulciano and aging in ten-year-old oak casks adds further integration, definition and stability to this exciting win
La Spinetta IL Nero di Casanova Sangiovese '15        Italy        $20
Intense ruby red color. Aromas of wild cherry, black currant and sweet plum. On the palate, this wine offers silky tannins and a fruity chewy finish as well as lots of cherry with elegant richness. A funky and intense wine. A better under $20 Tuscan Sangiovese might be impossible to find! This vintage of Il Nero is delicious! Intense ruby red in color with intense cherry and spicy mint characteristics on the nose. Densely rich on the palate, this magnificently structured Sangiovese is rounded with a good grip and fine finish.
.
Mar a Lago Update: Looking Back with Exhaustion

Over the past four years we have seen and felt our country grow polarized as never before, not so much by ideology as by deliberately targeted political manipulation from the Right. The uneasy partnership between the Tweetster and Darth McConnell has never been one of the heart* (see below) so much as some kind of ongoing, mutually distasteful political arm wrestling. Their uneasy alliance is that the T gets to stay in the Spotlight, and the D gets to eat all the puppies he can lure into his lair.
This week's "column" marks something like the 180th weekly edition of this little commentary feature here on our wine blog, our ongoing fearful lament against the increasingly virulent Tyranny of Ignorance perpetuated on our country and our planet by the petty vainglory of self-righteous Republicans. The pilot edition of this feature was in late April, 2017.
Now here we are (Finally!) on the eve of another Presidential election. We find ourselves deeply fearful that Republican attempts to stifle Democratic votes by slowing postal deliveries of mailed ballots, deliberately leaving valid ballots uncounted, and legally challenging Democratic ballots in courts across the land will occur and may succeed in at least some states. As amply evident during the Mueller report hearings, the Impeachment hearings, and the Supreme Court nomination hearings, we know that Republicans place Party and personal political advancement far above loyalty to, say, Truth, Justice, Honor, Integrity, or the Constitution.
It's a tense time, with the whole world in the middle of a deadly pandemic, and voting rules varying wildly among states. In any case, now finally comes our chance to bring our country back on track with the values enshrined in our Constitution, and to bring all Americans together in the pursuit of our common goals. Raise yer glasses, lads  and lassies, and unite in the hope for a better future!
*  "Mommy, is it true Republicans have hearts of Stone?"
"No Dear, not at all; Republicans don't have hearts."
If you enjoyed this post, please consider to leave a comment or subscribe to the feed and get future articles delivered to your feed reader.