click on photos for larger images
Open by Appointment  for…er…um…Wine Emergencies   🙂

In Solidarity with our neighbors across the country and around the World, the wine shop will remain closed through the end of March, perhaps longer. That means no weekend wine tasting and no Friday Bread. 🙁

However, in keeping with our long-standing policy to remain a Valuable Community Resource, we will do our best to be On Call for the inevitable Wine Emergencies that are sure to arise under these difficult conditions. The wine shop has seen few visitors in the last two weeks, providing a safe environment to catch up while maintaining appropriate social distance, filling your wine bags, and maybe enjoying a sample or two while we visit.
Let's face it, if This isn't a Wine Emergency, Nothing is!
Flattening the Curve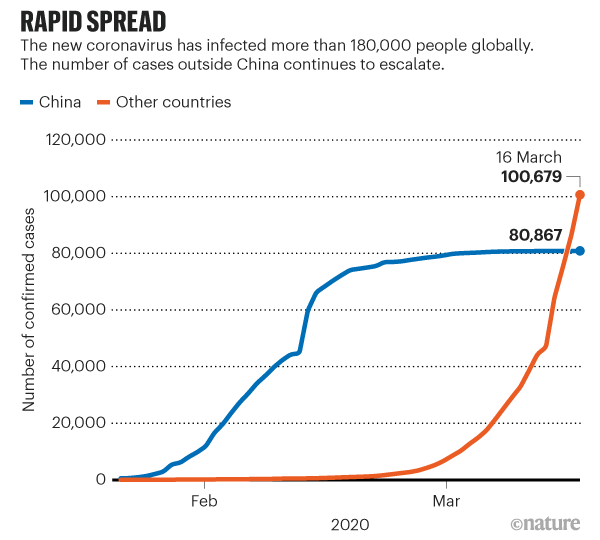 While COVID-19 is exploding around the world, we are all trying to get our heads around its progress against us vs. our progress against it. In theory, there are three data points to watch which will inform us of our collective progress in getting it under control.
In most countries the number of cases at first increases at an increasing rate, becoming steeper as case numbers increase to infect more and more people without precaution. As shown at left, from early January China case numbers accelerated through late February, when strict containment efforts reduced exposures and new cases in mid-February. Since then the number of total cases in China has remained more or less constant. So we know it is possible.
There are two noteworthy points on the blue line for China. First, when the total number of cases reached about 70,000 in mid-February, it was nearly vertical as new cases were increasing exponentially. Then, against all odds, over a few short weeks that nearly vertical rate of increase dropped to nearly horizontal, where the number of new cases equaled the number of completed cases, a point of sustainable dynamic stability. So That is also Our First Goal: to stabilize and start decreasing the number of new cases.
The Second Sign of progress will be to decrease our number of active cases to zero, which requires that such cases are resolving faster than new ones are arising. As is evident in the chart, we are about a month behind China in onset and have a far smaller population, yet have already surpassed their highest level of infection.
Tense times, stay Safe!
Mar a Lago Update: The Unbearable Lightness of the Tweetster

Since so many of our Regulars share a certain Been-Around-the-Block savvy, there is no need to mince words in this Time of Existential Peril for our Nation, our Planet, and the Magic of Life Itself on this Dear Planet.
Nothing is the way it is Supposed to be. (see video clip) The world has gone insane. Our so-called President has brought civilization to the brink of Disaster with his Breathtaking Stupidity, abetted at every turn by his Republican playground bullies. Collectively they have no sense of responsibility, no higher values than Blind Party Loyalty, and as Lt. Worf would certainly agree, No Honor.
In recent weeks we have seen the nation's Mayors and Governors step forward  of necessity to take up the Mantle of responsibility against the existential threat posed by the Virus. They are setting the kind of example we expect from All of our elected officials, and we are grateful for their Leadership and Commitment.
Through it all not a day has passed when the constant coverage of the Tweetster's bottomless ignorance and breathtaking incompetence has not brought us to our knees in fear for our Country, our Planet, and the Future of Life on Earth.
On one positive note, the mutual sacrifices of freedom we are collectively experiencing and practicing speak of the higher goals most of us share as human beings. And the big reduction in driving probably isn't hurting our climate preservation efforts, either!
This week's wine tasting

Cana's Feast Vaso Bianco '18 Washington $16
Pinot Gris-Chard, Gewürzt-Muscat blend; aromatic and light, with pretty floral highlights and buttery texture; palate of apple and pear fruits with a hint of toast.
Three Feathers Pinot Noir Rose '18 Oregon $20
Pale pink, with nose of fresh flowers and palate of strawberry, green apple, and melon with hints of brioche. Crisp and refreshing.
Folie a Deux Dry Creek Zinfandel $15
Fermented 20% whole cluster and aged four months in neutral oak; the aromas are pure, bright and fruit filled, with notes of raspberry, ash, cherry and flower; light, elegant, smoky finish.
Cana's Feast Bricco Red '18 Washington $16
Ripe raspberry, boysenberry and cocoa on the nose. Full flavors of cherry, brown sugar, and coffee serve as a base for more subtle mineral and iron nuances. Generous acidity and tannic structure support a long, round finish.
Baer Arctos Red '13 Washington $39
84% Cab, 8% Cab Franc , 8% Petit Verdot; displays rich aromas of black plum and cherry, with notes of pretty violet, anise, bay
leaf, and savory cigar box. Seamless and silky on the palate, with fine tannins.
If you enjoyed this post, please consider to leave a comment or subscribe to the feed and get future articles delivered to your feed reader.