click on photos for larger images
Friday Breads This Week


Pear Buckwheat – Made with a a poolish pre-ferment of bread flour, water and a bit of yeast and fermented overnight. Mixed the next day with bread flour and fresh milled buckwheat. Since buckwheat has no gluten using the preferment allows the dough to begin to develop before the final mix. The addition of toasted walnuts and dried pears soaked in white wine makes for a really flavorful bread – $5/loaf
French Country Bread – A levain bread made with mostly bread flour, fresh milled whole wheat and and a bit of toasted wheat germ. After building the levain with a sourdough culture and mixing the final dough it gets a long cool overnight ferment in the refrigerator. This really allows the flavor to develop in this bread. Not a refined city baguette, but a rustic loaf that you would find in the countryside. A great all around bread – $5/loaf
and pastry this week…
Brioche Almond Buns – Made with a delicious brioche dough full of eggs, butter and sugar. Rolled out and spread with almond cream filling of butter, sugar and eggs as well as almond flour. Yum, yum! 2/$5
(breads must be pre-ordered by Wednesday for pickup here at the wine shop at our Friday wine tasting, 4-6pm. Planning a visit to the Island? Email us to get on the mailing list!)
Washington Vineyards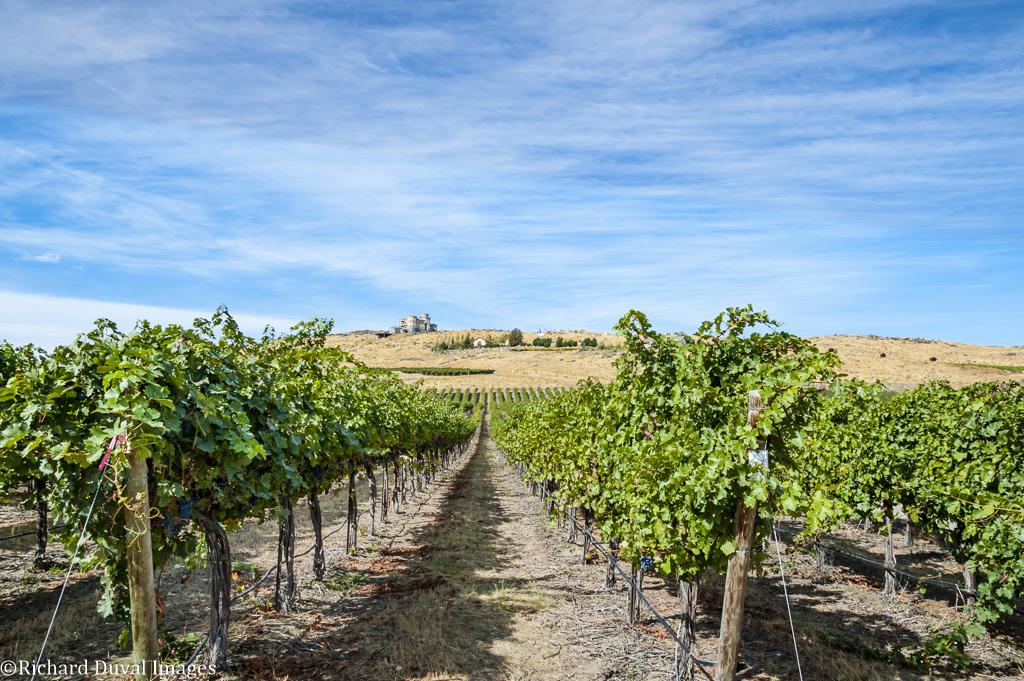 We have been pouring Maryhill wines since we opened fifteen years ago, and they just keep getting better. While Maryhill has its own beautiful vineyards visible below the winery along the northern shore of the Columbia River, it also purchases lots of fruit from other Washington and Oregon vineyards. Today's Maryhill Merlot is a good case in point, made with grapes grown at McKinley Springs, Eagle Ranch, Elephant Mountain, and Les Collines vineyards. So let's take a moment to explore what that means.
McKinley Springs: Located in the Horse Heaven Hills AVA in the Yakima valley, McKinley Springs grows over 20 grape varietals. While it continues to sell fruit to some of the best winemakers in the region, since 2003 the vineyard has also made its own wine. The Horse Heaven Hills AVA borders the Yakima Valley AVA on the north and the Columbia River on the south. Despite its 1000 foot elevation, the vineyard ripens relatively early and produces red wines with intense fruity aromas and great structure.
Eagle Ranch: Located near the Eastern Oregon town of Echo, the vineyard is a short distance south of the Columbia River near Umatilla, Washington, specializing in cabernet sauvignon and merlot.
Elephant Mountain: Located high on the southern slopes of Rattlesnake Ridge at the base of Elephant Mountain, sitting on a series of gentle, southern-facing slopes at about 1400 ft., surrounded by dry shrub. It has ideal conditions for growing both Bordeaux and Rhone varietals in sandy, silt loam over gravelly calcareous layers.

Les Collines: From the French for "foothills," this vineyard in Walla Walla produces 13 different varietals which it sells to dozens of Washington winemakers. The best story about this winery comes from winemaker/founder of Gramercy cellars Greg Harrington: "I first tasted Syrah from Les Collines Vineyard during a visit to Walla Walla in 2004. I immediately returned to New York, quit my Sommelier job, sold everything we owned, moved to Washington, learned to make wine, started a winery and produced our first Les Collines Syrah in 2005. Yeah, it's that good of a vineyard."

Mar a Lago Update: Iowa Waltz  (listen)
The last few days of political life here in America have been emotionally exhausting: final discussions on Trumpeachment in the Senate on the weekend, the quadrennial kickoff of another Presidential election season with the Iowa caucuses on Monday, the  the incredibly Divisive State of the Union address on Tuesday, the final Senate vote against conviction in the impeachment trial (there is no "Acquittal" in an Impeachment trial…) on Wednesday, and the continuing saga of glitches in the vote-reporting apparatus in the Iowa caucuses have all captivated, frustrated, irritated, and depressed our spirits.
One very bright light this week was the decision of Republican Senator (and 2012 Republican Presidential candidate) Mitt Romney to break ranks with his Party and vote in favor impeaching the Tweetster. We all tip our hats, nod our heads, and press our palms together and bow in gratitude for his moral courage. He has certainly earned a noble footnote in history.
It was also impossible for anyone to miss the Open Hostility between Speaker Pelosi and the Tweetster, as he broke protocol by not shaking her hand as he handed her the speech, and as she very deliberately tore up that speech with all cameras rolling. He then threw Flames on the Fire by awarding a Presidential Medal of Freedom to Far Right-Wing talk show host and hate-mongering Slander-Slinger Rush Limbaugh, a drug-addicted, mean-spirited bully who built a lifelong career mocking and insulting anyone who was concerned about Social, Environmental, Economic, or Political Justice. The Proceedings may be over, but it is clear that a State of War exists between Republicans and Democrats in Congress and their supporters across the country which is not likely to Heal on its own anytime soon.
Then, to make matters worse, various media sources are flooding the Web with fabricated stories aimed at increasing divisions at every level. It is barely two days after Iowa, and already the Web is buzzing with bots sowing accusations at every Democratic candidate under the name of another Dem candidate. It's like 2016 on Steroids, and it just kicked off with the Iowa caucuses. Folks, we are not gonna get through this with either grace of desirable outcomes if we do not refuse every attempt to cast any Democratic candidate as a villain in the coming months. There will be ongoing bombardment of False Facts from now on about every Democratic candidate. We have to focus on our own values and convictions and be very skeptical about every attempt to sow Outrage. It is FAR More Important that we find ways to lobby for our favorite candidates without attacking other contenders, and make a commitment to offer full support for whoever the candidate turns out to be.
Let us be Skeptical, Committed, Kind, Wise, and United.
Washington Post Tweetster Lie Count to date : 16,241 as of 01/24/20
This week's tasting
Chateau L'Ermitage '17 France $11
Roussanne, grenache, and viognier. Light gold in color with aromas of peach, flowers, and honey; the Grenache provides the richness and the Roussanne the balancing acidity.
St. Cosme Little James Basket Press Grenache '16      France $11
An old favorite from an ongoing solera* with an aromatic nose of cassis, cherry and lavender; rustic Old World style, with a firm mineral spine giving clarity and lift to the dark berry and bitter cherry flavors.
Maryhill Merlot '14 Washington
Blended from McKinley Springs, Eagle Ranch, Elephant Mountain, and Les Collines vineyards; the resulting wine has ripe red fruit tones with coffee, wood spice, a lifted mint note and subtle tannins.
Savage Grace Cab Franc '17 Washington $22
Fermented 20% whole cluster and aged four months in neutral oak; the aromas are pure, bright and fruit filled, with notes of raspberry, ash, cherry and flower; light, elegant, smoky finish.
If you enjoyed this post, please consider to leave a comment or subscribe to the feed and get future articles delivered to your feed reader.