(note: some photos will enlarge when clicked)
Bread Friday this week
Multi Grain Levain – Made with a sourdough culture and using a flavorful mix of bread flour and fresh milled whole wheat and rye. A nice mixture of flax, sesame sunflower and pumpkin seeds and some polenta add great flavor and crunch. And just a little honey for some sweetness. A great all around bread that is full of flavor – $5/loaf
Egg Bread w/ apples & honey – Some might call this challah, others shiksa challah, either way it is a delicious enriched bread full of eggs, honey, milk and butter, and dried apples for a lots of flavor. Braided into a round loaf ready to slice for breakfast toast. – $5/loaf.

and of course, pastry this week…
Chocolate Babka Rolls – A sweet pastry dough full of eggs, butter and sugar, rolled and spread with a chocolate filling, rolled up and cut into individual rolls – 2/$5
Ahhh…Drydock!

Seems as if we work toward it all through Labor Day Weekend and into the middle of the following week. In our case, Labor Day Weekend also means Artists Studio Tour, which means we are open our usual hours Friday and Saturday, Plus we are open all day Sunday, which makes for a Very Long Weekend.
Much of Thursday, Friday, and even Saturday, people are still Arriving, and there are long waits for all the cars trying to get to the Island for the weekend, carrying increasing numbers of second-home residents and VRBO renters for the Long Weekend. Then on Sunday and Monday there are long waits to get Off the Island as weekend visitors depart and full-time residents move a commuter car to the mainland for use during three weeks of annual drydock maintenance for the car ferry.
But by today– Thursday– the car ferry has gone South for three weeks' annual maintenance and the passenger boat has begun service. Island car traffic, always light by mainland standards, becomes downright vestigial, vastly improving the quality of daily roadside dog walks. On the one hand getting off the island is bit of a hassle, with lots of schlepping from car to boat to car and back. On the other, the inconvenience sharply reduces traffic, and Life grows Quiet and Less Complicated. For those of us of a Certain Age, it is more Comfort than Inconvenience, an invitation to a slower pace. Peaceful. Nice. A time for exhlalation…
For a Song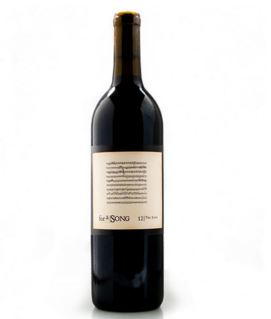 A few years ago our old friend Jack (who now lives part-time down the street) mentioned he had run a across a wine called "for a Song," and encouraged us to check it out. He was particularly interested in their merlot, which they called "The Score." We bought some. We liked it. Many of you liked it, especially at their quite reasonable prices. We also have carried their Chardonnay and their Cabernet, with similar crowd approval.
We like the idea of this winery. If truth be known, we wish we had thought of it. The concept is that a couple of guys with a dozen years experience in the wine industry set a goal to make pretty good wines at pretty good prices. They made deals with several established Washington vineyards to buy fruit, chose several popular varietals, and started making wine.
This week we are pouring their 2015 "The Score" merlot, which is showing pretty well right now. It is 95% merlot with a bit of cab sauv and syrah, aged in mostly neutral oak barrels. For those of you from Elsewhere, be advised that Washington merlot is often more tannic than local cab sauv, and this one, for all its mongrel pedigree, still tastes like Washington: structure, depth, flavor, and smooth edges.
Mar a Lago Update: Principle, Expediency, and Woody Allen

Matthew Fontaine Maury (1806-1873) was an American Navy officer who became the Father of Oceanography through years of research, observation, and writing. A key source of his data were thousands of ships' logs preserved at the National Observatory in Washington, D.C., where he was Superintendent in the mid-1800's. He is credited with a famous ethical observation, among many long required to be memorized by generations of Naval Academy Plebes:
"Where Principle is involved, be Deaf to Expediency." 
While last week's National Farewell to John McCain (Class of '58) did not mention this quotation, it was nevertheless the ongoing theme of the many eulogies to his life and national service. While McCain rarely strayed far from Republican Doctrine, he had the reputation of a Maverick who sometimes was alone in efforts to ramp down some of the most thoughtless and unprincipled ideologies of his party. It's a quality we admire.
Sadly, one takeaway from McCain's passing is that he was already an Anachronism in an era where Allegiance to Timeless Guiding Principles has been Replaced by on ongoing Bottom Line, a callous and pragmatic Governance concerned only with the accumulation and preservation of Power and Wealth. Nowhere is this more clear than in the cynical and self-serving Acceptance by Republican so-called Leadership of the Trumpster as Commander as long as he can bring in the votes to keep them in Power, and regardless of the Consequences for our country and our Global Future. The behavior of the Republican-controlled House and Senate is  guided by the exact opposite of Maury's ethic: "Where Expediency is involved, be Deaf to Principle."
Another way of looking at this is to recall the opening background lines from the old Woody Allen Movie Annie Hall, where he tells a story of a guy who complains to his Shrink that his brother is Crazy…believing he's a Chicken. The Shrink asks why the guy doesn't get his brother some help, and like Congressional Republicans, the guy says, "well, we would…but we need the eggs too much!"
To which we must Roll our Eyes, Slap our Foreheads, and Shriek, No, No, No, No, No! You WANT the eggs so much you are willing to trade Principle for Expediency and no longer know there is even a  difference! And we want to grab them by the Lapels and Shake Them until they Wake Up, and Shout to them, WTF is Wrong with you, you are Killing the Future and You Have to Stop!
Washington Post Tweetster Lie Count to date: 4713 as of 9/1/18

This week's wine tasting
Mer Soleil Unoaked Chardonnay '15   California    $16
A pure, clean expression of Chardonnay, fermented and aged in a combination of stainless steel and small concrete tanks. Aromas of flower blossoms and crisp pears, round and layered on the palate, with vibrant acidity and depth.
Fabre en Provence Rose '16       France         $10
Fruity, juicy & spicy with a strong  floral character and aromas of ripe strawberry, dried cherry, and peach shortcake; palate of melon and cream.                       
For a Song "The Score" Merlot '15    Washington  $11
Lush and concentrated, with big New World notes of dark plum, blackberry, and cherry, and earthy Old World notes of coffee, dark chocolate, and leather.
Turner Pageot Le Rouge  '14    France     $19
Red wine from biodynamic vines, 80% grenache and 20% syrah; heady nose of mixed red and black fruits, brioche, polished leather, iodine, tobacco and spice; full bodied and well balanced, scarlet and spicy, bright yet brooding.
Torbreck The Steading '12    Australia    $25
Deep-pitched cherry and blackberry aromas; sweet, expansive black and blue fruit flavors that become  firmer and spicier with air and show very good depth and energy. Closes with strong  persistence and an echo of candied licorice.
If you enjoyed this post, please consider to leave a comment or subscribe to the feed and get future articles delivered to your feed reader.