(note: some photos will enlarge when clicked)
Bread this week

Pain Meunier: aka Miller's bread. Made with pre-fermented dough it contains all portions of the wheat berry: flour, fresh milled whole wheat, cracked wheat and wheat germ. Makes the best toast! – $5/loaf
Semolina w/ Fennel & Raisins – A levain bread made with bread flour, semolina and some fresh milled whole wheat. A little butter for a tender crumb and fennel seeds and golden raisins round out the flavors. -$5/loaf
For pastry this week…
Chocolate Croissants – a traditional laminated french pastry made with a bit of sourdough flavor and another pre-ferment to help strengthen the dough to create the traditional honeycomb interior. Rolled out and shaped with delicious dark chocolate in the center.  – 2/$5
Abacela Tempranillo

Sometimes people just have a Thing for certain grapes and the wines they become. In the case of Abacela winery in southern Oregon and founder physician-turned winemaker Earl Jones, the grape was tempranillo, a Spanish varietal dating back a thousand years. In many wine regions of Spain it is simply known as "Tinto," because if it's red wine from that region of course it is tempranillo. In the mid-nineties, Jones and his family planted 12 acres of tempranillo in the Umpqua valley.
This week we are featuring the latest vintage of tempranillo from Abacela. Being from Oregon and not Spain, it bears an Oregon footprint, in this incarnation smooth and silky compared to its Spanish counterparts. We think you'll like it!
Oops, Wrong Trailer!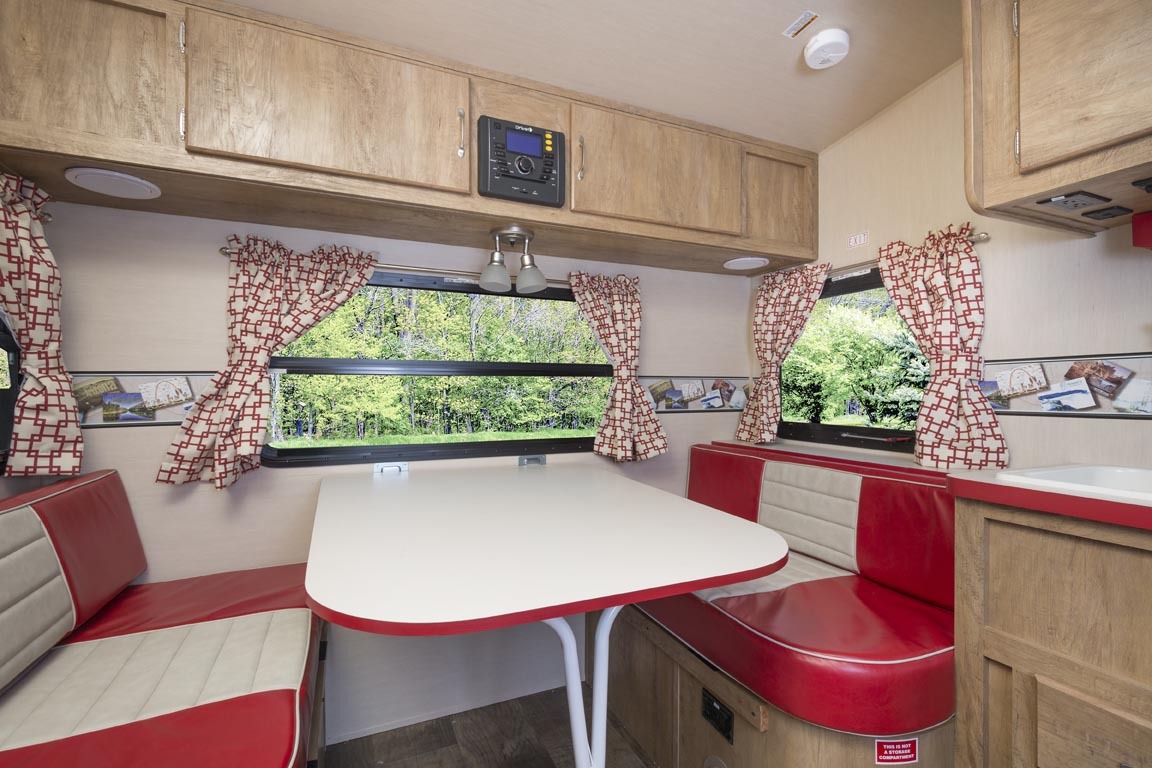 As many of you know, we sold our little T@da travel trailer a few weeks ago, and were awaiting the arrival of a new, slightly roomier one. Supposedly it had arrived at the dealer's lot near Portland and would be ready for pickup this past Tuesday.
So we showed up and began our two-hour Briefing on how things worked. We started outside, and all was going well. Then we moved inside, and were continuing the process, item by item. After a few minutes I began thinking, gee, the wood seemed a different color than I remembered. And then Pat "got it" and blurted, "It's the Wrong Trailer!" And Yes, it Was, and quite a shock for us and for the dealer.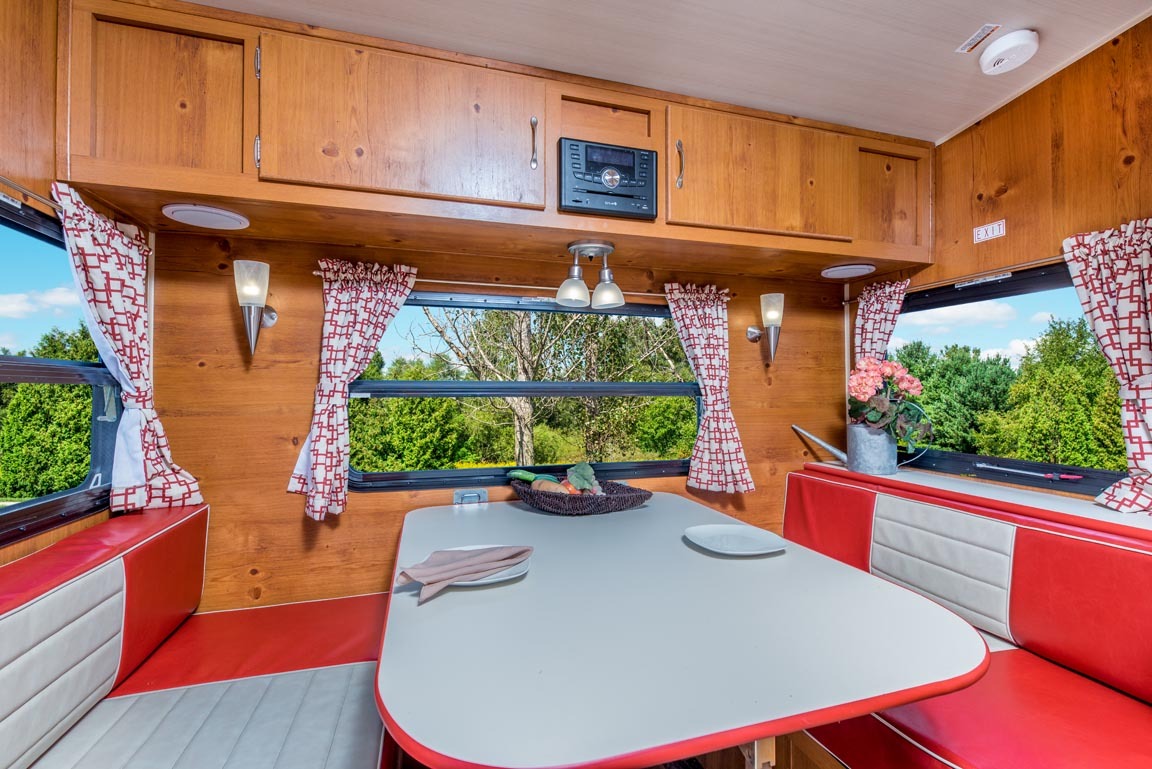 As you can see in the photos, the lower one has wood paneling on the walls, and the upper one does not. It may seem small thing, but the effect on Ambience is fairly Major. Bottom line: a mistake had been made at the Factory (it's in Indiana…apparently All the Trailers Made in America are produced in Indiana, don't know why), where "our" trailer with the wood paneling was still sitting.
Should arrive in a few weeks, and we will try this exercise again…!
Mar a Lago Update: Rudy to the Rescue
Two metaphors come to mind. One is a big Soup Pot on a stove. It's been there simmering for days, or weeks, or months, and every time someone stirs it, different stuff is visible for a moment as it swirls to the surface. These days a casual stir brings up glimpses of Stormy Daniels, Michael Cohen, Sean Hannity, and now Rudy Guiliani at the steamy surface. Not so long ago, the same stir would have brought up, say, Paul Manafort, James Comey, Andrew McCabe,  Jared Kushner, or Michael Flynn. No doubt this is exactly the same kind of pot the witches were tending in Macbeth, dark and foreboding.
The second metaphor is a long-time cartoon favorite, the image of the glass door of an electric dryer (or washer), with first one animal character, then another, or even a group spinning past the window, eyes wide, mouths agape, arms and legs flailing, caught up in Chaos, hoping the Cycle will soon stop.
In both metaphors the images are all glimpsed through a maelstrom, spinning, swirling…Out of Control and Caught Up in something Bigger. So, today's question is whether Rudy is In the pot along with all the other Ingredients, or if he is next the stove, you know, Stirring the Pot.
This week's wine tasting
Chateau L'Ermitage '15 France $11
Roussanne, grenache, and viognier. Light gold in color with aromas of peach, flowers, and honey; the Grenache provides the richness and the Roussanne the balancing acidity.
Sallier de la Tour Nero d'Avola Sicilia '15   Italy   $13
A friendly wine from a soothing grape; aged partly in wood and partly in steel, showing youthful freshness and fruitiness, with enticing notes of spices and liquorice.
Perazzeta Mercurio Rosso Toscana   Italy      $12
Sangiovese, cab sauv, alicante blend from Maremma; Dark notes of prune, cherry, soft leather, and Italian herbs over a bright acidic backbone. Craves meat and fat!
Finca el Tesso Crianza'13     Spain   $17
87% Tempranillo, 8% Graciano, 5% Cab Sauv from 50 year-old vines; Bright and polished with enticing aromas of chocolate, baking spices, licorice, and sweet flowers, with lush notes of black raspberry.
Abacela Fiesta Tempranillo '15   Washington   $21
Opens with aromas of red fruit, cherry, plum and spice notes. This sleek and silky Tempranillo unfolds into flavors of black currant, mocha, French vanilla with a lush and velvety tannin.
If you enjoyed this post, please consider to leave a comment or subscribe to the feed and get future articles delivered to your feed reader.