(note: some photos will enlarge when clicked)
Bread this week
Multi Grain with pre-fermented dough – A portion of the flour, water, salt & yeast is mixed and fermented overnight before mixing the final dough; next day it is mixed with bread flour and fresh milled whole wheat and rye, then flax, sunflower and sesame seeds are added for a nice bit of crunch and some extra flavor. A great all around bread – $5/loaf
Buckwheat Rye – Fresh milled buckwheat and rye are soaked for 8 hours without yeast in a method known as an autolyse. As buckwheat and rye don't have much gluten this allows what little gluten there is to start developing and really gets the enzymes going before the final mix. This "soaker" is mixed with bread flour, salt and yeast and a bit of honey. Would go well with all sorts of meats and cheese – $5/loaf
And for pastry this week…
Palmiers aka Elephant Ears – made with puff pastry that is rolled out, spread with sugar folded over and sliced. Makes a delightful, crisp, crunchy, buttery, sugary pastry. I've heard tell that Di & Peter really love these pastries so get your order in early before they scoop them all up as quantities are limited – 4/$5
Bandol Rosé

The wine region of Bandol, a short drive east from Marseille, is part of Provence, so of course one expects excellent rosé! It lies on the Mediterranean coast just east of Cassis and south of Aix. And although the predominant grape in red wines from Bandol is mourvedre, rosé still follows the recipe from much of Provence, which is usually a blend of cinsault, mourvedre, and grenache. As we mentioned in a previous post some while back, some people (like legendary wine importer Kermit Lynch) think Bandol makes the definitive Provençal rosé. As shown in the detailed notes below, critics have high expectations of rosés from this area, detailing every nuance.
Of course, rosés by their nature are essentially what white wines made from red grapes. The depth of color is determined by time on the skins, sometimes measured in mere hours. The flavor profile excludes almost all of the tannins that would naturally come from extended contact with the grape skins over time. So rosé is really about the freshest components of the red grapes that go into it. They are all good, some are just better than others. And Bandol is known as one of the good ones. Come by and check it out!
Art Show at the End of the Universe

Yesterday we went to the Seattle Art Museum showing of Yayoi Kusama: Infinity Mirrors. Kusama, now 87, started her art career with an exploration of Pop Art along with many other artists in the fifties and sixties. She explored Performance Art with photographic and film documentation, and staged collective Happenings she called "Anatomic Explosions," in New York City where she was living in the late 1950s.
Infinity Mirrors is a collection of installations based on the use of mirrors to generate a sense of infinite regression. Most of us have experienced a simple version of this experience at various times in our lives, usually in a bathroom, but possible anytime you can stand between two mirrors in such a way that you can see the reflection of your reflection in one mirror in another one perpendicular to it. When that happens, you also see the reflection of the reflection of the reflection, etc, etc, stretching away into Infinity. kind of mind-blowing.
Each of these installations is a small room which two or three people are allowed to enter at a time; the door closes and you are surrounded by an array of these "infinity mirrors" in which you can see the regressed reflections of yourselves and whatever curious objects she has designed extending out in all directions. The particular exhibit in this photo is called Aftermath of Obliteration of Eternity. The photo was taken by a woman (Jan) we met moments before the three of us were sent in for our thirty seconds of Experiencing. Somewhere among the lights are an infinite number of different sized images of us, standing as if waiting for a seat at the Restaurant at The End of the Universe made famous in Douglas Adams' book and film series, "Hitchhiker's Guide to the Galaxy."
Third Quarter Moon and Tides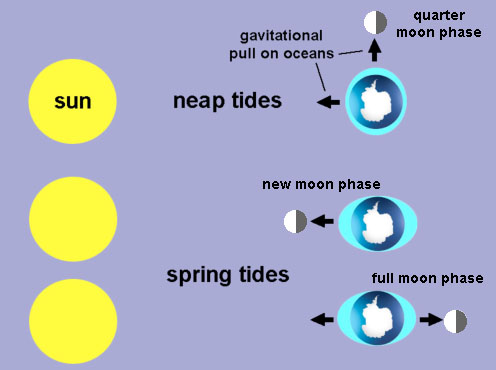 This weekend the moon is at Third Quarter. Since moonrise is a hour later each day, at New Moon, sun and moon rise and set at the same time. At First quarter, the moon is six hours behind the Sun, and therefore is rising around noon. At Full Moon the moon is twelve hours behind the Sun, so as we saw last week the Full Moon is just rising over the Eastern horizon as the Sun is Setting toward the Western horizon.  Third Quarter is the mirror image of First Quarter, moved another six hours behind the Sun. Therefore the Third Quarter moon rises around midnight, is high in the sky at dawn, and sets around noon.
Tides at the First and Third Quarter are called Neap Tides, when the difference between High and Low tides approaches a monthly minimum. When the Moon is Full or New, Moon and Sun pull along one axis, making for the Month's Highest High Tides and Lowest Low Tides. Right now, while the Moon is at Third Quarter, look for smaller differences between High and Low tides, with High Tides at Noon and Midnight, and Low Tides at morning and evening.
Mar a Lago Update

Rep. Brad Sherman of California has introduced articles of impeachment against the Trumpster. The bill is co-sponsored by Rep. Al Green of Texas. While no particular action is expected soon toward actual articles of impeachment, it is expected that the very fact that such a bill has been filed might be used to limit Trump's options for claiming Executive Privilege on a number of issues such as his tax returns, foreign financial ties, and other issues associated with investigations into ties between the Trump Campaign, the Administration, and Russian interests. Stay tuned…!
This week's wine tasting

La Rocaliere Lirac Blanc '15 France $15 
Grenache Blanc and Clairette. Delicate and elegant nose evokes floral aromas of jasmine, verbena and honeysuckle that follow through on the round. full palate, finishing with  notes of fresh citrus.

Domaine le Galantin Bandol Rose '16      $18
Light brilliant orange. Mineral-tinged red berry, blood orange and fennel scents, along with a hint of honeysuckle. Dry and nervy on the palate, with bitter cherry and orange pith flavors finishing on a suave floral note.
Conundrum White '15    California  $18
Blend of Chardonnay, Sauv Blanc, Viognier, and Muscat Canelli. Nose of citrus orchard in bloom. Tastes sweet without being cloying, showing fig, apricot, exotic spice and melon flavors. Ends clean and pure.
Portteus Bistro Red '13    Washington    $11
Fun, smooth and easy drinking blend of Malbec and Merlot. A food friendly wine with delicate, elegant texture. Notes of blackberry, pomegranate, cocoa, honey and licorice, with a creamy finish. Over-delivers for the $.
Quinta de Pinto Riserva  '13    Portugal   $22
A lovely Touriga, laced with violets and wonderful aromatics that combine with its fine structure, balance and elegant mid-palate for a very pleasing whole. Fresh and lively, with a hint of eucalyptus on the finish: a great food wine!
If you enjoyed this post, please consider to leave a comment or subscribe to the feed and get future articles delivered to your feed reader.