(note: some photos will enlarge when clicked)
Bread this week
Rosemary Olive Oil – made with bread flour and a bit of freshly milled white whole wheat for a little more flavor and texture. Fresh rosemary from the garden and olive oil to make for a nice tender crumb and a nice crisp crust. A great all around bread – $5/loaf

Black Pepper Walnut- made with a nice mix of flours, bread flour, fresh milled whole wheat and rye. A fair amount of black pepper and toasted walnuts give this bread great flavor with just a bit of peppery bite to it. Would go well with all sorts of meats and cheese – $5/loaf
And for pastry this week…
Pain aux Raisin – made with the same laminated dough as croissants. The dough is rolled out, spread with pastry cream and sprinkled with a mix of golden raisins and dried cranberries that have been soaked in sugar syrup. Rolled up and sliced before baking. These are my favorites! As always, quantities are limited, be sure to get your order in early – 2/$5

A Single Blade of Grass

Somewhere I have a calligraphy sketch (as well as other paintings and books of poetry) by an old friend and well-known Northwest Poet, Robert Sund. I met Robert in the eighties when I was a potter and had a little gallery in Laconner. Robert, along with many other artists and writers (Guy Anderson, Tom Robbins, et al.) had found a haven in Laconner and the waterways around it, living simply, making a community, and developing their arts.
Like most artists, Robert tried many ways to make a living with his art, and this particular form was called a "Wind Letter." It consisted of a torn strip of parchment paper about a foot long and 5 inches wide. He would find a Haiku or similar Short Poem and render it in calligraphy on the paper, often including what he called "Mountainous Revisions," in which he would cross out mistakes and make them look like mountains and trees. Anyway, the point of this is one Treasured Wind Letter based on a poem by the Zen Poet Ryokan:
"To judge the direction of the wind it is enough to see a single blade of grass."
Since I can't find the Wind Letter at the moment, click on the image for one of Robert's related poems. As for the Wind Letter…every breeze in Our World is telling us a Thousand Times a Day that a Petulant Four-Year-Old holds the Destiny of Our World in his Tiny Hands. Time for Sane Adults to Step Up, Step In, and Take Action if we are to Avert Disaster.
Full Moon and Tides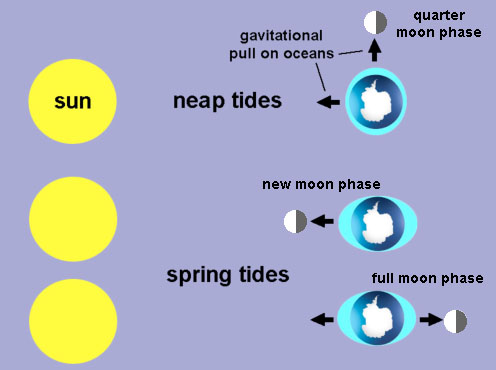 This weekend the moon is Full, just rising in the East as the Sun is setting in the West. Sometimes this time of year the full moon and setting sun are both in the sky at the same time. At Full Moon all the water on Earth is trying to get to either the Moon in the East or the Sun in the West, making for high High Tides and low Low Tides. Whatever the phase of the moon , Moonrise is always a time of High Tide.
The problem we have with visualizing these relationships is The Six-Hour Lag, which is not generally shown in the diagrams. Fact #1 is that, as the diagram shows, when the Moon is at First or Third Quarter, the overall range between Low and High Tide is at a monthly minimum, aka "Neap Tides." However, to predict the location of the Moon from observing the Tide or to predict the Tide from the location of the Moon right now, relative to the Earth's rotation,  this general picture must consider where the Moon is Right Now, and therefore where the Tide is Right Now, and in particular compensate for the fact that the Tide is always six hours behind the Moon. Therefore the occasion of the Full Moon provides The Same Takeaway as last week's First Quarter: when the Moon is Full or New, tides are Low at Noon and Midnight, and High at morning and evening. When the Moon is at First or Third Quarter, Tides are High at Noon and Midnight and Low at morning and evening. Your Homework Assignment: notice the tide today at noon and at dinnertime and consider: where must the Full Moon be right then?
Mar a Lago Update

I love this Duck. No matter How Bad things get, I feel I can look at this Duck and think, given his obvious Innocence, his Ambitions appear Modest: Swim a little, Catch a Few Rays, Dominate the Public Eye…you know, "Play the Role," as we used to say. Silly, Juvenile, Annoying, but mostly, you know, Harmless.
Unfortunately, This Relatively Benign Fantasy is being increasingly challenged by Daily Deterioration in both Domestic and Global politics. Although an Impossibly Ignorant, Incompetent, Self-Centered, Petty, and Sulking Child has been handed the reins to the most Powerful Country on Earth, he is at Best Basically Benign, and At Worst, Basically Incompetent, so Nothing Really Bad is going to Happen. Right…?
On the other hand, the longer this goes on, the more it sinks in that By His Command, at any moment, he could Destroy the Entire Planet and Every Living Thing on it, including, you know, All of Us. Sobering, n'est-ce pas?
Recently I spent a few days with an old friend and Annapolis classmate who had spent a Career in Submarines, adding up to about Four Years of His Life Underwater! His mission all that time was to be ready at Any Moment to launch as much destructive power as All the bombs dropped by All the Sides in WWII against a nuclear adversary, i.e., Russia. That was the Cold War, and that was the Insanely Rational, or Rationally Insane, Calculus of Mutually Assured Destruction, i.e., Everyone Loses Big Time so much that no Sane Person would ever Cross This Line. Yes, it is a Totally Crazy Idea. It is also Entirely Possible that the Philosophy of Credible Mutual Deterrence through the Cold War was actually Successful in Eliminating a First Strike Nuclear Attack as a viable Geopolitical Option.
So now I see a Problem with this Duck, and his Inarticulate Webbed Feet: Ill-prepared for Nuance, Untrained for Diplomacy, and Ill-tempered for Subtlety, he is Simplistic, Volatile,Defensive, and Reactive. A Dangerous Combination.
Saint Nabor Gris de Gris Rose '12       France         $10
Bouquet of red fruit and honeysuckle with linden-tree nuances; light, crisp and easy drinking, with palate of wild strawberries and blueberries with mineral nuances.
Chevaliere du Clos Cote de Roussillon '08   
Dark and rich, with notes of cherry, plum, and fig with a hint of spice; complex and round, and  full bodied on the palate with fully developed tannins; a great value red.
Rubino Punta Aquila Rosso     Italy     $15
Fragrant and rich, with fascinating mineral aromas, with notes of brandied cherries, mulberry jam, blueberry and blackcurrant, and spices; warm, complex, generous and vibrant.
Robert Ramsay "Le Mein" Red '12   Washington     $30
Grenache, Mourvedre, Counoise and Cinsault; rock-solid aromas and flavors of lavender, leafy herbs, flowers and black berries; Medium-bodied, round, ripe, and supple, with a lovely,fleshy mouthfeel.
If you enjoyed this post, please consider to leave a comment or subscribe to the feed and get future articles delivered to your feed reader.