(note: some photos will enlarge when clicked)
Friday Breads (email us to get on the preorder mailing list! )
Pain au Levain – Aka a french whole grain sourdough. This bread is made with bread flour, fresh milled whole wheat and rye and sourdough starter. It is made the day before baking and has a long overnight ferment in the refrigerator to enhance flavor and jump start the enzymatic activity which helps break down the gluten. A great all around bread – $5/loaf.
Semolina with Golden Raisins and Fennel Seed– Made with half bread flour and half semolina. The semolina gives it a beautiful golden color, a little butter helps keep the crumb tender, then it is loaded with golden raisins and fennel seed. A really flavorful bread that goes well with meats and cheese. Judy A. says t's one of her favorites! – $5/loaf.
Pain aux Raisin – – A great sweet roll dough made with sourdough, eggs and butter that is rolled out, spread with pastry cream and topped with a mix of golden raisins ad dried cranberries rolled up and sliced and baked. Your baker's favorite pastry! – 2/$5
Found Hat
I have a few worn out wool caps similar to this one (which is hardly broken in), but I usually don't wear them in the summer. Of course, until the last couple of years, "summer" was as much a State of Mind as measurable Reality around here. But in the last few years, summer months have actually been pretty warm, even to the point of prompting one to wear short sleeves and shorts on occasion, even inside the house, where it often stays cool enough for an extra layer or two most of the day, even in Summer.
Last weekend, however, was, as they might say in Maine, quite wawm, by Gawd, so it came as a surprise when someone found this nice wool cap on the stairs in the wine shop. So if you lost a hat, come by the shop and claim it. After all, though today was about as nice a day as one could imagine, there are already the smells and sounds of dry and falling leaves, and soon you are gonna start lookin' for this hat. Well, we got it right here waiting for you!
Sciaccarello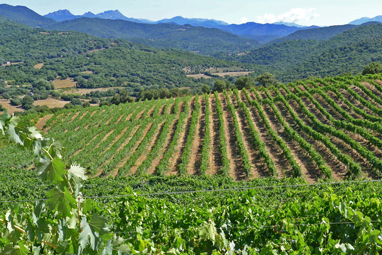 Sciaccarello (pronounced check-ar-ello) is a highly perfumed, ancient red Italian wine grape varietal that is presently grown primarily in the limestone soil of northern Corsica near Ajaccio. It is typically blended with other red varietals like Niellucci (a close relative of sangiovese), to yield a highly drinkable, soft and spicy blend. (All three of our regular readers will recall that in May we poured a bold Corsican rosé made from Niellucci and grenache.) As is the case with most well-crafted blends, each varietal adds its own array of qualities, giving the winemaker a broad palette for creative blending.
This weekend's Faustine Rouge from Corsican winery Abbatucci comes from biodynamic vineyards on granite-rich soils that include free-ranging sheep, terraces of olive trees, and wild scrubland. It is a typical Corsican blend of Sciaccarello and Niellucci, aiming to combine the best qualities of each varietal to yield a wine that is on the one hand soft and fragrant, but with an underlying structural backbone of tannins, texture, and spice. Like a lot of Corsican wines, this one may seem a bit of a $plurge. On the other hand, it offers a unique expression of terroir, varietal history, and cultural tradition. (Read more in Tom Fiorina's excellent blog article)
A Better Mouse Trap

Over the past year we have seen occasional signs of A Mouse in the wine shop. You know what I mean. Over time we have tried various Remedies, all aimed at Tightening Security to Prevent Entry. We have been Morally Opposed to Poison — for obvious reasons given what we have just gone through with our dog Cooper — and years ago when we explored "live traps" we were pretty Grossed Out by what happens in those traps if they are not checked regularly. Any way you cut it, the Rodent Menace presents moral, aesthetic, and procedural challenges.
So. Today's Better Mousetrap idea arrived during Relaxation after Yoga Class this morning. The image is of a Modified Live Trap. What we really need here is a Detailed Rube Goldberg Drawing of the Entire Contraption, but given limited resources, you will have to settle for a Verbal Description, which starts with a Standard Live Trap, which involves a little Box with Attractive Bait and a One-Way door– i.e., the Mouse is lured out of the larger exploratory environment toward the Food beckoning Just Behind That Door.
Now, however, rather than leaving this poor little mouse to die of hunger, fear, and thirst, or if it is Lucky, to be Found and Released into an Idyllic Outside Natural Environment where it will be Free and Thrive, our new Idea is to modify the trap to have a Built-in Escape Route to that self-same IONE. All we have to do is modify the Live Trap so that: 1) mouse enters trap, eats bait, can't go out same door it came in; 2) mouse finds alternate Escape Route, pictured in Our Promotional Literature as a tastefully designed, mouse-friendly Series of Tubes (like the Internet!) which lead the mouse on an enjoyable adventure that leads it to a Better Life Outside…!
I am Really Liking this idea….Stay Tuned, Operators will soon be Standing By!
This week's wine tasting

Joseph Jewell Chardonnay '12 Sonoma $12
Spicy green apple and ginger on the nose, with a hint of white pepper. Dry and tightly wound, offering nervy orchard and citrus fruit flavors.
Villa des Anges Rosé '14   France    $10
Spicy and focused on the nose, showing fresh citrus and red berry and a hint of white pepper. Dry and nervy on the palate, with refreshing bitter cherry and berry skin flavors.
Venta Morales Tempranillo '15    Spain   $9
Nice mulberry and cherry fruits, a hint of chalky minerality, and medium body, delivering luscious fruit and a delicious, soft and supple mouthfeel.

La Quercia Aglianico  '14    Italy   $12
The new vintage of one of our favorite italian reds; full bodied with notes of ripe plum and white pepper on smooth, fine-grained tannins. A lovely match with a wide range of savory dishes.
Comte Abbatucci Cuvee Faustine Rouge '12  Corsica  $30
70% Sciaccarellu with 30% Niellucciu (Corsican Sangiovese). It's got the Corsican wildness with a refinement that makes for a unique and seriously delicious wine!
If you enjoyed this post, please consider to leave a comment or subscribe to the feed and get future articles delivered to your feed reader.