Thirty-three years today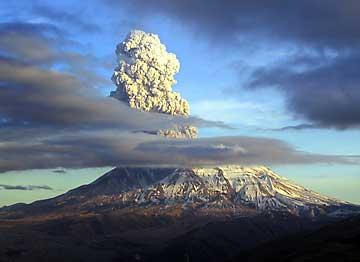 It was a Sunday morning. I was lying in bed, thinking about getting up, when I heard it: a long, low, lingering BOOOOOOOOM, followed soon after by another ka-BOOOOOOOOM. Mt. St. Helens is some 200 miles from Bellingham, so the sound was muffled, but everyone knew what it was. The mountain had been in the news daily for months, causing increasingly frequent tremors in the vicinity, distortions in the shape of the mountain, and numerous releases of gas and dust. It was a Really Big Deal, worth some reflection. This short video puts it in perspective…and reminds me that somewhere in my way-too-long-idle pottery studio I still have a bunch of ash from the eruption, which some potters quickly determined to be an interesting high temperature glaze or glaze ingredient.
Wine Club Update
We are happy to report that the Win
e Club seems so far to be very successful, and we thank all of you who are participating. One of our next tasks is to provide our members with a summary of the wines they have bought, along with a current tally of their expenditures and related benefits. We are hoping we can find a way to incorporate that into the blog or the online store, but for the moment I have posted it on Google Docs, where you can  see your purchases.
If you click on the link above, you will be taken to a spreadsheet with columns for wine name and varietal, date purchased, price, total purchases, and a strange-looking "code." Your personal code is the one you received by email when you signed up for the wine club online by clicking the WINE CLUB! link at the top of the page. HOWEVER, it turns out that many of you signed up for the wine club in person at the shop, and don't know anything about the online signup. So don't worry, I signed up for you, and as a result some of you will have received an email tonight (Thursday) telling you you are a member of Artisan Wine Club! Anne just called me and said her email warned her the message might be some kind of phishing scam…yikes, what's that about? Not to worry, I really did send it to you via our wine club software.
The important thing here is that IF you are interested, you can view and verify your purchase history online— but to do so you need (1) the link above, and (2) the  five-digit code sent to you when you signed up for the wine club online (or in some cases just now when I signed you up for you!). If for some reason you lost your code send me an email and I will send you your code. Hopefully down the road a way we can figure out how to post this info to your own page on the blog…for now this is the best we can do…
Everyone's gone to France…or is it Italy???
Took this photo last week at the shop when Steve and I were kidding around.  I aimed the camera, zoomed in and clicked, and caught a nice portrait of Steve and Mary Beth, who by my calculation are right about now landing in Florence. Ah, si, si, Firenze, così bella, come ci manchi!
Then this coming week Ryan and some of you are taking off for France for the wine tour in the Languedoc-Minervois region around Carcassonne, which we visited in fall of 2011…sigh…! Fare well, all ye wine and food travelers!
We are looking forward to our next France trip in the fall, as members (and omg, designated driver!) of Ryan's tour of the Loire wine region. Wine, food, friends, and travel…la dolce vita!
This Week's Wines
Crios de Susana Balbo Torrontes '11         Argentina        $14
Pale yellow.  Sexy, slightly exotic aromas of wild herbs, flowers, licorice, mint and spices.  Juicy, saline and dry, with flavors of lemon verbena, lavender and botanical herbs, dusty soil here and sweet citrus.
Il Filare Rosado '08       Italy       $8
A rosé of 80% Bombino Nero and 20% Montepulciano; aromas of strawberries and fresh-cut grass. Dry as bone with brilliant minerality, beautiful fruit and crisp acidity.
Sierra Cantabria Tinto  '09 Spain      90pts       $11
100% tempranillo; aromas of ripe cherry, cassis, blackberry and dark chocolate, with a touch of cola.  Lush, layered and focused, with a creamy texture and hefty dark fruit flavors. Finishes with smooth tannins, a hint of licorice and very good length.
Boomtown Syrah '08        Washington        $17
Second label from Dusted Valley; deep ruby-garnet color and complex aromas of black currants with smoky notes. On the palate rich and nicely concentrated with good structure, balance, and velvety tannins.
Palacios Rioja Crianza la Montesa '08     Spain     WA92pts       $17
65% Garnacha, 30% Tempranillo and 5% Mazuelo picked by hand; well-defined strawberry, Morello and shortcake-scented bouquet infused with fennel and licorice; medium-bodied with supple tannins, and an elegant, caressing finish that speaks of its place.
If you enjoyed this post, please consider to leave a comment or subscribe to the feed and get future articles delivered to your feed reader.