Spain notes April 27, '12
Trip notes
As our Gps is fond of saying (and it always is a welcome sound) "You have arrived." So we have arrived in Barcelona, after a series of halting steps. First, we missed our Airport shuttle by about a minute at Tulalip…saw it there from I5, but gone three minutes later. So we had to make an unplanned trip to Seatac to find parking ($$$!), etc….not the leisurely trip we had pla nned. Call that Ouch #1.
Got to Dallas ok (surprise, no food on board for 4hour flight, never ran into that before…who knew?)  Enough of a layover there to grab a quick bite before the next leg to London. Went through boarding, waited…..waited…for mechanical problem remedy, finally we all got off and a couple of  hours later boarded new plane for uneventful flight to Heathrow. A little side note…I hadn't recalled how Hot and Sweaty it was on planes during boarding! Or feeling so grungy so early in the trip!
Delay at Dallas made for close connection in London, but late afternoon flight to Barcelona on British Airways Airbus was smooth, beautiful, and comfortable, with roomier,  more comfortable seats, a quiet ride, and a spectacular approach over the Pyrenees, then swinging out over the Med for sunset view of the city, the coast, and layers of mountains stretching away into the Twilight.
More later!
Ipad
This post is done on our new iPad…still low on the learning curve. So e.g., I make lots of typos, and the iPad corrects them by guessing what words Asia thinks I am at hyping and then Fills the a in S is thinks it should, willy-nilly making up words as it goes along…this last sentence is a pretty good example. All you experts feel free to lend tips!
Wine Shop
The most important thing for you to know is that while we are away Ryan will be opening the wine shop on Fridays from 4-7 and Saturdays from 2-6. I hope you will all drop in to taste wine and sChmooze with the Faithful. And just to make it more appealing…
For the next three weeks the $99 case sale we had before New Years is BACK! So come by and load up! OR call Ryan (758-2020) and ask him  to put one together for you…just specify how many reds and whites!
Lummi Island Wine Tasting April 21, '12
Earth Day     Earth Day     Earth Day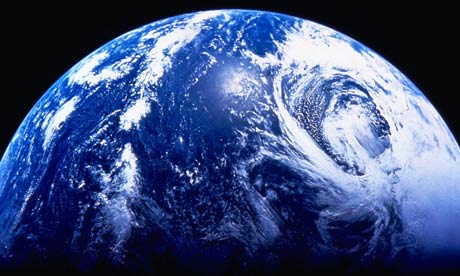 Earth Day is Sunday, April 22. This is the particular day in the annual calendar when many voices are raised in awe and homage to the wonder of our tiny planet and the life that sprang from it. It is true that the consciousness and concern that established the Earth Day tradition led to the passing of the Clean Air Act and Clean Water Acts in the United States— laws that, along with the Endangered Species Act, could never become law in today's political world. So without getting into the topic in any depth, I would like to offer a toast of thanks to all those early environmentalists who made Earth Day a tradition and some level of environmental protection a legal requirement. Like "freedom," environmental integrity requires constant vigilance. In a sense planet Earth is truly our Mother…one we can never do without. Happy Earth Day, Mom!
 Today's Wine:
Tonight as I write I am sampling a wine that caught my attention in the "close-out" section of a distributor catalog, where one can occasionally find bargains. I was intrigued by the interesting way people talked about the winemaker and his wines. It is the Puydeval "Chevalier" Syrah, from the part of France we visited last fall. It had a low price and numerous testimonials about the winery and the winemaker that are positively intriguing. My personal opinion is that it is entirely drinkable, with a strong and persistent core of blackberry and black cherry that lingers on the palate like fresh Maine blueberries. In other words, this is a great bottle of wine for nine bucks…but of course that's just my opinion, so you had better come by and check it out for yourself!
Spain     Spain     Spain
About this time next week Pat and I will be arriving in Barcelona for a three-week exploration. The first week will be about history and culture in Barcelona. The second week will be in the semi-mythical wine region of Priorat (above), and will coincide with the annual Priorat Wine Fair in the little town of Falset, which we hope will provide ongoing opportunities to sample the wines and food of this dry and challenging wine-growing region from which spring some of the world's most distinctive wines.
But don't worry!– while we are gone, Ryan will keep the lights lit and the wine flowing during our regular hours, Fridays 4-7 and Saturdays 2-6. And we will post  occasional updates and photos of our adventures…like our date with flamenco at the Palau de la Musica Catalana...!
This week's wines– two flights!
First flight ($5)

Black Oak Pinot Grigio   Italy    $8
Another tremendous bargain from negociant Black Oak, a fresh, dry wine with a lovely floral bouquet, medium body and rich,layered flavors.

Puydeval "Chevalier" Syrah   France   $9
A great example of ripe, Languedoc Syrah, it offers bold blackberry and pepper aromas on the nose, with a velvety texture on the palate
and a fresh, lingering finish.  read more
Sant' Antonio Monti Garbi Ripasso  '08   Italy    $17
(a big hit at our recent 'Art of Wine in Italy' tasting) Nose of roasted meats, raspberries, and red licorice; full bodied and crisp, with smooth, ripe tannin on the palate; intense and up front fruit of plum, blackberry and black cherry.
Bocelli Poggioncino '07   Italy    $18
Big, soft, full-bodied sangiovese from Chianti region of Tuscany…entirely satisfying and highly recommended!

Second flight ($5)
Betz Syrah La Serenne '07     Washington      WA93pts       $48
95% Yakima Valley Syrah from the Boushey Vineyard with the balance coming from the Kiona Vineyard in Red Mountain. A saturated purple in color, it has a brooding but delectable nose of smoked meat, saucisson, spice box, incense, and blueberry. Dense yet suave on the palate, this ripe, intensely flavored Syrah is impeccably balanced with enough structure to evolve for 4-6 years. It will offer a drinking window extending from 2013 to 2022.
Betz Besoleil  '07      Washington      WA92pts        $38
The 2007 Bosoleil is Betz Family's take on Chateauneuf-du-Pape with a blend of 80% Grenache, 15% Mourvedre, and 5% Syrah sourced from three AVAs. Dark ruby-colored, it offers up a fragrant perfume of cigar box, lavender, sage, black cherry, and black raspberry. Layered on the palate, it has a silky texture, layered, savory red and black fruit, spice and earth notes, and a sweet, lengthy finish.
Lummi Island Wine Tasting April 13-14 '12
Special Treat:  New  Betz  Releases
Since we opened our little tasting room back in 2005, we have enjoyed a small allocation of each new release from Betz Family Winery in Woodinville. Little known outside Washington, these wines have been carefully crafted by master winemaker Bob Betz, and have consistently achieved  high reviews from all of the top wine publications. In most wine shops lucky enough to carry them, these wines sell out very quickly. But out here on the wine frontier, where these and other wines in the $40-$70 range tend to languish on the shelf, we seem to have accumulated a sizable stash.
Bob has a particular fondness for French wines from both the Bordeaux and Rhone regions. Bordeaux wines are predominantly blends of cabernet sauvignon, cabernet franc, and merlot, with Left Bank (of the Gironde River) wines  predominantly cabernet sauvgnon, and the Right Bank predominantly merlot. In contrast, Rhone wines are generally blends of syrah, grenache, mourvedre, and cinsault (among others), and are further divided into Northern Rhone and Southern Rhone styles, with the cooler North famous for deep, dark, brooding blends, and the South better known for soft, rich, ripe blends, with some subregions mostly syrah, others mostly grenache. That makes five different wine styles: Bordeaux right and left banks, Rhone north and south, and grenache or syrah-based.
I didn't realize when I started writing this that it was going to get so complicated! All you need to know is that for many years Bob has lived his love for these regions and these wines by crafting his own versions of all three regions. Each Spring he releases two Bordeaux blends: Clos de Betz (his "right bank, merlot-based blend) and Pere de Famille (his Left Bank, cab sauv blend.) Then each fall he releases three Rhone blends: La Serenne (southern style, syrah based), La Cote Rousse (northern style, syrah based), and Besoleil (southern style, grenache- based).
Where all this leads is that for the next two weekends we will offer two tasting flights, and you can choose either or both. The first will be our regular four-wine tasting for $5. The second will be a sampling of Betz wines. This weekend we will feature the just-released 2009 Bordeaux blends, both of which have garnered truly fantastic acclaim. Then next weekend we will add a second flight of the 2009 Rhone blends, released last fall. Bear in mind that most of these wines will not reach their full potential for several years– fortunately we have several older vintages just hitting their stride…!– but the fact is I haven't tasted them yet either, and this is my excuse! With any luck, this will be a quiet weekend, and there will be a lot left over!
Spring!    Spring!      Spring!
Okay, okay, so I took some liberties with editing this photo, which I took a couple of mornings ago out the bedroom window. It is SO NICE to be able to see the sun again, you know, more than a few minutes at a time on tediously gray days, and feel the warmth on your body, albeit filtered by the various layers most of us are still wearing. Today in fact there were several hours of honest to goodness shirtsleeve weather…! Of course it never feels like Florida or Hawaii around here, with all this cold, cold water swishing around us, but we're getting close to the kind of day when some Vitamin D-craving part of us says, yeah, let's do it, let's feel a little more of that radiant warmth on our bare skin, and start letting go of the unconscious shoulder-hunching, breath-holding hunkering down that Winter is all about. And start exhaling…Ahhhhhhh!

Today's wine   Today's wine  Today's wine

Tonight's writing started with a small glass of FX Pichler 2005 Loibner Klostersatz gruner veltliner (Austria) that I fear has been in the cellar too long. We actually opened it a couple of days ago. It is somewhat austere and slightly tart, with a bit of effervescence, refreshing but somehow lacking the floral and fruity elements we love in a nice gruner, sometimes known as (I am not making this up) "Gru-Vee." There was, as the link above points up, the nasty business back in the early 80′s when in a bad vintage year the corporate Austrian wine "suits" conspired to add a bit of ethylene glycol (yes, folks, antifreeze..!) to their export wines (what do those Americans know??) to make it a little sweeter and fuller on the palate (I'm not making this up, either!). As the article points out, "36 million bottles of Austrian wine were destroyed by way of being poured into the ovens of a cement plant as a cooling agent." As you can imagine, it also had an, um, cloying effect on the Austrian wine export market for a time..!
This week's wines– two flights!
First flight ($5)

Helix Chardonnay '10    Washington         $14
Nice balance of refreshing acidity and pleasing mouthfeel (20% new French oak); shows notes of tart pear, ripe pineapple, and hints of banana and guava melded all together with a little butterscotch.

Casillero del Diablo Carmenère '10   Chile  WS88pts   $9
Aromas of spice box, plum, blueberry, and lavender are followed by a sweetly fruited wine with layered flavors and excellent concentration.
Finca El Tesso  Tempranillo  '09     $10 
Already a local favorite–fruity and soft, with scents of violets, raw meat, sea salt and mineral; a perfect match for Serrano ham.

Layer Cake Shiraz   '09  Australia       $14   WS89pts
Smooth and round, almost black in color, with the generous currant and black plum flavors poking through a layer of fine tannins on the finish.
Second flight ($5)
Betz Clos de Betz '09          Washington      WS96pts       $48
Composed of 65% Merlot, 29% Cabernet Sauvignon, and 6% Petit Verdot.. Opaque purple in color, it offers up a brooding bouquet of toasty oak, exotic spices, herbs, violets, black currant, and blackberry. Opulent on the palate, the wine has outstanding volume, a laser-like focus, layered fruit, and succulent flavors. This sizable effort will benefit from another 4-5 years of cellaring and drink well through 2028.
Betz Pere de Famille '09         Washington      WS96pts        $60
Made up of 82% Cabernet Sauvignon, 10% Petit Verdot, and 8% Merlot aged for 16 months in 65% new French oak. Doing a fine impersonation of a classified growth Pauillac, it offers up a nose of sandalwood, Asian spices, incense, herbal notes, violets, black currants, and blackberry. This sets the stage for an already complex, elegant, smooth-textured, structured wine that will evolve for another 5-7 years. This lengthy, impressive effort will offer prime time drinking from 2016 to 2029.
Lummi Island Wine Tasting April 7, '12
Easter Easter Easter
In keeping with our ongoing chronicle of our annual journey around our nearest and dearest star, we note the arrival of Easter this weekend. As you can read here, Easter falls on the first Sunday subsequent to the first full moon after the vernal equinox (March 21).  Because Christians believe Jesus died and was reborn during the Jewish holiday of Passover, Easter was set to coincide with Passover, which is set according to the Jewish (lunar) calendar as the day of the first full moon after the vernal equinox. After about 800 years of discussion, the Church decided Easter should always be on a Sunday (Passover, like the vernal equinox, can begin on any day of the week), so it was decided that it should be, essentially, the first Sunday after Passover.
As it turns out, it's even more complicated than that, because even the vernal equinox doesn't happen on the same day each year, and is in fact a point in time (as is the exact Full Moon), not a whole day, and of course our round planet being what it is, it is never the same date everywhere. Not surprisingly, as politicians have always done in such circumstances, they created the "Ecclesiastical Calendar" by creating a virtual first Full Moon after a virtual Vernal Equinox.
Of course, that begs the question of why Passover was tied to the spring equinox in the first place. Well, imagine you have a lunar calendar, and you want to celebrate the coming of spring, which is in fact a solar event. Since this "spring moon" could fall near the end or the beginning (or anywhere else) of the lunar month, it could be substantially before or after the equinox. When you sit back and reflect on it for a bit, it is clear that the solar calendar makes a lot more sense for agrarian societies in temperate climates, where seasons are closely tied to cycles of planting and harvest, and much depended on getting it right. Closer to the Equator maybe it wasn't so important. In any case, here again we continue to live with (and celebrate) the traditions of our ancestors and the cycles of the seasons.
The Art of Wine     The Art of Wine      The Art of Wine
This past Sunday concluded Ryan's four-part wine tasting series on the Art of Wine, combining regional wines from four European countries with the art, food, literature, and music of the same region. Those who attended probably could not tell you in words how riesling is like Three Penny Opera (Pirate Jenny), liverwurst, spicy sausage, or Cabaret, but they do have some felt sense of the connections. I think all who attended any of the workshop series came away with the same fascinating felt sense that these wines and these cultural manifestations could only come from this one place.
Ryan will soon be starting another workshop series, repeating some of the themes from last summer's series. I think the first workshop is scheduled for Sunday, April 15. (Hmmm, let's see, April 15…..April 15….something I am supposed to do….hmmm).  See Wine Workshop Flyer 3 for details!
Today's wine   Today's wine  Today's wine  
In keeping with our week-old tradition, tonight I am enjoying a glass (or two) of a lovely Priorat wine from the same winery as the one we will pour on Saturday. This one is the Parmi L'Infant (I don't know if that is Spanish, French, or Catalan, but means "child"), a blend from younger vines than the more powerful L'Esperit we will be pouring this weekend. L'Infant is made from 80% garnacha (young vines) blended with 20% old vines carinena for which Priorato is famous. By comparison, the Parmi L'Esperit consists of 50% garnacha, 50% carinena, all from older vines. Even though L'Infant does not have the depth of L'Esperit, it still has considerable power, with lingering flavors of black currant with a soft minerality that permeates the palate. I know this is a little pricey for our regulars, but here is a chance to taste a great example of the Priorat wine style.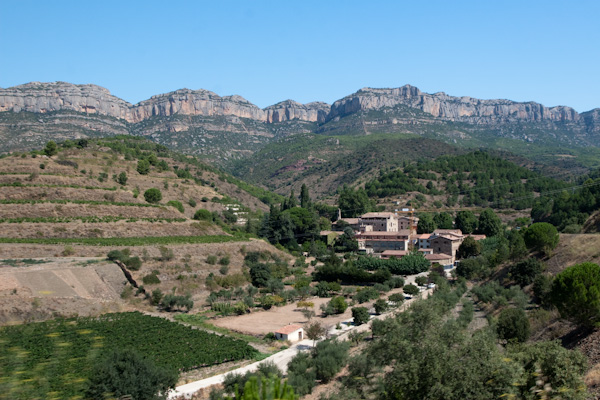 Priorat
This week's wines:
This week's tasting leads off with the same wine that led off last Sunday's workshop, the REUSCHER-HAART Riesling Kabinett 2009, the most carefree of the rieslings we tasted. Kabinett usually has the lowest amount of residual sugar of the various rieslings, with matching acidity, and is therefore a marvelous wine with a wide range of dishes. Our second wine, XYZin zinfandel, (not to be confused with "white zinfandel," which is barely even wine) is archetypally New World, a youngish California zin, which translates into "Big Fruit bordering on jammy."
Our third wine, the Domaine Ste. Eugenie La Reserve is new to us, but turns out to be from within a few miles of where we spent a week in France last fall, the region of Corbieres, which is somewhat inland from the Mediterranean near the Spanish border. The country is reminiscent of Arizona, with broad vistas of rocky outcroppings (some topped with ruins of old Cathar castles), semi-arid conditions, and lots of space. Our last wine is a a preview for us of an area we will be visiting in Spain next month in the semi-mythic region of Priorat, about an hour south and inland from Barcelona. Arid, rocky, inhospitable, and powerful, Priorat is a landscape which forces vines to go deep, deep into the earth for water, producing wines of enormous depth and character.
 Domaine Ste. Eugenie, Corbieres
Reuscher-Haart Riesling Kabinett 2009   89pts    $17
Finely focused, offering rich, plush flavors of ruby grapefruit and crisp Fuji apple. The stony finish lingers with hints of white pepper.

XYZin '07    California       $10
Opens with an attractive aroma of rose petals, juicy pomegranate, and warm brown sugar. Strawberry, and plum fruit dominate the entry and lead to a plush mid-palate redolent of dark cherries and mulberries complemented by earthy dimensions of sandalwood, fresh bay leaf, and chocolate.
Domaine Ste. Eugenie La Reserve  '10   France (Corbieres)    $16
Carignan 40%, grenache 30%, Syrah 30%. Magnificent intense purple color, nearly black. Multi-layered bouquet of wild and domestic fruits enriched by hints of vanilla, flowers, anise, tobacco and mocha café. Great purity and intensity. Generous, rich, concentrated flavor. Remarkable length with lingering subtleties.

Parmi L'Esperit de Porrera  '05  Spain (Priorato) $30
50% Grenache, 50% Carignan; Opaque purple, nearly black at the core. A blast of black fruit and cured meat on the nose. Black and blue fruit on the palate; amazing depth, purity and complexity. Highly concentrated–the Carignan really adds the backbone here with licorice, minerals and great length.