(note: some photos will enlarge when clicked)
Friday Breads (email us to get on the preorder mailing list! )
Cinnamon Raisin – NOT a soft bread with just a spiral of cinnamon and raisin! instead, this is a delicious artisan bread with crisp crust and cinnamon and raisin throughout. Made with fresh milled whole wheat, rolled oats, milk to tenderize the crumb and some honey for sweetness. Makes great toast, even better french toast!- $5/loaf.
Honey Wheat w/ Poppy Seeds & Lemon – Some of you may remember that this is the bread that was made into dinner rolls for the Heritage Trust dinner in March and received raves from diners at the event. Made with bread flour and fresh milled white whole wheat, honey, poppy seeds and fresh lemon zest. A really delicious bread – $5/loaf.
Pastry this week: Palmiers, (aka Elephant Ears) – Always popular and usually sell out quickly. Made with a butter filled puff pastry pastry, rolled out and spread with sugar before folding, slicing and baking. Yum, yum – 4/$5
L'Aietta

L'Aietta means "little farm courtyard." At age 18, Francesco Mulinari discovered that a one-hectare "family picnic spot" his father had bought long ago in Montalcino was legally registered for growing grapes for one of the world's highest-valued wines (Brunello di Montalcino). As any(!) 18-year old high school student would do, he got excited and got to work, producing his first vintage of Brunello in 2001, and has persevered.
He later studied oenology, took jobs at other wineries, and replanted sangiovese grosso vines on his land. The vineyard is very steep,  maintained by hand by Francesco alone. Now 30, he is on his 12th vintage.  His Rosso di Montalcino comes from a younger vineyard nearby, with a total production of only 166 cases– a true "Artisan Wine!" read more
Discrimination

Cognitive discrimination is the fundamental ability that differentiates human beings from every other known organism. It is the ability to tell this from that, one from two, gray from black. Our ability to think, especially to think critically, depends entirely on our ability to observe differences in quantities and qualities. This ability to differentiate, a highly developable ability, is the primary characteristic of the process we call "thinking," especially "critical thinking." While all humans (and many other organisms) have the sensory ability to discriminate tastes (salty, sweet, sour), feelings (pleasant, unpleasant), and numbers (more, less), the ability to discriminate among abstract ideas and values (fairness, honesty, credibility, integrity) is to a large degree a function of study and learning.
The best model I have encountered for exploring these ideas was put forth by William Perry from data gathered in the 50's and 60's. Perry's research found that in general, a student's college experience could be called "an intellectual Pilgrim's Progress" in which a student's way of thinking evolved from "a world of Absolutes and Truth into a world of contexts and Commitments in which one must take stands and choose as a way of making meaning of one's life through identity choices." All you need to know is that it is a Long Road, with a lot of Building.
The data strongly suggested a common process of increasing discriminatory sophistication. Beginning students right Out of the Box generally fell into the realm  of Level 1, Duality: (right/wrong, good/bad). With study and reflection, that gave way after a couple of years to Multiplicity, which first adds a layer of "don't know," followed by a more relativistic layer of "it depends." Position 5, as it turns out, is a major evolutionary step: "This transition represents a fundamental transformation of one's perspective–from a vision of the world as essentially dualistic, with a growing number of exceptions…to a vision of a world as essentially relativistic and context-bound with a few right/wrong exceptions."
The Big Takeaway here is that Human Beings right Out of the Box are going to hang out at Levels 1-2 until they Learn Otherwise; with age and education some will get to Levels 3-4. But to get to Level 5 and beyond– which is really a Threshold of sorts– takes opportunity and personal commitment. We live in Complex Times, folks. Our Greatest Enemy might be found in HL Mencken's quip, "For every complex problem there is an answer that is Clear, Simple…and Wrong." Like, you know, the policies (I use the term loosely) of the last few decades, maybe.
Criteria
As it turns out, Discrimination isn't very useful for Decision Making without Criteria that give Meaning to our observations. Pat and I had an interesting discussion at dinner tonight (Niçoise salad and rosé on the deck…yum!) about Current Politics. To some degree one of the fulcra of the discussion was the degree to which the actions of our Elected Officials in the last decade or two have reflected the concerns of our Citizens…you know, like Us! A Pretty Big Question, but one that is at the very Root of this year's election choices. By the way, the lead-in to this discussion was the about the value and importance of third-party voices.
That, of course, brought up the fact that until 1988, Presidential Debates were managed by the non-partisan League of Women Voters, who then ran afoul of the Republican and Democratic Party Establishments by insisting that Third Party Candidates had a Valid and Important Role to play in the National Debate, and that they were withdrawing support for the debates because "the demands of the two campaign organizations would perpetrate a fraud on the American voter." Debates were then taken over by the Federal Elections Commission, a joint operation of the Republican and Democratic National Committees, which set the criteria for third-party candidate participation in the Debates as polling 15% of the likely vote in five national polls…a Really Big Hurdle for getting Into The Game, even if you had Equal Access to Big Media.
At the end of this discussion, I listed Five Inter-related Concerns (there are many more) I have that neither of the Two Major Parties seems willing to address:
Climate change
Global Refugee crisis
Wealth and income Inequality
Money in Politics
Social Justice in its Myriad Forms
One very good thing about Third Parties, when they get a Voice, is that they Name these Concerns and the Entrenched Failures of the Two Parties to address them. It would be a Good Thing to have the Green Party Candidate and the Libertarian Candidate sharing the Spotlight with the Major Candidates. Just as Bernie Sanders brought a much-needed Voice of Truth to the table during the Primary Season, so would these candidates enrich our understanding of the choices before us and the options available to us.
This week's wine tasting

Sanguineti Vermentino '14    Sardinia    $14
Zesty, clean, and aromatic. A staple on the Italian coast, excellent with everything from Scampi with fresh herbs, to Spring
pea risotto, or a spread of Italian cheeses.
Perazzeta Sara Rosato '15     Italy     $14
From the same grape as Brunello (sangiovese grosso), this beautiful rosato is rich, bold, and flinty while also crisp, summery, and light.
Anciano  5-Yr Tempranillo Riserva '08   Spain    $11
Aromas of damp earth, mocha, tobacco, and black cherry. On the palate it is sweetly fruited, easy-going, and nicely balanced leading to a seamless, fruity finish.
Verso Nero d'Avola Terre Siciliane  '14   Sicily    $12
Unctuous style with "the structure of Trapani, the aromatics of Siracusa, and ripeness of Palermo." Plus: 10% of the grapes are raisined, yielding rich notes of cranberry, black fruits, and sage.
L'Aietta Rosso di Montalcino '13  Italy    $21
Quintessential Rosso di Montalcino, with mouthfuls of wild cherry and mineral, and impressive structures and depth…intensely floral and bright with rich, ripe fruit, uplifting minerality, and hefty structure.
(note: some photos will enlarge when clicked)
Friday Breads (email us to get on the preorder mailing list! )
Sonnenblumenbrot – aka Sunflower Seed Bread. This bread is made primarily with bread flour, but also includes a healthy amount of fresh coarsely ground rye for flavor and texture. A little malt syrup for sweetness then loaded with toasted sunflower seeds. A great all around bread – $5/loaf.
Breton Bread – A mix of hearty whole grains including both buckwheat and rye, in addition to the bread flour. The salt is the sel gris from Brittany which brings some mineral flavor to the bread. A bit of malt powder for sweetness rounds out the flavor profile. Great with meats and cheeses or fresh garden tomatoes – $5/loaf.
Bagels – Always popular! Made with a bit of preferment sponge, mixed, shaped and refrigerated overnight before being boiled and baked in the traditional manner. This results in a delicious chewy bagel. Four bagels per bag, one each sesame seeds, poppy seeds, mixed sesame-poppy, and plain. – 4/$5
This weekend
We are away this weekend, in Sonoma practicing Grandparenting. As nearly as I can tell, this job apparently has No Accountability whatsoever, except that you are supposed to do Only the Fun Stuff, and pass off everything Difficult to the Parents. Well, so far so good on that score!
However, it is Logical for our Regulars to be Concerned that you will be Left in the Cold by our Absence. Never fear, however, the Wine Shop will be Open as Usual, thanks to volunteers Janice H and Sue A, who have (Hooray!) Stepped Up to Serve you in our absence!
Therefore, be advised the Wine Shop will be open as usual this weekend, both Friday and Saturday, usual hours. We understand that all of you adapted splendidly during our absence last winter, so we are confident all w be well this weekend as well. We tip our hats in gratitude to your hosts, and invite all of you to show up in support of their efforts!
Baby 1.0
A zillion years ago (early sixties) there was a TV show ("Ben Casey") that began with a little set of symbols drawn one by one on a chalkboard while a male voice intoned its name:  ♂  ♀ ✳ † ∞… : "Man…Woman…Birth…Death…Infinity…"  see video.

So here we are in Sonoma this week visiting with 10 week old Seriozha, and of course being totally fascinated by his moment to moment process of Coming Online. I am reminded of a recording of a long lecture given many years ago by Moshe Feldenkrais, whose work I studied and practiced for many years, in which he repeatedly asked, "What is the purpose of a Nervous System?" He would then proceed to offer a number of answers and one by one refute them. Although it took him a long time to get to it, his final point was in effect, "The purpose of a Nervous System is to make Order out of Chaos." 
This week, watching Seriozha exploring his World moment by moment, yesterday waving his arms seemingly at random, then later touching and grasping something but not able to repeat it, and today, more often able to reach out and touch with some will, we can see him programming his nervous system, as we all had to do, to make Order from the tumult of sensations we have been experiencing since Birth, building our individual, interdependent Worlds.
Vinho Verde 101

As our dear Portuguese-fluent friend  Myra taught us years ago, the correct way to pronounce "vinho verde" is "veeng-yo vaird." We should also note that when she says it, she moves her head and hands in space, painting the words in the air like a Samba. So you know this has to be, you know, Something Special. Which is true.
This little region of Portugal has been making this wine for some 2000 years. It's in the blood, it's in the landscape, it's in the long cultural history of the region. There are some 19,000 individual "vineyards" spread over 51,ooo acres. A quick calculation reveals that on average, that's about 2.6 acres per vineyard. But many of those are even much smaller family vineyards grown on stone walls, fences, and pergolas on whatever land is available.
Like our own Pacific Northwest in some respects, the Vinho Verde region gets a lot of rain from the North Atlantic. Grape varietals permitted in vinho verde include Alvarinho, Avesso, Azal, Arinto, Loureiro, and Trajadura, which all grow well in the area. Given the climate, however, these are not wines to be enjoyed young. They are typically bottled within three to six months after harvest, and are best drunk within a year of two of harvest.
Chocolate Refill

Yes, yes, some of you have noticed that in the last month or two our Chocolate corner has been looking pretty desolate. Therefore all of you Chocolate Lovers  will be please to know that we have restocked with our favorites from  Theo Chocolate in Seattle.  Their chocolate is made "from bean to bar" from mostly Fair Trade cacao beans and combined with other quality ingredients like sea salt, ginger, dried fig, coffee bean, coconut, and spices to produce delectable, addictive, and satisfying taste sensations.
Chocolate fan…? Come on by and try some samples!
This week's wine tasting

Quinta de Aveleda vinho verde  '09    Portugal       $10
Loureiro, Trajadura and Alvarinho  blend;  fresh and lively aromas of lime, pink grapefruit, peach and dusty mineral scents. Fresh and fizzy, with vibrant, assertive, sharply defined citrus fruit flavors.
Mas des Bressades Rosé Cuvée '15   France  $14
Spicy aromas and flavors of ripe red berries, orange, and pungent flowers; Nicely concentrated and supple, gaining weight with air, picking up bitter cherry and melon notes and a lingering red fruit liqueur quality.

Campo Viejo Tempranillo '13     Spain       $11
Aromas of ripe red fruit followed by gentle sweet notes of vanilla and spices. Perfumed, soft and fresh with a lingering finish of red fruit, vanilla and cocoa. A perennial go-to value here at AWG.
Portteus Bistro Red '13    Washington    $10
54% Merlot and 46% Cabernet Franc. A food friendly wine with delicate yet elegant mouthfeel. Notes of blackberry, pomegranate, cocoa, honey and licorice, with a creamy finish.
La Quercia Montepulciano Riserva '12 Italy $18
100% organic montepulciano from low-yield vines; rich, port-like nose of candied cherries that carry through on the expressive, rich, earthy palate; nice balance of fruit and acidity.
(note: some photos will enlarge when clicked)
Friday Breads (email us to get on the preorder mailing list! )
Pain au Levain – Aka a french whole grain sourdough. This bread is made with bread flour, fresh milled whole wheat and rye and sourdough starter. It is made the day before baking and has a long overnight ferment in the refrigerator to enhance flavor and jump start the enzymatic activity which helps break down the gluten. A great all around bread – $5/loaf.
Semolina with Golden Raisins and Fennel Seed– Made with half bread flour and half semolina. The semolina gives it a beautiful golden color, a little butter helps keep the crumb tender, then it is loaded with golden raisins and fennel seed. A really flavorful bread that goes well with meats and cheese. Judy A. says t's one of her favorites! – $5/loaf.
Pain aux Raisin – – A great sweet roll dough made with sourdough, eggs and butter that is rolled out, spread with pastry cream and topped with a mix of golden raisins ad dried cranberries rolled up and sliced and baked. Your baker's favorite pastry! – 2/$5
Found Hat
I have a few worn out wool caps similar to this one (which is hardly broken in), but I usually don't wear them in the summer. Of course, until the last couple of years, "summer" was as much a State of Mind as measurable Reality around here. But in the last few years, summer months have actually been pretty warm, even to the point of prompting one to wear short sleeves and shorts on occasion, even inside the house, where it often stays cool enough for an extra layer or two most of the day, even in Summer.
Last weekend, however, was, as they might say in Maine, quite wawm, by Gawd, so it came as a surprise when someone found this nice wool cap on the stairs in the wine shop. So if you lost a hat, come by the shop and claim it. After all, though today was about as nice a day as one could imagine, there are already the smells and sounds of dry and falling leaves, and soon you are gonna start lookin' for this hat. Well, we got it right here waiting for you!
Sciaccarello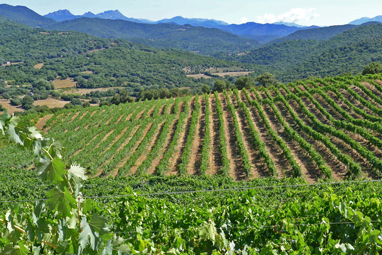 Sciaccarello (pronounced check-ar-ello) is a highly perfumed, ancient red Italian wine grape varietal that is presently grown primarily in the limestone soil of northern Corsica near Ajaccio. It is typically blended with other red varietals like Niellucci (a close relative of sangiovese), to yield a highly drinkable, soft and spicy blend. (All three of our regular readers will recall that in May we poured a bold Corsican rosé made from Niellucci and grenache.) As is the case with most well-crafted blends, each varietal adds its own array of qualities, giving the winemaker a broad palette for creative blending.
This weekend's Faustine Rouge from Corsican winery Abbatucci comes from biodynamic vineyards on granite-rich soils that include free-ranging sheep, terraces of olive trees, and wild scrubland. It is a typical Corsican blend of Sciaccarello and Niellucci, aiming to combine the best qualities of each varietal to yield a wine that is on the one hand soft and fragrant, but with an underlying structural backbone of tannins, texture, and spice. Like a lot of Corsican wines, this one may seem a bit of a $plurge. On the other hand, it offers a unique expression of terroir, varietal history, and cultural tradition. (Read more in Tom Fiorina's excellent blog article)
A Better Mouse Trap

Over the past year we have seen occasional signs of A Mouse in the wine shop. You know what I mean. Over time we have tried various Remedies, all aimed at Tightening Security to Prevent Entry. We have been Morally Opposed to Poison — for obvious reasons given what we have just gone through with our dog Cooper — and years ago when we explored "live traps" we were pretty Grossed Out by what happens in those traps if they are not checked regularly. Any way you cut it, the Rodent Menace presents moral, aesthetic, and procedural challenges.
So. Today's Better Mousetrap idea arrived during Relaxation after Yoga Class this morning. The image is of a Modified Live Trap. What we really need here is a Detailed Rube Goldberg Drawing of the Entire Contraption, but given limited resources, you will have to settle for a Verbal Description, which starts with a Standard Live Trap, which involves a little Box with Attractive Bait and a One-Way door– i.e., the Mouse is lured out of the larger exploratory environment toward the Food beckoning Just Behind That Door.
Now, however, rather than leaving this poor little mouse to die of hunger, fear, and thirst, or if it is Lucky, to be Found and Released into an Idyllic Outside Natural Environment where it will be Free and Thrive, our new Idea is to modify the trap to have a Built-in Escape Route to that self-same IONE. All we have to do is modify the Live Trap so that: 1) mouse enters trap, eats bait, can't go out same door it came in; 2) mouse finds alternate Escape Route, pictured in Our Promotional Literature as a tastefully designed, mouse-friendly Series of Tubes (like the Internet!) which lead the mouse on an enjoyable adventure that leads it to a Better Life Outside…!
I am Really Liking this idea….Stay Tuned, Operators will soon be Standing By!
This week's wine tasting

Joseph Jewell Chardonnay '12 Sonoma $12
Spicy green apple and ginger on the nose, with a hint of white pepper. Dry and tightly wound, offering nervy orchard and citrus fruit flavors.
Villa des Anges Rosé '14   France    $10
Spicy and focused on the nose, showing fresh citrus and red berry and a hint of white pepper. Dry and nervy on the palate, with refreshing bitter cherry and berry skin flavors.
Venta Morales Tempranillo '15    Spain   $9
Nice mulberry and cherry fruits, a hint of chalky minerality, and medium body, delivering luscious fruit and a delicious, soft and supple mouthfeel.

La Quercia Aglianico  '14    Italy   $12
The new vintage of one of our favorite italian reds; full bodied with notes of ripe plum and white pepper on smooth, fine-grained tannins. A lovely match with a wide range of savory dishes.
Comte Abbatucci Cuvee Faustine Rouge '12  Corsica  $30
70% Sciaccarellu with 30% Niellucciu (Corsican Sangiovese). It's got the Corsican wildness with a refinement that makes for a unique and seriously delicious wine!
(note: some photos will enlarge when clicked)
Friday Breads (email us to get on the preorder mailing list! )
Kamut – (aka Khorasan wheat) is an ancient grain that some who don't tolerate modern wheat have found to be more digestible. It is a beautiful golden grain with a great nutty flavor. A good all around bread – $5/loaf.
Barley, Rye with Pumpkin Seeds- A delightful and delicious whole grain bread made with bread flour & fresh milled whole wheat, rye, and barley. A little honey and buttermilk help soften the crumb and add sweetness to the whole grain. Pumpkin seeds are added for a nice crunch. Top with a little cheese and make a meal! – $5/loaf.
Pan di Chocolate – Another levain bread with honey, vanilla cocoa powder, and a little espresso for great flavor. Then loaded up with bits of dark chocolate. This is not a butter and egg filled sweet dough, but a great artisan bread full of chocolate flavor. Makes great toast, and maybe try it for french toast – $5/loaf

Bread Rising

Most of us are familiar with making bread using commercial dry yeast. The ancient alternative is somehow to harness natural yeasts to induce fermentation, a process the French call "levain," and most Americans call "sourdough." But it isn't necessarily so that they must inevitably be particularly "sour." On the contrary, many such breads have complex flavor profiles which may or may not include "sour."
Levain is a mixture of flour and water that has been colonized by ambient yeasts and bacteria and which feed on the natural sugars in the flour, which is why you have to "feed" more flour to a levain periodically to keep it going. We all know people who have been feeding the same starter for many years– like, OMD, if we don't it will be Gone Forever! But people have known how to start  a new levain for thousands of years, in nearly all climates and cultures, so, like, No Worries, our flora can always start another batch!
So this is a lesson we can take from our "resident" baker, Janice. By my informal count, Bread Fridays in the last year or two have included at least eight different breads using a levain: whole wheat, semolina, kamut, rye, walnut raisin, pain au levain, and pan di cioccolate, two of which are repeated this weekend! Yum!
Tres Picos

The winery, Borsao, is actually a cooperative, like many we have encountered in Spain. The business model here is that there is a corporate "front office" that manages all aspects of vineyard management, harvest, winemaking, and marketing. Each member-grower is required to follow specific rules and guidelines, and in exchange they are guaranteed purchase of their fruit. Borsao has about two hundred member vineyards.
The garnacha vines that provide the fruit for Tres Picos date back to about 1920. As shown, the vines are head-trained, with no trellises, and lots of space between them. They have deep roots after nearly 100 years of effort, and yield has diminished to about two tons per acre. Such old vines dig deep into  many layers of soil and provide these their grapes with corresponding layers of complexity.
We visited this Spanish vineyard a few years ago and were struck by the Gnarly Independence of each vine. After all, each of them has survived for nearly a century. So you would expect a certain philosophical independence, a Long View, and a profound acceptance of "this is my Essence, take it or leave it." The thing is, of course, that across the Planet, vines this old are Rare, and it is our Good Fortune to commune with them from time to time…including the visit a few years ago when we took this picture. This wine consistently scores 91-92 points from Robert Parker, and this 2014 vintage also earned 92 points from more conservative wine critic Stephen Tanzer. Bottom line: though some years are better than others, this vineyard produces remarkable wine year after year. I.e., "It's the terroir, Stupid…!"
Political Note

I have an Indelible Memory from the Fall of 1992, in the months between the Presidential Election and the Inauguration of Bill Clinton. At that time I was going to practice in Tae Kwon Do every day at noon. Many of the students attending were young, in their teens and early twenties. And it became apparent, through their guffawing hyperbole, that they were all being Particularly Entertained by someone named Rush Limbaugh on the Radio. Out of curiosity I listened once, and and that is when I first heard the Hatefully Delivered term "Queen Hillary." And for the last 25 years I have been trying to figure out WTF that was– and has continued to be for the past Quarter Century– about. In my lifetime (and I am a pretty Old Guy) I have seen No One on the Public Stage more targeted with visceral, malicious. and hateful charges,than this one woman, dating back to when, for all practical purposes, the Nation had ever even heard of her.
So over the last few months, as an Ardent Bernie Supporter, I have followed the arguments for and against Bernie and Hillary across Democratic ranks, and have been increasingly Puzzled by the Hateful Rhetoric aimed at Hillary Clinton by those who profess to be Progressives. I fear that what it comes down to is how well each of us is equipped for Critical Thinking, the ability to differentiate between Truth and Lies. After all, we all know the Fox News Model that if you tell the Same Lie over and over for long enough, lots of people will eventually Accept it As Fact, without question. But I thought Progressives were better than that.
As a Staunch Supporter of Bernie Sanders, I have always believed that it was the Longest of Long Shots that he might actually win the Nomination. But at the same time I have been grateful for his timing and his Progressive message of Social Justice. The Big Question among Dems seems to have been whether Candidate Clinton will carry the Sanders Banner forward, or if she will follow the less assertive middle-of-the-road Obama legacy. All I can say is that tonight's Convention Coverage has gone a long way toward inspiring my belief that she will indeed pick up and carry the Sanders Banner forward, empowered by the linkages of a lifetime of Political Experience. Besides, I have long felt that "show me someone who can Laugh from Their Belly, and I will show you someone with little Guile."
No doubt we will elaborate on this theme as time goes on; for now, I am moved to paraphrase the default President in Battlestar Galactica…"There was a War. It's Over. We Lost. Time to Move On."
This week's wine tasting

Blanco Nieva Verdejo '14   Spain $15
From 100 year-old vines, this beautiful white shows mineral-driven lime, quince and floral scents with notes of anise and mint. Graceful, focused and pure, with zesty lemon/lime and pear flavors.
Montfaucon Gardettes Rosé '10     France         $12
A rosé de saignée with a deep pink blend of Cinsault, Counoise and Grenache with delicate aromas of peach and violets.
Spindrift Pinot Noir '14   Oregon   $16
Aromas of red fruit, cherry, earthy and toasty notes. Big cherry flavors with some oak, sweet tannins, bright acidity and lingering finish.

Maryhill Winemaker's Red '11 Washington $11
Aromas of berry jam, chocolate, and cinnamon, with fruity notes of strawberry, caramel, and hints of white pepper, oak, and tart marionberry.
Tres Picos Garnacha '14  Spain  92pts    $15
Heady, exotically perfumed bouquet of ripe berries and incense, with a smoky minerality and spice. Vibrant flavors of raspberry liqueur and cherry-cola show power, depth and finesse with velvety tannins.