Breads this week
Pain Meunier – also known as miller's bread, and was developed to honor the miller who mills the wheat. Made with pre-fermented dough it contains all portions of the wheat berry: flour, fresh milled whole wheat, cracked wheat and wheat germ. One of my favorites it's a great all around bread and makes the best toast! – $5/loaf
Sonnenblumenbrot – otherwise known as Sunflower Seed Bread that is also made with a pre-ferment. The final dough is made with bread flour and freshly milled rye, then loaded up with toasted sunflower seeds and some barley malt syrup for sweetness. This is a typi
and pastry this week…
Gibassiers – A traditional french pastry that incorporates the flavors from the south of France. Made with a delicious sweet dough full of milk, butter, eggs and olive oil. The addition of orange flower water, candied orange peel and anise seed bring great flavor to these pastries. After baking they are brushed with melted butter and sprinkled with more sugar. Ooh La La! – 2/$5
Schedule this weekend
Bread Friday as usual open 4-6-ish
CLOSED Saturday!
Short blog this week… Having to write it on an old cell phone Limited Wi-Fi.
This week's wines
Schloss Lieser Mosel Riesling '14. Germany. $15
Light gold hue, with lively acidity and notes of lime and Citrus blossoms.
Altarocca Rosso Librato '15 Italy $14
Unoaked blend of canola and cab franc from volcanic soils. Zesty, spicy, lush, and smooth.
Can Blau can Blau '16 Spain $16
Aromas of ripe, dark fruits and berries with a seamless texture and long, silky finish.
Amalaya Malbec '16 Argentina $15
From high in the Andes, notes of crushed currents, plums, fig, and raisins.

Kerloo Majestic Syrah Grenache '16 Wash. $24
Aromas of leather, black cherries, and plums, smooth and silky with a complex, lingering finish.
email subscribers: click here to comment on this post
note: some photos may link to larger formats when clicked
Bread This Week
Prairie Bread – Named for the ingredients that reflect all the goodness of the grains that grow on the prairie. Using regular bread flour and fresh milled whole wheat as well as oats, and cornmeal. And as if that wasn't enough it is loaded up with poppy, flax, sesame, sunflower and pumpkin seeds with just a hint of brown sugar for a little sweetness. A great all around bread. – $5/loaf
Honey, Wheat, Lemon & Poppy – Made with a poolish that ferments some of the flour, yeast and water, but none of the salt, overnight. This results in a very active pre-ferment which is mixed the next day with the final ingredients which includes a nice mix of bread flour and fresh milled whole wheat. Some honey, poppy seeds and freshly grated lemon peel round out the flavors in this loaf. – $5/loaf.

Another delicious pastry this week…
Morning Buns – Made popular by Tartine Bakery in San Francisco, my interpretation uses the same laminated dough as croissants. The dough is rolled out, spread with a filling of brown sugar, orange zest, butter and cinnamon. Rolled up and sliced before baking. – 2/$5
December Schedule Update

Dec 7-8: open for BOTH Bread Friday 4-7 and Saturday 2-6
–Dec 14-15: OPEN Bread Friday, CLOSED SATURDAY!
–Dec 21-22 and 28-29: OPEN USUAL HOURS
and…mark your calendars…Dec 31: 13th Annual "East Coast New Year's Celebration" 7-9pm..!
Italian Invasion

Over the last month, some of you may have noticed a significant tilting of our tasting menu toward Italy. This is due in part to the arrival of our semi-annual shipment of wines from Seattle importer Small Vineyards. In addition we recently learned of a train-car load of wines that had been in wreck or tied up in legal limbo— in truth we really have no idea where they have been.
What we do know is that a LOT of wine has been delayed SOMEWHERE for a year ot two and somehow got picked up by one of our distributors, and came on the wholesale market a couple of months ago. It included large quantities of Small Vineyards Italian wines as well as others we have carried in the past, and, together with our regular fall shipment from SV, that means we have brought in about 30 cases in the last two weeks heavily leaning Italian.
And, a week or two before that, we may have mentioned a couple of deals with Judy for some Big California Whites from Conundrum and Mer Soleil and a a big Cab from Juggernaut which allow us to offer them for $17 each instead of $21. AND…in the process we were able to score a couple of 1.5 and 3-liter bottles we can open for you at our 13th Annual "East Coast New Year's Celebration…!"
Nero d'Avola
Speaking of Italian wines, this weekend we are pouring a great example of Sicily's dominant red grape, Nero d'Avola.  The obvious translation of the grape's name is something like "black grape from Avola," which it is. It has adapted well to Sicily, thriving in hot, dry climates. Its flavor profile usually includes bold dark fruit flavors from fresh black cherry to prune. Body can vary from lighter to heavier as vineyard climate goes cooler to hotter, or as winemakers age it is less or more new oak.  Curiously, the wine does not seem to suffer from the climate difference, but merely shows a lighter or denser face, giving it a wide range of enjoyable expression.
We have grown fond of the grape here at the wine shop, having been protected by Natural Selection from ever having tasted the Bigger Oakier versions. The one we offer this weekend is one of our favorites, offering an enticing balance of weight and ripeness. But if it doesn't appeal to you, don't give up on the grape– it has many faces and almost certainly you will eventually find one that grabs you.
And by the way…the photo shown here came up on a Search for Nero d'avola. Although we obviously took the photo of Celia and Barbara at the wine shop some years ago (October 2010), we admit we have No Idea what it has to do with this thread! But it is reassuring that we actually have an Online History together! Who Knew? And btw, make sure to come by this weekend and try out this lovely Italian wine from Sicily!
Mar a Lago Update: Needs, Beliefs, and Behaviors

Various horocopes and psychological models over our many years have provided criteria and maps to help guide us toward learning about Our Selves, our Strengths, our Weaknesses. Who are we? What makes us Tick? How do we Improve? How can we be Better? Where have we Failed or Succeeded?
There are many, many ways we humans have organized ourselves around these questions about ourselves and our worlds, and there are many views about Character Types, Strategies, Beliefs, and Behaviors. Everyone I know has wrestled with these questions as we have tried to resolve our own many successes, failures, and contradictions.
Most of us at various times in our lives have looked at our behavior and felt some sense of inadequacy, shame, judgment, or disappointment, explored it in some way, and made some decisions about improving. That is, we all have some kind of internal process (super-ego…?)  that continually monitors how our behavior affects others, and that affects the decisions we make about whether and how far to assert our wills in various relationships.
Given the Normal Distribution of Almost Everything, it is Reasonable to Assume that Everyone must have these same tendencies to self-evaluate and modify behavior as appropriate to achieve more desirable social outcomes. However, here we are Two Years Into the Tweetster's So-Called Administration, and it is hard to find evidence of any Growth in Perspective, Clarity, or Achievement.
There IS (or Should Be) a Resume of sorts to be President. Events of this week have provided many useful Takeaways:
It's Not about YOU, it's about The Office;
The Buck Stops With You; and
You have to become a Grown-up if we are all going to Get Through This.
Washington Post Tweetster Lie Count to date: 6,420 as of 11/2/18
This week's wine tasting
Cantina del Morellino Vermentino  '17   Italy    $16
Later harvest ripeness yields great varietal expression and character, with enhanced viscosity, concentration, and aromatic structure. Great match with almost everything.

Stephen Vincent pinot noir '14   California     $14
Fragrant Sonoma aromatics of wild strawberry and cherry, and forest floor, sun-dried apricots and strawberry preserves. On the palate, medium-bodied, with raspberry, blood orange, and toffee hints with a smooth finish.
Matorana Nero d'Avola '17    Italy   $14
From Sicilian volcanic soils; full-bodied and fresh with big notes  of ripe plums, berry cobbler, dark chocolate, and almonds, melting into earthy flavors with good minerality.

Les Pious Cotes de Rhone Grenache     '14    France    $14
Smooth and rich, with notes of plum and caraway; grown biodynamically and aged in cement tanks…nice!
La Quercia Montepulciano d'Abruzzo  Riserva Colline Teramine '10     Italy      $26
From 50-yr-old vines, aged two years in oak; fulsome notes of cocoa rhubarb, blackberry, and herbs; long, lingering finish;  rich, full-bodied and rustic in expression. Fermented and aged in concrete. Tons of juicy black cherries, pure fruit, and a silky/velvety mouthfeel.

email subscribers: click here to comment on this post
note: some photos may link to larger formats when clicked
Bread This Week
Whole Wheat Levain – Made with a sourdough starter fermented overnight in the refrigerator, which  allows the fermentation process to start and the gluten to start developing. The bread is made with levain, bread flour, and about 25% fresh milled whole wheat. I like to say it has a 'toothy' crumb, it has great texture and flavor and a nice crisp crust.  – $5/loaf
Buckwheat Rye – Fresh milled buckwheat and rye flours are soaked for 8 hours in a method known as an autolyse. As buckwheat and rye don't have much gluten this allows what little gluten there is to start developing and really gets the enzymes going before the final mix – which is then fermented overnight in the refrigerator. The buckwheat-rye soaker is mixed with bread flour, salt and yeast and a bit of honey. Goes well with all sorts of meats and cheese – $5/loaf
Pastry this week…
Bear Claws! – Made with a danish pastry dough rich in cream, eggs, sugar and butter. The dough is rolled out and spread with a filing made with almond paste, powdered sugar, egg whites and just a bit of cinnamon to round out the flavor. Then, because bears love honey, topped with a honey glaze after baking. – 2/$5
ps: the last two times Janice has made these, real, live, Actual Bears have been sighted on the Island…Stay Alert!
December  Schedule
–Nov 30-Dec 1 and Dec 7-8: open both weekends for Bread Fridays 4-7 and Saturdays 2-6
–Dec 14-15: OPEN FRIDAY, CLOSED SATURDAY
–Dec 21-22 and 28-29: open usual hours
and…mark your calendars…Dec 31: 13th Annual "East Coast New Year's Celebration" 7-9pm..!
Refosco Update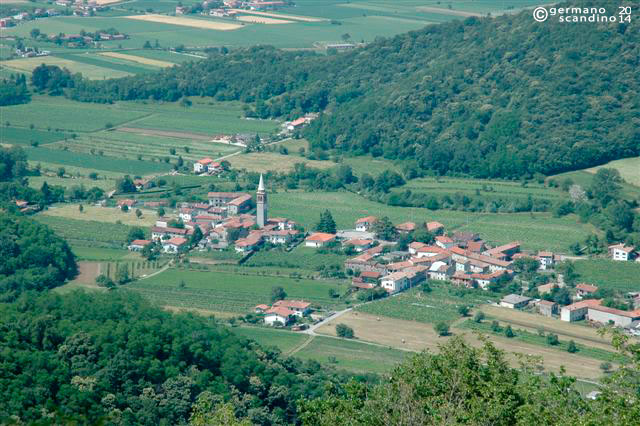 As we have mentioned before, from our earliest days back in 2005 we have kept an eye to Weather for signs of wines made from the elusive Slovenian grape refosco. This year so far we have found and poured for your tasting education and pleasure (is there a difference…?) two examples of these wines, and this weekend, since the previous examples were so interesting and appealing, we offer a third. This week's offering comes not from Slovenia exactly, but from the the Colli Orientali de Friuli "the eastern hills of Friuli") in Italy just a short walk over the northern border with Slovenia and about 60 miles north of Venice.
Officially named Refosco dal Peduncolo Rosso, this wine comes from 25-year old vines in Torreano di Cividale (see photo, left). It shows an intense red color and good consistency, with aromas of  blueberry, blackberry and raspberry, good balance. and characteristic tannins that let it pair nicely with rich beef or game.
Lore has it that the first vines were planted by a Roman Centurion named Taurus for whom Torreano is named. Today's wine reflects that commitment of focusing time and energy to grow rich and generous grapes, hand-harvested with low yields per hectare.
Mar a Lago Update: Two Years Down, a Million to Go*

Everybody knows that the man's a Faker,
Everybody knows that his stuff is Wrong;
Everybody knows that he's a Taker,
Everybody knows that he's weak, Not strong.
Everybody knows that he stole our Power,
And he's not inclined to give it back,
That's how it goes…
And Everybody knows.
Everybody knows that the World is Broken,
Everybody knows that it Can't be Fixed;
Everybody knows Whatever Words are Spoken,
Everybody knows that they're being Tricked;
Everybody knows that the Game is Lost,
We never had a chance though we thought we might,
That's how it goes…
And Everybody knows.
*with heartfelt apology to Jikai for twisting his words…
Washington Post Tweetster Lie Count to date: 6,420 as of 11/2/18
This week's wine tasting
Treana White '16    California     $16
Seductive blend of viognier, marsanne, and roussanne. Aromas and flavors of pineapple, dried apricot, peach and Clementine orange  with floral notes of honeysuckle and elder flower and sweet notes of marzipan, honey, graham cracker and cinnamon.

Bieler La Jassine Cote du Rhone '15   France $15
(63% grenache, 37% syrah) Solid, with plum and blackberry compote flavors forming the core, backed by a good snap of licorice and a dose of dark toast on the finish. Has good drive overall.
Bodegas Ateca Atteca '15     Spain    $14  
Displays aromas of cedar, an earthy minerality, black cherry, and lavender leading to a savory, deep, well-balanced red with succulent fruit and a lengthy, seamless finish.
Tommasi Poggio Al Tufo Rompicollo '14      Italy    $17
Opulent, with an Amarone-like raisiny nuance to the ripe, soft red cherry, sweet spice, and herb aromas and flavors. Velvety, opulent, well balanced and smooth, with long, lush, smooth tannins. Terrific buy!
Guerra Albano Refosco '15 Italy $20
Smooth and complex, with hints of blueberry, vanilla, coffee, a good balance of tannins, a long finish, and rich, big flavors.
email subscribers: click here to comment on this post
note: some photos may link to larger formats when clicked
Uh-Oh…No Bread Friday till Nov 30!

On Tuesday this week our Baker celebrated a noteworthy Birthday, and took much of the Island to a wonderful dinner at Ciao Thyme in Bellingham. A bunch of us have a long history with the place, and it is always special and delicious.
Janice hand-picked the menu and chef Mataio pulled out all the stops to make it memorable. Sorry, haven't found any photos of the event yet. Janice and David are off to Hawaii, will be back in time for Bread Friday in two weeks!
Speaking of Schedules…
Though we are just back from our trailer trip to California, the coming holidays call for even more travel and more shortened hours here at the wine shop. At the moment the schedule looks something like this:
-This weekend, Nov 16-17: open as usual Fri 4-7 and Sat 2-6
-Thanksgiving weekend, Nov 23-24: CLOSED BOTH DAYS
-Nov 30-Dec 1 and Dec 7-8: open both weekends for Bread Fridays 4-7 and Saturdays 2-6
-Dec 14-15: OPEN FRIDAY, CLOSED SATURDAY
-Dec 21-22 and 28-29: open usual hours
-Dec 31: 13th Annual East Coast New Year's Celebration 7-9pm
Big Wines

Last weekend's tasting was a Big Hit, despite the fact that all of the wines were on the Expensive side compared to what we usually pour. Generally the price range goes from around $10 to $20-something; last weekend it went from $19 to $40. Even so, we sold out of almost everything…Amazing!
As it turned out, we did NOT pour the Juggernaut Cab last weekend, because we didn't have any! I had forgotten that the order had not arrived as scheduled before we left in mid-October. We substituted something else last weekend, and this weekend we Have Received three cases of it, at a special price that allows us to offer it for an astounding $17 instead of the usual $20! This is a Big Fat California Cab, rich in fruit, and just the thing to enjoy by a Fire in the earlier and earlier Evening Darkness around here.
Also on the Big side is a wine we have poured numerous times, not for Everyone, but with a definite appeal to those of us who like more rustic reds with a bit of unruly character. Such is our French malbec from Cahors, which flaunts a rustic tannic structure, dark berry flavors, solid minerality, and even a certain refinement….! Not as Big or Refined as the Juggernaut; but possibly a bit more Honest Representative of its terroir…!
Mar a Lago Update: A Finger in the Dike

As of today, the next Congress will likely have a House controlled by Democrats 229-198 (with 8 Independents) , and a Senate controlled by Republicans 51-47 (with two Independents). That means that all the House Committees will have majorities of Democrats and Dem Chairs. It's a Very Different Balance of Power from the current Congress. Most importantly, the new cast of characters will have a lot more traction to demand information from the Tweetster, who has been abetted at every turn by Republican Party committee chairs in evading the normal accountability that has restrained every previous White House occupant from unrestrained Excess.
We have had two long years to contemplate the Magnitude of our Despair that this Buffoon, his Relentless Hubris, Razor-Thin Depth ("not enough water to float a boat"), Breath-Taking Ignorance,  Unabashed Narcissism, and Infantile Vindictiveness. We have borne a nonstop sense of Violation and Deeply Personal  Invasion as he has parlayed our Highest Office into a One-Man 24/7 Reality TV Show.
For those of us of a certain age, who really believed for many decades that Our Values were Noble, Egalitarian, Kind, and Wise, this man has been an ongoing. Heart-Breaking Insult. It is sobering to consider that he actually might believe that Everyone Else is just like him, pathologically attached to maximizing his own press coverage. As if column-inches, gigabytes, or total minutes of Air Time, positive or negative, were the Important Thing, not their value in bringing people together, providing Hope and Comfort, ending conflict, or Building a Better World.
So it feels like a Good Thing that in a few months there will be an element of our Institutions that might be able to enforce some tiny bit of Accountability on this Modern-Day Gollum…seeking words of Wisdom, let it be…!

Washington Post Tweetster Lie Count to date: 6,420 as of 11/2/18
This week's wine tasting
Phantom Chardonnay '16     Calif    $17
Fermented and aged sur lie without oak; delivers rich aromas of white and yellow fruits, with bright crisp notes of citrus zest, honey, apple, and spicy minerality on the long, broad finish.
Monte Tondo Valpolicella '16   Italy    $15
The grapes are dried for about a month in a well ventilated "fruttai" before pressing, and ultimately aged for five months in oak. Not a frivolous wine, it packs loads of sour black cherry aromas, spices, violets, and roses.
Montes Classic Merlot '13   Chile     $11
Bright and complex, with blackcurrant and black cherry flavours and a rich, juicy finish. Aged in oak for six months before release.
Chateau la Croisille 'Silice' Malbec "15    France   $18
Plots located on the Luzech limestone plateau of Cahors, with its iron-rich siliceous red clays, aged one year in neutral oak, yielding a wine that is both rustic and polished.
Juggernaut Hillside Cabernet '15 California   $17
Huge, rich, and opulent, with complex flavors of chocolate, coffee, blackberries, cassis, mint, and velvety tannins. New French oak adds notes of vanilla and toast; concentrated, rich, and smooth on the palate.