(note: some photos may enlarge on clicking)
Note: NO Bread This Friday!
As many of you know our increasingly famous Baker is off to Ireland for hiking and exploring, no doubt scouring the countryside for more delicious bread recipes. That means no bread for the next couple of weeks, beginning this weekend. Rumor has it that bread will return by October 16, or the 23rd at the latest. Of course, here on the Island Truth is a slippery concept, an artfully weighted average of current rumors…stay tuned for updates.
Fortunately we still have a few loaves stashed in the freezer, so we should be able to squeeze by!
Aia Vecchia

As we have mentioned before, there are historically hundreds of grape varietals grown and used to make wine in Italy. There are also twenty wine regions which correspond to the twenty Administrative Districts in the country. And within each of these twenty wine regions there are scores of Denominazioni di origine controllata (DOC's) and Denominazioni di Origine Controllata e Garantita (DOCG's ), each of which specifies the varietals that may be used to qualify for each DOC label. For example, to qualify for the DOC Chianti Classico designation, a wine must come from a specific geographic area and must include at least 75% Sangiovese, and at most 10% Canaiolo, 10% of the white wine grapes Malvasia and Trebbiano, and up to 15% of any other red wine grapes grown in the region, such as Cabernet Sauvignon. In Tuscany alone there are thirty-three DOC's and nine DOCG's. Multiply that over 20 wine regions, and it gets pretty confusing!
On top of all that, in the last few decades Tuscany has become best known internationally for two major styles of red wine: cherry-noted blends made mostly from Sangiovese, and so-called "Super Tuscan" blends of international varietals, particularly traditional Bordeaux grapes like Cabernet Sauvignon, Cabernet Franc, and Merlot, often with varying amounts of sangiovese in more of an accompanying role. This is exactly the case with this week's Italian offering on our tasting list, the Lagone Aia Vecchio.   Read more
The Pettiness of Human Ego

There are many scenes from the movie 2001: A Space Odyssey that remain powerful and iconic almost fifty years later. One which has often come to mind is when the Monolith selects a group of Early Humans for Development. The image that Director Kubrick (and author Clarke) gave us of our Gift of Understanding was a skirmish between two tribes in which Weapons are invented. The apes jump up and down and threaten each other, and Progress happens when one of them picks up a Bone, invents the Club, and starts the Arms Race.  Remember? This theme is repeated over and over again in our myths and legends: whatever the time, whatever the circumstances, the Bad Guys are causing Pain and Suffering, and can only be stopped when the Good Guys Overwhelm them by causing MORE Pain and Suffering.
The Trickle-down Truth here is of course that Those People's Hero is These People's Beast and Vice Versa. None of the "-isms" are going to save anyone, because all of the "-isms" are at war with other "-isms." And it is the Nature of "-isms" to be parochial. Each one claims ownership of some little bit of Truth that gives it Power, Authority, and indeed Responsibility to Save Everyone Else by imposing their Truth on them. One of the great Resonant lines that current President Obama used that got a lot of traction was "Yes, we can." The important usage here is "we," not "I." Which brings us to the Problem: as Woody Allen might say, "Why would I ever vote for the kind of person that would Run for Office?" Ideally running for office would be about Service, but more and more it is about Stardom and Persona.
Maybe I'm still wondering– hoping, perhaps– if the Pope's recent visit to America might possibly get the various Primates of Power to stop jumping up and down waving Bone-Clubs long enough to achieve some dim realization that we are All in Deep Sheet for all kinds of reasons. And, even though they have the intellectual and emotional development of five-year-olds, they are going to have to step up, make the World Safe, stop the killing and destruction, put the "-isms" aside for a few centuries, and apply the Stupendous Wealth of the world toward the preservation of our Planet and all its creatures. How likely is that, do you suppose?
October scenes

This week's wine tasting

Altarocca Arcosesto Orvieto '14 Italy     $14
A crisp, clean, fragrant white wine (grechetto, procanico, malvasia), bright and sunny with minerally notes of flowers, citrus, and dried fruits that pair well with savory dishes.

Rio Madre Rioja '13 Spain 90pts $10
Smoky blackcurrant, cherry and violet aromas with good clarity and zesty mineral lift. Juicy and focused on the palate, with bitter cherry and dark berry flavors; Finishes with strong punch, sneaky tannins and lingering berry and floral qualities.
Lagone Aia Vecchio '12  Italy    $14
"Super-Tuscan"blend of Merlot, Cab Sauv, and Cab Franc. Rich and expressive, with aromas of cherry, vanilla, raw beef, and herbs; structured palate of plum, wild berries, and hints of spice, with a long finish that begs for food.
Andeluna Cabernet Sauvignon 1300 '11 Argentina $11
Deep red colour, spicy aromas with a hint of coffee and mint. Fresh, balanced, structured and silky on the palate. From rich, alluvial soils of the Uco Valley at 4000 feet in the Andes with pockets of stony, sandy, loam and clay soils.
Isenhower Purple Paintbrush '08      Washington         $25
Cab Franc-dominant Bordeaux blend from a single vineyard, aged in seasoned French oak for 13 months. Nose of sage, thyme, olives, crushed blackberries, bing cherries, black plums, and black currant.
(note: some photos may enlarge on clicking)
Friday Breads (Contact Janice to get on her email list!)
Pain au Levain- A reliable favorite, this delicious multigrain levain is made with bread flour, freshly milled whole wheat and rye flours and leavened with sourdough culture. A great, flavorful all around artisan bread – $5/loaf.
Polenta Pepita - A beautiful golden loaf made with bread flour, freshly milled whole wheat, polenta cornmeal and toasted pumpkin seeds - $5/loaf.
Gibassiers. These delightful pastries are full of the flavors of Provence. Orange, anise, olive oil and lots of butter and eggs as well, once baked they are brushed with melted butter and rolled in sugar, my oh my, who can resist - 2/$5.
A New Take on Terroir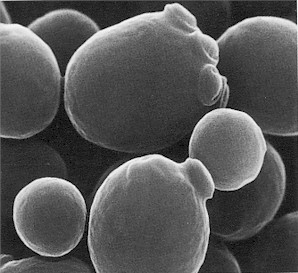 It's called "Saccharomyces cerevisiae," an ancient species of yeast that has been in blessed symbiosis with the human diet for thousands of years. This is the yeast that came to humans like Saint Nick on Christmas, and has been refilling our stockings ever since with with bread, wine, and beer, all of which we love and are made possible by this little fungus, which grows naturally on ripe fruit– you know, like grapes! True, we humans did a lot of fiddling with it over the years to make it more user-friendly, like the development of granulated dry yeast during WWII which lets anyone make bread pretty much anywhere, but the basic stuff co-evolved with every other living thing.
We have often discussed in these posts the elusive concept of "terroir," by which wines from a particular place share a certain typicite in their aroma or flavor profiles. Recent research has revealed that this little yeast, which is found throughout the world, plays a significant role in generating these local differences. So yes, we can still think of terroir as the set local characteristics of a specific micro-region, like soil composition, sun exposure, day-night heating and cooling, and so forth. Now, added to that constellation we know that terroir also includes whatever local variation of Saccharomyces cerevisiae settles on the ripe grapes in late summer. Read more
Bardolino
Lake Garda lies about halfway between Venice and Milan in northeast Italy. The little wine region of Bardolino lies along the southeastern shore. Established as a DOC (Denominazione di origine controllata) in 1968, wines called bardolino must be a blend of corvina, rondinella, and molinara, the same grapes used in the nearby Veneto region to make valpolicella. Typically Bardolino contains a smaller percentage of the more robust and flavorful corvina than Valpolicella. And since grape yields are often quite high in the Bardolino DOC, it can be argued that Valpolicella is more carefully restricted and perhaps higher in quality- and often lower in price.
This week's tasting includes a Bardolino that strays from this stereotype. With 60% corvina and 30% rondinella, the blend has more weight and structure than a typical Bardolino, and in that sense is more typical of a Valpolicella blend. Wherever it comes from, however, and whatever the grape proportions, Bardolino tends to be light, fruity, and crisp, pairing well with many dishes, even those which normally would be served with white wine. It's a good pairing for all kinds of dishes that are Flavorful without getting all the way to Robust. In other words, it's a great wine for nearly all occasions!
I Still Blame the Business Schools
About thirty years ago our local newspaper, the Bellingham Herald, published one of my Letters to the Editor. Paraphrasing from memory, the basic idea was this:
"There's a new kind of school that's become Very Popular. All the young people want to go there. They're called Business Schools. Mainly they teach students to always Wear a Tie. The ties are a Uniform that can be used to control their minds. The knot around the throat reminds them Never to Tell the Truth. The center part covers up their Hearts so they never have to Show Compassion. And the end covers up their Belly Buttons so they can Completely Forget they are Human Beings while they conduct Business."
Well, not much has changed in thirty years, including my opinion of Business Schools, their Ilk, their Kith and their Kin. I still believe they are a Scourge on the Planet, the place where the new Overseer Class learns to Serve the One Tenth of One Percent for a little piece of the Action.
There are probably a bunch of reasons why this is coming up for me right now, including the Pope's visit (Stranger in a Strange Land?), the so-called Presidential Campaign (Send in the Clowns?), the Global Refugee Crisis (Nowhere to Run to, Baby?), the deepening Climate Crisis (I Don't Want to Set the World on Fire?), and the continuing Concentration of Wealth (Buddy Can You Spare a Dime?).
I'm just saying, there is a Lot Going On, and I'm looking at this Sweet-Spirited Pope, and wishing he could get some Traction with his messages of Social Justice and Environmental Caring, but feeling and fearing that Leonard was so on target when he wrote, "Everybody knows that the War is Over; Everybody Knows that the Good Guys Lost…!   sigh.. It's been quiet in the wine shop during Drydock; come on by this weekend and cheer me up, huh…?!
This week's wine tasting

Matthews Sauvignon Blanc '13 Washington
A scintillating nose of lime, melon, green apple and hints of quince, with a racy background of grapefruit and herbs. Bright, crisp and steely, with bracing acidity and minerality.

Treana White '13    Washington     $16
Assertive aromas of poached pear, peach, honey, chamomile and vanilla, with a spicy topnote. Fleshy and broad on the palate, offering deep orchard and pit fruit flavors braced by zesty acidity and a gingery nuance. Distinctly rich but lively as well, finishing with solid punch and lingering sappiness.
Altos Malbec Clasico '13     Argentina   $10
Aromas of blackberry, strawberry, mocha and smoked meat, plus a hint of violet. Supple, soft and sweet flavors of black fruits and licorice, finisheing with smooth tannins and hints of chocolate and licorice.
Liberty School Cabernet Sauvignon  '12   California     $14
Exudes aromas of plum, black currants, blackberry, smoke, and earth. Soft tannins and bright acidity add balance and substance; concentrated flavors of raspberries and black cherries dominate the entry, with refined notes of earth and pepper and lingering hints of cherry on the long and satisfying finish.
Corte Gordoni La Fontane Bardolino '12    Italy  $14
Bardolino is made from a blend of 60% Corvina for structure, weight and a sour-cherry aroma, and 30% Rondinella for the wine's appealingly fresh, herby flavor. Corvina vines are Guyot trained; all other varieties are spurred Cordon Vines.
Friday Breads (sign up for
Buttermilk Currant- Half bread flour and half freshly milled whole wheat. Buttermilk tenderizes the crumb to be loaded with currants, a bit of honey for sweetness and hint of rosemary.- $5/loaf.
Pain Meunier - aka "Miller's Bread,"  an old favorite honoring the miller by including all parts of the wheat berry: bread flour, whole wheat, cracked wheat, wheat bran and wheat germ.  – $5/loaf.
Bagels. Traditional bagels topped with poppy seeds, sesame seeds, mixed seeds or plain. Boiled and baked. David S. says these are the best shiksa bagels he's ever had! Don't miss out, limited quantities are available – it's a tough dough to mix by hand! – 4/$5 (oops, sold out on pre-order!)
Alsace

Alsace is one of those wine regions with a Dedicated Cult Following. It is also one of those regions that I know almost nothing about, and need to learn more. Politically, of course, the region is precariously located north of Switzerland along the border between France and Germany, and over the centuries it has been a bone of contention between the two countries, eventually developing its own unique character by blending the two influences.
The predominant grapes are white: gewurztraminer, riesling, pinot blanc. Because these grapes have been grown here for centuries, regardless of what country happened to be claiming the region at the time, it has long been sorted out which grapes do best in which locations. And, like many European wine regions, each vintage faces its own challenges getting the enough (but not too much at once) amounts of water and heat each year. As it turns out, both 2012 and 2013 were a bit challenging– 2012 for its see-saw between warm and cold conditions, and 2013 for a long and cold spring, a dry summer, and a wet fall.
Our selection this weekend may not come from one of the many Established Houses of the region, but it does demonstrate a certain "typicité" of Alsation riesling. Come on by and try it as we begin our exploration of this highly admired wine-growing region.
Domaine Moulinier
It's hard to believe it's been almost five years since we visited Domaine Moulinier in St. Chinian. The winery is in its fifth and sixth generations with retiring winemaker Guy Moulinier (we had a great time trying to understand each other while he gave us a tour of the winery) and his son Stephane who now makes most of the wines. In the winery are astonishing displays of fossils and artifacts dug up in the past hundred years in their vineyards, including dinosaur eggs and bones and stone tools of Neanderthals and Cro-Magnon hominids. Their collection rivals anything you would see in a museum, really amazing.
Since we visited in 2011, many of you have also visited the winery on one of Ryan's wine tours. By now, of course, Ryan is an import agent for Moulinier and a number of other French wineries, and we regularly carry Moulinier wines.
Circus Maximus

Let's face it, there are a lot of things that are Bizarre about the current Presidential Campaign, too many to list. But sometimes, when things we view seem too complicated, it is useful to Squint a bit, or Step Back a bit, enough to let the distortive forces register their own little insights…you know, if any are to be had.
At this particular moment, the Squint Exercise reveals a couple of interesting facts.
1. Everyone Hates the Mainstream. This is really pretty interesting. On the Right, Donald Trump is surging in popularity with his unapologetic Bluster, firing at will on the rest of the Clown Show of Republican aspirants. On the Left, Bernie Sanders is surging in popularity with his Everyman appeal to Reason and Social Justice. Between them, it seems that Mainstream Voters of all persuasions have Had It with Corporate-Controlled, Bought & Paid For Politicians.
2. Bernie talks to the People, while Donald talks to the Media. This is even more interesting. Sanders has been drawing huge crowds of supporters wherever he goes, meeting people face-to-face, growing popular despite the fact that he is largely panned by the mainstream media. On the other hand, Trump has unprecedented access to Big Media, so that everything he does is News, to the point that one rarely sees him in a crowd, only on a podium addressing Media.
In some bizarre way they both appeal to the disappointed and disillusioned across the political spectrum. Ordinarily in such circumstances the Mainstream regroups and Absorbs these pesky populist rebels by promising them a few crumbs while reasserting the Stability of the Status Quo.This time it is hard to see how that is going to happen. Nevertheless, our bet is that Mainstream Forces will Crush both forms of Populism like Bugs on a Limousine Windshield.
In other words, it's a good time to stock up your wine cellar!
This week's wine tasting

Schoenheitz Vin D'Alsace Riesling '13    France-Alsace   $15
Bright straw yellow with green reflections. Expressive nose bloomed nicely with lemon and a hint of minerality. A pretty generous fruit supported by fine acidity and elegant with a fresh and invigorating lemony finish.
Caymus Conundrum White '13    California  $16
Blend of Chardonnay, Sauv Blanc, Viognier, and Muscat Canelli. Nose of citrus orchard in bloom. Tastes sweet without being cloying, showing fig, apricot, exotic spice and melon flavors. Ends clean and pure.
Domaine Moulinier Rouge '10 France $13
70% Syrah, 25% Grenache, and 5% Mourvèdre; Nice spice and garrigue on the nose, with a broad palate of ripe red fruit, with a bit of orange note on the finish. Smooth and soothing.
Steele Outkaste Red '11 Mendocino $16
53% zinfandel, with syrah, tempranillo, petite sirah, and petit verdot; aromas of black pepper, raspberry, and cobbler, with palate of brambly blackberry, cassis, and spices.
Bocelli Sangiovese Italy $14
Bright,, lush, and appealing; deliciously ripe and smoky, with notes of marasca cherry, granite, and rhubarb compote. Finish is long and dry, with admirable acidity that makes the palate taut and pleasing.

Taking a break
Well, friends, it has been a demanding couple of weeks, as discussed in last week's blog. A lot going on! Even in the best of times (at our age, every moment is the best of times regardless of its content, n'est-ce pas?)  we have closed the wine shop the weekend after Labor Day.
So this little break is part of a long tradition. We are at present off the island in our little trailer, dogs and all, and quite enjoying A Change of Pace.
The important takeaway here is that the wine shop will be closed this weekend: no Bread, no Wine.
We look forward to seeing you next weekend, September 18-19 when Janice will return with Fresh Bread and we will be back with Ripe Wine!