(note: some photos will enlarge when clicked)
Bread this week
Kamut Levain – Kamut, also known as khorasan wheat, is an ancient grain that has more protein than conventional wheat. Some people who can't tolerate wheat find kamut to be more digestible. The bread is made with bread flour and fresh milled whole gamut flour. It has a nutty, rich flavor and makes a golden color loaf. A great all around bread – $5/loaf
Barley & Rye w/ Pumpkin Seeds – A nice mix of bread flour and fresh milled rye, barley and whole wheat flours. Some buttermilk makes for a tender crumb, honey for sweetness and toasted pumpkin seeds add to the flavor and texture. A really flavorful artisan loaf – $5/loaf
And for pastry this week…
Chocolate Babka Rolls – A sweet pastry dough full of eggs, butter and sugar, rolled and spread with a chocolate filling, rolled up and cut into individual rolls. Brushed with sugar syrup after baking – 2/$5
New Moon and Tides

This weekend the moon is approaching New, showing a dwindling morning crescent rising just before the sun on Friday, moving right next to the sun (and therefore invisible) on Saturday and Sunday. On Monday it appears again as a thin evening crescent just after sunset, something like this photo. The takeaway here is that on any given day the moon drops an hour or so behind (i.e., later) the sun, but through the course of that day the moon stays in relatively the same relationship to the sun.
Tides at Full Moon and New Moon are called Spring Tides, when the difference between the highest high and lowest low of the day are at a maximum for the month. So this weekend look for very low tides near noon and midnight, and very high tides at morning and evening twilight.
Ray of Sunshine
Our little wine shop has now been open for twelve years. For the first four or five years we were open it wasn't clear Who we Were and What we Were Doing. But by 2010 a couple of things had become clear. First, this little business was never going to be profitable in monetary terms. But that was okay, because second, a wonderful community had evolved around our little wine shop.
This was crystallized for us in a photo our friend Brian took on the Fourth of July in 2011, when he and Leigh invited us all up to their place high enough up on "the Mountain" for a panoramic view of fireworks in all directions. The powerful realization was that most of the people in the photo had met us and met each other at Our Little Wine Shop…Q.E.D., our Real Business was Building a Community of Very Dear Friends.
So it is with deep Profound Sadness that last week we Suddenly Lost a Dear Friend from this extended community. Ray lived about half the time on Lummi Island and half in Mountain View, California where he had built a career as a highly skilled "painting contractor" who could reproduce any finish in any pattern on any surface and make it indistinguishable from the original finish around it. He also had practiced Loving Kindness Meditation for many years, to the point that he carried with him a little Island of Calmness and Well-being. He was a Safe Anchorage in any kind of Heavy Weather: kind, caring, grounded, funny, and always available for an interesting and engaging conversation.
All of us in our extended Wine Shop Family Loved this Man and Miss him Deeply. Though what we Really Want to do is Throw Back our Heads and Hooowwoooollll to an Unfair God at the Merciless Unfairness of Our Loss, we place our palms together and bow in Gratitude to have had him in our Family this little while…knowing that some childlike part of us will keep hoping to see his tell-tale Portuguese beret come up the stairs on just One More Friday afternoon. Go well, Ray of Sunshine, and may we meet again…
Mar a Lago Update: Our Nation's Immune System

Much has been said, imagined, ennobled, and waxed eloquent about Our Founders. Even in the last few days we have learned that all of those beautiful signatures on the Final Copy of the Declaration of Independence were in fact Incriminating Acts of Treason against the Crown. Each signatory was signing its own Death Warrant if the Revolution Failed. Like…Wow, I never thought of it that way!

Later on, many of those same Players Wrote and Signed the Constitution, the Set of Rules that would govern how the Values stated in the DOI Might be Realized. A Central Theme was "the Separation of Powers." Tyrants being what they are, the thinking went, our best shot at Success was an interlocking set of Checks and Balances that could Thwart most attempts to Usurp Power. After all, how could any one subgroup control the Executive, both Houses of Congress, and the Judiciary?
In effect, the Founders were trying to give their Nascent Democracy an Immune System against Domestic Enemies. All in all they did a pretty good job. Until now, anyway. The Question on The Floor at the Moment is whether their Foresight is Adequate to Defend the Constitution against All Things Trump, given a Republican Congress that Looks Down on College Graduates, a "President" that Governs by Whimprov (yes we just coined that!), and a Supreme Court in Grave Danger of Making Corporations More Important Than People.
At some Very Fundamental Level, our Tension for the last Eight Months is Really about whether Democracy as We Have Known it can Survive against a Well-Organized, Well-Funded, and Wholly Committed Corporate State. Stay tuned. If you can…
This week's wine tasting
San Pietro Alto Adige Pinot Grigio '15      Italy    $12
Straw yellow in the glass with a nose of tropical fruits and hints of honey. The palate is fruity with excellent freshness and balanced acidity.

Cloudlift "Lucy" Rosé of Cabernet Franc '15       Washington        $14
Light in color with delicate aromas of dusty strawberry and dried Rainier cherry. Palate of crushed cherries and white strawberry flavors, leading to a finish of black currant.
Tenuta Rubino Oltreme Susamaniello '14 Italy      $14
Fresh, fragrant notes of cherries, pomegranate, raspberries and hints of ripe plum; fruity, minerally, and round on the palate with soft, pleasant tannins, a versatile and seductive pairing with richer dishes.
Montfaucon Cotes du Rhone '14    France $13
50% Grenache co-fermented on skins with syrah, cinsault, carignan from 40 yr old vines; matured in concrete tanks; reveals beautiful aromas of cherries, blackcurrant, and raspberries with violets and spices; fresh and round on the palate.
Esplugen Priorat '14   Spain       $17
Garnacha, carinyena, cab sauv; Priorat's famous slate soil and arid climate give this wine great intensity and structure, with deep and complex aromas of rich ripe fruit and toast notes, and a long pleasing finish .
(note: some photos will enlarge when clicked)
Bread this week
Multi Grain with pre-fermented dough – A portion of the flour, water, salt & yeast is mixed and fermented overnight before mixing the final dough; next day it is mixed with bread flour and fresh milled whole wheat and rye, then flax, sunflower and sesame seeds are added for a nice bit of crunch and some extra flavor. A great all around bread – $5/loaf
Buckwheat Rye – Fresh milled buckwheat and rye are soaked for 8 hours without yeast in a method known as an autolyse. As buckwheat and rye don't have much gluten this allows what little gluten there is to start developing and really gets the enzymes going before the final mix. This "soaker" is mixed with bread flour, salt and yeast and a bit of honey. Would go well with all sorts of meats and cheese – $5/loaf
And for pastry this week…
Palmiers aka Elephant Ears – made with puff pastry that is rolled out, spread with sugar folded over and sliced. Makes a delightful, crisp, crunchy, buttery, sugary pastry. I've heard tell that Di & Peter really love these pastries so get your order in early before they scoop them all up as quantities are limited – 4/$5
Bandol Rosé

The wine region of Bandol, a short drive east from Marseille, is part of Provence, so of course one expects excellent rosé! It lies on the Mediterranean coast just east of Cassis and south of Aix. And although the predominant grape in red wines from Bandol is mourvedre, rosé still follows the recipe from much of Provence, which is usually a blend of cinsault, mourvedre, and grenache. As we mentioned in a previous post some while back, some people (like legendary wine importer Kermit Lynch) think Bandol makes the definitive Provençal rosé. As shown in the detailed notes below, critics have high expectations of rosés from this area, detailing every nuance.
Of course, rosés by their nature are essentially what white wines made from red grapes. The depth of color is determined by time on the skins, sometimes measured in mere hours. The flavor profile excludes almost all of the tannins that would naturally come from extended contact with the grape skins over time. So rosé is really about the freshest components of the red grapes that go into it. They are all good, some are just better than others. And Bandol is known as one of the good ones. Come by and check it out!
Art Show at the End of the Universe

Yesterday we went to the Seattle Art Museum showing of Yayoi Kusama: Infinity Mirrors. Kusama, now 87, started her art career with an exploration of Pop Art along with many other artists in the fifties and sixties. She explored Performance Art with photographic and film documentation, and staged collective Happenings she called "Anatomic Explosions," in New York City where she was living in the late 1950s.
Infinity Mirrors is a collection of installations based on the use of mirrors to generate a sense of infinite regression. Most of us have experienced a simple version of this experience at various times in our lives, usually in a bathroom, but possible anytime you can stand between two mirrors in such a way that you can see the reflection of your reflection in one mirror in another one perpendicular to it. When that happens, you also see the reflection of the reflection of the reflection, etc, etc, stretching away into Infinity. kind of mind-blowing.
Each of these installations is a small room which two or three people are allowed to enter at a time; the door closes and you are surrounded by an array of these "infinity mirrors" in which you can see the regressed reflections of yourselves and whatever curious objects she has designed extending out in all directions. The particular exhibit in this photo is called Aftermath of Obliteration of Eternity. The photo was taken by a woman (Jan) we met moments before the three of us were sent in for our thirty seconds of Experiencing. Somewhere among the lights are an infinite number of different sized images of us, standing as if waiting for a seat at the Restaurant at The End of the Universe made famous in Douglas Adams' book and film series, "Hitchhiker's Guide to the Galaxy."
Third Quarter Moon and Tides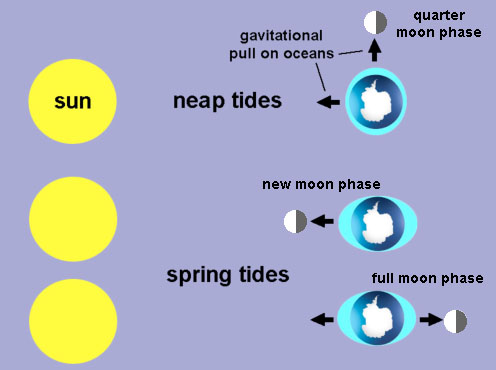 This weekend the moon is at Third Quarter. Since moonrise is a hour later each day, at New Moon, sun and moon rise and set at the same time. At First quarter, the moon is six hours behind the Sun, and therefore is rising around noon. At Full Moon the moon is twelve hours behind the Sun, so as we saw last week the Full Moon is just rising over the Eastern horizon as the Sun is Setting toward the Western horizon.  Third Quarter is the mirror image of First Quarter, moved another six hours behind the Sun. Therefore the Third Quarter moon rises around midnight, is high in the sky at dawn, and sets around noon.
Tides at the First and Third Quarter are called Neap Tides, when the difference between High and Low tides approaches a monthly minimum. When the Moon is Full or New, Moon and Sun pull along one axis, making for the Month's Highest High Tides and Lowest Low Tides. Right now, while the Moon is at Third Quarter, look for smaller differences between High and Low tides, with High Tides at Noon and Midnight, and Low Tides at morning and evening.
Mar a Lago Update

Rep. Brad Sherman of California has introduced articles of impeachment against the Trumpster. The bill is co-sponsored by Rep. Al Green of Texas. While no particular action is expected soon toward actual articles of impeachment, it is expected that the very fact that such a bill has been filed might be used to limit Trump's options for claiming Executive Privilege on a number of issues such as his tax returns, foreign financial ties, and other issues associated with investigations into ties between the Trump Campaign, the Administration, and Russian interests. Stay tuned…!
This week's wine tasting

La Rocaliere Lirac Blanc '15 France $15 
Grenache Blanc and Clairette. Delicate and elegant nose evokes floral aromas of jasmine, verbena and honeysuckle that follow through on the round. full palate, finishing with  notes of fresh citrus.

Domaine le Galantin Bandol Rose '16      $18
Light brilliant orange. Mineral-tinged red berry, blood orange and fennel scents, along with a hint of honeysuckle. Dry and nervy on the palate, with bitter cherry and orange pith flavors finishing on a suave floral note.
Conundrum White '15    California  $18
Blend of Chardonnay, Sauv Blanc, Viognier, and Muscat Canelli. Nose of citrus orchard in bloom. Tastes sweet without being cloying, showing fig, apricot, exotic spice and melon flavors. Ends clean and pure.
Portteus Bistro Red '13    Washington    $11
Fun, smooth and easy drinking blend of Malbec and Merlot. A food friendly wine with delicate, elegant texture. Notes of blackberry, pomegranate, cocoa, honey and licorice, with a creamy finish. Over-delivers for the $.
Quinta de Pinto Riserva  '13    Portugal   $22
A lovely Touriga, laced with violets and wonderful aromatics that combine with its fine structure, balance and elegant mid-palate for a very pleasing whole. Fresh and lively, with a hint of eucalyptus on the finish: a great food wine!
(note: some photos will enlarge when clicked)
Bread this week
Rosemary Olive Oil – made with bread flour and a bit of freshly milled white whole wheat for a little more flavor and texture. Fresh rosemary from the garden and olive oil to make for a nice tender crumb and a nice crisp crust. A great all around bread – $5/loaf

Black Pepper Walnut- made with a nice mix of flours, bread flour, fresh milled whole wheat and rye. A fair amount of black pepper and toasted walnuts give this bread great flavor with just a bit of peppery bite to it. Would go well with all sorts of meats and cheese – $5/loaf
And for pastry this week…
Pain aux Raisin – made with the same laminated dough as croissants. The dough is rolled out, spread with pastry cream and sprinkled with a mix of golden raisins and dried cranberries that have been soaked in sugar syrup. Rolled up and sliced before baking. These are my favorites! As always, quantities are limited, be sure to get your order in early – 2/$5

A Single Blade of Grass

Somewhere I have a calligraphy sketch (as well as other paintings and books of poetry) by an old friend and well-known Northwest Poet, Robert Sund. I met Robert in the eighties when I was a potter and had a little gallery in Laconner. Robert, along with many other artists and writers (Guy Anderson, Tom Robbins, et al.) had found a haven in Laconner and the waterways around it, living simply, making a community, and developing their arts.
Like most artists, Robert tried many ways to make a living with his art, and this particular form was called a "Wind Letter." It consisted of a torn strip of parchment paper about a foot long and 5 inches wide. He would find a Haiku or similar Short Poem and render it in calligraphy on the paper, often including what he called "Mountainous Revisions," in which he would cross out mistakes and make them look like mountains and trees. Anyway, the point of this is one Treasured Wind Letter based on a poem by the Zen Poet Ryokan:
"To judge the direction of the wind it is enough to see a single blade of grass."
Since I can't find the Wind Letter at the moment, click on the image for one of Robert's related poems. As for the Wind Letter…every breeze in Our World is telling us a Thousand Times a Day that a Petulant Four-Year-Old holds the Destiny of Our World in his Tiny Hands. Time for Sane Adults to Step Up, Step In, and Take Action if we are to Avert Disaster.
Full Moon and Tides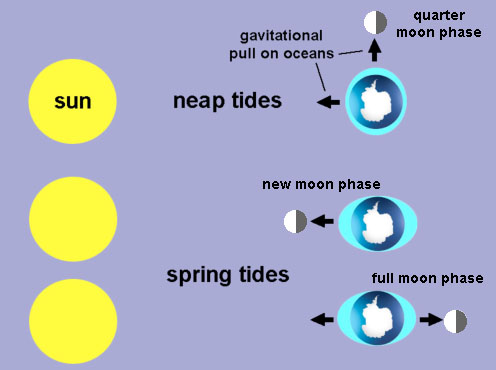 This weekend the moon is Full, just rising in the East as the Sun is setting in the West. Sometimes this time of year the full moon and setting sun are both in the sky at the same time. At Full Moon all the water on Earth is trying to get to either the Moon in the East or the Sun in the West, making for high High Tides and low Low Tides. Whatever the phase of the moon , Moonrise is always a time of High Tide.
The problem we have with visualizing these relationships is The Six-Hour Lag, which is not generally shown in the diagrams. Fact #1 is that, as the diagram shows, when the Moon is at First or Third Quarter, the overall range between Low and High Tide is at a monthly minimum, aka "Neap Tides." However, to predict the location of the Moon from observing the Tide or to predict the Tide from the location of the Moon right now, relative to the Earth's rotation,  this general picture must consider where the Moon is Right Now, and therefore where the Tide is Right Now, and in particular compensate for the fact that the Tide is always six hours behind the Moon. Therefore the occasion of the Full Moon provides The Same Takeaway as last week's First Quarter: when the Moon is Full or New, tides are Low at Noon and Midnight, and High at morning and evening. When the Moon is at First or Third Quarter, Tides are High at Noon and Midnight and Low at morning and evening. Your Homework Assignment: notice the tide today at noon and at dinnertime and consider: where must the Full Moon be right then?
Mar a Lago Update

I love this Duck. No matter How Bad things get, I feel I can look at this Duck and think, given his obvious Innocence, his Ambitions appear Modest: Swim a little, Catch a Few Rays, Dominate the Public Eye…you know, "Play the Role," as we used to say. Silly, Juvenile, Annoying, but mostly, you know, Harmless.
Unfortunately, This Relatively Benign Fantasy is being increasingly challenged by Daily Deterioration in both Domestic and Global politics. Although an Impossibly Ignorant, Incompetent, Self-Centered, Petty, and Sulking Child has been handed the reins to the most Powerful Country on Earth, he is at Best Basically Benign, and At Worst, Basically Incompetent, so Nothing Really Bad is going to Happen. Right…?
On the other hand, the longer this goes on, the more it sinks in that By His Command, at any moment, he could Destroy the Entire Planet and Every Living Thing on it, including, you know, All of Us. Sobering, n'est-ce pas?
Recently I spent a few days with an old friend and Annapolis classmate who had spent a Career in Submarines, adding up to about Four Years of His Life Underwater! His mission all that time was to be ready at Any Moment to launch as much destructive power as All the bombs dropped by All the Sides in WWII against a nuclear adversary, i.e., Russia. That was the Cold War, and that was the Insanely Rational, or Rationally Insane, Calculus of Mutually Assured Destruction, i.e., Everyone Loses Big Time so much that no Sane Person would ever Cross This Line. Yes, it is a Totally Crazy Idea. It is also Entirely Possible that the Philosophy of Credible Mutual Deterrence through the Cold War was actually Successful in Eliminating a First Strike Nuclear Attack as a viable Geopolitical Option.
So now I see a Problem with this Duck, and his Inarticulate Webbed Feet: Ill-prepared for Nuance, Untrained for Diplomacy, and Ill-tempered for Subtlety, he is Simplistic, Volatile,Defensive, and Reactive. A Dangerous Combination.
Saint Nabor Gris de Gris Rose '12       France         $10
Bouquet of red fruit and honeysuckle with linden-tree nuances; light, crisp and easy drinking, with palate of wild strawberries and blueberries with mineral nuances.
Chevaliere du Clos Cote de Roussillon '08   
Dark and rich, with notes of cherry, plum, and fig with a hint of spice; complex and round, and  full bodied on the palate with fully developed tannins; a great value red.
Rubino Punta Aquila Rosso     Italy     $15
Fragrant and rich, with fascinating mineral aromas, with notes of brandied cherries, mulberry jam, blueberry and blackcurrant, and spices; warm, complex, generous and vibrant.
Robert Ramsay "Le Mein" Red '12   Washington     $30
Grenache, Mourvedre, Counoise and Cinsault; rock-solid aromas and flavors of lavender, leafy herbs, flowers and black berries; Medium-bodied, round, ripe, and supple, with a lovely,fleshy mouthfeel.
(note: some photos will enlarge when clicked)
Bread this week
Whole Wheat Levain – This particular dough is made with levain and bread flour and about 25% fresh milled whole wheat. I like to say it has a 'toothy' crumb, it has great texture and flavor and a nice crisp crust. A nice artisan loaf that is a great all around bread – $5/loaf
Pear Buckwheat – the preferment here is a poolish, made with bread flour, a bit of yeast and fermented overnight. Mixed the next day with bread flour and fresh milled buckwheat. The addition of toasted walnuts and dried pears soaked in white wine makes for a really flavorful bread – $5/loaf
And for pastry this week…ooh la la)
Chocolate Croissants – Croissants are made by mixing a dough with a bit of sugar and butter and then laminating the dough with even more butter and, in this case, rolling it out and filling with dark chocolate. The end result is a delicious flaky pastry with rich dark chocolate. – 2/$5
Reality Check

Despite the Relentless Coverage of Every Tweeted Syllable, Every Tweeting Day in our present Alternative Reality, precious little has been said about the Alternate Alternative Reality we were Hijacked from last November. While lots of Pols emphasize Over and Over that Oh, No, No, No, Monsieur, Russians Did Not Tamper with our Precious Voting in the last election, it has been widely implied but rarely discussed that there was a substantial  Russian effort to discredit Candidate Clinton, and that it was Successful Enough to have turned Wisconsin, Michigan and Pennsylvania for Trump.
About a year ago I posted  that I had become Increasingly Puzzled by the Hateful Rhetoric aimed at Hillary Clinton, especially by those who have long professed to be Progressives. Fast forward to what is generally referred to as "Now" here in Liberal Purgatory, and it is as good a time as any to reflect on What Exactly was Wrought under the guise of "Free and Fair" Elections. The required Reading Assignment for this Reflection can be found here on Daily Kos, and raises dozens of questions framed as "Would Hillary Clinton have Done This: (see list)."  The Surprising Takeaway from scrolling down this long list of things we can be Sure she would Not have Done is the Sudden Realization of How Much we have lost as a Nation from the Russian Interference. While scholars may quibble about what behaviors rise to the level of being Presidential, a glance at this list will grab you in the Gut. OMD, you'll think, how can we all keep pretending This is Normal?
More On Tides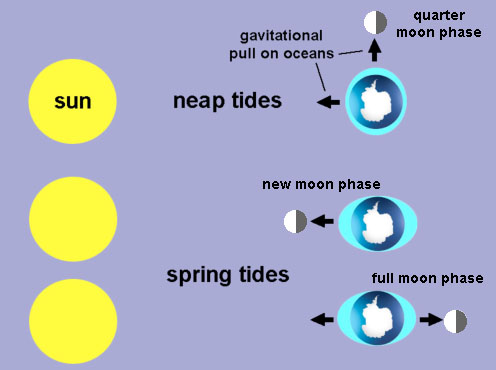 This weekend the moon is at First Quarter. That means it is halfway between New and Full. When the Sun is overhead (aka "Noon") the Moon is just rising over the Eastern horizon, and the tide is therefore High. This is not because the Sun is overhead. Rather it is because the Moon is just rising in the East, and the Tide is six hours behind the Moon. You could think of the High Tide as a kind of a Wave, or Bulge of Water trying to get to the Moon. Think of the Moon as a Magnet, and the oceans as piles of iron filings, and though the magnet is not nearly strong enough to pull the filings across space, it is strong enough to pull a Ripple of filings behind it.
Tides at the First and Third Quarter are called Neap Tides, when he difference between High and Low tides approaches a monthly minimum. When the Moon is Full or New, Moon and Sun pull along one axis, making for the Month's Highest High Tides and Lowest Low Tides. Right now, while the Moon is at First Quarter, look for smaller differences between High and Low tides, with High Tides at Noon and Midnight, and Low Tides at morning and evening.
So this is a Takeaway: when the Moon is Full or New, tides are Low at Noon and Midnight, and High at morning and evening. When the Moon is at First or Third Quarter, Tides are High at Noon and Midnight and Low at morning and evening.
Dreamtime Update

Dreamtime has been in the water for two months now; didn't get nearly enough necessary work done at her temporary slip in Bellingham. But it has definitely felt Summery the last week or two, and tomorrow we sail  her out to the Island for the Summer on a secure mooring.
Here's hoping for an uneventful crossing!
This week's  wine tasting
Domaine Girard Chardonnay '14   France $13
Medium- bodied with fleshy notes of fresh-picked apples and pears; no oak, but spends time on the lees to give it richness; clay soils at a higher elevation impart a delightful freshness.
Borsao Rose '15 Spain $9
Spicy aromas and flavors of ripe red berries, orange, and pungent flowers; nicely concentrated and supple,gaining weight with air, picking up bitter cherry and melon notes and a lingering red fruit liqueur quality.
Spindrift Pinot Noir '14   Oregon   $16
Aromas of red fruit, cherry, earthy and toasty notes. Big cherry flavors with some oak, sweet tannins, bright acidity and lingering finish.
La Mijane Arpege '13    France    $14
Oceanic influences  create an alternation of warm sun and cool breezes, which develop complex, original and balanced wines.

Celler Can Blau Can Blau '14         Spain      91pts    $15
Aromas of ripe black and blue fruit with smoky mineral and licorice notes; Seamless texture, with sweet boysenberry, floral pastille and snappy spiciness. Finishes silky and long, with a sneaky tannic grip.