click on photos for larger images
No Bread this week

Our Baker is away this week, so no bread this weekend.
Look for her email on Sunday for next week's selections.
(note: breads must be pre-ordered by Wednesday for pickup here at the wine shop at our Friday wine tasting, 4-6pm. Planning a visit to the Island? Email us to get on the mailing list!)
CSA
Since early Spring we have been sharing a CSA (Community Supported Agriculture) subscription with Janice, our Baker. The weekly produce basket is usually delivered to her house on Thursdays, and then she brings our half to the wine shop on Fridays along with her breads for the week.
This week, as noted above, she is away, and so late this afternoon this basket was delivered by Simon, the Steward of this Island Abundance grown at his farm over on Centerview Rd. It's over a mile by road, but half that as the crow flies. He came by about 5:30, when the summer Sun was still pretty high and bright in the west.
The colors of the beautiful produce demanded that we take the photo at left! Beautiful! We are Lucky Ducks!
Tres Picos
Borsao, the winery that makes Tres Picos, is a cooperativa, like many in Spain. The most common wine coop business model is a corporate "front office" that oversees all aspects of vineyard management, harvest, winemaking, and marketing. Member-growers are required to follow specific rules and guidelines set forth by coop management, and in exchange they are guaranteed purchase of their fruit. Borsao has about two hundred member vineyards.
The garnacha vines that provide the fruit for Tres Picos date back to about 1920…that's right, they are a Hundred Years Old! As shown, the vines are head-trained, with no wires, no trellises, and lots of space between them. They have deep roots after nearly 100 years of effort, and diminished yields of about two tons per acre. Such old vines dig deep into  many layers of soil and provide their fruit with corresponding layers of complexity.
We visited the Tres Picos vineyard several years ago and were struck by the Gnarly Independence of each vine. Vines this old are Rare, and their fruit has depths of nuanced flavors not seen in younger vines. Tres Picos consistently earns high scores (92 points is typical) from wine critics. Bottom line: though some years are better than others, this vineyard produces remarkable wine year after year. I.e., "It's the terroir, Stupid…!" This wine is very consistent and never disappoints. We think you will agree!

Mar a Lago Update: Gandalf, We Need You!

A recurring theme in JRR Tolkien's Lord of the Rings Trilogy is the Dark Smoke rising from Mordor. We don't know what was burning or why it was burning, but it was Ominous. And Poisonous. see video clip
It is increasingly hard to look around at Our Country and Our World and not feel the same Burdens, the same Darkness, the same Fears that Drain our deep stores of Psychological, Spiritual, and Natural resources. Nation-states are failing across the world and being seriously Threatened or have already been Taken Over by Feudal Dictators. National economies are being systemically ransacked by Populist so-called Leaders, leaving millions of people homeless, destitute, and desperate to migrate to Safer Ground and escape the Populist Psychopaths they once thought would Save them. They drown in the Mediterranean, they starve in Central America, they are separated from their babies and Detained Indefinitely on the US Border. Do You have room for them in Your Lifeboat?
Meanwhile, a MILLION SPECIES of living beings on our planet are threatened with Extinction by OUR ill-conceived and Suicidal actions, such as: Doh!, Okay, maybe those Lead water pipes were not such a Good Idea after all, but hey, we can fix it by delivering water to everyone in Megazillions of little plastic bottles that can be thrown into oceans and streams and landfills where they can make Millions of Other Species extinct as well!
Then, of course, there is Global Warming, the Big Kahuna, the Mordor of all Mordors…The Path to Destruction from which there is No Escape. Is it really Our Destiny to join countless generations of Lemmings who only realized Their Terrible Mistake at the Very Last Minute? As we all go over the cliff, will we, realizing our Huge Mistake, and like at least one Presidential Hopeful famously uttered as the political waters swirled to his neck, "…Oops!"
Time is getting Very Short. There is a Very Old Saying that seems to fit the moment:
Awake, Awake, Be Mindful in Practice!
Time Flies Like an Arrow;
It Will Not Wait For You!
Washington Post Tweetster Lie Count to date: 12,000 as of 6/10/19
This week's wine tasting

Linen Sauvignon Blanc  '18   Washington   $11
Aromas of citrus, grapefruit, lime and melon. Crisp and clean, with full flavors of lime, grapefruit, star fruit, and a gentle twist of lemon.
Whidbey Island Winery Rosato  '18    Washington   $15
A dry, vivacious, Provençal style rosé from Sangiovese and other Italian varietals; intriguing flavors of strawberries and cream, white cherries and kumquat…Summer in a bottle!
Simple Life Cab Sauv  '16     California
Lifted aromas of boysenberry, blackberry, violets and baking spice; juicy on the palate with lush fruit and a subtle mint chocolate note, soft, polished tannins, and a lingering, mouth-coating finish.
Tres Picos Garnacha '14  Spain  92pts    $17
Heady, exotically perfumed bouquet of ripe berries and incense, with a smoky minerality and spice. Vibrant flavors of raspberry liqueur and cherry-cola show power, depth and finesse with velvety tannins.
Lady Hill Ad Lucem Elaina Red '15   Washington    $21
Grenache, syrah, mourvedre blend; aromas of toast, dark fruits and berries and grilled meat that expand into mouth-watering rich flavors and crisp acidity on the palate.
click on photos for larger images
Friday Breads
Spelt Levain – Spelt is an ancient grain that is a wheat. It has a nutty, slightly sweet flavor and has gluten but it isn't as strong as the gluten in modern wheat. This bread is made with a levain, or sourdough, traditional bread flour as well as spelt flour, fresh milled whole spelt and fresh milled whole rye. – $5/loaf
Semolina w/ Fennel & Raisins – Another levain bread made with bread flour, semolina and some fresh milled whole wheat. A little butter for a tender crumb and fennel seeds and golden raisins round out the flavors. – $5/loaf
Gibassiers – A traditional french pastry made with a delicious sweet dough full of milk, butter, eggs and olive oil. The addition of orange flower water, candied orange peel and anise seed bring great flavor to these pastries. After baking they are brushed with melted butter and sprinkled with more sugar. Ooh La La a delightful pastry to go along with your morning coffee or tea. – 2/$5
(note: breads must be pre-ordered by Wednesday for pickup here at the wine shop at our Friday wine tasting, 4-6pm. Planning a visit to the Island? Email us to get on the mailing list!)
Susumaniello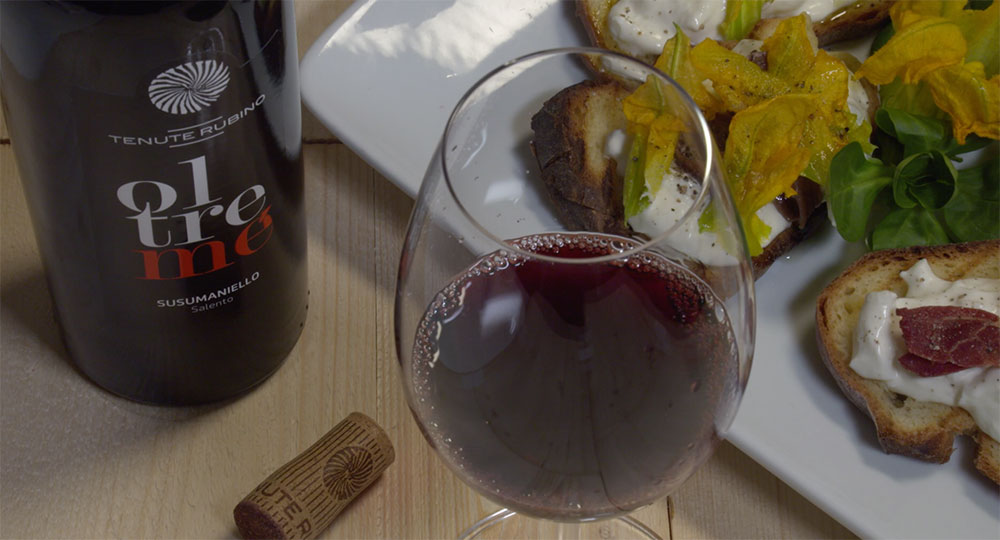 Susumaniello is an Italian wine grape found only in the Italian wine region of Puglia, which runs along the Adriatic coast from the Achilles tendon of the Boot of Italy to the heel. More familiar varietals from the region include primitivo, negro amaro, and red and black malvasia. The name of the grape refers to its high levels of production when the grapes are quite young. A black grape variety genetically related to garganega, it is named after its prolific production in its first ten harvests, after which productivity strongly decreases harvest by harvest, down to an average of less than one kilo per plant.
Despite this peculiarity, plantings of the grape have been increasing, beginning at Tenute Rubina winery in Brindisi, in 75yr-old vineyards incidentally purchased in the 1980's as part of a much larger vineyard acquisition. The goal is now to develop Susumaniello into the Flagship wine of Puglia. Helping that goal along, Rubino also runs a restaurant called Numero Primo, which offers instructions for the perfect food matches for the wine, both crostoni.
Constance's Art Show Continues

Last Sunday we held an opening reception for our new art show at the Gallery, featuring long-time Island yoga teacher and (as we now have learned) accomplished painter Constance Drake. The opening was very well attended and her work very well received. All use  oils on wood or canvas to develop complex textures and color ranges that evoke the many moods of the Pacific Northwest that we all recognize even if we have a hard time defining.
The show will run for only a few more weeks, through the month of August. Don't miss it!
Mar a Lago Update: El Paso vs. Tweetster

From one perspective it is a Puzzle how the Media decide which Mass Shootings to report and which not to report. However that works, it has become evident that there have been  248 Mass Shootings in the United States so far in 2019. That's averaging more than one per day. So why does it seem like Big News that on one day this week there were two mass shootings (Dayton and El Paso), when we have been seeing more than one a day for at least seven months? Why do some few enter and stay in the News Cycle for weeks while most go unmentioned?
However it has happened, it is a Shock to hear it as a Matter-of-Fact Fact. Like, Really? Every Fookin' Day a Mass Shooting and everyone just goes about their business?  How Did We Not Know This? 
Actually, besides the El Paso (Aug 3) and Dayton (Aug 4) shootings, there were four more mass shootings on Aug 4 (two in Chicago, one in Grenada MS, one in Memphis); two on Aug 5 (Brooklyn, NY and Suitland, MD); one in Detroit on Aug 6, and one in St. Louis on Aug 7. To summarize, in this country so far in 2019 we have had 248 mass shootings, with 246 people killed and 979 people wounded.
We all know the usual scenario: politicians wring their hands and mouth Sympathy for a few days until the News Cycle turns to something else, and nothing changes. Will it be Different this time? Well, it does feel different this time, doesn't it? We see a Unified El Paso standing up to the long Campaign of race baiting waged by the Tweetster since 2016. They have called him out on his racism. We know that some 90% of Americans favor background checks for anyone seeking to buy guns. It feels like we are on the threshold of something. But on the down side we know that Darth McConnell refuses to bring any Democratic bills before the Senate for a vote.
Oh, and by the way, a recent article on Political Polarization makes a strong argument that most of someone's political affiliations can be accurately predicted by knowing their race, religion, education, gender, and age. And that should make us wonder if our values determine our political affiliations, or, in this world of media and social media manipulation, it is the other way around.
Washington Post Tweetster Lie Count to date: 10,000 as of 5/1/19
This week's wine tasting

Argiolas Costamolino Vermentino '18      Italy     $14
Pale golden-tinged straw color; Botanical herbs and white stone fruit on the nose and palate, with good length and freshness, finishing clean and medium-long, pairing well with everything from salad to pasta to fish and even savory meat dishes.

Oregon Solidarity Pinot Noir Rose '18      Oregon      $16
When a California winery canceled huge contracts for pinot noir grapes two days before harvest, area wineries united to buy the fruit, make excellent wines and save the vintners' bacon. Chardonnay and pinot noir to follow soon.

Borsao Garnacha '17     Spain     $11
From 100-yr-old vines; heady, perfumed bouquet of ripe red and dark berries, incense and flowers; intense raspberry and cherry-cola flavors blending power, depth and finesse.
Tenute Rubino Oltremé Susumaniello '16       Italy      $14
Fresh, fragrant notes of cherries, pomegranate, raspberries and hints of ripe plum; fruity, minerally, and round on the palate with soft, pleasant tannins, a versatile and seductive pairing with richer dishes.
Shatter Grenache Vin de Pays des Côtes Catalanes '17      France    $19
From Old Vines in Roussillon's black schist soil; nose of dark fruit with a hint of espresso beans. Velvety texture with black currant, spice and cured meat flavors with a touch of coffee; firm structure, supple tannins with excellent acidity and overall balance.
click on photos for larger images
Friday Breads
Cinnamon Raisin – Made with a nice mix of bread flour and freshly milled whole wheat as well as rolled oats. Some honey for sweetness, a little milk for a tender crumb and loaded with raisins and a healthy dose of cinnamon. This is not a rich sweet bread with a swirl of cinnamon sugar, instead the cinnamon is mixed into the dough and flavors the entire bread. It is a hearty rustic loaf. Great for breakfast toast, even better for french toast – $5/loaf
Toasted Pecan & Flax Seed – This bread is a little different than most of the levain breads that I make as it is made with a starter that is fed with rye flour instead of wheat flour which creates a different flavor profile. The final dough adds bread and whole wheat flour, toasted pecans, flax seeds and honey for a very flavorful bread – $5/loaf.
Brioche au Chocolate – A rich brioche dough made with plenty of butter, eggs and sugar, rolled out and spread with pastry cream before sprinkling with dark chocolate. The dough is folded over all that delicious filling and cut into individual pieces. 2/$5
(note: breads must be pre-ordered by Wednesday for pickup here at the wine shop at our Friday wine tasting, 4-6pm. Email us to get on the mailing list!)
962 
Most of our regulars know Kellie, her mom and two brothers who frequent the wine shop on numerous Saturdays during the warmer months of the year or on Canadian holiday weekends (of which there seem to be many!) In the photo below are Craig, Kellie, and Mom…and, er, as we recall, this old photo was taken of them with another couple who happened to have the same name who were in the wine shop that day…
For about as long as we have known Kellie and her family, her husband Derek has been building a Porsche 962 race car. He somehow acquired the molds for the fiberglass sections of the body, and over the past 20  or so years has built a brand new version of the car.
Last Tuesday Island race car buff Tom Philpot and I drove up to Mission Raceway in BC for the car's debut on a road race track. As you can see in the photo, the car is (click on image for larger version) Pristine, just off a very lengthy assembly line.
Sadly, the tires on the car were 20 years old and had lost their flexibility. On his first turn Derek spun out through a 360, quite sobering! Since racing tires work by heating up and shedding layers of themselves onto the track for control, and lose that ability as they age, he had to proceed with a healthy sense of prudent restraint the rest of the day, a big disappointment. He was on the track for maybe an hour altogether, but never got to drive the car as it was designed to be driven.
Still, it was milestone event, and really fun to be that close to a classic race car!
Art Show Opening Sunday

This weekend begins a new art show at the Gallery, featuring our dear yoga teacher and (as we now have learned) accomplished painter Constance Drake. I know, I know, she has kept it a close secret from most of us up till now, so here is your chance to come see another side of She who tries to keep us Old people functional.
We had our first look at her latest works as we put up her show this afternoon. She uses   oils on wood or canvas to develop complex textures and color ranges that evoke the many moods of the Pacific Northwest that you all will recognize but may have a hard time defining.
Although the show will be in place beginning Friday, we invite you all to attend the opening reception this Sunday, August 4 from 3:30-5:30 to meet the artist, see the works, and visit over wine and snacks. The show will be on display through the month of August.
Mar a Lago Update: Mayor Pete's Paradigm Shift

In the interest of Full Disclosure, in case it hasn't been obvious, we are card-carrying political Progressives. Like most political terms, this word has different meanings for different people. Our meaning is taken from the values we grew up with in the 50's and sixties, when the political zeitgeist of the era was still firmly attached to the New Deal and the aftermath of World War II. The entire western world was breathing a sigh of relief, and there was a pervasive optimism even in our lower middle class household in Maine. Life was good, and we were proud and content to be Americans.
According to Mayor Pete (listen to podcast), our country basked in the Paradigm of the New Deal through the sixties and into the seventies. There were conservatives and liberals in both political parties, making party line votes in Congress  the exception when they happened. The general sense was that the government was on our side and reflected our common values.
All of that changed when Reagan brought in the Paradigm of the Bottom Line, which continues to this day. This new paradigm was based on the philosophy that, as Reagan put it, "Government is not the solution to our problem, government IS the problem." His administration then began the process of dismantling social safety nets, attacking unions, weakening economic competition, increasing defense spending, and increasing taxes on the middle class while lowering them for the wealthy. Under the auspices of "Supply Side" Economics, (aka Trickle-Down), the Rich got much, much Richer while everyone else has Struggled. The Public Trough could afford to pay for luxury cabins for the Very Rich, because they are, you know, the "Job Creators," but, alas, but Oh, so Sorry, you have Steerage ticket, no Lifeboat for you!

According to Mayor Pete, the rise of the Tweetster is one of many signs that we are ready for a New Paradigm. Most obviously, the Republican Mantra of shifting more and more tax burdens to the middle class, lowering tax burdens for the Wealthy, and exponentially increasing the national debt has stagnated the Real Incomes of the Middle Class for forty years.  We have a Congress stacked against progress by systematic gerrymandering across the Red States, a Supreme Court that condones both gerrymandering and unregulated campaign contributions by Corporations and the Very Rich that distort election results at all levels, and a Senate Majority Leader who refuses to bring to the floor any vote which is not in the interest of the Very Wealthy.
Mayor Pete suggests that it is time for a New Paradigm, a system where even those who are NOT Millionaires have a fighting chance for a satisfying and secure life– the life many of us oldsters experienced as kids in the Eisenhower-Kennedy years. Those who voted for the Tweetster were (we guess) choosing to Burn the House Down because they were Desperate after 35 years of Republican Trickle-Down Bullpucky. Like Chief Joseph, we all feel the politicians "made many promises, more than I can remember, but they never kept but one; they promised to take our land, and they took it."
In every instance that we have watched and listened to Mayor Pete, we have been moved by his intellect, kindness, and keen insight. This week, watching him on the stage with a dozen other candidates, we gained new insights into his unique gifts that differentiate him from the other candidates. In short, it does seem like time for a New Paradigm the whole middle class can get behind, and so far he seems the only candidate with the talent and temperament to deliver it.
Washington Post Tweetster Lie Count to date: 10,000 as of 5/1/19
This week's wine tasting

Three Rivers Steel Chardonnay '14   Washington   $11
Bright melon, freshly sliced apple and pear aromas lead to an incongruously unctuous texture and tasty apple and tart lemon with hints of minerality and a fruity medium dry finish.
Borsao Rose '18      Spain      $10
Spicy aromas and flavors of ripe red strawberry; nicely concentrated and supple, with refreshing minerality.

Crios Malbec '18   Argentina      $13
Bright, dark red. Redcurrant, black cherry, ripe strawberry and spices on the nose; sweet red fruit flavors are complicated by earth, licorice and menthol; creamy fruit is firmed by smooth tannins…a terrific value.
Lagone Aia Vecchio '16  Italy    $15
"Super-Tuscan"blend of Merlot, Cab Sauv, and Cab Franc. Rich and expressive, with aromas of cherry, vanilla, raw beef, and herbs; structured palate of plum, wild berries, and hints of spice, with a long finish that begs for food.
Juggernaut Hillside Cabernet '16   California   $19
Huge, rich, and opulent, with complex flavors of chocolate, coffee, blackberries, cassis, mint, and velvety tannins. New French oak adds notes of vanilla and toast; concentrated, rich, and smooth on the palate.
Friday Breads
Pain Meunier – aka "miller's bread" and was developed to honor the miller who mills the wheat. It is one of my favorite breads and contains all portions of the wheat berry: flour, fresh milled whole wheat, cracked wheat and wheat germ. Always a favorite and a great all around bread. It makes the best toast! – $5/loaf
Sonnenblumenbrot – otherwise known as Sunflower Seed Bread; made with an overnight pre-ferment before mixing in more bread flour and freshly milled rye, then loaded up with toasted sunflower seeds and some barley malt syrup for sweetness. This is a typical German seed bread- $5/loaf
Pain aux Raisin – made with the same laminated dough as croissants (!) The dough is rolled out, spread with pastry cream and sprinkled with a mix of golden raisins and dried cranberries that have been soaked in sugar syrup. Rolled up and sliced before baking. These are my favorites! – 2/$5
Pic St. Loup, cont'd
Last month we poured the Chateau Lancyre Pic St. Loup Rosé. It hit the spot for most of you, including even Riley (aka "he who only drinks Rosé.."). As we have mentioned from time to time, we maintain a certain fascination with the wines from this little region a short distance north from the French Mediterranean city of Montpellier. Visible in the photo, the "Pic" is a 640-meter "Tooth" of Rock that dominates the view for miles in every direction.
The wines from this place, which must be predominantly syrah, grenache, and mourvedre (as in nearby Southern Rhone) have a certain gravitas. The vines must be at least six years old (not three) before being harvested for making red wine; and because the vineyards are scattered among rugged hills sloping up from the Mediterranean, the  climate tends to be cooler and wetter than elsewhere in Languedoc, with numerous microclimates that favor particular varietals.
Typically, Pic St. Loup reds show deep color, good depth of flavor, and bold, spicy, meaty, and earthy complexity, and display more elegance and refinement than wines from the hotter Languedoc plains to the south. This week we are pouring the Chateau la Roque Pic-St. Loup Rouge, a blend of (of course!) syrah, grenache, and mourvedre…easy to enjoy!
Mar a Lago Update: Mueller has spoken…What Now??

As we all know, the big news this week has been the all day testimony of Special Counsel Robert Mueller before the House Judiciary Committee and the House Intelligence Committee. Politicians, pundits, and the rest of us who were hoping he would lead us by the hand through the 400+ page report on his team's investigation of Russian interference in the 2016 election and possible Obstruction of Justice charges against the Tweetster and other White House personnel were disappointed. Various spokespeople on both sides have claimed vindication, and few minds seem to have been changed by Mueller's words.
In a persuasive analysis of Mueller's testimony, former prosecutor and Politico Columnist Renato Mariotti details Mueller's careful walking of the Tightrope his position required him to maintain: "the verdict of history depends most of all on Mueller's being seen as nonpartisan, measured, and above the fray—an operator whose work is unimpeachable and can be relied on as a bulletproof statement of fact."
This argument goes a long way toward putting Mueller's behavior in context. Always careful not to advocate any conclusion or recommendation, but merely to deliver on his prosecutorial duty to present just the Facts, he deliberately and painstakingly has left it to others to decide what to do with them. He meets all of the very demanding qualifications of a Fair Witness, a concept developed by sci-fi author Robert Heinlein in his classic novel Stranger in a Strange Land, first published in 1961. The Fair Witness is an individual with an eidetic memory who has been trained to observe events and report exactly what is seen or heard making no extrapolations, assumptions or conclusions. An illustration of a Fair Witness testimony when asked, say, the color of a particular house, would be something like, "It was white on the side I saw."
The one name that popped up several times in the testimony was Don McGahn, former White House Counsel,  who according to many reports was prepared to resign rather than comply with the Tweetster's requests to fire Mueller. So far his testimony has been blocked by the White House, and the case might have to be resolved in court. From what we know about McGahn, he is a right-wing operative responsible for ushering through Congress the nominations of scores of ultra-conservative federal judges. On the other hand his willingness to resign rather than lie suggest the possibility that he would tell the truth to Congress if forced to appear (yes, yes, we know, that is definitely an uncharacteristic Republikan trait) rather than risk being caught in a lie. For the time being, we should keep pressure on Congress to bring McGahn to appear before Congress.
Washington Post Tweetster Lie Count to date: 10,000 as of 5/1/19
This week's wine tasting

Crios de Susana Balbo Torrontes '17   Argentina    14
Highly perfumed aromas of lemon drop, grapefruit, white flowers, peppermint and white pepper. Supple, pliant and easygoing, with citrus, herbal and floral flavors joined by a hint of licorice.
Adorada "Eau de California" Rosé  '17 California       $19
Brilliant coral color with aromas of strawberries and red grapefruit, rose petal, and jasmine; palate of strawberry, orange zest and a touch of white pepper spice and bright acidity to balance the fruity creaminess.
Linen Red '15   Washington   $11
Syrah-cab blend. Opens with charcoal, blackberry and spice on the nose, with flavors of plum, cassis, and cedar in the
turning to blackberry and peppery black fruits on the finish.
Chateau la Roque Pic-St. Loup Rouge '16   France   $16
A lithe and expressive red, with fine balance and well-structured flavors of dried cherry, plum and boysenberry, featuring hints of tarragon and cream on the finish. Grenache, Syrah and Mourvèdre.
Pomum Red '15       Washington       $19
Cab and cab franc with malbec, petite verdot, & merlot; aromas of both fresh and leathery red fruit and exotic spices; on the palate shows black cherry, cranberry and garrigue,  fine elegant tannins and a long finish.