(note: some photos will enlarge when clicked)
Bread Friday this week
Rosemary Olive Oil – made with bread flour and a bit of freshly milled white whole wheat for a little more flavor and texture. Fresh rosemary from the garden and olive oil to make for a nice tender crumb and a nice crisp crust. A great all around bread – $5/loaf
Oatmeal Pan Bread: A new bread to introduce into the rotation. Made with bread flour, fresh milled whole wheat and, of course, oatmeal. Plus a bit of honey. This bread has great flavor and makes perfect toast – $5/loaf
and pastry this week…
Morning Buns! – These have been made popular by Tartine Bakery in San Francisco, I use the same laminated dough as my croissants. The dough is rolled out, spread with a filling of brown sugar, orange zest, butter and cinnamon. Rolled up and sliced before baking. – 2/$5
Needle in a Haystack
One challenge of the last few weeks has been to get the Honda 9.9 outboard working on our little sailboat Dreamtime. We confess a broad lack of understanding of modern outboard motors, which seem fickle and moody, prone to random fits of pique today when they were running just fine yesterday.
Most of our marine engine experience for the last few decades has involved diesel engines, which, despite their many idiosyncracies, tend to run as requested despite their mood of the moment.
So it is that for the last several weeks we have been in a little dance with our outboard, trying to sort out why, after showing a willingness to start, it preferred to run with the choke engaged and with too high an rpm to allow easy shifting. Therefore it felt like the end of a long journey today finally to find and successfully adjust the idle adjustment screw that had been eluding us.
In the photo at left, in bottom center, there is visible a silvery bolt. At the right end of the bolt there is a dark opening. Inside the opening is located the idle adjustment screw. Because of the recess, the screw is not visible except from the left side at eye level. From above or forward the screw is not visible at all, which is to say, it is not visible from the boat it is mounted on. So it is with a great sense of aha! satisfaction today to have found and adjusted the previously invisible idle adjustment screw, the result of a fortuitous accident of having taken this photo that revealed it. Mystery solved…you know, for the moment…!
Pasanau

In the classic film "Sideways," there is a scene where our male anti-hero asks our female heroine (as I see it) what was The Wine that did it for her, i.e., made her Love Good Wine. And frankly, I don't remember what she said. What is important here is that the phrase "did it for you" roughly translates into, OMD, I never knew Wine Could Taste This Good! With the implication, of course, that Life would be Changed Forever from this experience, something between Transcendence and Addiction.
For us, it was a Frog's Leap Cabernet Sauvignon, probably around a 2000 vintage, which Pat's son Donald offered as an antidote for my futile quest to find the perfect $7 wine. Bear in mind this was around 2004, when dollars bought a lot more, and that this wine at the time was about $40, Way out of our experience or comfort zone. I remember wanting to be able to inhale more deeply because the aroma was So Seductive. Life has not been the same since.
In Donald's case the wine that did it for him was Pasanau Finca de Planeta, a blend of cabernet sauvignon and garnacha from the iconic Spanish wine region of Priorat, about two hours west of Barcelona. Pasanau is located in the Northwest corner of this very dry, rugged DOC very reminiscent of the American Southwest. It is famous for the complexity of its wines. Because its old vines have had to grow deep into the ancient schist, limestone, and licorella soils to survive and produce fruit, they have developed a certain profundity. We visited the winery a few years ago and were moved by its gnarly old vines and spectacular setting.
More important for you, by chance we have acquired a few bottles of the 2012 vintage of this wine at a substantial discount, allowing us to offer our limited supply for $35 each.
Mar a Lago Update: The Emperor's New Clothes

In the original fairy tale, the scenario was that the Emperor was apparently not the Brightest Bulb in the Box, suffered from an Excess of Hubris, and liked Adulation. And for whichever of those reasons, the Emperor bought some Very Sheer Invisible Clothes and wore them in a Parade. The Moral Takeaway from the story was that only a young boy was free enough from Cultural Inculcation to be able to Name what Everybody Knew.
This week is a landmark because, after so many years of Silence, so many Witnesses have come forward on the subject. These include: 1) a fascinating NY Times OpEd about the Chaos in the White House that reeked of  misguided self-righteousness and martyrdom; 2) Bob Woodward's methodical exposé of the Chaos in the Tweetster's Government; 3) the Bizarre Senate Judicial Committee interviews with the Tweetster's latest Federalist Society pro-Life, pro-Gun, Pro-Corporate Supreme Court pick; 4) the Tweetster's claim of Total Success in rehabbing Puerto Rico after last year's devastating Hurricane, despite troves of Evidence that the US Response was underfunded and understaffed to the point of Indifference; and 5) the Imminent Arrival of Hurricane Florence, just downgraded to Category 2 (100 mph winds instead of 130), but still LOTS of Rain and likely $100 billion damage, only the latest uptick in the now-inevitable-for-the-next-75-years annual Worsening of Storm Damage.
One is reminded of the Old Saying, "to Judge the Direction of the Wind, it is enough to look at a Single Blade of Grass." On the other hand, as with the boy Naming the Emperor's Nakedness, it won't work until enough people are willing to open their eyes…
Washington Post Tweetster Lie Count to date: 4713 as of 9/1/18

This week's wine tasting
Popolo di Indie Bianco '16 Italy $13
100% Cortese; aromas of white fruits blended with sweet citrus and a hint of tropical fruit that dance delicately on the palate, intertwining with fine acidity, a touch of mineral flavor and a long, soft.
Pech Celeyran Ombline Rosé '15 France $10
Nice fruity nose, and palate of red fruits, strawberries, and raspberries, with an appealing freshness ideal for summer afternoons.
Portteus Bistro Red '15    Washington    $13
Fun, smooth and easy drinking blend of Malbec and Merlot. A food friendly wine with delicate, elegant texture. Notes of blackberry, pomegranate, cocoa, honey and licorice, with a creamy finish. Over-delivers for the $.
Martoccia Poggio Apricale  '17    Italy  $14
Sangiovese Grosso with a little Merlot and Cab Franc; Fruity and persistent nose of wild berries and spice. Soft and balanced with fine tannins this Sant'Antimo Rosso works well with any meal!
Celler Pasanau Finca La Planeta Priorat '12   Spain $35
Crisp, focused aromas of ripe berries, asphalt, and spice; flavors of spicy plum, crushed peppercorn and mineral-rich schist; thorough and complex; drink through 2028.
(note: some photos will enlarge when clicked)
Bread Friday this week
Multi Grain Levain – Made with a sourdough culture and using a flavorful mix of bread flour and fresh milled whole wheat and rye. A nice mixture of flax, sesame sunflower and pumpkin seeds and some polenta add great flavor and crunch. And just a little honey for some sweetness. A great all around bread that is full of flavor – $5/loaf
Egg Bread w/ apples & honey – Some might call this challah, others shiksa challah, either way it is a delicious enriched bread full of eggs, honey, milk and butter, and dried apples for a lots of flavor. Braided into a round loaf ready to slice for breakfast toast. – $5/loaf.

and of course, pastry this week…
Chocolate Babka Rolls – A sweet pastry dough full of eggs, butter and sugar, rolled and spread with a chocolate filling, rolled up and cut into individual rolls – 2/$5
Ahhh…Drydock!

Seems as if we work toward it all through Labor Day Weekend and into the middle of the following week. In our case, Labor Day Weekend also means Artists Studio Tour, which means we are open our usual hours Friday and Saturday, Plus we are open all day Sunday, which makes for a Very Long Weekend.
Much of Thursday, Friday, and even Saturday, people are still Arriving, and there are long waits for all the cars trying to get to the Island for the weekend, carrying increasing numbers of second-home residents and VRBO renters for the Long Weekend. Then on Sunday and Monday there are long waits to get Off the Island as weekend visitors depart and full-time residents move a commuter car to the mainland for use during three weeks of annual drydock maintenance for the car ferry.
But by today– Thursday– the car ferry has gone South for three weeks' annual maintenance and the passenger boat has begun service. Island car traffic, always light by mainland standards, becomes downright vestigial, vastly improving the quality of daily roadside dog walks. On the one hand getting off the island is bit of a hassle, with lots of schlepping from car to boat to car and back. On the other, the inconvenience sharply reduces traffic, and Life grows Quiet and Less Complicated. For those of us of a Certain Age, it is more Comfort than Inconvenience, an invitation to a slower pace. Peaceful. Nice. A time for exhlalation…
For a Song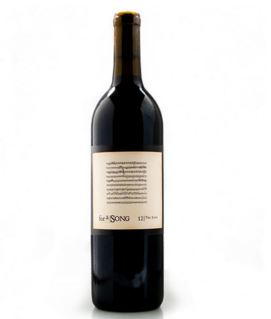 A few years ago our old friend Jack (who now lives part-time down the street) mentioned he had run a across a wine called "for a Song," and encouraged us to check it out. He was particularly interested in their merlot, which they called "The Score." We bought some. We liked it. Many of you liked it, especially at their quite reasonable prices. We also have carried their Chardonnay and their Cabernet, with similar crowd approval.
We like the idea of this winery. If truth be known, we wish we had thought of it. The concept is that a couple of guys with a dozen years experience in the wine industry set a goal to make pretty good wines at pretty good prices. They made deals with several established Washington vineyards to buy fruit, chose several popular varietals, and started making wine.
This week we are pouring their 2015 "The Score" merlot, which is showing pretty well right now. It is 95% merlot with a bit of cab sauv and syrah, aged in mostly neutral oak barrels. For those of you from Elsewhere, be advised that Washington merlot is often more tannic than local cab sauv, and this one, for all its mongrel pedigree, still tastes like Washington: structure, depth, flavor, and smooth edges.
Mar a Lago Update: Principle, Expediency, and Woody Allen

Matthew Fontaine Maury (1806-1873) was an American Navy officer who became the Father of Oceanography through years of research, observation, and writing. A key source of his data were thousands of ships' logs preserved at the National Observatory in Washington, D.C., where he was Superintendent in the mid-1800's. He is credited with a famous ethical observation, among many long required to be memorized by generations of Naval Academy Plebes:
"Where Principle is involved, be Deaf to Expediency." 
While last week's National Farewell to John McCain (Class of '58) did not mention this quotation, it was nevertheless the ongoing theme of the many eulogies to his life and national service. While McCain rarely strayed far from Republican Doctrine, he had the reputation of a Maverick who sometimes was alone in efforts to ramp down some of the most thoughtless and unprincipled ideologies of his party. It's a quality we admire.
Sadly, one takeaway from McCain's passing is that he was already an Anachronism in an era where Allegiance to Timeless Guiding Principles has been Replaced by on ongoing Bottom Line, a callous and pragmatic Governance concerned only with the accumulation and preservation of Power and Wealth. Nowhere is this more clear than in the cynical and self-serving Acceptance by Republican so-called Leadership of the Trumpster as Commander as long as he can bring in the votes to keep them in Power, and regardless of the Consequences for our country and our Global Future. The behavior of the Republican-controlled House and Senate is  guided by the exact opposite of Maury's ethic: "Where Expediency is involved, be Deaf to Principle."
Another way of looking at this is to recall the opening background lines from the old Woody Allen Movie Annie Hall, where he tells a story of a guy who complains to his Shrink that his brother is Crazy…believing he's a Chicken. The Shrink asks why the guy doesn't get his brother some help, and like Congressional Republicans, the guy says, "well, we would…but we need the eggs too much!"
To which we must Roll our Eyes, Slap our Foreheads, and Shriek, No, No, No, No, No! You WANT the eggs so much you are willing to trade Principle for Expediency and no longer know there is even a  difference! And we want to grab them by the Lapels and Shake Them until they Wake Up, and Shout to them, WTF is Wrong with you, you are Killing the Future and You Have to Stop!
Washington Post Tweetster Lie Count to date: 4713 as of 9/1/18

This week's wine tasting
Mer Soleil Unoaked Chardonnay '15   California    $16
A pure, clean expression of Chardonnay, fermented and aged in a combination of stainless steel and small concrete tanks. Aromas of flower blossoms and crisp pears, round and layered on the palate, with vibrant acidity and depth.
Fabre en Provence Rose '16       France         $10
Fruity, juicy & spicy with a strong  floral character and aromas of ripe strawberry, dried cherry, and peach shortcake; palate of melon and cream.                       
For a Song "The Score" Merlot '15    Washington  $11
Lush and concentrated, with big New World notes of dark plum, blackberry, and cherry, and earthy Old World notes of coffee, dark chocolate, and leather.
Turner Pageot Le Rouge  '14    France     $19
Red wine from biodynamic vines, 80% grenache and 20% syrah; heady nose of mixed red and black fruits, brioche, polished leather, iodine, tobacco and spice; full bodied and well balanced, scarlet and spicy, bright yet brooding.
Torbreck The Steading '12    Australia    $25
Deep-pitched cherry and blackberry aromas; sweet, expansive black and blue fruit flavors that become  firmer and spicier with air and show very good depth and energy. Closes with strong  persistence and an echo of candied licorice.
(note: some photos will enlarge when clicked)
Bread Friday this week
Buckwheat Walnut & Honey – Fresh milled buckwheat and bread flour. Buckwheat is a seed not a grain, closer in the plant family to rhubarb and sorrel than to wheat and contains no gluten. Buckwheat has an earthy flavor that in this bread is balanced with a little honey. Some toasted walnuts add a nice crunch. This bread goes well with meats and cheeses – $5/loaf
Poolish Ale – The poolish here is made with bread flour, a bit of yeast and a nice ale beer for the liquid, instead of water, and fermented overnight. Mixed the next day with bread flour and fresh milled whole wheat. This makes a great all around bread with a nice crisp crust – $5/loaf
and pastry this week…
Chocolate Croissants – a traditional laminated french pastry made with a bit of sourdough flavor and another pre-ferment to help strengthen the dough to create the traditional honeycomb interior. Rolled out and shaped with delicious dark chocolate in the center. – 2/$5
Studio Tour Hours This Weekend

OPEN Friday  4-7 
Bread pickup and wine tasting
OPEN Saturday (9/1) 1-6, and Sunday (9/2) 1-5
Artists' Tour and wine tasting
Our visiting artist is Kim Obbink, showing her latest series of finely detailed drawings and paintings of island botanical and marine life subjects.
She has created multimedia images using mostly watercolor and colored pencils to capture not only the visual details of each subject but also to project its feeling and energy. And as she pointed out while hanging the show, like Audobon's birds, their beauty is of their husks, the bodies they leave behind. Ah, we organic beings are so fleeting…!
Colli Euganei

(click for larger photo)
Colli Euganei (Euganean Hills) were formed from volcanic activity (and they look it) some fifty million years ago. They are just visible from Venice to their South, and have long drawn visitors with their picturesque beauty, hot springs, and calming energy. The poet Petrarch moved there around 1370, late in his  life, writing, "I have built me a house, small, but pleasant and decent, in the midst of slopes clothed with vines and olives,"—a house that may be seen there today in the village of Arquà Petrarca.
The Euganean hills also inspired Shelley's Lines Written Among the Euganean Hills:
'Mid the mountains Euganean I stood listening to the paean
With which the legion'd rooks did hail The sun's uprise majestical…
The volcanic history also makes the soils here rich in minerals and trace elements not found in other Venetian subregions, making it attractive for growing Red Bordeaux varietals Merlot, Cabernet Sauvignon and Cabernet Franc. Today's Rosso from Vignalta is a smooth and powerful blend of merlot and cabernet sauvignon from the vineyards of Colli Euganei. Hopefully it will make us all wax poetic!
Vranec
Vranec (pronounced 'Vran-etz'), is Macedonian for "Black Stallion;" wines made with it are deep red, almost black, and imagined to manifest a stallion-like strength and vigor. Vranec can also means "raven-colored," which is why the wine is known also as "black wine" in Macedonia. An ancient Balkan varietal, it represents the warmth and strength of the Macedonian people.
Vranec wines have an intense, dark red color and rich aromas of dark ripe fruits. The palate is full and balanced. When young, it shows a light purple color and aromas of strawberry jam and wild berries. With age, vranec develops darker color and complex aromas of wild berries, dried fruits, and chocolate, with rich tannins. It is usually blended with merlot, cabernet sauvignon, or syrah to which it adds a bold intensity. This week we are pouring the Straight Stuff not blended with anything else. It's easy to develop a fondness for these ancient varietals that have maintained their appeal over countless generations, literally a taste of the Past.
Mar a Lago Update: The Federalist Society and Class Warfare

For some reason over the last bunch of years, probably just not paying close enough attention, I have been laboring under the false assumption that the contemporary Federalist Society has something to do with the Federalist Papers of the 1780's. So it is pretty surprising in one sense that closer examination suggests that they are to a large degree Philosophical Opposites. Doh!
The Federalist Papers were a series of eighty-five letters (essays, really) written to newspapers in the late 1780s to urge ratification of the U.S. Constitution by celebrated statesmen Alexander Hamilton, James Madison and John Jay. The essays were published as a book, The Federalist, in 1788. Collectively they tried to make the case that conflicting goals and interests among individuals and states could best be reconciled through the representative nature of the proposed Republic and the checks and balances built into the new Constitution, which was specifically designed to upgrade the failing Articles of Confederation. While their impact on the eventual adoption of the Constitution was probably minimal, the papers served to outline for future generations the concerns of the time.
The Federalist Society for Law and Public Policy is something Entirely Different. It is essentially a Political Action Group that has distilled and bottled the legal philosophies of Antonin Scalia into a Code. Its guiding hand is Leonard Leo, a Conservative Catholic Deeply Opposed to a Woman's Right to Choose, who has essentially dedicated his life to packing the Supreme Court with Justices supporting the paradoxically-named "Pro-Life" movement Dedicated to Bringing Every Conception, however destined for Pain and Suffering, into Whatever Precarious Existence. To a very large degree, this so-called "society" and its so-called "conservative views" are only the Latest Manifestation of the tendency of Human Societies to revert to its Default Organizational Setting: Feudalism.
By this we simply mean that whenever No One Is Looking, the latest group of Dominant Male(s) will Take Arms, Take Charge, enlist a bunch of Young Toughs by promising them Loot and Maybe Even Women, Kill everyone who resists, and dole out Subsistence Resources by whatever psychopathic rules seem appealing to the Leader. (see Venezuela).  Think of it this way: Feudalism is the political-organization equivalent of the Theme Song from M*SH…or as Bob Dylan put it: when you got Nothin' you got Nothin' to lose.
Bottom Line: under the auspices of Freedom, the goal of the Federalist Society is to pave the way toward the New Corporate Feudalism, under the Tacit Pact of "YOU make abortion illegal and WE will be your Unquestioning Serfs Forever." After all: Corporations ARE more important than People!

Washington Post Tweetster Lie Count to date: 4229 as of 8/1/18

This week's wine tasting
Naia Naia  '16    Spain     $12
100% Verdejo with 12% fermented in French oak. This fragrant, medium-bodied offering displays enticing aromatics of grapefruit, lime, and kiwi, a round, smooth-textured mouth-feel, and a crisp, refreshing acidity.
Saint Nabor Gris de Gris Rose '16       France         $10
Bouquet of red fruit and honeysuckle with linden-tree nuances; light, crisp and easy drinking, with palate of wild strawberries and blueberries with mineral nuances.
Domaine La Croix Belle Caringole '14      France       $11
Syrah, Carignan and Merlot blend from Languedoc's Cotes de Thongue region; fresh and supple with flavors of cherry, and black olive, and herbs.
Jordanov Vranec '15    Macedonia   $11
Displays ripe berry fruit and an exotic stream of baking spices like clove, nutmeg and cardamom on the nose. In the mouth it is full bodied with ripe dark fruit and hints of herbs with a noticeable dark chocolate edge on the well-structured finish. Enjoy with cheese, beef or lamb dishes or grilled sausages
Vignalta Colli Euganei Rosso Riserva '09   Italy   $21
Merlot and cabernet sauvignon from volcanic hills north of Venice. Rosso Riserva is a true and delicious expression of its terroir, nice balancing of fruit and tannins, softened with two years of oak barrel aging.
(note: some photos will enlarge when clicked)
Bread Friday this week
Cinnamon Raisin – Made with a nice mix of bread flour, freshly milled whole wheat, and rolled oats. Some honey for sweetness, a little milk for a tender crumb and loaded with raisins and a healthy dose of cinnamon. This is not a rich sweet bread with a swirl of cinnamon sugar, instead the cinnamon is mixed into the dough and flavors the entire bread. It is a hearty rustic loaf. Great for breakfast toast, even better for french toast – $5/loaf
Spelt Levain – Spelt is an ancient grain with a nutty, slightly sweet flavor and has gluten but it isn't as strong as the gluten in modern wheat. This bread is made with a levain, or sourdough, traditional bread flour and about 1/3 spelt flour, fresh milled whole spelt and fresh milled whole rye. It is a great all around bread – $5/loaf
and pastry this week…
Gibassiers – A traditional french pastry that incorporates the flavors from the south of France. Made with a delicious sweet dough full of milk, butter, eggs and olive oil. The addition of orange flower water, candied orange peel and anise seed bring great flavor to these pastries. After baking they are brushed with melted butter and sprinkled with more sugar. Ooh La La! – 2/$5
Wine Shop Hours Next Two Weekends

This weekend:
OPEN Friday (8/24) 4-6 and  CLOSED Saturday 8/25
Next weekend (Labor Day Artists Studio Tour):
OPEN Friday (8/31) 4-7, Saturday (9/1) 1-6, and Sunday (9/2) 1-5
Studio Tour Artist Preview!

As mentioned a few weeks ago, our Island Quilters are not all that into displaying their work. And while that is very disappointing for those of you who did not get a chance to see their Show, those of us who did should all count ourselves Fortunate to have had this month's Brief Opportunity to visit with their latest creations for a bit. In any case, the IQ's have taken down their all-too-short show, but on the positive side have made room for a new Studio Tour artist at the Gallery this year, Kim Obbink,  showing her latest series of finely detailed drawings and paintings of island botanical and marine life subjects.
These are  multimedia images using mostly watercolor and colored pencils to capture not only the visual details of each subject but also to project its feeling and energy. And as she pointed out while hanging the show, like Audobon's birds, their beauty is of their husks, the bodies they leave behind. We organic beings are so fleeting.
Some images she painted from microscope viewing, affording intriguing, detailed views of tiny forms we rarely see.
Don't miss it!
Found Button
Last Friday this very attractive button was found on our floor. Looks like the back is a snap fitting of some kind. As you can see from the highlighted reflections, there is a lovely mother of pearl element. This is a  little Treasure that someone is probably missing…and we have it for you!
Mar a Lago Update: Approaching Target Acquisition

The Tweetster's "Witch Hunters" have shown Great Discipline. Like our favorite winemakers, half Geek and half Aritst, they have followed the Money; they have Unraveled the Lies; they have Deconstructed the Tweets. Coach Manafort and Manager Cohen have been tracked, trapped, and sent to the Penalty Box. The Tweetster and Staff are headed into the last of the Eighth with a Tied Score, the opposing team at bat, nobody out, opposing runners on First and Third, and half their starting team thrown out of the game. The fans are all standing.
Probably the next Strategy will be somehow to make it necessary to Call the Game due to Rain. Everyone will be issued a Rain Check to gain admission to a Future Game of their choice, you know, if there ever is one. What could be More Fair than that?
There was perhaps a brief period, through ought-Sixteen and -Seventeen, when it seemed Inevitable that the accumulated Lies, Scandals, and Incompetences would soon be the Final Downfall of the Tweetster's so-called Government. But we have seen repeatedly that the Reasoning faculties of the Forty Percent who support him No Matter What and the political exigencies of Republican Leaders who pander to him because he keeps delivering that 40% predispose them to remain in Denial about the Existential Danger they and Our Country are in. Like Alfie, their ongoing koan is "what's it all about…?…Is just for the moment with you..? What's it All about…is it wrong to take More than you Give…?"
Which is a pretty good summary of the fundamental Existential Question of our Time, something of a litmus test for identifying Party loyalty.
Washington Post Tweetster Lie Count to date: 4229 as of 8/1/18

This week's wine tasting
Anne Amie Amrita White '17   Oregon    $14
Palate-tickling blend of riesling, pinot blanc, muller thurgau, viognier, gewurz', and chardonnay; and ; aromas of elderflower, starfruit, Rainier cherry, and lemon; palate of white strawberry, kumquat, golden raspberry and St. Germain,  and pairs nicely with Asian spices.
Sable de Camargue Rosé Gris '17 France $15
70% Grenache Gris, 20% Grenache Noir, 10% Syrah; taste sea and sand from the Camargue in this lovely, fresh rosé that has a nose of fresh-picked strawberries and cherries with hints of maritime air and a clean and simple finish.
Domaine La Croix Belle Caringole '14  France   $10
Syrah, Carignan and Merlot blend from Languedoc's Cotes de Thongue region; fresh and supple with flavors of cherry, and black olive, and herbs.
Monte Tondo Valpolicella '16   Italy    $15
The grapes are dried for about a month in a well ventilated "fruttai" before pressing, and ultimately aged for five months in oak. Not a frivolous wine, it packs loads of sour black cherry aromas, spices, violets, and rosves.
Kerloo GSM Majestic  '15    Washington     $24
Aromas of leather, black cherries, plums, black pepper, and earth. On the palate smooth and silky with bright,  spicy-salty red cherry notes, dusty roses, tobacco, light baking spices, and wet stones.