(note: some photos will enlarge when clicked)
Bread this week
Buckwheat Walnut & Honey – a nice flavorful artisan bread. Made with fresh milled buckwheat and bread flour. A little honey to balance the earthiness of the buckwheat and some toasted walnuts for a nice crunch. This bread goes well with meats and cheeses – $5/loaf
Spelt Levain – People often ask if I ever use spelt, I have in a few things including some really delicious scones I made for the island cleanup. This will be the first time for using in bread for me. Spelt is an ancient grain similar to wheat and has a nutty, slightly sweet flavor. It has gluten but it isn't as strong as the gluten in traditional wheat. This bread is made with a levain, or sourdough, traditional bread flour and about 1/3 spelt flour and fresh milled whole spelt. It should make a great all around bread – $5/loaf

And for "pastry" this week…
Hamburger Buns! Made with bread flour and freshly milled whole wheat, some milk and butter for a tender crumb, and topped with a flavorful onion topping. These are nice soft buns that go well with everything. 4/$5
Bread pickup and weekly Wine Club Happy Hour Friday 4-7.
Studio Tour Artist: Anne Gibert

As we mentioned last week, our Studio Tour artist this weekend is Anne Gibert, our talented neighbor a few hundred yards down the road. Anne likes to paint from her own photographs, taken at random here on the island, or in Alaska, or wherever. Her photos, and therefore her paintings, include a number of Islanders, including men and women and various critters that many of you will recognize.
Many of you will recall Anne's show a couple of years ago of Twenty Two Portraits of Lummi Island Women, which drew a lot of enthusiastic interest. Unfortunately this time only a Lucky Half-Dozen will get the "Pow'r the giftie gie us To see oursels as ithers see us!"
Nevertheless, even with only six "surprise" Portraits, one of the subjects (not a Pigeon!) was offended to the point of asking that the painting be removed from display. And so we have yet another example of the Reciprocal Nature of "Rights." Does the Artist have the right to photograph Anyone and Anything and then render that photo into a painting? Or does the the Subject have the Right Not to be photographed or painted? This is one in a nearly infinite number of cases of reciprocal impacts about which the Law is Undecided. Should the Artist have to pay the Subject for the Right to Paint and Display, or should the Subject have to pay the Painter for the Right to Withhold From Display?
As of this writing, the Law appears to be with the Artist, so it is Most Gracious of Anne to remove the painting solely for the Comfort of the Subject. And it seems Most Self-Absorbed for the Subject to Castigate the Artist for creating an Artifact that in the Main has Nothing Whatsoever to do with the Subject (I Bet You Think This Song is About You…).
Reminder: Studio tour hours are Saturday and Sunday from 10-6. Meet the artist from 10-1 each day, followed by wine tasting from 1-6.
Polarities
Every once in a while I recall a scene from the old Kung Fu TV series, in which David Carradine played Caine, a wandering Shaolin monk in the US West. Each episode was punctuated with several instances of his young self being taught by the Shaolin Masters.
In one episode, Caine had sold a sextant that had belonged to his Father. His teacher asks why, when he has very few mementos of his father. Caine replies, "But Master, have you not taught us that to Dwell in the Past is to Rob the Present?" To which the Master replies, "It is true, to Dwell in the Past is to Rob the Present; but to Forget the Past is to Rob the Future!"
So it strikes us this week with the Removal of the Confederate Generals from various Memorial sites in New Orleans this week. Lee was a West Point Grad torn between conflicting Loyalties. It costs us little to admire him as a Tragic Hero in a Difficult Time, and though Times have Changed in the 150 years since Lee walked in the World, the Confederacy is a vital part of our History. To Remember is to Consider, not to Glorify. And to Forget is to Lose Perspective.
Mar a Lago Update 5/25/17

It has been a Strange Week for the Royal Family. At home the Media Jackals are sensing Weakness and Jumping Up and Down in True Chimp Fashion as more and more information seems to indict many Administration Players for Wrongdoing. Abroad the Acting King visits Foreign Courts with Scripted Praises aimed at the Two-Year-Old Audience.
Just today the Crown Prince was named as an Important Witness with possible Light to Shed on the Broad Topic of WTH is Going On. Each day the entire situation becomes more Surreal; i.e., we are all Bruised from Pinching Ourselves every few minutes and asking, "Am I Crazy? Is This Really Happening?"
Meanwhile back in what passes for "Government," Dissembler in Chief McConnell draws a Sharp Line in the Political Sand, paraphrasing Stephen Decatur's famous Toast from 200 years ago: "My Country–May she ever be Right! But Right, Far Right, or Outa Sight Right, My Country!"
This week's  wine tasting
Barone Fini Valdadige Pinot Grigio '15    Italy    $14
From the high Italian Alps of Alto Adige; crisp, clean, and focused on the palate, with ripe, juicy flavors of honeydew melon and ripe apples, bright acidity, warm minerality, and a lingering finish.
Mas des Bressades Rosé '15   France  $12
Spicy aromas and flavors of ripe red berries, orange, and pungent flowers; Nicely concentrated and supple, gaining weight with air, picking up bitter cherry and melon notes and a lingering red fruit liqueur quality.
Monte Antico Rosso Toscana '12    Italy    $10
A blend of sangiovese, merlot and cabernet sauvignon. Medium to full body with dried cherry, milk chocolate and light chili aromas and flavors. Long and delicious. Caressing mouthfeel with bright acidity.
Dom. Mas Blanc Collioure Piloums '14     France         $12
Unique, easy drinking soft blend of syrah & grenache; earthy, toasty, and pruney aromas lead to an unusual palate with notes of cherry and tobacco, good body, a bright thread of acidity and a touch of bitters. A great value!
Goose Ridge g3 Red '`14     Washington    $14
Syrah-cab-merlot blend; supple ripe plum and blackberry notes with hints of spice, vanilla, black currant and Bing cherry. Nicely balanced with a lush, round mouth and a long, lingering finish.
(note: some photos will enlarge when clicked)
Bread this week
Multi Grain Levain – Made with a sourdough culture and a flavorful mix of bread flour,  fresh milled whole wheat and rye. A nice mixture of flax, sesame sunflower and pumpkin seeds and some polenta add great flavor and crunch. And just a little honey for some sweetness. A great all around bread that is full of flavor – $5/loaf
Breton – Incorporates the flavors of the french Breton region. Bread flour and fresh milled buckwheat and rye make for interesting flavor and the salt is sel gris -the grey salt from the region- that brings more mineral flavors to this bread. Goes great with meats and cheeses – $5/loaf
And for pastry…
Fruit & Spice Rolls – Not as sweet as many of our pastry choices these include almost half whole wheat and plenty of butter, sugar and egg, dried cranberries and golden raisins along with fresh orange peel and orange juice plus anise, cinnamon, mace and cardamon; an interesting and flavorful bun to have with your morning coffee. – 2/$5

New stock of Theo's Chocolate!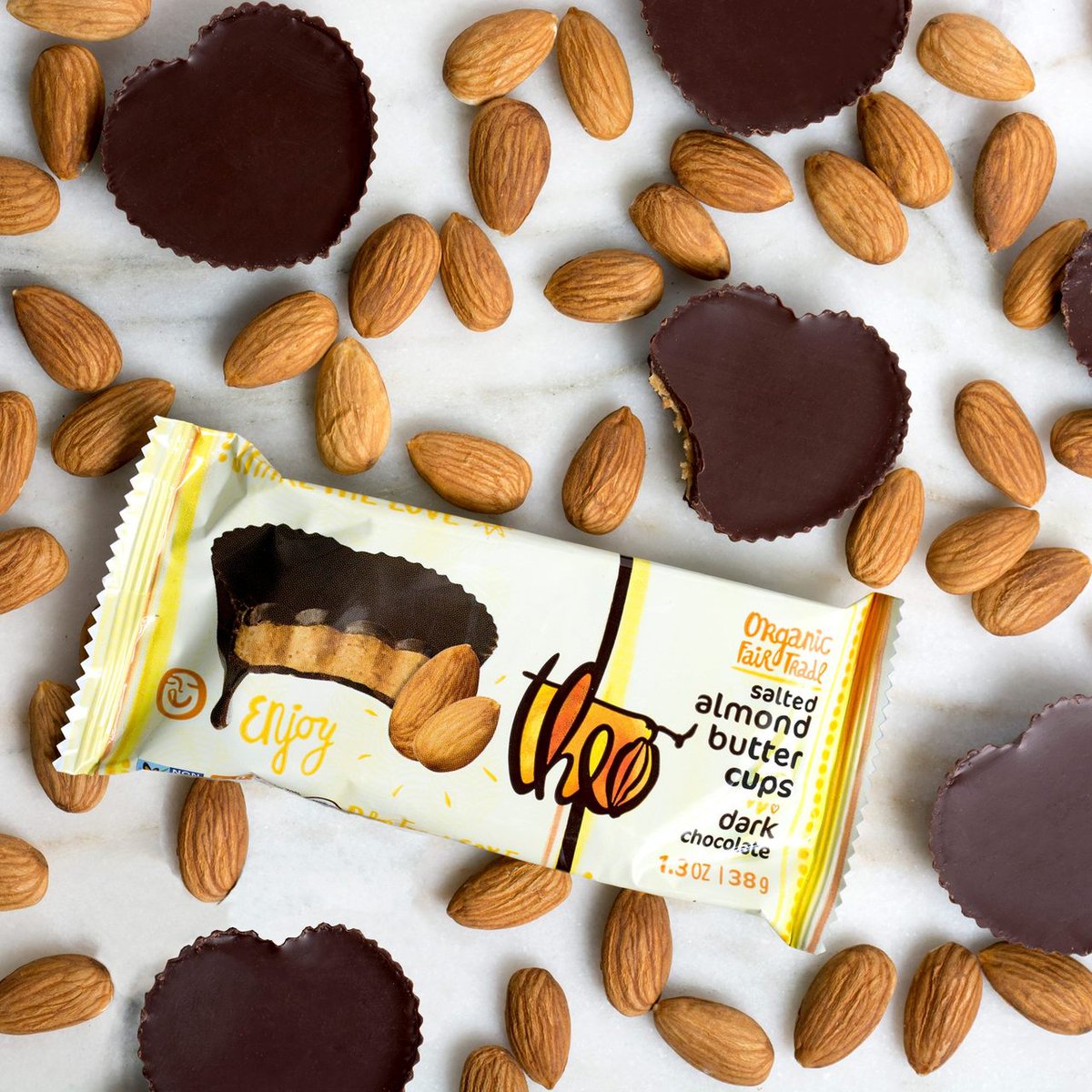 We have been carrying a selection of Theo's Chocolate bars since the time some years ago when we did one of their Factory Tours. They are located in Seattle in the old Red Hook Brewery in Fremont, and give tours twice daily. In case you are wondering, Yes, you get Lots of Samples! And since, as they are fond of saying, they were the First Organic, Fair Trade, Fair for Life certified Bean-to-Bar Chocolate Factory in North America (OMD, does that mean there are now Others?), Who could Possibly Resist? Who would Want To…?!
Even more interesting, for the first time in many years a few of our old-favorite bars are no longer available…for example the Coconut Curry milk chocolate seems to have gone the way of the Dodo, along with a few others. On the other hand there are some new items we are trying out that many will find irresistible: Salted Almond Butter Cups, Coconut Bites Dark Chocolate, and Salted Almond Clusters.
Admit it…it's really comforting to have these little Diversions Available in these Troubled Times. We all need a little Treat from time to time, n'est-ce pas?
Anne's New Show

Although we have another week before Studio Tour, today we installed our new show of Anne Gibert's recent paintings. The painting at left is from an old photo of her mother, and it goes well with the flowers (Bird of Paradise??) next to it.
This show also includes portraits of a number of Islanders, both men and women, that many of you will recognize and recall Anne's show a couple of years ago of Twenty Two Portraits of Lummi Island Women which drew a lot of enthusiastic interest. Unfortunately this time only a Lucky Half-Dozen will get the "Pow'r the giftie gie us To see oursels as ithers see us!"
Mar a Lago Update

Hey, it's been another busy week for Alternative Reality. Is this Entertaining or What? We begin to Marvel and Wonder, "Wow…how long can they keep this up?" It's a little like one of those occasional Fireworks displays where the Finale goes On and On and you think it is Like So Over This Time, and then Wham and Kaboom, here comes another Show Stopping Display. And we are Reduced to mesmerized Oohs and Ahs. Oh, the Wonder of it!
As we go to press here today Special Prosecutor Mueller has been Assigned to Get to the Bottom of the Russian Connections and the Mediaverse is Abzolutely Abuzz! The inescapable Image is of Gandalf the Grey plummeting into the Abyss with the Balrog…will he Ever Reach the Bottom? Will he Ever Return? Will we Ever Know What Really Happened? More to the point…will we ever Find a Way Back to our Own Reality?
Preliminary betting reports from Las Vegas are starting to lean toward mild-mannered (but somewhat cogent) Ultra Conservative VP Pence (who BTW just filed to start his own PAC…) to step in for the Twitster-in-Chief as his Tiny Supply of Marbles Rolls and Clatters Away at Every Turn. Sad!

This week's  wine tasting
Maryhill Viognier '15        Washington       $14
Vibrant aromas of orange zest, honeysuckle, and pink grapefruit; flavors of lemon, pear, and white peach. The mouthfeel is delicate, yet full-bodied, with lingering notes of fresh flowers.
Jean-Luc Colombo Rosé Cape Bleue '15 France   $11
Soft, delicate pink bouquet with subtle hints of peach, rose petal and pepper on the nose; complex flavors with intriguing notes of raspberry, cherry and black olive.
Rubino Marmorelle Rosso '14      Italy        $11
Negroamaro-Malvasia Nera blend; aromas of cherry, black currants, blueberries and blackberries; hints of nutmeg and cocoa that follow through on the warm and satisfying palate.
Chateau de Cabriac Corbieres '14 France $14 /strong>
Syrah, Mourvèdre, Carignan, Grenache; aromas of black berry fruits; palate shows blackcurrant, blackberry and hints of coffee. The flavors continue to develop to a dense and powerful finish.
Cloudlift Panorama Merlot '13 Washington $24
Elegant merlot-dominant blend with Cabernet Sauv (11%) and Cab Franc (9%) aromas of coffee, flowers, dried herbs, and red- and black-fruit followed by elegant, lightly creamy fruit flavors that carry through the finish.
(note: some photos will enlarge when clicked)
Bread this week
Seeded Country Hearth – A nice artisan bread made with bread flour and about a third fresh milled whole wheat. Loaded up with pumpkin, sunflower and poppy seeds for lots of crunch and flavor. A great all around bread -$5/loaf

Buttermilk Currant – A really flavorful loaf made with bread flour and almost half fresh milled whole wheat. A little honey for sweetness balances the flavors of the whole grain, buttermilk makes for a soft and tender crumb. Then lots of currants and just a little rosemary round out the flavors. This bread makes great toast and even better french toast- $5/loaf
And this week's pastry…
Gibassiers – A traditional french pastry made with a delicious sweet dough full of milk, butter, eggs and olive oil. Orange flower water, candied orange peel, and anise seed bring great flavor to these pastries. After baking they are brushed with melted butter and sprinkled with more sugar. Ooh La La! – 2/$5
Didy's Gift

Didy Lutz was the artist for our first real Art Show about ten years ago. The poster shown here is one we made for Didy's show, using one of her paintings that we have hanging in our living room.  Didy and her husband Martin grew up in Switzerland in the thirties, met young, and eventually married. They lived all over the world as part of Martin's career as a civil engineer. Their native language was High German, and they carried themselves with a warm and inviting Dignity.
Martin passed away several years ago, and Didy followed him just last year. So it was something of a surprise to hear from their son Chris, whom we had met in the wine shop back in 2010, that he was engaged in a process of distributing many of Didy's unsold paintings to her old friends and family. He posted photos of the collection and invited each of us to select our favorites, in order, (which was not easy, because we liked all of them!), and he would hopefully be able to send us one we liked. Well, two days ago a package arrived with four paintings from our list of ten "favorites!"All in all it has been an unexpected, undeserved, and touching gift.
We encourage our readers to visit the site and browse through these images to get a taste of Didy's style: abstract and colorful and evoking with each work a timeless and captivating "right nowness" that was one of her particular gifts.

May wine

The occasion was our friend Thurid's 80th birthday last Sunday. The first thing you have to know is that 80 is to Thurid as 60 is to most of us. The second thing is that she and her late husband Bob introduced us to Didi and Martin (see above), eventually leading to our show of Didi's paintings and the recent arrival of the new ones mentioned above. And the third thing is that just about everyone on the Island knows and loves her.
So it was no surprise that when Thurid thought she might have a little birthday celebration, LOTS of people got involved. The setting was the Community Garden at the Curry Preserve, on an astoundingly beautiful Spring Sunday. There were rows of tables laden with delicious dishes and more tables laden with delicious desserts! The entire scene deserved to be rendered in oil by one of the Impressionist Masters who could have captured the Magical Light and Shadow of the day.
There was one Other Table next to the food with a Large Bowl of May Wine, the traditional celebratory beverage of May Day celebrations. May wine is made by infusing riesling (in this case a Washington riesling) with fresh flowers of Sweet Woodruff, found in abundance in most northern climes in early May. The infused riesling is then combined half and half with sparkling white wine (in this case Italian prosecco), and garnished with a few blossoms of Sweet Woodruff.
All you need to know is that it was absolutely Delicious, and we hope to mix some up at the wine shop very soon!
Signs of Madness Escalate

Well, it's been another Busy Week in the Nation's Capital. Any casual observer would have to concede that the Efficiency with which the new so-called Administration can create Chaos is constantly improving, perhaps even accelerating. Though at first glance that seems more of a Shortcoming than an Asset, the strategy so far has been working Flawlessly. Such is the Magic of Complete Control of Government.
The current Chaos surrounding the Firing of the FBI Director is a case in point. While the Well-Fed Media Pundits and Congressional Politicians Pose and Postulate about What It Could Mean, the Family Fascists are sitting around the pool planning their next Outrage. And all along the Republikan Faithful are unwilling to act because it might hurt their Polls at Home. Somehow, through some kind of Time-Space Warp, we have all been caught up in some Dark Mitch McConnell Wet Dream where the Spoils all Flow toward the most Blatant Hypocrisy.
Our Challenge is highlighted by the recent firing of FBI Director Comey. As the legal and Constitutional Violations of the Administration mount and Accumulate, more and more depends on the resiliency of our layers of Bureaucracy to continue Doing their Jobs and adhering to their oaths to Defend the Constitution against All Enemies, foreign and Domestic. Make no mistake, this is a True Crisis, and any reasonably Divided Government would Circle the Wagons and run these Clowns out of town in Tar and Feathers on a Rail. They still haven't Gotten It that Jabba only wants them for the Fat they can Render…(take note, Mssrs Ryan and McConnell…(slurp!)
This week's  wine tasting
Cloudlift Chardonnay '14   Washington    $18
Delicate aromas of dusty strawberry and dried Rainier cherry. The structure brings crushed cherries and white strawberry flavors, leading to a finish of black currant.
Chateau Lancyre Rosé '15  France   $12
Brilliant pink. Nose of ripe red berries and tangerine; Fleshy, seamless and broad palate of plush raspberry and candied orange and a touch of bitter herbs.
La Mijane Arpege '13    France    $14
Oceanic influences  create an alternation of warm sun and cool breezes, which develop complex, original and balanced wines.

Castillo la Mendoza Crianza  '13              Spain         $13
Ruby red with nose of red ripe fruit and morello cherry with vanilla and coconut notes; warm and round, with fruity flavors with notes of figs, toast and licorice; very easy to drink.
Rubino Punta Aquila Rosso     Italy     $15
Fragrant and rich, with fascinating mineral aromas, with notes of brandied cherries, mulberry jam, blueberry and blackcurrant, and spices; warm, complex, generous and vibrant.
(note: some photos will enlarge when clicked)
Sorry, no bread this week
Janice, our Stalwart Baker, is away this week, so there is no bread pickup this week. Those of you on the bread order email list should hear from her next Sunday or Monday with the details of next week's offerings.
Our Next Sunday Concert May 21!
Singer/songwriter/therapist (and Lummi Island familiar) Rob Hutchings has played his music in the wine shop numerous times over the past year, where many of us have  enjoyed his expressive and emotive style: "With these songs of awareness, we celebrate our creative connection with an intention of healing." For this concert Rob is teaming up with bluegrass mandolin/guitarist Perry Welsh, who brings his dynamic picking/strumming patterns to this musical collaboration in which unique rhythms frame the narrative elements of Rob's songs. It's gonna be fun!
Btw, for those of you who are musicians, Artisan Wine Gallery offers free wine tastings to anyone who volunteers for a fifteen-minute gig in the shop during our regular open hours! Acoustic music sounds great in our space, no amps necessary…all you have to do is show up!
Music from 4-6pm. Suggested donation is $15. Wine by the glass.
Space is limited, so please email us to reserve space.
Back Porch Robins Week 2
Until a week ago we had not had a close-up experience with wild bird nesting and nurturing hatchlings. So it has been fascinating to watch this archetypal scene unfold right outside our bathroom window. Last week we reported that two chicks had just hatched. Turns out we were wrong about that– there are now three chicks clearly visible in the nest, and they are growing FAST! Assuming these babies are just over a week old, within a week or so they will each take their first "flight," which will essentially mean a one-way trip from the makeshift nest constructed for their birth to the Ground, where for another week or so they will be easy pickings for all kinds of Predators. Which seems, you know, like a pretty poor design. Then again, maybe that's the reason for three chicks…a better chance that at least one will survive.
All of this reminds me of a time several years ago when I noticed our dog Cooper on the back deck making a strange sound. Closer examination revealed that he had a tiny bird that fit almost entirely into his mouth, and it was cheeping. He was a very gentle dog, and easily gave up his find. We took the bird to our neighbor Tammy, who for a long time had her own aviary, for rehab.
All of which is to say, OMG, in the next week these little birds are going to launch themselves out of their safe (but increasingly crowded each day), elevated, and predator-hidden nest to the Ground, where Life is Really Scary for that Long Week until you are strong enough to fly away from Danger. Wow…it IS a Jungle Out There!
The Dark Horse of the Apocolypse: 100 Days In
It's Weird, you have to admit. Am I Right? Of course I'm Right. Even Fake News knows I'm Right. Believe me. I Know What I'm Talking about. Don't I? Of course I do, Everybody Knows That.
The Really Weird Thing that is happening that No One is talking about is here we are at Day One Hundred, and, pretty much, Life has Gone On as Before. The Craziest Stuff so far hasn't been Crazy Enough for some Republicans, and Too Crazy for many others, while both groups claim the Mantle of "Real Conservativism."
By most definitions, controlling the White House, the Senate, the House, and more or less the Supreme Court would give any hypothetical Party some kind of Complete Control over Life, the Universe, and Everything. But the evidence so far suggests that the Obliviousness and/or Incompetence of the "Administration," the philosophical conflicts between the Ultra-Right and the Extreme Right, and/or the ongoing Meltdown at Fox "News" are all signs that The Right has become too diverse a constituency to be able to Govern. Or, as Charles De Gaulle observed in 1962: "Comment voulez-vous gouverner un pays qui a deux cent quarante-six variétés de fromage?"
You can click the link for the translation, but the basic, and somewhat comforting message of the moment is that though we are in a Dark Period ruled by Orcs and Goblins, they know Precious Little about managing the System they now "Control."
This week's  wine tasting
Jardin Unoaked Chardonnay '13   South Africa    $15
Alluring aromas of ripe pears and honey lead to a bright, crisp palate of fresh lemon, honey, and a touch of quinine. Delicious!
Chapoutier Belleruche Rosé '16   France    $13
The Grenache in this food-friendly Provencal-style  rosé  adds bright red stone fruit flavors; the Cinsault brings its delicate strawberry aroma; and the Syrah adds body, making for a great pairing even with the intense flavors of seafood.
Chevaliere du Clos Cote de Roussillon '08   
Dark and rich, with notes of cherry, plum, and fig with a hint of spice; complex and round, and  full bodied on the palate with fully developed tannins; a great value red.
Finca el Tesso Tempranillo     Spain     $11
100% tempranillo from clay and limestone soil in western Spain at 600 meters above sea level, providing cool nights and long growing season where the wines develop a rich, alluring complexity.
Finca el Tesso Crianza'13     Spain   $15
87% Tempranillo, 8% Graciano, 5% Cab Sauv from 50 year-old vines; Bright and polished with enticing aromas of chocolate, baking spices, licorice, and sweet flowers, with lush notes of black raspberry.