(clicking on some photos will open larger versions)
Bread Friday (sign up for
(For you newcomers,Janice H brings fresh bread to the wine shop shortly after 4pm each Friday, including samples for the Faithful!)

Kamut Levain - khorasan wheat is an ancient Egyptian grain with lovely golden wheat berries with a nutty flavor, and leavened with natural starter. – $5/loaf
Walnut Raisin Levain- 30% fresh milled whole wheat and rye with toasted walnuts and dark raisins . - $5/loaf
Sourdough Croissants- Plain or chocolate, with crispy crust and tender interior, a la Paris. - 2 for $5
You Make Me Feel That Spring Has Sprung…!
Maybe it's the light, or the Sun angle. Maybe it's the deep blue Spring Sky. Maybe it's the blossoms. Or maybe it's the cool mornings and radiant, warming afternoons.
Whatever it is, it is delightful and deeply nourishing. Even better, the Seers tell us we can look forward to several more days of it…!
Isn't this the Perfect Time to take that long exhalation that has been building up for the last six months…? Ahhhhhhhhhhhhhhhhhhhhh…….!
TPP: You Too Will Be Assimilated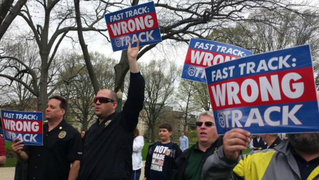 Every once in a while Something Urgent demands all of our attention, and it demands it Right Now. The something of the moment is called TPP. What you need to know right now is that it is not a battle between Right and Left; it is the Battle of the One Percent against Everyone and Everything Else. If you are on the Right, note that it will give corporations the right to control your life. If you are on the Left, note that it will give corporations the right to negate all of the environmental and labor gains you have made over the last fifty years.
It is the New and Improved NAFTA and WTO rolled into one. It has been written over the last five years by attorneys for the Very Rich. At its most basic level it takes authority from nation-states and gives it to a tribunal of three Corporate Lawyers (I am NOT making this up!), who will have the power to sue any member nation for any  potential corporate losses that might be caused by national laws (like environment, labor, free speech, health…you know, the things essential to human life and the survival of our planet).
Congress will decide on this issue within the next week or two without asking for public discussion.
Folks, this is, sadly, NOT a joke. First, learn more about the issue here. Second, contact all of your Congressional representatives and Senators immediately with your vehement opposition to TPP. Third, pass on this information to everyone in your social media circle immediately.
This Land is "Their" Land

As I went walking I saw a sign there
The sign was painted, said "Private Property"
But on the backside it didn't say nothin'
This land was made for you and me. — Woody Guthrie
Okay, I can understand that no one wants Intruders wandering through their yards, peeking in their windows, casing the joint for a robbery, whatever. It is harder to understand what the Big Deal is about undeveloped acreage that is just sitting out there, day after year after decade, undeveloped or not even developable at all, that causes people to litter their properties with "No Trespassing-Private Property" signs, such as this little grouping along Legoe Bay.
For those of you who don't live around here, in Washington State shorelines are mostly privately owned, making public access to the shore extraordinarily limited compared to other saltwater States such as Oregon, where public access is the rule. So, here on Lummi there is no public beach, no public boat launch, no public dock. Which is, let's face it, Bizarre.
Anyway, on our daily dog walk around Legoe Bay we pass a gauntlet of such signs, with no idea of who or what they are trying to protect from who or what threat. For your entertainment and contemplation, click on the photos to enlarge…Can You Find the "No Trespassing" sign in each photo…?
All Betz are off!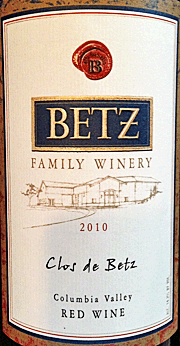 We continue to pour from our vast(!) library of Betz wines; this week we are pouring the 2012 Clos de Betz, the latest (and imho, possibly the best ever) effort in Bob's ongoing ode to Right Bank (mainly merlot) wines, or as he puts it: 'Merlot's dominance in the blend takes center stage on the mid-palate, with a deep, textural fullness.  It's the weight of this wine which impresses most, with a depth and breadth that envelop the palate and linger for a long finish. Vibrant black and red fruits abound, while Cabernet Sauvignon and Petit Verdot that complete the blend add anise, bay leaf and underbrush to the palate…Despite the attractive up-front development, don't be too hasty: a long cellar life awaits!"

Our Betz  special sale will continue until we have whittled down our inventory a bit:  10% on all Betz selections, PLUS we pay sales tax for wine club members!
See detailed tasting notes below.
This week's tasting

OS Riesling '12 Washington (92pts WE)     $11
Apple blossom and citrus aromas; broad, flavorful palate of quince, lemon custard, lime, and honey-tinged mineral notes; bracing acidity; should evolve further over time and age well thru 2034.
Chateau Fontanes Rosé'13 France $17
Redcurrant and strawberry aromas are accented by orange zest and cinnamon. Silky and broad in the mouth, offering juicy red fruit flavors and slow-building spiciness.
Olivares Monastrell Altos de la Hoya '11 Spain 91 pts $10
Black raspberry and cassis aromas, with spicy mineral and floral elements. Powerful dark fruit flavors with vanilla and cola nuances and juicy acidity; velvety texture, with lingering spiciness.
Writers Block Cab Franc '12 California $14
Complex aromas of fresh dark berries, black cherry, plum, and a subtle brambly profile. Tobacco, chocolate, and herbal flavors blend with a floral component and notes of toasted oak.
Betz Clos de Betz '12     Washington    93-95pts   $52
67% Merlot, 27% Cabernet Sauvignon- Aromas of blackcurrant, bitter chocolate, licorice and burnished oak. Perfectly integrated acidity energizing fine-grained flavors of black raspberry, black cherry, cocoa powder and violet, and a long,juicy finish.
Bread Friday (sign up for
This week's breads: Janice H brings fresh bread to the wine shop shortly after 4pm each Friday…
Pain au Levain – think of it as French sourdough; mostly bread flour with fresh milled whole wheat and rye for a nice, chewy  bread with a great crust. – $5/loaf.
Flax Seed & Dried Currant Ciabatta. Includes a bit of fresh milled whole wheat and rye plus flax seeds and dried currants; too hydrated for shaping loaves, so just cut into chunks before baking. – $5/piece.
Traditional Bagels! Yep– shaped, boiled, topped with seeds, and baked– plain, sesame seed, poppy seed, or mixed sesame and poppy. Limited, so order early! – 4 for $5.
Chocolate Chocolate Chocolate

For a few months there our Chocolate corner was looking pretty empty. A couple of weeks ago we restocked with our favorites from both Theo Chocoloate in Seattle, and Dick Taylor Craft Chocolate in Arcata, CA. Both make their chocolate "from bean to bar," and then combine it with other quality ingredients like sea salt, ginger, dried fig, coffee bean, coconut, or spices to produce delectable, addictive, and satisfying (and Good for you!) taste sensations.
Chocolate fan…? Come on by and try some samples!     click photo for larger view
Evolution
One thing we can safely presume about Evolution is that it really doesn't care if anyone Believes in  it. At the moment I am curious about the way we think about Evolution…as if it is something that happens to US, which is a really slippery concept, especially when we talk about "humans" evolving into Something Greater, usually in some metaphysical sense. Some part of us hopes that We Personally will Evolve into something "Greater."
This of course begs the question, who or what "evolves?" Certainly not a particular entity like you or me, because it is a Process, after all, and any being can only be, you know, one species at a time: This begets That, which begets Those, one of which begets one of These, and so on, until in some little pocket in Time and Space there exists for a time some group of beings of a new and unique Particular Sort, doing their little Dance for the sweet moment Their Music plays. According Darwin's logic, such entities are optimized for that Time and Niche by a long process of trial and error, and what worked best got to keep working for a while. Survival is its own Reward, and maybe that's the point.
But really, can we take any particular comfort in imagining that we bloodthirsty, conniving, scheming (think Golllum) bipeds will someday evolve into some more adaptable, more sophisticated, more wonderful beings? Maybe what we really hope for is that our species (and therefore by inference, "we") actually has some Noble characteristics that will keep us in The Game in some form for, you know, Eons. Ah, sure, why not, let's lift a glass and wish our Dear Species "Hey, Good Luck with That!"
All Betz are off! 
Again we are pouring from our library of Betz wines; this week we are pouring the 2009 Cote Rousse Red Mountain Syrah , Bob's ongoing ode to Northern Rhone wines, or as he puts it: 'This year's blend of Syrah La Côte Rousse is nearly equal portions of our two Red Mountain Syrah vineyard sources, Ciel du Cheval and Ranch at the End of the Road. Once again the synergy between these two sites and the four clones creates a blend of power, complexity and completeness."
By the way, this blend is often my favorite of the annual Betz lineup; maybe its dark, brooding style just resonates with my basic dark, brooding Scorpio nature…!
Our Betz  special sale will continue until we have whittled down our inventory a bit.
Here's the deal: Buy one Betz wine at the sticker price, and take off an additional 10% on any additional bottles. AND, if you are a wine club member, WE PAY SALES TAX!
See detailed tasting notes below.
This week's tasting

Dom. Tremblay Quincy '12 Loire Valley France $18
Nose of yellow grapefruit, tangerine and sea air. Suave, fine-grained and concentrated, with zesty green apple & citrus flavors with a surprisingly creamy mouthfeel and finish.
Chateau Virgile Rose '13 France $12 (grenache-syrah); Musky aromas of red berries and cherry pit; Dry and nervy with a floral nuance that gains power with air; tightly wound and vivacious enough to work with a wide range of foods.
Palacios Vendimia Rioja '12 Spain $15
50/50 Garnacha and Tempranillo. Aromatic, with notes of flowers, wild strawberries and licorice. The palate is fruity, with velvety tannins and good acidity– a quaffable young Rioja.
Rio Madre Rioja '13 Spain 90pts $10
Smoky blackcurrant, cherry and violet aromas with good clarity and zesty mineral lift. Juicy and focused on the palate, with bitter cherry and dark berry flavors; Finishes with strong punch, sneaky tannins and lingering berry and floral qualities.

Betz Cote Rousse Red Mountain Syrah '09     Washington  94pts  $50

Good bright medium ruby. Tight, pure aromas of black raspberry, strawberry, white pepper and flowers, complicated by a sexy apricot quality. Suave on entry, then spicy and aromatic in the middle, with firm acidity and a repeating note of white pepper contributing to the impression of sharp definition. This dense, supple wine is very long on the aftertaste.
Bread Friday (sign up for
Sonnenblumenbrot (Sunflower Seed Bread). Bread flour + cracked rye and toasted sunflower seeds. – $5/loaf.
Semolina, Fennel Seed & Golden Raisin. A wine shop favorite,  great with cheese – yum! – $5/loaf
Individual Sweet Rolls. Rich with eggs, butter, pastry cream and cinnamon sugar. My oh my…!  -2 for $5
Our 15th Anniversary!
Today (4/2) as I write this is our 15th Anniversary (wedding, not wine shop!). The ceremony was held at Ann Morris' cottage, where Constance does her yoga classes (and where we were  this morning!). Our friend and Buddhist teacher Eileen Kiera (background) performed the ceremony, which included a brief tea service using raku bowls I had made for the occasion. I also sang "Let Me Call You Sweetheart" as part of the ceremony (now and for All Time a Special Song) which was followed by a lovely dinner at the Beach Store Cafe. And, as you can see, daffodils were in full bloom and the weather was warm and embracing. All in all it was a Truly Great Day, as some of you will remember.
To all of you who attended the ceremony or the reception: thank you again for being there for us! We invite you to stop by the wine shop at your convenience for hugs and of course wine tasting on us!
Rhodies

As mentioned last week, our micro-climate here on Lummi's waist gets too much cool wind and fog from the Southwest to generate many apples or any plums. However, this afternoon, peeking out from behind where the cars are usually parked, we found these Rhodies (and some pink things…azaleas…??) lifting their hearts to the late afternoon sun. This is a remarkable shade of red– might show up if you click on the photo and wait for the larger version. Or better yet, swing by this weekend and see for yourself!
All Betz are off!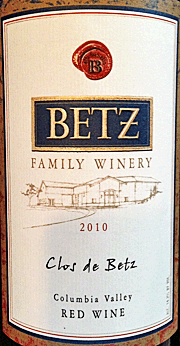 Again we are pouring from our library of Betz wines; this week we are pouring the 2010 Clos de Betz, Bob's ongoing ode to Right Bank Bordeaux, or as he puts it: "With Merlot as the dominant variety in this blend, it shows dense color saturation and aromas of pure, vibrant black cherries, camphor, cocoa and a slight kirsch essence.  It enters very supple and plush, with a jolt of black cherry and red berries that stays true to the aroma.  Dried herbs, chocolate and a touch of smoky oak play supporting roles. The finish dances with a combination of refined tannin and vibrant fruit, the signs of a successful future in the cellar. " (see video here; scroll down, select Clos de Betz, and click to start video)
Our Betz wine display is now finished, and our special sale will continue until we have whittled down our inventory a bit.
Here's the deal: Buy one Betz wine at the sticker price, and take off an additional 10% on any additional bottles. AND, if you are a wine club member, WE PAY SALES TAX!
See detailed tasting notes below.
This week's tasting

San Martino Prosecco    Italy     $11
Pale straw yellow in colour, aromatic and elegant nose (unusual in prosecco), with notes of apple and banana; pleasantly full and harmonious on the palate.
Mt. Baker Zinfandel '09 Washington $17
Curiously Old World in style, with dark, earthy aromas of prunes and dried fig, opening brightly acidic red berry flavors on the palate.

Borsao Garnacha '13    Spain $9 
Expressive aromas of blackberry, licorice and and fruitcake aromas; Juicy, spicy and supple, sweet, red and dark berry flavors; finishes fresh, focused and nicely persistent.
La Liquiere Vielles Vignes  '13     France     $22
From old vines planted on a schistous terroir, this wine shows layers of red and black fruits, underbrush, spice and hints of pepper; lively, medium-bodied, and juicy on the refined, lingering palate. 
Betz Clos de Betz '10   Washington  94pts   $48
58% Merlot, 35% Cab Sauv, 7% Petit Verdot. Ripe, voluptuous and supple, with aromas of black cherry, currant, tobacco, cedar, with a medium to full-bodied, mouth-filling and beautifully textured personality.
(note: some photos may click open to larger versions)
Bread Friday (sign up for
Buckwheat & Rye. Dark and strong, pairs nicely with cheese or cold cuts - $5/loaf.
Ciabatta. 10%  whole wheat, 90% bread flour. Overnight cold ferment makes the whole wheat shine, wet dough baked in chunks, great all around rustic style bread. – $5/chunk.
Palmier. Sometimes known as  "elephant ears;" from an all butter, sugar-coated puff pastry baked into a delicious crunchy treat. Limited, order early. – 4 for $5.
uh-oh, this just in…Palmier sold out unless you pre-ordered…!
Arsenic and Cheap Wine

Extra! Extra! Two-buck Chuck ( and a bunch of his buddies) found to have highly toxic levels of Arsenic! OMD! So that's what that funny taste was, and why my hair is falling out! Seriously, a class action lawsuit was recently filed in California claiming that some of the country's largest-selling wines (including TBC, aka Charles Shaw) have arsenic (As) levels several times the Federal maximum standard for drinking water or 10 ppb.
This is interesting and alarming for a couple of reasons. Most obviously, no one wants to poison themselves. In addition, however, for the last few years I have been Prez of our local water association and have learned a lot about arsenic contamination and treatment. As most of you who live on Lummi Island know, many of the wells here contain very high concentrations of As, up to several hundred ppb, due to the natural occurrence of the metal in the local geology. So it is not particularly surprising that lots of crops around the world, including grapes, would take up a great deal of it into their tender little bodies and deliver it into our tender little bodies when we eat it, or in this case drink wine made from it.
The lawsuit is calling for some kind of standards and labeling, which seems reasonable. But establishing standards for wine is very different from establishing standards for drinking water. That's because with drinking water you can ask, "if someone got all of their water from a well with X concentration of As, how many years would it take them to suffer measurable damage?" In the case of wine, however, we really don't expect (but we could be wrong!) that anyone is really going to drink enough contaminated wine, even if several times the allowable concentration for drinking water, to get sick. If you are worried about it, we strongly recommend that you immediately stop buying mass-produced wine, and get all your wine from us!
Calling Professor Plum…

Here's the thing…fifteen or so years ago we planted a few fruit trees where we thought they would have some shelter from the prevailing southeasterly winds and as much sunshine as our shady lots would allow. Well, we have gotten the occasional apple over the years from our two trees, though not many, and not very big. Last year's little bagful of Akanes was the best haul so far, and they were very tasty. But in all these years we have only seen one plum, and that didn't survive to be harvested.
Initially we had two trees, thinking maybe they would get along, do their little stamen and pistil thing , and, you know, make fruit happen. The first problem (maybe) was that the two trees we planted blossomed weeks apart from each other, so that they never had blossoms at the same time. The second problem was that the early-blossoming plum tree passed on to tree heaven when it was only five or six years old. The late-blossoming tree is about fifteen, and is just now blossoming (see photo!).
We keep thinking it would be a nice experience for our surviving plum tree to actually bring some little plums into the world. You know, plum fulfillment, a sense of purpose, a sense of satisfaction. But here we are again, another Spring, another drawn-out blossom-time, and probably another barren year.
So YES, we are calling for HELP! We know Someone Out There has the Answer…so Please, our plum tree needs you! Bring your bees, your travelling blossoms, your divining rods, your magic, whatever it takes! Yes, will trade wine for plums!
All Betz are off! 
Again we are pouring from our library of Betz wines this week. This week we are pouring the 2010 La Sarenne Syrah. La Sarenne is Bob's ongoing ode to Southern Rhone wine style, or as he puts it: "For over a decade we've worked with Dick Boushey to grow Syrah for La Serenne from the same rows of vines in his vineyard just north of Grandview. This relationship can't be overstated in importance for achieving the results we want. As we've walked the vine rows during previous growing seasons, kicking dirt and tweaking leaves, we've developed an understanding of what each of us wants—growing the best grapes possible that create a wine of character, reflecting the vineyard and compelling the palate."
So as with all of the Betz wines, this one is born from the footprint of the almost legendary Boushey vineyard and the fingerprints of both Dick Boushey and Bob Betz. By the way, when we were in Lyon last June, wandering around looking for a place to have dinner, I caught sight of Bob's familiar face only a few feet away, and exclaimed, "Bob Betz!" He looked stunned for a moment before acknowledging, as we did, the rare experience of running into someone you know in a faraway place.
Our Betz wine display is almost finished (maybe up for this weekend!), and our special sale will continue until we have whittled down our inventory a bit.
Here's the deal: Buy one Betz wine at the sticker price, and take off an additional 10% on any additional bottles. AND, if you are a wine club member, WE PAY SALES TAX!
See detailed tasting notes below.
This week's tasting

Arindo Verdejo '13 Spain 89pts $11
Perfumed, mineral-accented scents of pear, citrus, anise and smoky minerals. Dry and taut on entry, with lively pear and Meyer lemon flavors, leaving a refreshing lemon pith note behind.
Chateau Mayne-Vieil Buisson Redon '11    France     $10
From 25 year old vines; 60% Merlot and 40% Cabernet Franc from clay-loam soil. Well made, easy to drink, and very affordable. 
Bodegas Triton Entre Suelos '11 Spain 90pts $12
Ripe cherry, cassis and licorice on the pungent nose. Broad, chewy and concentrated, offering spicy black and blue fruit flavors with suggestions of candied violet and black pepper.
Domaine Moulinier Les Sigillaires  '07   France     $17
Aged 12 months in neutral barrels. Nuanced notes of tapenade, dark fruits, and a fresh finish. Harvested quite early to retain acidity; nuanced palate with hints of orange and an elegant finish. We love this wine!
Betz La Sarenne Syrah '10 Washington 93pts $49
Scented with cassis, blackberry, sage and fennel. Vibrant, expressive and deftly balanced, playing its juicy currant, plum and lavender flavors against refined tannins and lively acidity, firming up smoothly on the long finish.